Green Chain Walk


The South East London Green Chain, also known as the Green Chain Walk is a linked system of open spaces between the River Thames and Crystal Palace Park in London, England. In 1977 four London Boroughs and the Greater London Council created this Green Chain of 300 open spaces to protect them from building activity. The four London boroughs are Bexley, Bromley, Lewisham and Greenwich. Many parts of the system are also part of the Capital Ring route.
The system begins at three places on the River Thames: Thames Barrier, Thamesmead, and the riverside at Erith. There are various circular walks along the route, and there is an offshoot from the main route to Chislehurst. A recent extension continues the route on from Crystal Palace to Dulwich Park and Nunhead Cemetary.
The Chain nature of this walk lends itself to countless permutations, and I will walk most of them.
Sections Walked: Thames Barrier to Crystal Palace (as the LOOP), Erith to Falconwood, Thamesmead to Lesnes Abbey, Crystal Palace to Nunhead Cemetery via Dulwich Park, Beckenham Hill to Chislehurst via Mottingham Lane Loop (Finish Petts Wood via LOOP)
Erith to Falconwood
Saturday 29 October 2011 - 6.5 Miles
ID29102011#14
My original choice for today was the Grand Union, but due to a predictable attack of laziness, I couldn't get my carcass out of bed at any meaningful time, but as I had been intrigued by the GCW and having walked a good chunk previously under the guise of Capital Ring (Charlton to Crystal Palace) this seemed a good bet instead. A good walk, but the generally excellent waymarking let me down twice, once near the start to lead into Franks Park, and missing the short cut at East Wickham Open Space. One more possible problem is a locked gate a few fields before Shooters Hill, that is apparently always locked now, coz the local yoof on Mini motas have turned it all munky, but I was incredibly lucky to happen upon a bloke with the keys (and a darling bird of prey!) - big shout out fella!
From Erith station I followed the link path to the start at St John the Baptist Church, crossing over the railway and a road to take a path to the right leading to Franks Park. A link section on minor roads through Belvedere then took me into Lesnes Abbey Woods and via a tummuli to the Abbey Remains. A very pleasant spot for late lunch. I then decided to carry on to Falconwood instead of taking the Thamesmead spur to the Thames. Anyway, after lots more undulations through Bostall Woods, you have another spur that leads through Plumstead, but I did not choose that way this time. Across East Wickham open space and then a road section to then join fields (passing through the generally locked gate) and to the road at Shooters Hill. Just across the road you plunge into Oxleas Wood, where the waymarking helps you through to the major Junction Post which I had encountered when walking the Capital Ring. From here I briefly joined The CR and walked to Falconwood Station.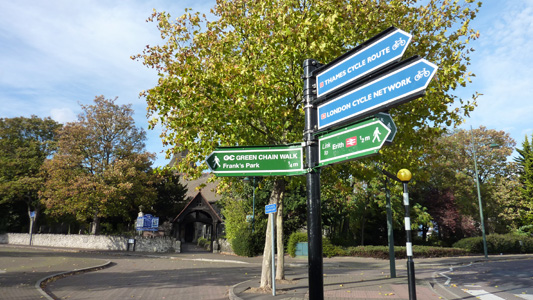 St John The Baptist Church, Erith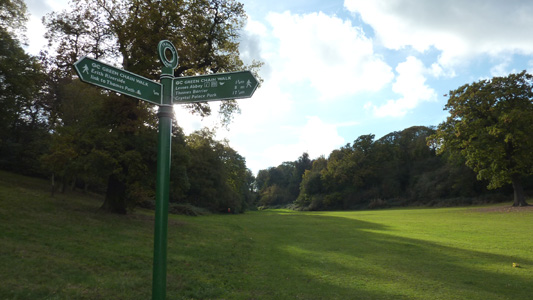 Franks Park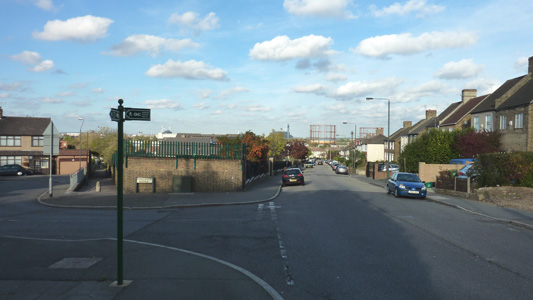 View towards Thames, urban linking, Belvedere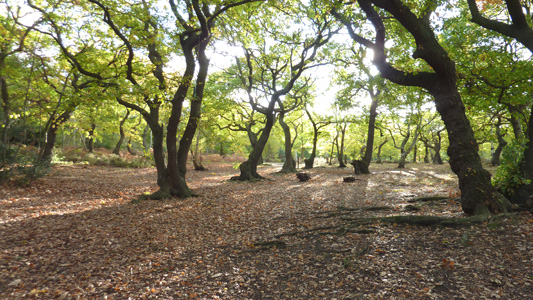 Lesnes Abbey Woods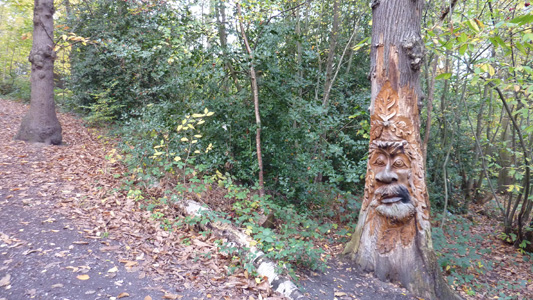 Tree Carving - Lesnes Abbey Woods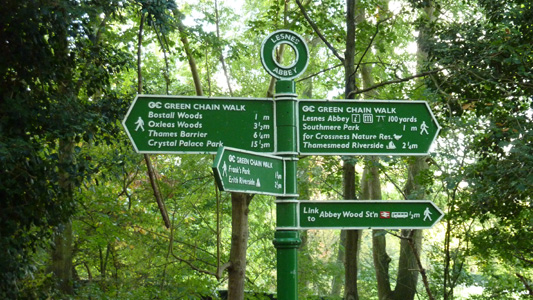 Major Fingerpost - Lesnes Abbey junction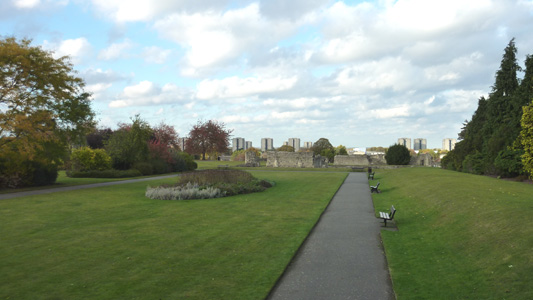 Remains of Lesnes Abbey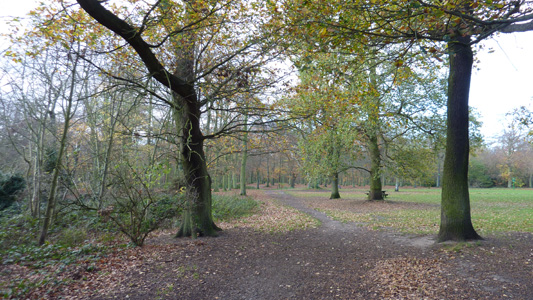 Into Bostall Woods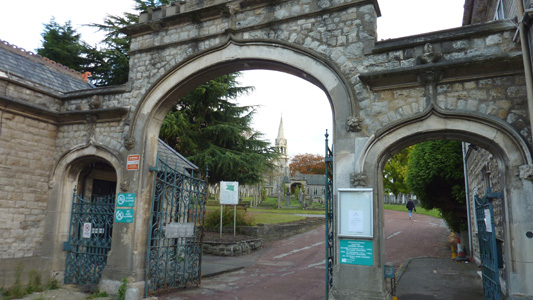 Plumstead Cemetary - I thought I had accidently followed wrong section, but this is correct for heading on to East Wickham and Oxleas Wood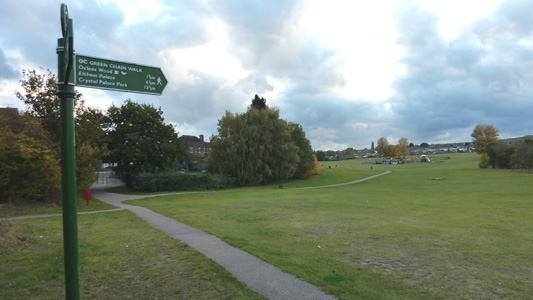 East Wickham Open Space, accidently took long way round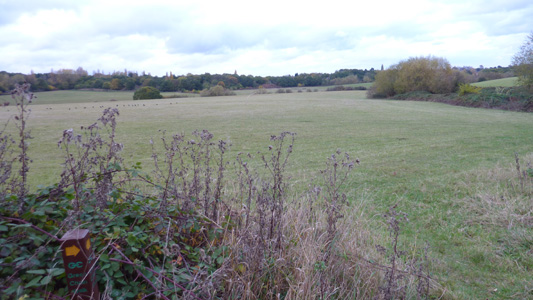 Between the pesky locked gate and Shooters Hill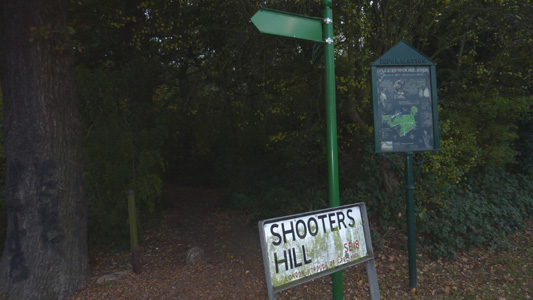 Just taking the plunge into Oxleas - losing light but made it to Falconwood before dusk
Thamesmead to Lesnes Abbey
Saturday 5 November 2011 - 2.25 Miles
ID05112011#15
A special bonus, as I was in the area to do this little section. From Charlton I got the 472 to Thamesmead Town Centre, and with my usual Latte for company (courtesy of McDz) I headed up Linton Mead to join the Thames Path. Here I turned right, and followed the prom for 5 minutes, before reaching the Green Chain fingerpost and then turning right Follow the path along Manor Way. Go through the underpass beneath Crossway and keep going to Manor Way Green open space. Turn left along the path and then right to cross the canal footbridge, this brings you onto Fieldfare Road to the Green. Turn left and cross the footbridge into the tump. Leaving the tump at the other end, going through Curlew Close, left into Gargeney Walk. Crossing the footbridge, then right and follow the canal under the road (Crossway). Keep the canal to your right, and follow the path through Crossway Park to the Green Chain signpost, just before the pond. I then turned left at the signpost and followed the path to turn right under Eastern Way. From here it all went a bit munky, even though I thought I had meticulously researched this walk I ended up crossing over the Ridgeway sewer Walk, and upon reaching Belvedere Road I got a bit confused, and headed straight across along a cycle path labelled as Erith Marshes, however this was all marked as Green Chain, so I missed Southmere Lake (Clockwork Orange territory) and hit Yarnton way slightly East. I recovered my bearings and crossed over this and Wolvercote Road by the long grim walkway to head down a green space - Abbey Way (this part of Thamesmead is the most 'concretey'). Crossing over Alsike Road, the Railway and Abbey Road to reach the Abbey remains. Then I retraced my step to Abbey Road and walked down to Abbeywood Station and back to Charlton. As there is a small alternative section available at Eastern Way and missing out on Southmere Lake I may just have to go back sometime and remedy this, although I cannot praise Thamesmead for any aesthetic attributes!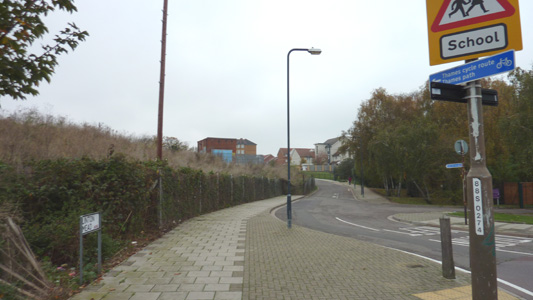 Linton Mead access to Thames Path and Green Chain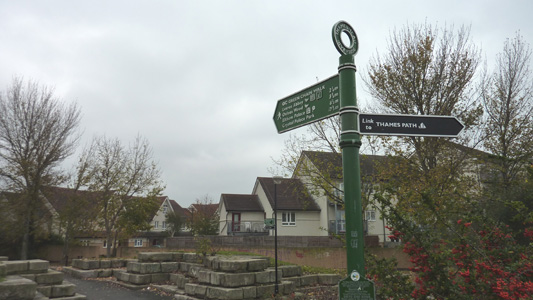 Fingerpost by Thames beckoning you into Thamesmead!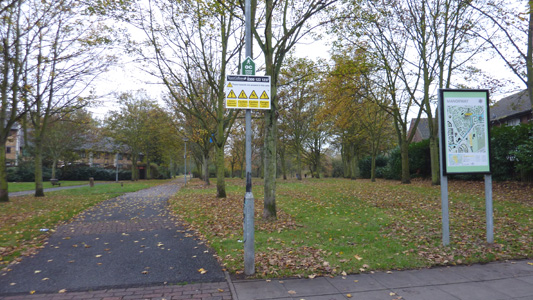 Manor Way Green Space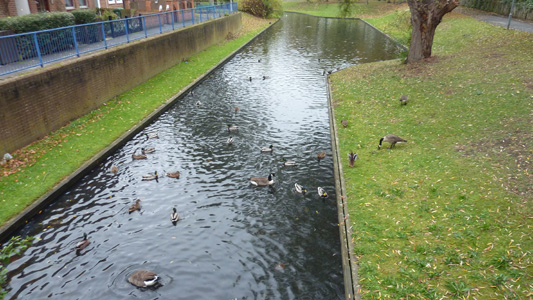 Critters love the 'canals' at Thamesmead - I personally think all the water features and green spaces were a very good thing when this area was being planned. Wether it chills the ressies and local yoof I have no idea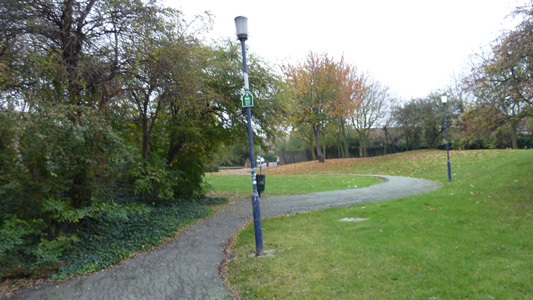 The Tump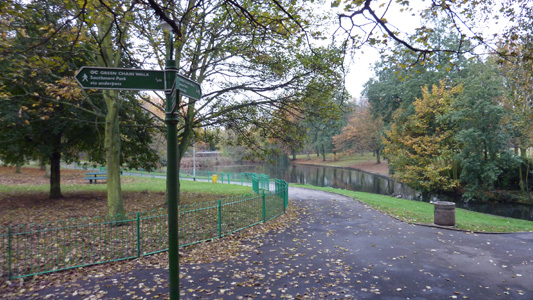 Crossway Park Fingerpost - you can go left (underpass) or right (Bridge) - I wnet left as slightly shorter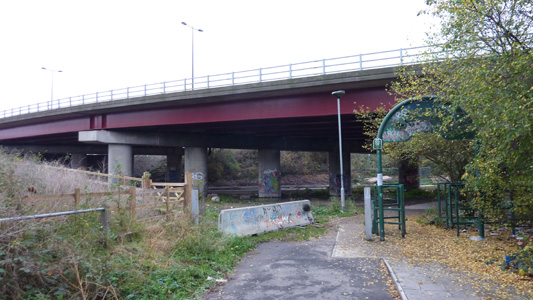 Eastern Way Underpass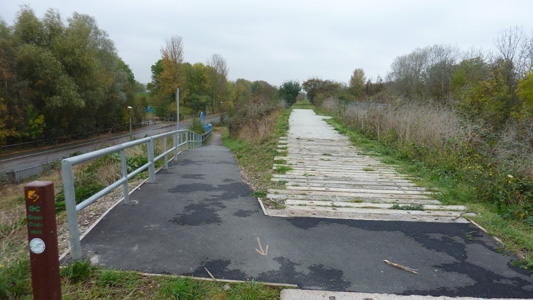 Crossing the Ridgeway (Southern Outfall Sewer) - It's a load of Shite!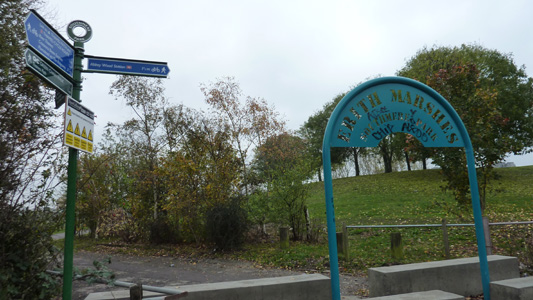 This is just across the (Belvedere) Road - The GCW sign sez straight on, and only later did I realise I should have turned right along the road briefly instead, to pass by Southmere Lake, but oh well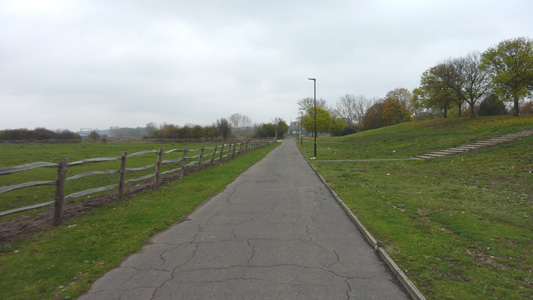 So this was my journey through Southmere Park along a cycle path. The lake is to the right, lots of horses unseen left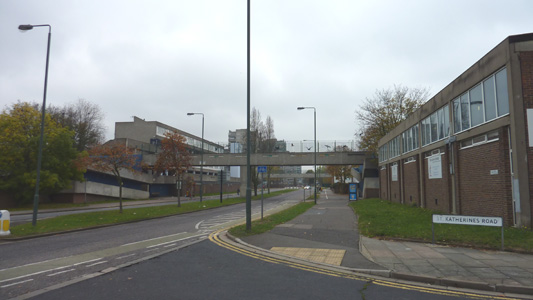 This is where I met Yarnton Road. I should have crossed it on the second footbridge in the distance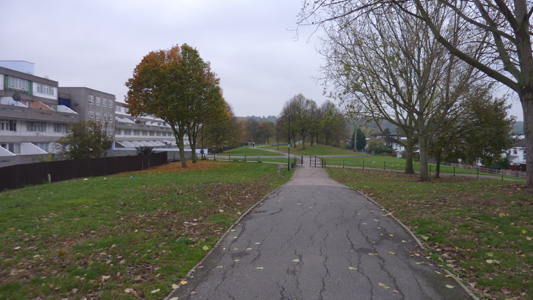 Abbey Way, back on track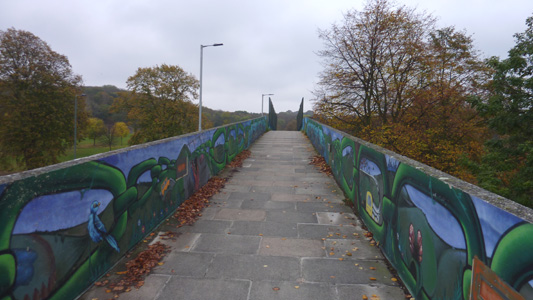 GCW mural on long concrete walkway over to Lesnes Abbey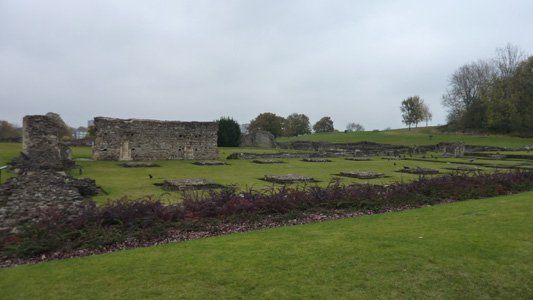 Lesnes Abbey - end of section and down to Abbeywood Station
Crystal Palace to Nunhead Cemetery via Dulwich Park
Wednesday 9 November 2011 - 7 Miles
ID09112011#16
http://www.greenchain.com/walks/section-11.php
A Bonus walk - As I had worked the previous Saturday and felt a bit short of 'me time' I managed to get the afternoon off and got to Crystal Palace by 1200 to do this latest section of the Green Chain, only launched 26 September 2010 - my last visit was on the Capital Ring. I first explored the site of the Crystal Palace, with statues and staircases and not much else left, and tried to see where the old High Level station used to be.
Then I went out of the park following markers through into Sydenham Hill Wood Nature Reserve on part of the old railway formation, passing near the Tunnel Portal. At Cox's Walk Footbridge I took the walk down to the south Circular and into Dulwich Park and after a 'Breville' and a cuppa retraced my steps back to the footbridge, this time crossing it over the old line and shortly into Horniman Gardens.
Some pavement bashing and through Camberwell Old Cemetery, more pavement and a climb then up One Tree Hill with stunning views over the city, and another blissful break - then down to Brenchley Gardens and shortly into Camberwell New Cemetery. After a peaceful stroll, more pavement and houses to reach Nunhead Cemetery in the nick of time, just getting through before the gates shut on me at 1600, which were chained up as I left. The stunning ruins of the Anglican Chapel were surrounded by a rather forlorn looking wilderness reminding me a bit of Abney Park Cemetery.
A very interesting and worthy addition to the Green Chain with much to see and also for me an added dimension in being from Camberwell myself and having family history in this area, one to remember, and certainly more fun than Thamesmead, sorry!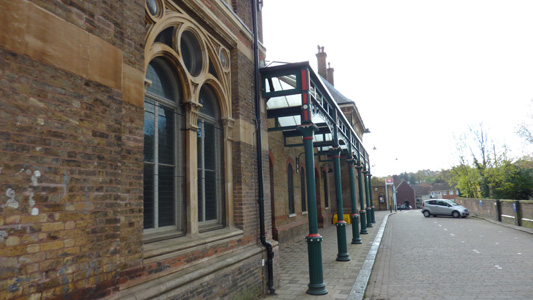 Crystal Palace Station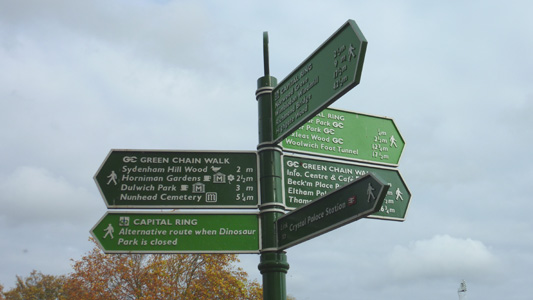 The new improved finger post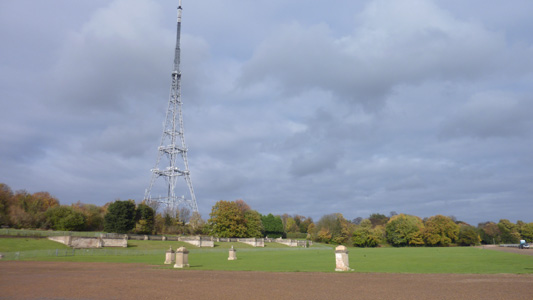 The terrace where the palace once stood and the famous transmitter mast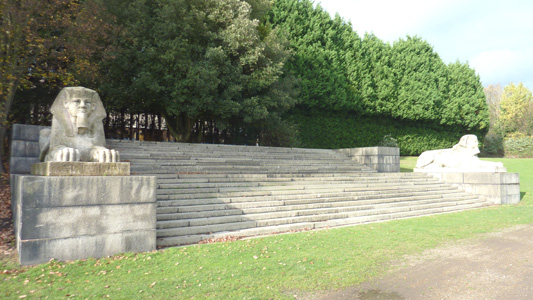 Sphinx guard over stairway to nowhere - once the old railway station?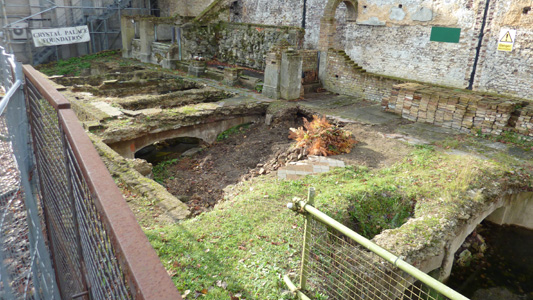 Ruins of something near Westwood Gate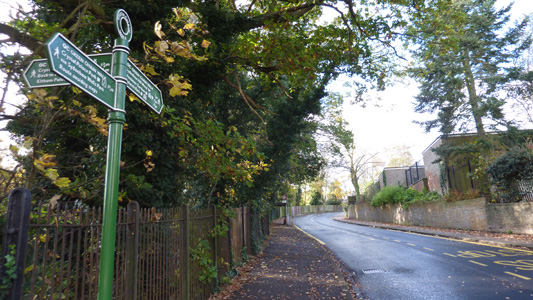 Sydenham Hill - a small alternate loop via Sydenham Wells Park rejoins here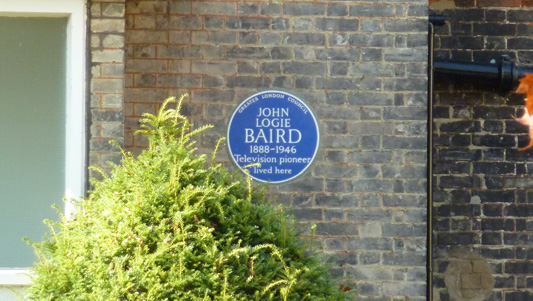 As it says - Crescent Wood Road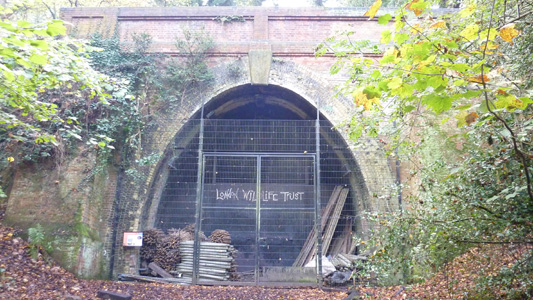 Old Tunnel Portal - Sydenham Hill Wood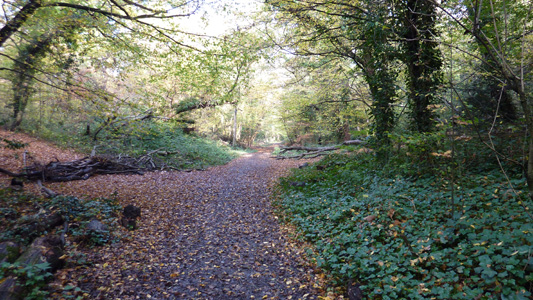 Along the trackbed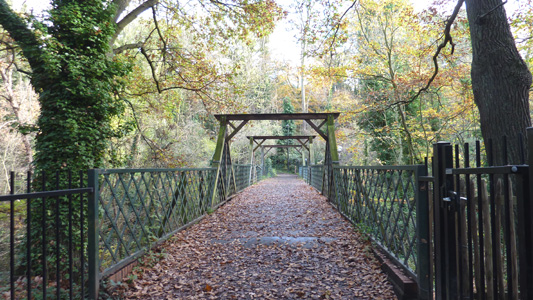 This impressive footbridge spans the erstwhile railway and is the junction for the Dulwich Park and Nunhead Cemetery branches of the GCW. Additionally a painting by Camille Pissarro in 1871 was created here with the view of Lordship Lane Station the subject - the view now is obliterated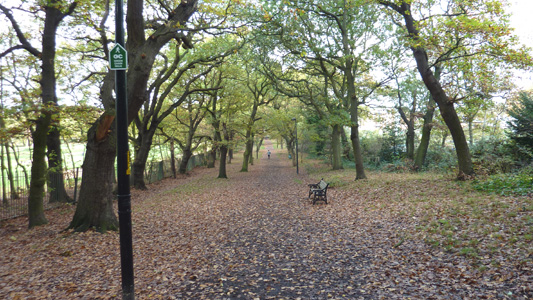 A lovely stroll along Cox's Walk, before the yawn of the South Circular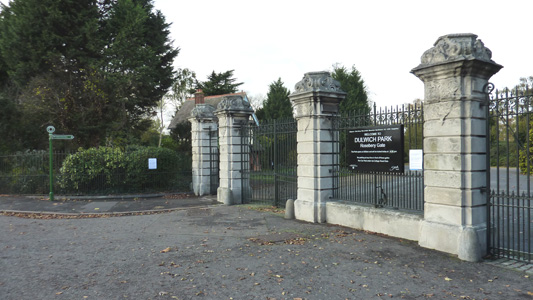 Entering Dulwich Park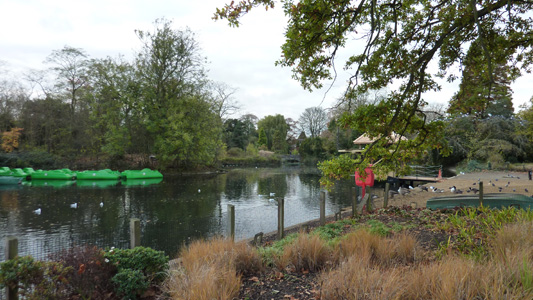 The boating lake with lots of happy looking crittes flapping about. This branch actually ends at Old College Gate with the picture gallery across the road. I walked to that point, then retraced my steps to the cafe for scoff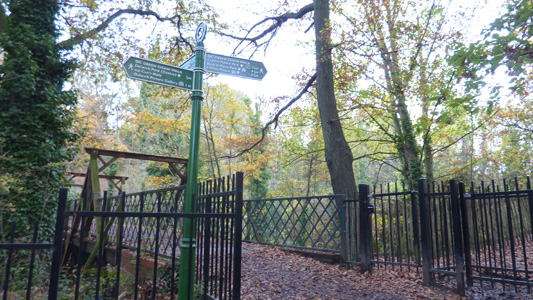 I retraced my steps and crossed the bridge now heading towards Nunhead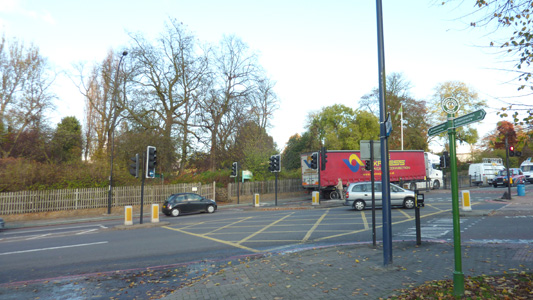 Crossing London Road into Horniman Gardens
Horniman Gardens - nothing special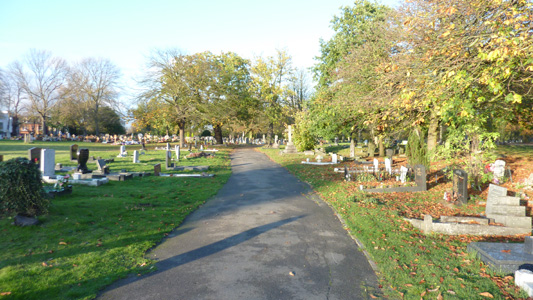 Camberwell Old Cemetery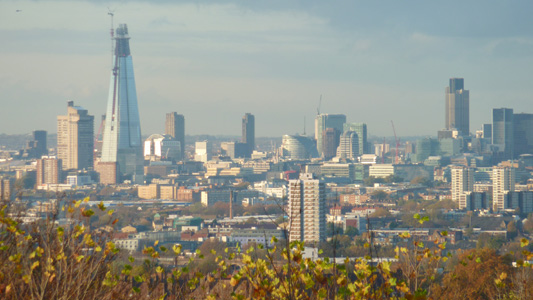 Zoomed in (12x on Panasonic Lumix TZ7) view over the city from One Tree Hill. Normally I would have taken the easier route avoiding a climb but I would have been a complete muppet to have missed out on this really. The Shard is nearing completion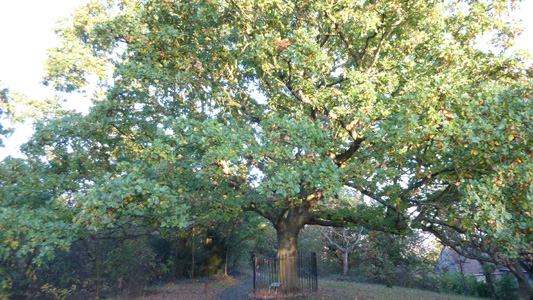 The Oak Tree on One Tree Hill. Apparently QE the First used to hang out here - although it is a replacement tree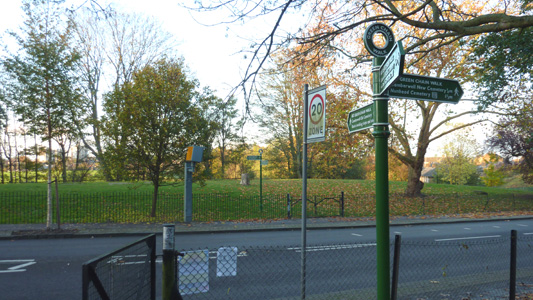 Brenchley Gardens were the Low level path rejoins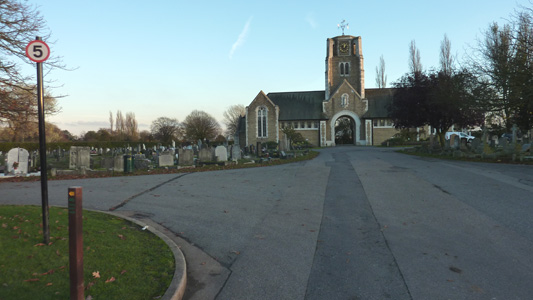 Camberwell New Cemetery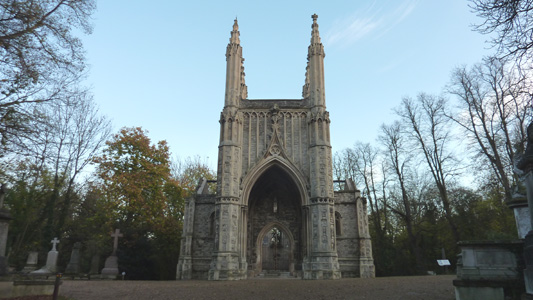 The beautiful shell of the Anglican Chapel in Nunhead Cemetery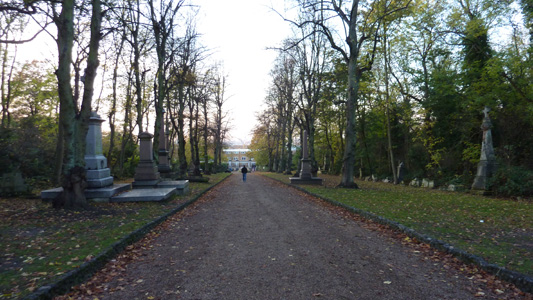 A quick trot down to the Cemetery gates on Linden Grove - the gaffers were getting ready to seal the gates for the night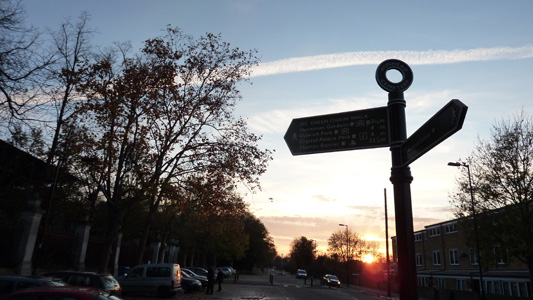 Finished the walk just before dusk - now time to dust off the Oyster at Nunhead Station
Beckenham Hill to Chislehurst via
Mottingham Lane Loop - Finish at Petts Wood via LOOP
Sunday 20 November - 11 Miles
ID20112011#18
A little bit complicated to understand and walk, but the idea was to avoid leaving any part of the GCW unwalked in this area and this walk fulfillled that, with so many spurs and loops and subsequent permutations I have formulated a couple more walks that will enable me to complete the whole Green Chain.
I caught the first train and started walking on a misty morning around 0930 (trains start late on Sundays!) - everything went well and I did not get lost due to excellent waymarking and vigilence - even the sun came out and by the time I reached Chislehurst it was almost balmy for November. Trains home were effortless and I was feeling very good about the world (until I switched on BBC News...)
From Beckenham Hill Station into Beckenham Place Park, passing by the Golf Course on a small section of previously walked Capital Ring to take the branch leading off to Ravensbourne Station, then crossing a sports field and a long but pleasant section through Plaistow (no not that one!) At Sundridge a manky pallisade fenced narrow path lead me between the railway and golf course, then turning right and following a quiet road leading to another railway, crossed near Elmstead Woods. Here the loop I chose to complete started, initially I took an immediate left, to follow by the railway and through Grove Park to follow a course by the Quaggy River. Here I had to rewalk a section of Capital Ring to reach Mottingham Lane, where once again I was on a section of virgin GreenChain, leading down past Eltham College and crossing another sports ground where Football was being played and through a small residential area to pass into Marvels Wood then leading into Elmstead Woods. Skirting a cemetery I walked to where I had started the loop by the railway and then retraced my steps slightly to take the Chislehurst spur. A delightful walk through the rest of Elmstead Woods before a road and long narrow metalled footpath bringing me to the edge of Chislehurst across a recreation Ground, and leading to the High Street. After a brief stop at Sainsburys and lunch by the duck pond, I walked uphill straight along the A208 for less than a mile to reach another old friend, the LOOP, where I dived into Petts Wood and was successful in finding the two memorials that I had just gone steaming past when walking the LOOP originally. A great walk on through Petts Wood (NT) and crossing a myriad of Railway Lines took me to the link path which I followed down to Petts Wood station and back home - I love it when a plan comes together!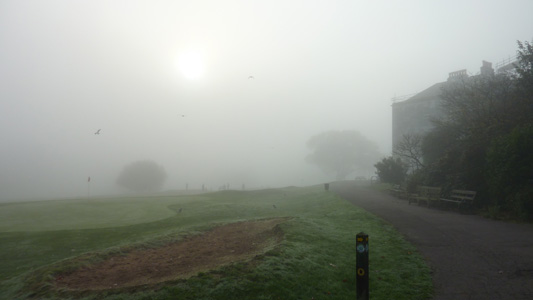 Crazy Golfers - It's bleedin Foggy - Hang on, am I am bit crackers walking in this stuff too?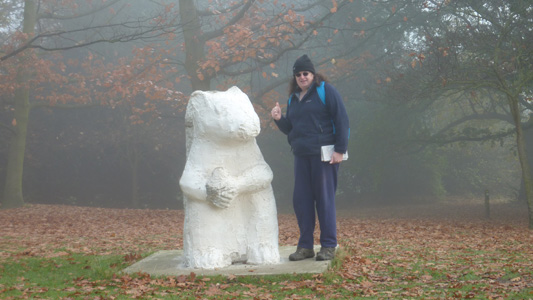 Yes definitely lost it - my new best friend!
Bit spoilt for choice - but went left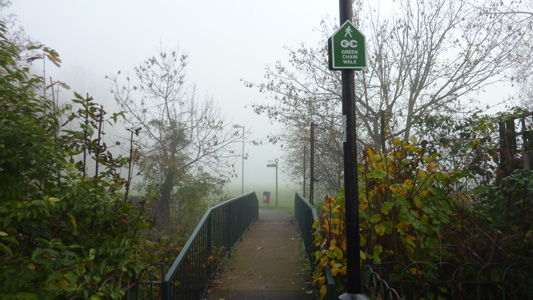 Recreation Ground, Ravensbourne. Many times on this walk the Sunday Footie games continued unheeded by lack of visibility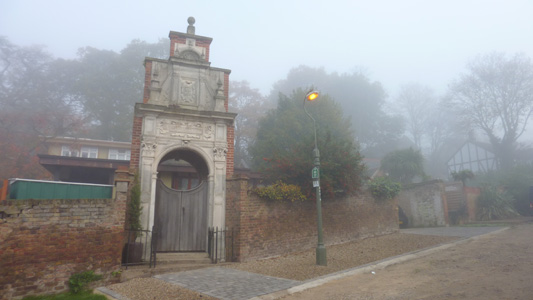 Old School Entrance bizarrely leading to some swanky new gaff - Elstree Hill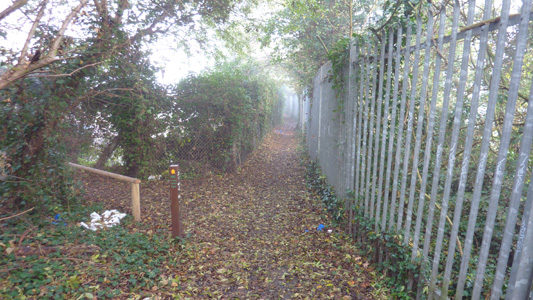 Manky bit - Sundridge - Keeping the proles off the Golf Course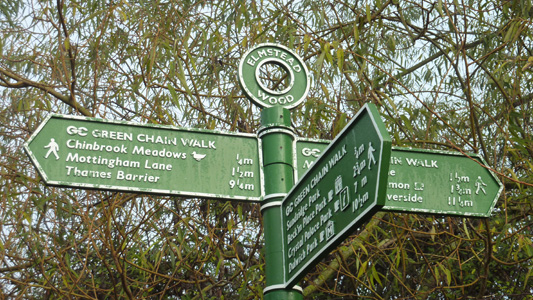 Fingerpost by Railway bridge - First went left to Mottingham Lane, looped back round through Elmstead Woods and ended up here again, then onto Chislehurst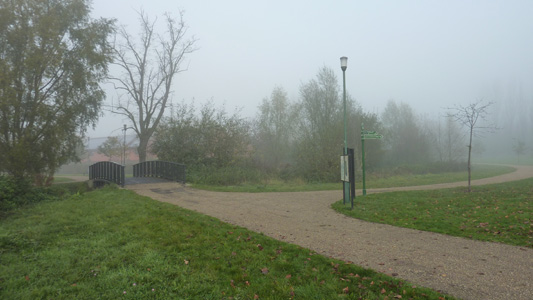 Grove Park and River Quaggy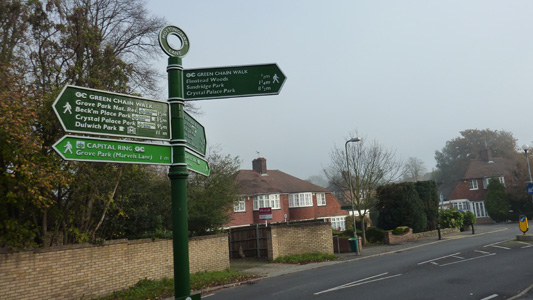 Good Old Mottingham Lane - Just about to leave the Capital Ring section. The path opposite leads up to Eltham Palace (King Johns Walk) - but I was going right to head back down towards Elmstead Woods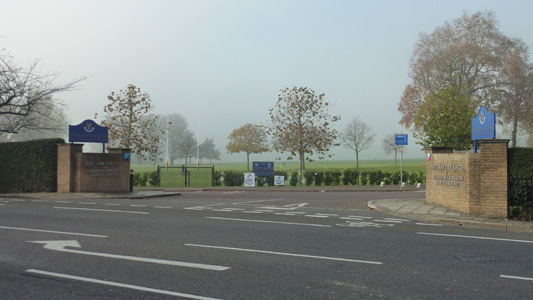 Eltham College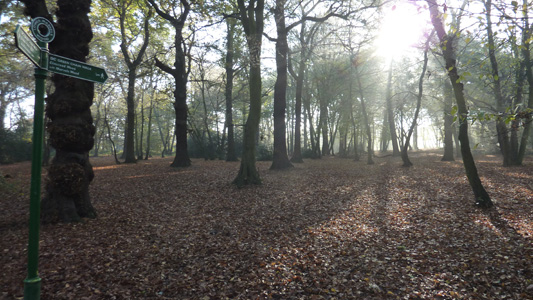 Lower Marvels Woods, and the Sun is cutting through the haze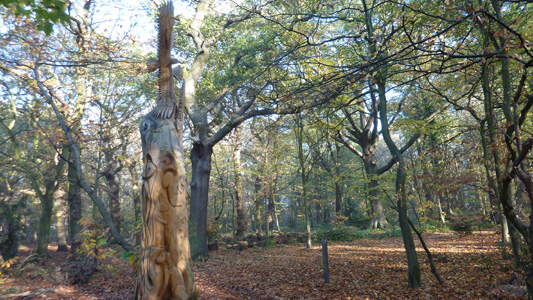 Nicely carved birds - Elmstead Woods. There was a strong smell of incense from the adjacent cemetary, probably being burned in rememberance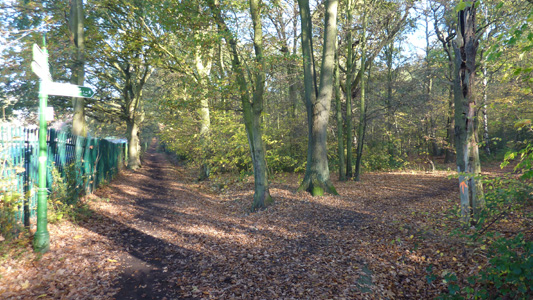 Turn right...all aboard for Chislehurst!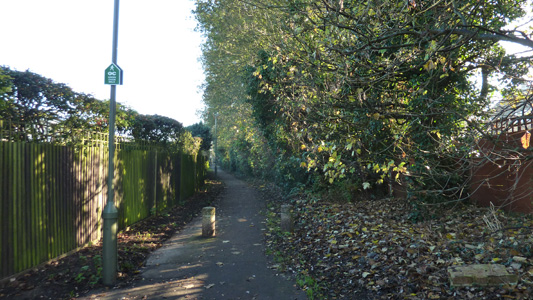 Dull path to Chislehurst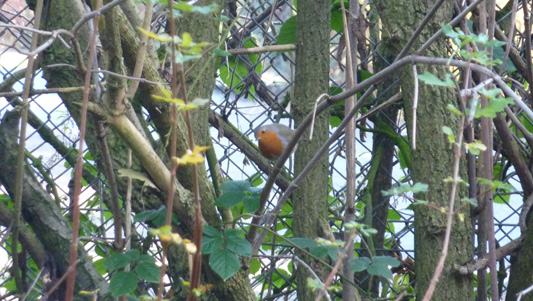 Sweet little Robin - Chislehurst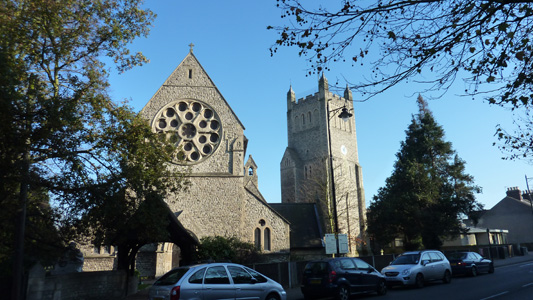 The Annuncation, High Street, Chislehurst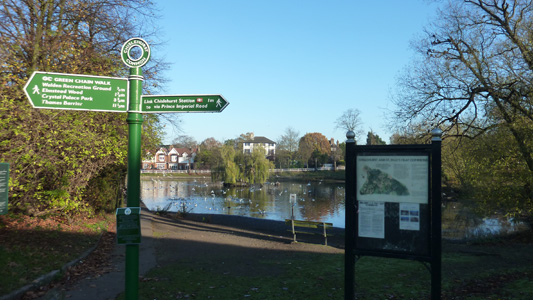 Chislehurst Common, end of branch. Some Sainsburys Sustenance, then up the road to join the LOOP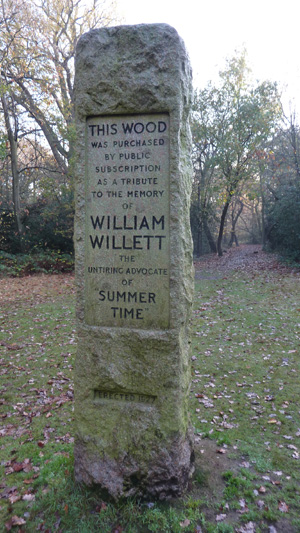 Petts Wood - One of the memorials I missed when doing the LOOP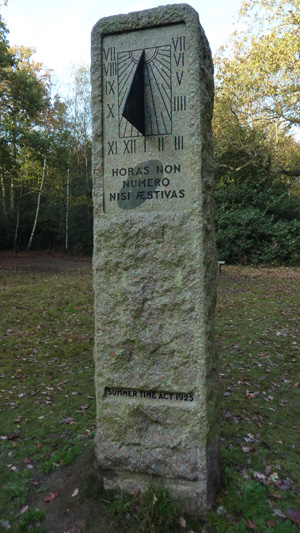 The Other Side is a sundial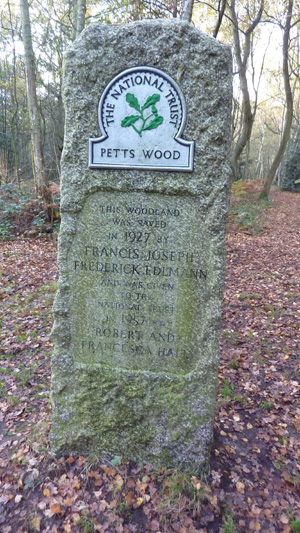 Second Memorial, further down the wood, giving thanks to those who saved this being just another big housing estate. Petts Wood is a beautiful peaceful place - even with so many families and walkers out on a stroll. I had a lovely five minutes break taking it all in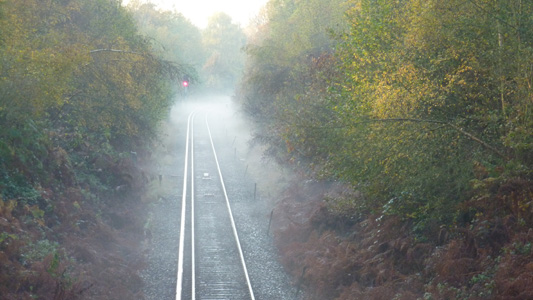 A bit spooky on the railway - you cross three separate bridges in all. This made me think of a Film Called 'The Signal Man' - I get all scared when that's on, based on a short story by Charles Dickens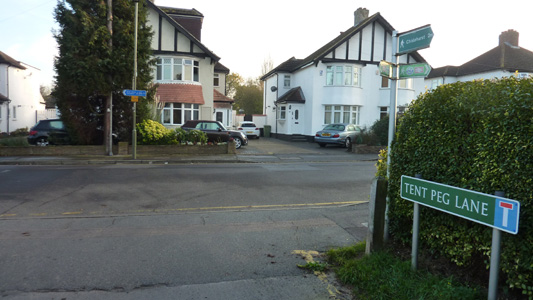 Curious Name...near end of Petts Wood Station Link. Petts Wood town was nothing special, but I had a lovely train ride home
Abbey Wood to Mottingham
Wednesday 30 November 2011 - 9 Miles
ID30112011#20
This walk was done on the day of the National Strike Action by UNISON - although I did not know when I booked this time off that was to coincide - although it had no direct effect upon my walk the day did seem less busy in urban areas and lack of schoolchildren and ambulances...
From Abbey Wood station I walked straight up Knee Hill to reach the Green Chain, amazingly luckily the road (with no pavements) was closed to vehicular traffic for tree pruning so I did not have to dodge London's Finest!
At Bostall Woods I then went westwards towards Plumstead Common passing through Great Bartletts Wood and soon turned south to reach Shooters Hill via Shrewsbury Park with some impressive vistas looking East and North. Crossing Shooters Hill by the impressive Victorian Water Tower and then to the Cafe I had passed by on the Capital Ring/Green Chain sections. Here I had some excellent scoff on yet another fine (cold) but sunny day and followed down and through Oxleas Wood for the third time on the GCW. Then via Eltham Park North, Falconwood Station and Eltham Park South to reach an urban section, crossing the A2 on a bridge and reaching Conduit Meadows - where you reach the junction with the River Shuttle Walk and another spur of Green Chain that I followed just to say I had done it to the fingerpost junction with the Capital Ring where I then retraced my steps and headed south passing by Charlton Athletics training ground. The next section was road walking westwards intially along Southwoods road, passing New Eltham Station and a small detour via Southwood PArk, more road walking and through Fairy Hill Park (just before the gates shut at 1600) and at Mottingham Station carried on too Loop via the Tarn and follow up to King Johns Walk via Middle Park Avenue which I then walked to reach Mottingham station again and complete another section of Green Chain. I had the delight of hearing someone bellow out from a balcony of the grubby flats 'Let me in.....(pause) let me in Susan, you c**t , I pay the rent, you don't live here....! Delightful.... and I hightailed it back to St Leonards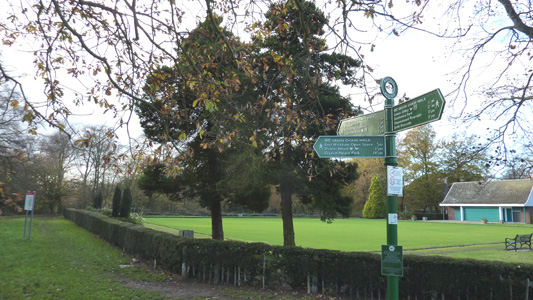 Bostall Woods - Déjà vu! This time straight on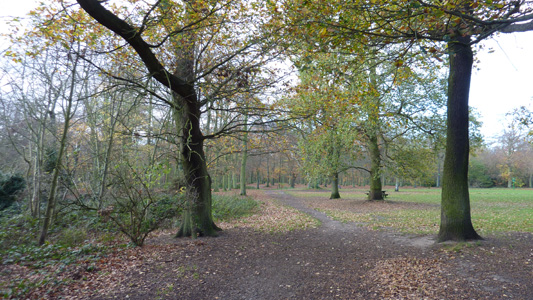 Bostall Woods flat bit
Heading towards Plumstead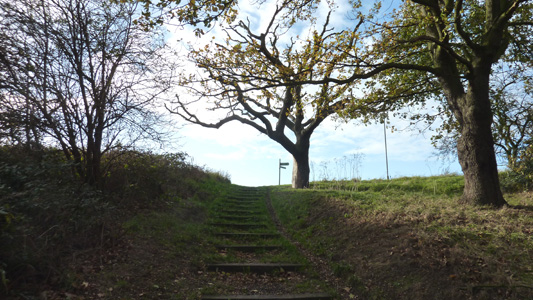 A small climb up to Plumstead Common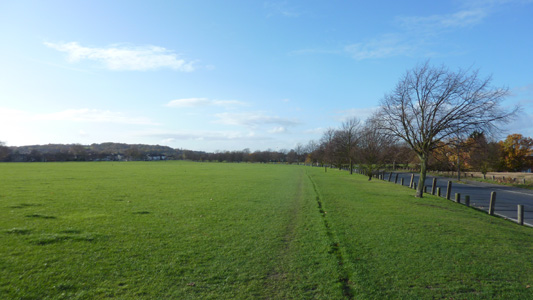 Plumstead Common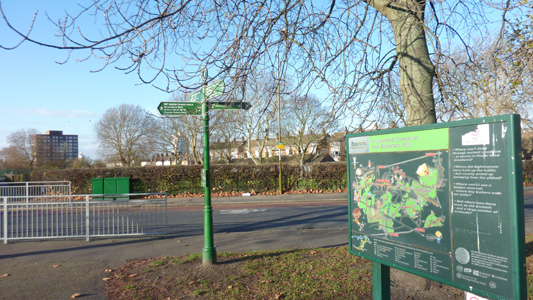 Here you can turn right to Plumstead Station, straight on to Woolwich and Charlton or left towards Shooters Hill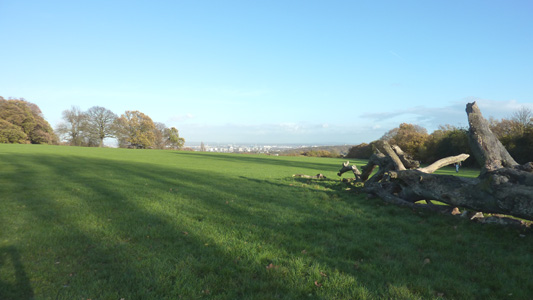 Lovely vista at Shrewsbury Park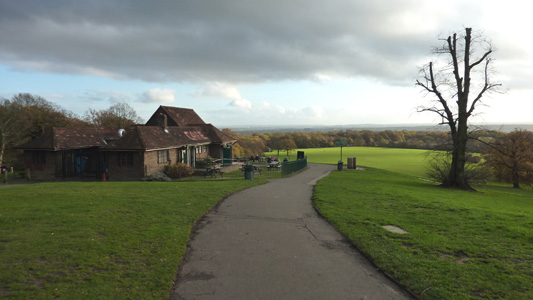 Lovely Oxleas Meadows Cafe. A great stopping off point for some scoff. While here a punter was taken ill (not food related!) but due to the strikes had a massive wait for an ambulance bod in a car to turn up...I will leave you to make up your own mind on the merits or otherwise...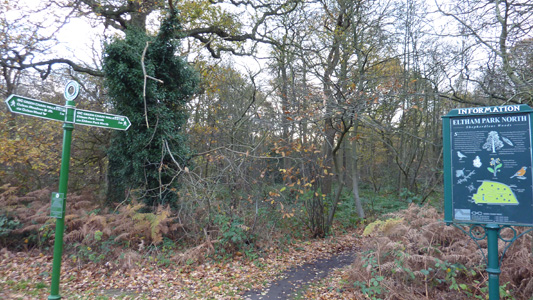 Eltham Park North - Enroute to Falconwood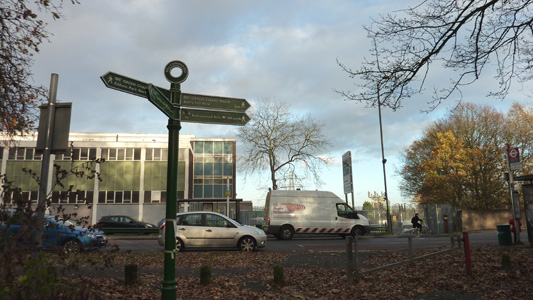 Falconwood - Last time here I was in skedaddle mode to the station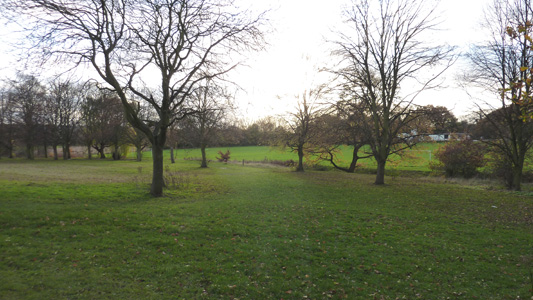 Avery Hill Park - The link to Eltham Palace and Shuttle Riverway branch here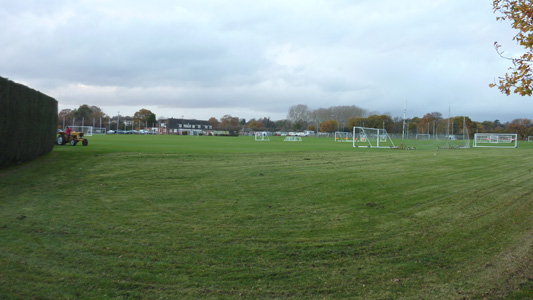 Charlton Athletic Training Ground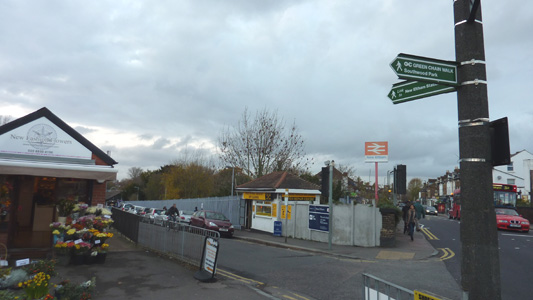 New Eltham Station and pavement bashing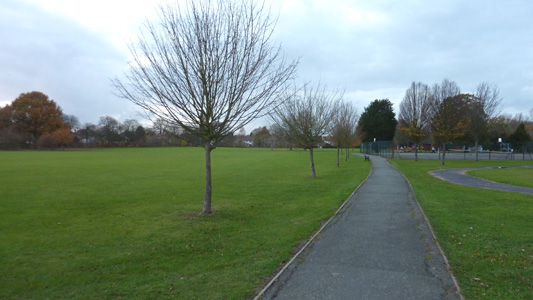 Fairy Hill Park nearly chucking out time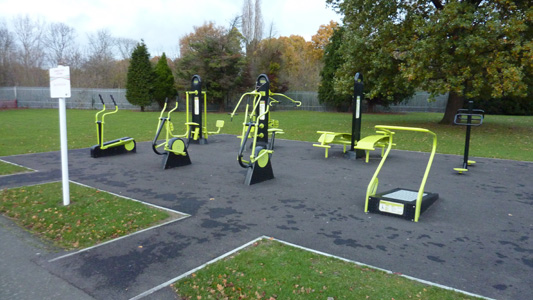 An outdoor Gym Initiative - 2012 Olympics and all that. With all the wobbly peeps in this country (myself included) any initiative is laudible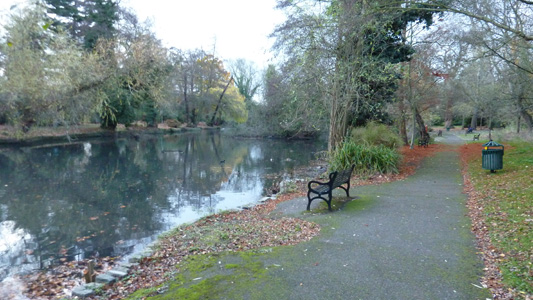 Pond at The Tarn. There is also a fascinating Ice Well here (as well) sic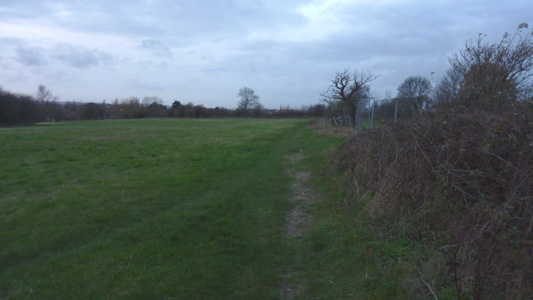 Middle Park leading to King Johns Walk. I then walked back to Mottingham Station to head home
Thamesmead Completion
Saturday 10 December 2011 - 2.5 Miles
ID10122011#21a
The first bit of today's walking. From Abbey Wood Station I walked back up Abbey Road (with a dose of Greggs finest) to take the grim footbridge that leads North into Thamesmead. I followed this all the way to Southmere and around the lake, then across the Ridgeway and across the A2016, before reaching Crossway Park and following a previously completed path in a loop back under the A2016 to start following the Ridgeway, just for completeness sake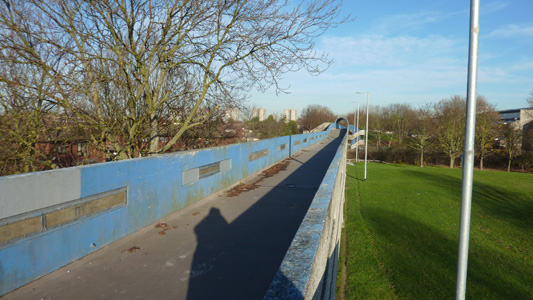 The Grim Walkway back into Thamesmead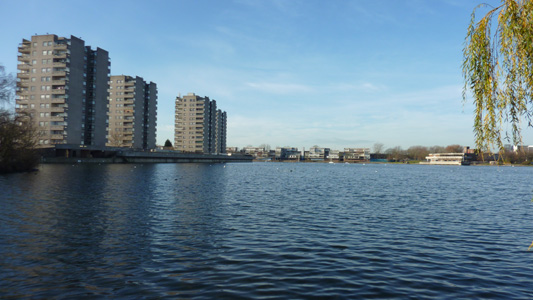 Southmere, somehow I missed this last time!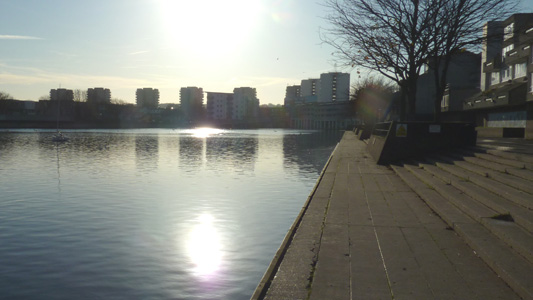 I finally got to get this photo, where in 'A Clockwork Orange' Alex pushes one of his 'droogs' into the water. I have embedded a youtube clip clearly showing this location from the film. Everything is obviously quite clean and bright as the Thamesmead development was still quite new. I obviously do not condone violence in reality, but find this 1970s view of a strange savage future utterly compelling and only got to see it in 2001 for the first time
'Flatblock Marina' Scene, from 'A Clockwork Orange'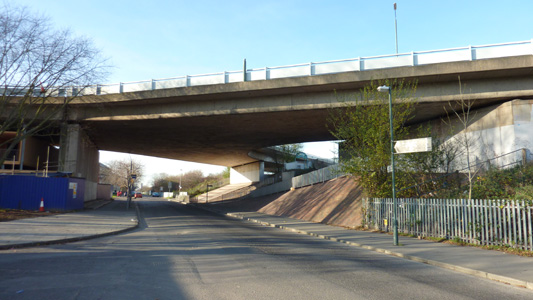 Belvedere Road where it all went a bit munky last time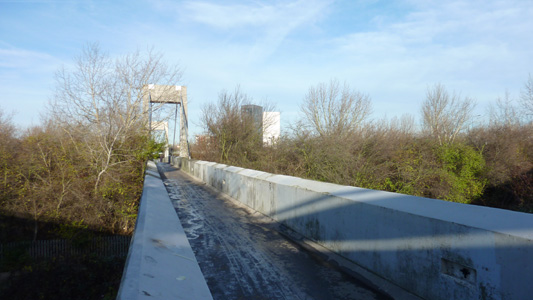 Another grim walkway, over the A2016 to complete the Green Chain loop to Crossway Park
The next bit today was on the Ridgeway
Plumstead to Charlton
Saturday 10 December 2011 - 3.75 Miles
ID10122011#21c
Quite 'simples' - following on from the Ridgeway walk, took link path from Plumstead station up Griffin Road and Waverley Crescent Hill to the Common and the fingerpost reached previously. This time I walked Westwards, across the Common, and then road walking along Plumstead Common Road to eventually reach Barrack Field, where you walk along a pleasant path set South of Ha-Ha Road passing Olympics Infrastructure, passing the Cemetery, and turning down into Charlton Park. Shortly you briefly rejoin the Capital Ring section of Green Chain, before spliting off again in Maryon Wilson Park and going through Gilberts Pit, ending on Woolwich Road and the finale of my Green Chain adventure. I then jumped on a bus to Greenwich to start the Waterlink Way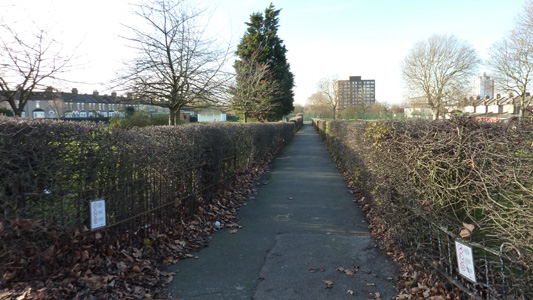 Rejoining the Green Chain Walk from the Plumstead Station Link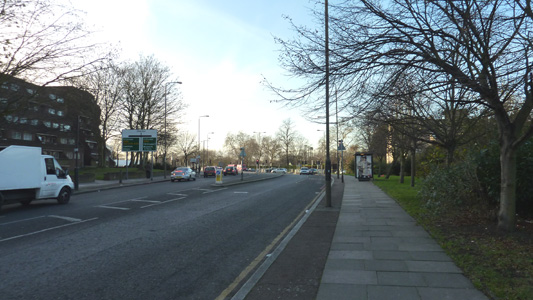 About to cross the South Circular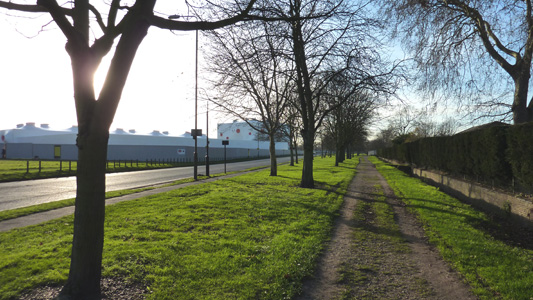 Ha-Ha Road - had late lunch on a bench and chilled for 10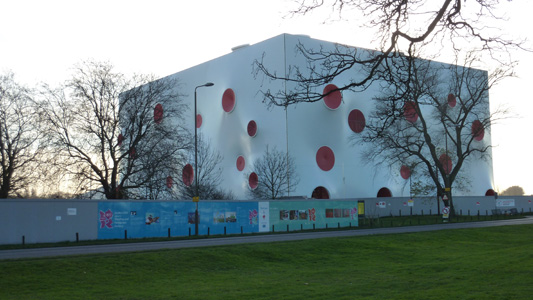 The Shooting and Paralympic Venue for 2012 Olympics - looks like a big box with a case of the mumps! Some structure is being built on the south side but I did not know its purpose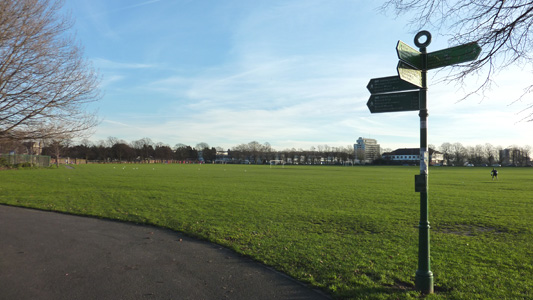 Rejoining the Capital Ring briefly at Charlton Park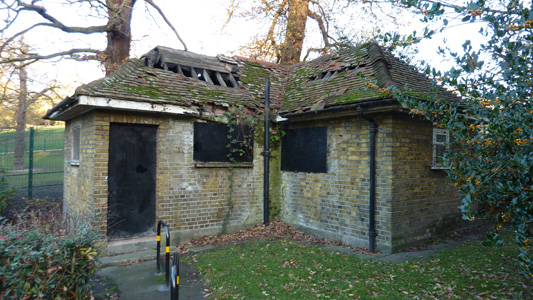 Abandon Schiller in Maryon Wilson - Surely this isn't acceptable?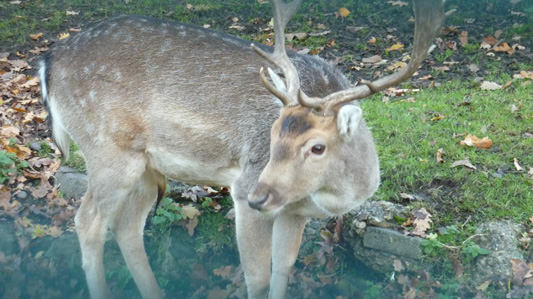 One of the lovely deer in Maryon Wilson. The slight blurring was due to trying to shoot (photos!) through the security fence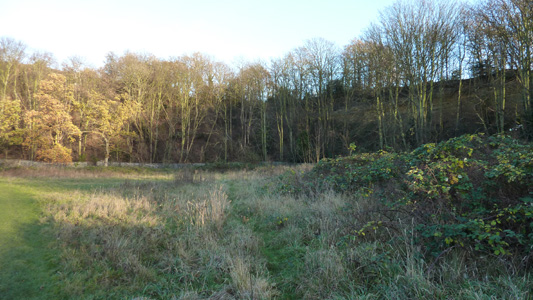 Gilbert's Pit - quite a large quarried area. Last piccie before reaching the nearby Woolwich Road. If Charlton FC were at home this week it would have been heaving, but it was rather subdued when I caught the bus to Greenwich