Fife Coastal Path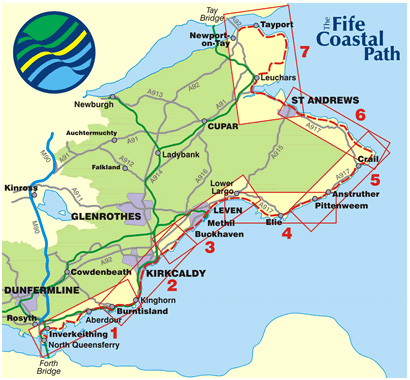 The Fife Coastal Path is a Scottish long distance footpath that runs from North Queensferry to Tayport, by the Tay Bridge. The path was created in 2002 and runs for 82 miles (132km) along the coastline of Fife. It passes through many seaside villages and takes around six days to complete.
Along the route there is Aberdour Castle, Macduff's Castle near East Wemyss and Wemyss Castle; and also a range of diverse wildlife such as porpoises and puffins. The Fife Coastal Path is managed and maintained by Fife Coast and Countryside Trust which is a registered environmental charity.
The first section was easy, but you do need to be aware of tide tables for some sections, particularly towards St Andrews, where you could come a cropper!
North Queensferry to Kirkcaldy
Wednesday 24 December 2008 - 18 Miles
ID24122008#54
While up in Livingston for Christmas, I wanted to get a walk in (and burn off some off the calorific indulgence) - The Fife Coastal Path is easily accessed from Livingston by train, although £15 for a Kirkcaldy return is a bit over the odds!
Anyway, a fantastic start from North Queensferry, on a mild, but cloudy day, passing underneath the iconic Forth Rail Bridge, round inner bay to Inverkeithing (provisions stock up), Round Dalgety Bay (nice), up to Aberdour, then on to Burntisland. A rather boring roadwalk of a couple of miles to Kinghorn, then an undulating cliff section to eventually reach the Esplanade at Kirkcaldy. The vast majority of the walk is easy walking, and on well maintained paths and tracks, and very well signed. Very impressed, although Kirkcaldy looks like it needs a bit of regeneration (Mr Brown, shame on you!)
Fingerpost, North Queensferry, marking the start/finish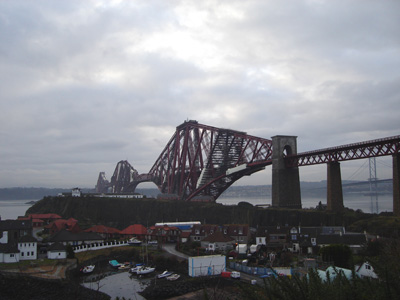 North Queensferry and the Forth Railway Bridge (always being worked on)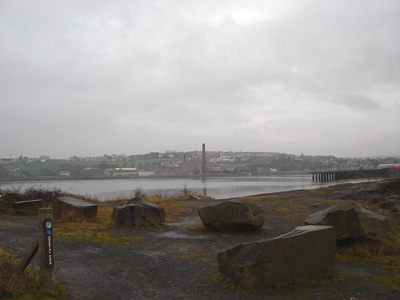 Looing across Inner Bay, to Inverkeithing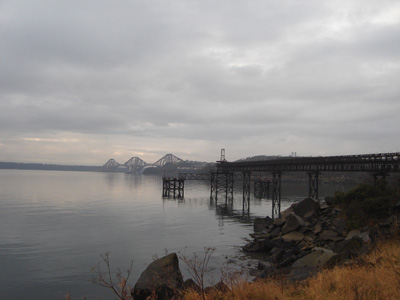 One last look back to the bridge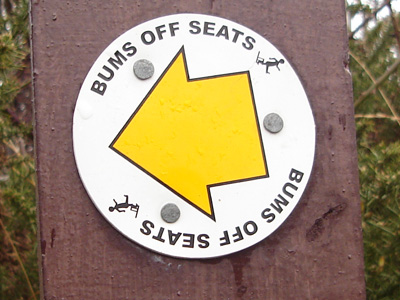 Wonderful Scottish Waymarkers - Cuts to the chase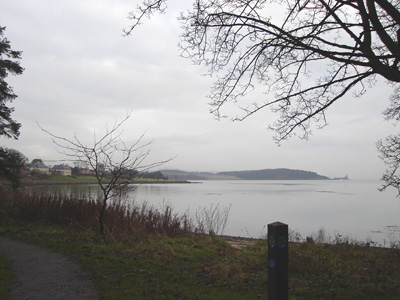 Picturesque Dalgety Bay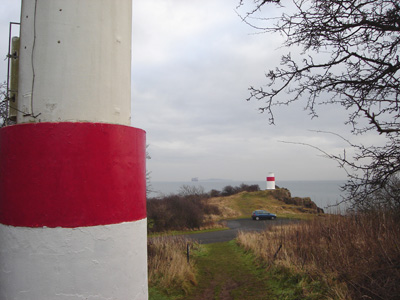 Hawkcraig, near Aberdour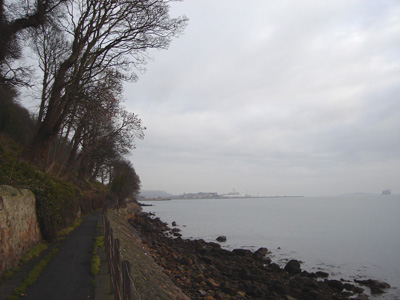 Between Silversands Bay and Burntisland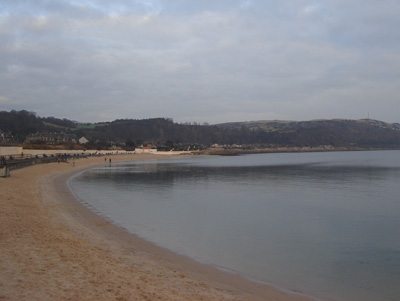 Burntisland Beach - very sandy...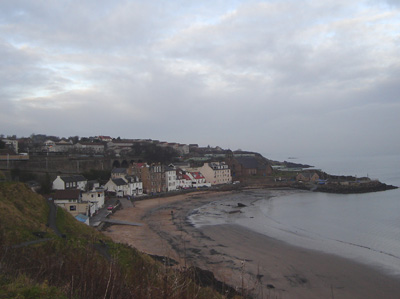 Pettycur, near Kinghorn, after boring road walk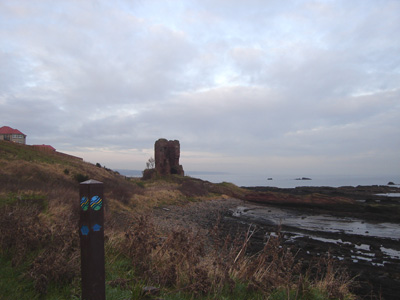 Seafield Tower, approaching Kirkcaldy, on an undulating cliff section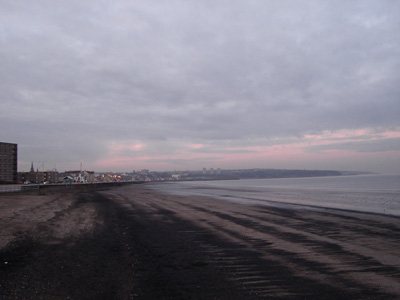 Approaching Kirkcaldy, journeys' end
Kirkcaldy to Elie
Thursday 28 May 2009 - 19.5 Miles
ID28052009#16
Back in Scotland - The bliss! Did a few jaunts while here and this one was great, with hot and sunny weather and just another section of a walk that continues to impress with some raw industrial ugliness, and contrasting beauty, normally with a surprise around most corners.
From the Esplanade in Kirkcaldy, through Ravenscraig Park to Dysart, round a lovely harbour, through a former mining area to West Wemyss, along to East Wemyss and joining a former railway to Buckhaven. Very drab and industrial through into Methil then to the former power station at Leven, where the landscape changes again and becomes rather beautiful and you can walk (depending on tide) on the shore or through the dunes, to pass a long golf course. Arriving in Lundin Links you walk through this pretty village into Lower Largo, with a lovely old viaduct and the Alexander Selkirk/Robinson Crusoe monument - shortly after regaining the old railway. This is then followed for nearly a mile, where you start to follow the shore / dunes again - this part, along to Shell Bay was where I chose to have my late lunch and sitting on an old tank block was bliss in the sunshine and just the slight sound of the surf and the occasional bird call for company. Passing Ruddons Point and through the Caravan Park at Shell Bay, climbing up at Kincraig Point, passing a WWII gun emplacement and look out posts. You then descend to the shore again, where I had to take a path throught the dunes, skirting Elie Golf Course (high tide), through Earlsferry and finally into Elie. A well deserved half of Coke in The Station Buffet Bar Pub, before a bus to Kirkcaldy and trains back to Livingston.
Kirkcaldy is a very helpful place for bus/train interchange and actually has a good town centre, so I will be coming back through here several more times.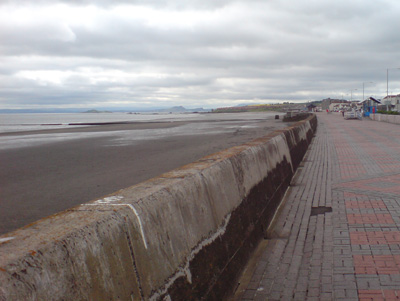 Esplanade, Kirkcaldy - wandering along with a Latte and a Yum Yum!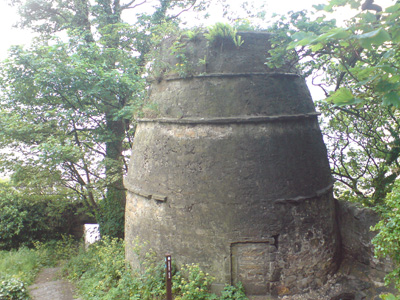 Wot Dat? Sort of like an Oast House - please excuse my ignorance! Ravenscraig Park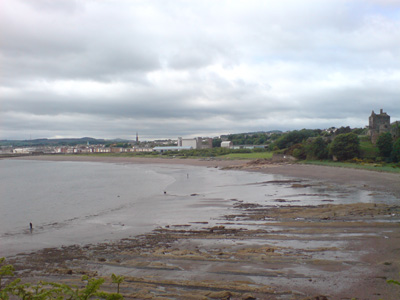 Looking back over Kirkcaldy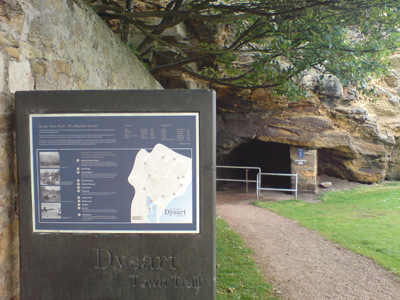 Charming Little tunnel leading to the harbour at Dysart - formerly a tramway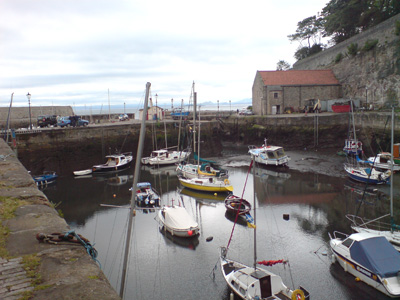 Dysart Harbour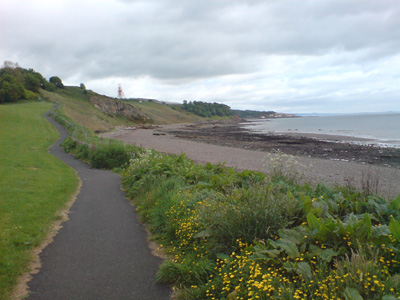 Approaching the former Frances Colliery - another example of the death of the coal industry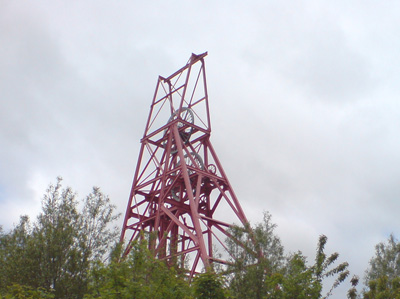 The pit head
Blair Point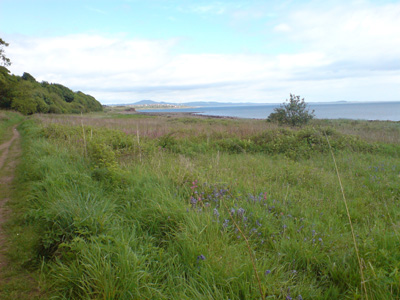 Between West and East Wemyss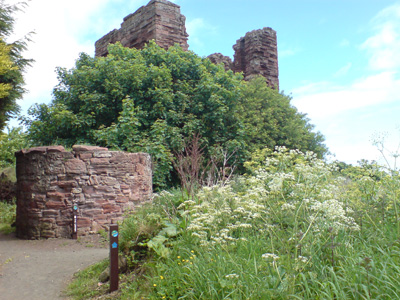 Macduff Castle is associated with the MacDuff Earls of Fife, the most powerful family in Fife in the middle ages, although nothing survives from this period. The present ruins are the remains of the home of the Wemyss family, who lived here from the 14th century, and their successors in the 16th century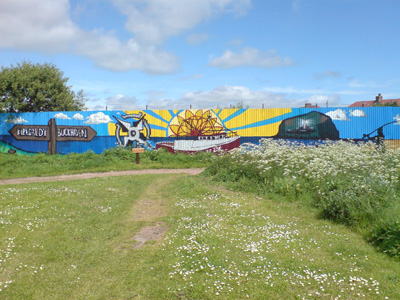 Quite nice corrugated fence across railway trackbed at Buckhaven. Something to do with Neds (Scottish Chavs) on Community Payback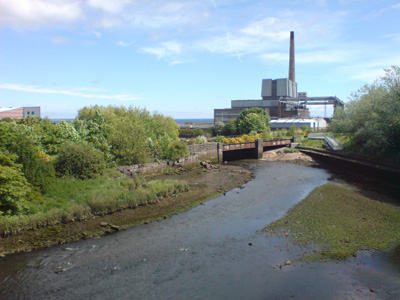 This former coal power station (Methil) is at the end of a rather drab walk through Buckhaven, Methil and Innerleven. This marks the end of the urban, and back into the beauty that lies on the unspoilt parts of the coast - however, I do find industrial decay rather interesting visually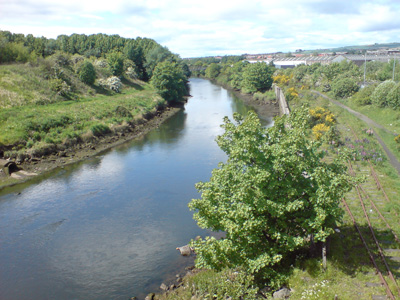 The Leven is quite attractive, even with the rusting railway tracks to the power station alongside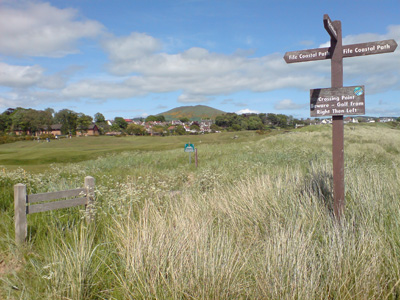 At Lundin Links, a pesky Golf Course causes confusion - the path apparently crosses over it, I stayed on the shore as I can't be bothered with the hassle of the 'golf course code'. In the distance, Largo Law rises to 290m and is conical in shape - the remains of a volcanic plug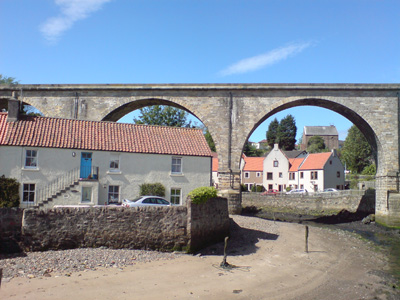 Old railway viaduct, Lower Largo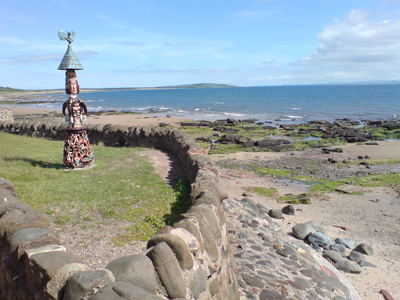 Statue in garden, Lower Largo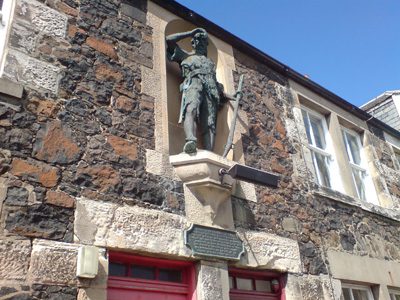 Alexander Selkirk Memorial - a Scottish sailor who spent four years as a castaway when he was marooned on an uninhabited island. It is probable that his travels provided the inspiration for Daniel Defoe's novel Robinson Crusoe. Lower Largo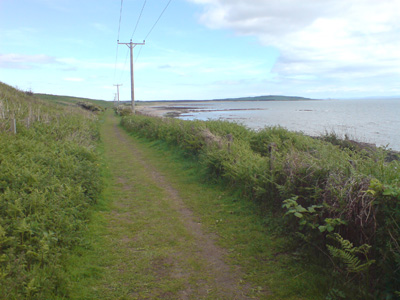 Heading along old railway, Largo Bay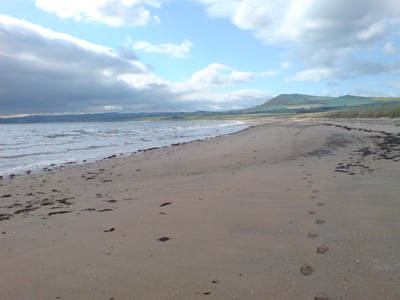 Skoff time - Largo Bay - bliss...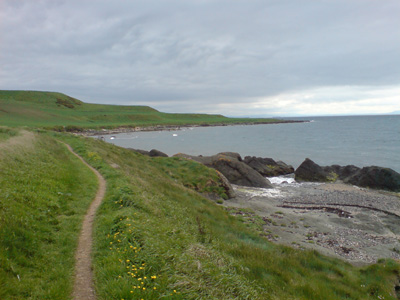 Shell Bay (after passing the caravan park)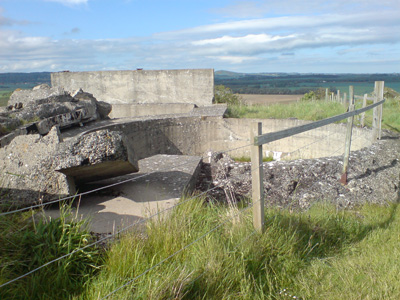 Presumably the base of a WWII gun emplacement, Kincraig Point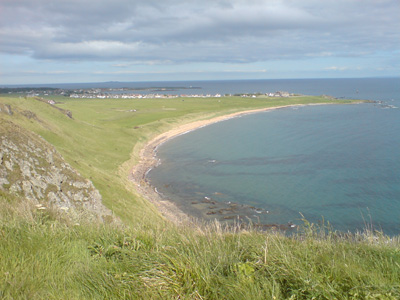 Beautiful view over Earlsferry and towards Elie. I could hear some voices but I couldn't place where they came from - presumably from people using the alternative 'Chainwalk' below these cliffs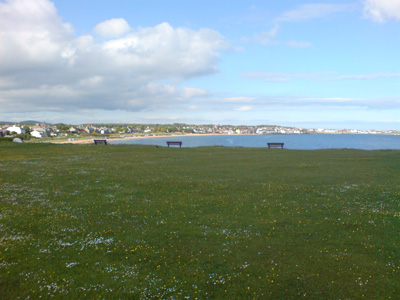 Coming into Earlsferry and Elie. A mobile chippy was parked up, tempting, but I knew a wonderful dinner lay in wait, back in Livingston. Just had my second cheese roll instead after a nice bus ride back to the rail station at Kirkcaldy
Elie to Crail
Monday 15 February 2010
ID15022010#05
Back in Scotland - wonderful! The weather was a bit overcast and occasionally drizzly, but another great walk along the coast, with black pudding and Chips at Anstruther's 'Wee Chippy' - not a good idea as a bit bloated afterwards...
The walk was from Elie, through St Monans, Pittenweem, Anstruther, which all come up pretty quick, with a much longer gap to finish in Crail. Unknown to me there was a road closure which buggered up the buses, but a wonderful taxi driver took me back to Anstruther to catch a bus back to Kirkcaldy, then train back to Livingston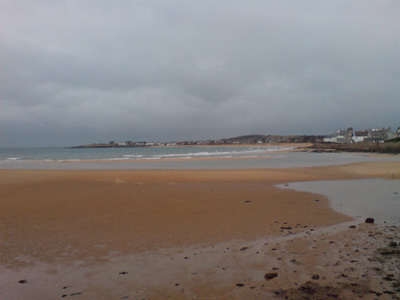 Looking back to Elie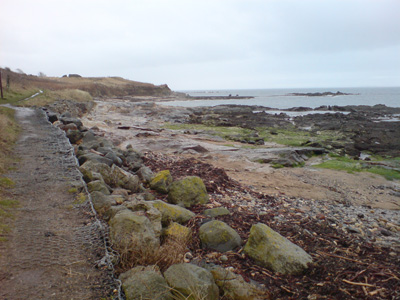 On the way to St Monans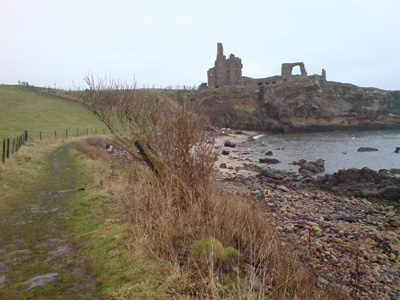 interesting ruins near St Monans - Newark Castle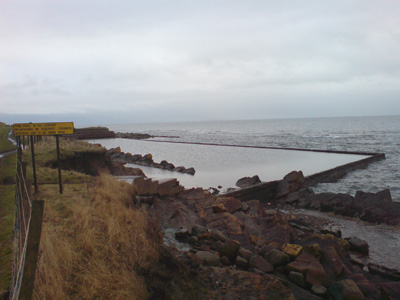 Old bathing pool at St Monans - a rather bracing experience methinks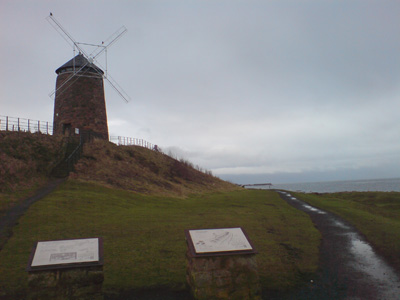 Strange Windmill at St Monans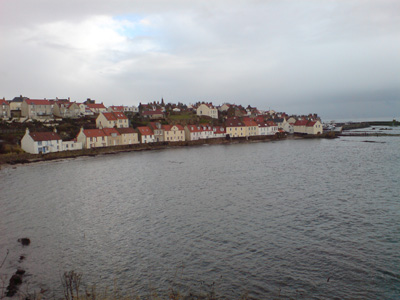 Another lovely village - Pittenweem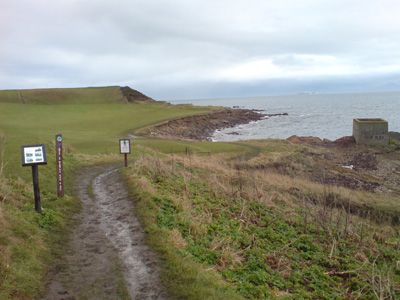 The concrete block on the right by the Golf Course says 'Saor Alba' - Free Scotland. Near Anstruther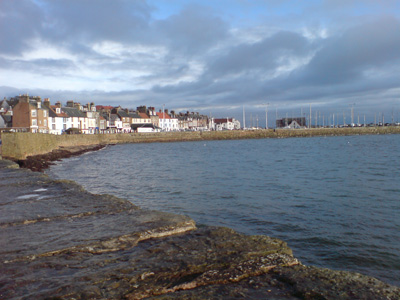 Yep - another good 'un - Anstruther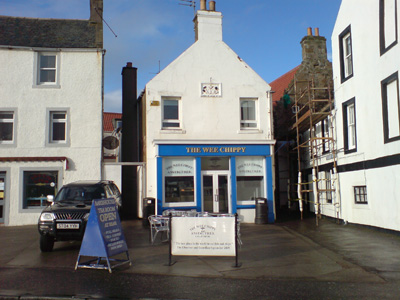 The Wee Chippy - According to the Observer and The Guardian ' The Best place In The World to Eat Fish and Chips ' - Blimey! The Anstruther Fish bar nearby is also apparently kick ass in this department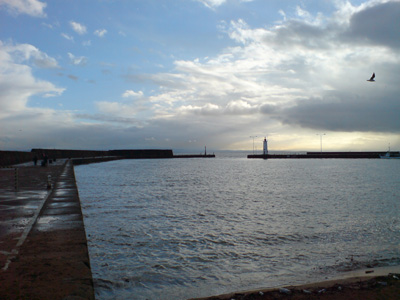 The Harbour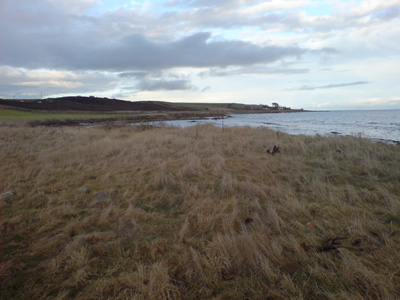 Rather lonely walking on to Crail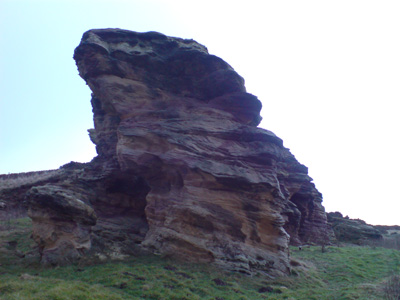 This rock looks a bit like a Lizard to me (maybe I should lay off the cough mixture!) - Near Crail
Ruins near Crail - bit of a hard sell for an Estate Agent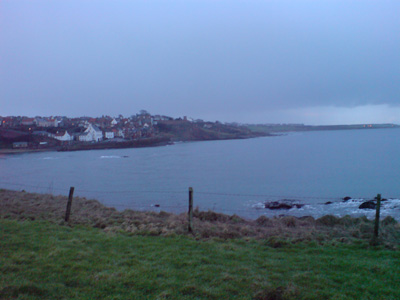 Crail - a bit soggy and cold by this time
Crail to St Andrews
Thursday 18 February 2010 - 13.5 Miles
ID18022010#06
I had been a bit worried about this section - mainly because it is subject to tidal obstruction and is also described as challenging in places. I made sure I started at low tide, this being the earliest I could practically reach Crail, this time by train to Leuchars and bus via St Andrews. The walk was actually not really too musch of a challenge until several miles before St Andrews, where a rather torturous roller coaster of paths took me up and down the cliffs, and the tide was becoming a problem again, but I finally made it, rather exhausted and muddy collapsing on a bench near the town centre. I very rewarding walk however, on a cold but beautiful sunny day.
From Crail, you pass round Fife Ness, passing the Coast Guard Station, passing alongside several Golf courses to Kingsbarns. Soon a section following kenly Water inland to Boarhills, eventually returning to the coast again, for a long and hard walk into St Andrews, before bus to Leuchars and train back to Livingston. I hope to finish the walk into Dundee in the summer.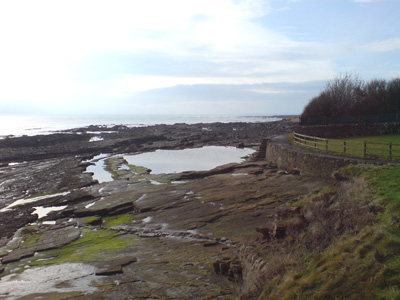 A nice day for it - Crail
Caravan Park - near Fife Ness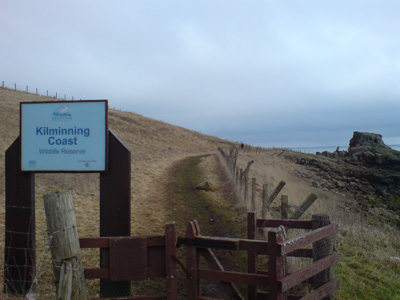 Getting nearer to Fife Ness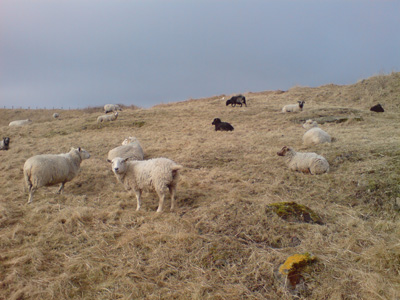 Sheep not really very impressed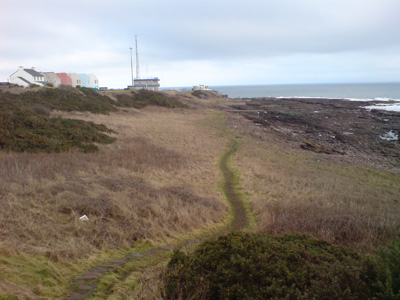 Fife Ness and Coastguard Station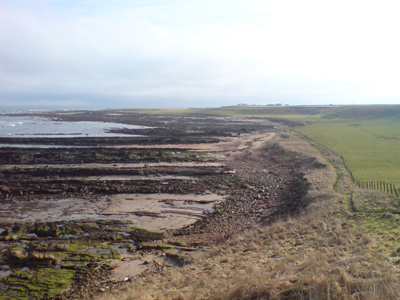 A last look back to Fife Ness
Near Kingsbarns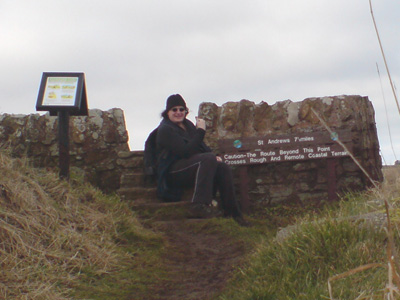 Putting a brave face on for the push to St Andrews (7.5 Miles)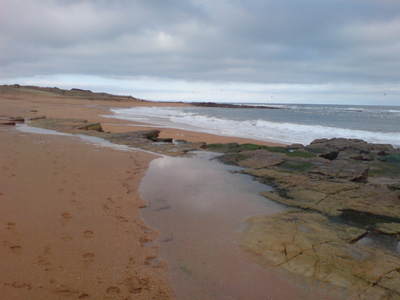 Some Beach action - Kingsbarns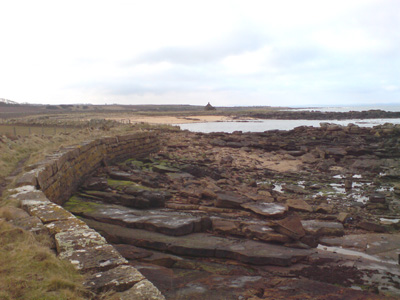 Not too difficult yet...near Babbett Ness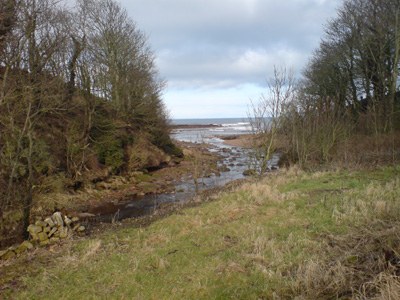 A lovely section, at Hillhead going inland to Boarhills by the Burn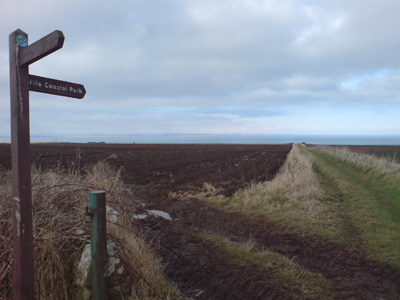 Heading back to the Sea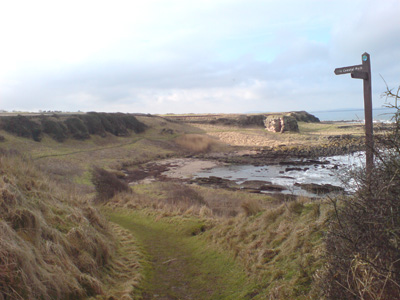 Near Buddo Rock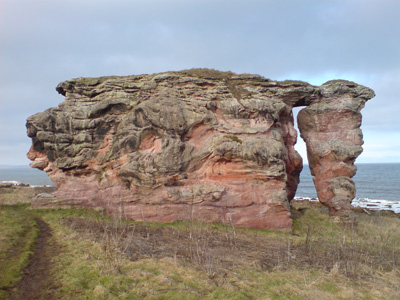 Buddo Rock - weird Eh? The bit in the middle looked like a skull to me, but as with the previous section I probably get a bit tripped out on endorphins, fresh air or sumfink...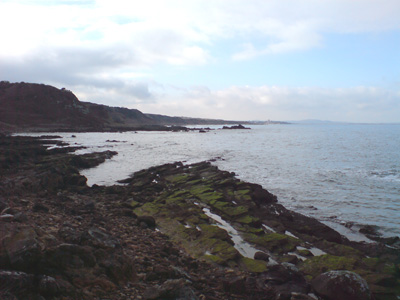 St Andrews appears tantalizingly in the distance, but you're gonna work it (girlfriend) to get there...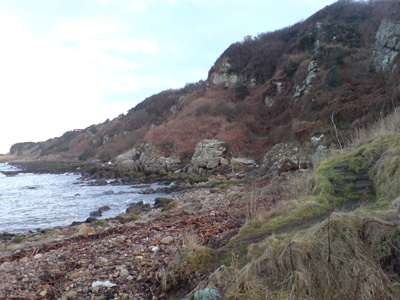 Looking back, after a lot of up and down action (not being rude!)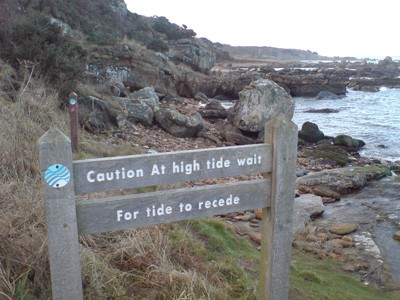 As you see, the tide is almost back in, making the route a bit hairy in places - when it says 'wait for tide to recede' it is clearly unrealistic to wait for the tide to change again - it would have been freezing cold and dark!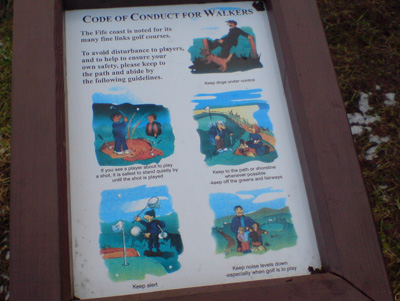 OK...A code for walkers around Golf Courses - presented in a fun way, but I take exception to the way Golf Courses on this section expect you to walk on the beach, when the edge of the fairway is far more reasonable - we all have to share the countryside and walking came first!
Almost there, the worst is over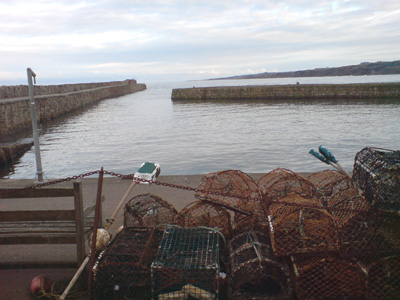 St Andrews Harbour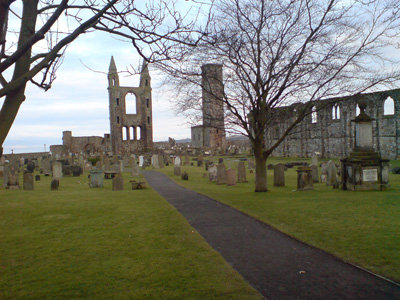 Cathedral (ruins) - remember this from a round Britain extravaganza by car with a mate in 1990.
St Andrews to Dundee
Thursday 8 April 2010 - 20 Miles
ID08042010#10
Only 6 weeks after last session, got to complete this - it just worked out ideal to go back to Scotland for Easter. A long walk, but almost entirely flat(ish), the last couple of miles were a bit of an ordeal, particularly the almost endless walk across the Tay Road Bridge, but It was an experience. From St Andrews, a dull walk along by the A91/A919 to Leuchars, then some minor tracks after the RAF Base, becoming a lot more pleasant on the approach to Tentsmuir Forest, with a pleasant few miles trucking along an easy path through the trees. Eventually reaching Tayport and then following a disused railway to the south side of the Tay Road Bridge. A long noisy walk then leading into Dundee, passing the RRS Discovery which is preserved nearby the Railway station. I then had a kick ass ride back over the Tay and Forth Rail Bridges, on route to Livingston - Job Dun.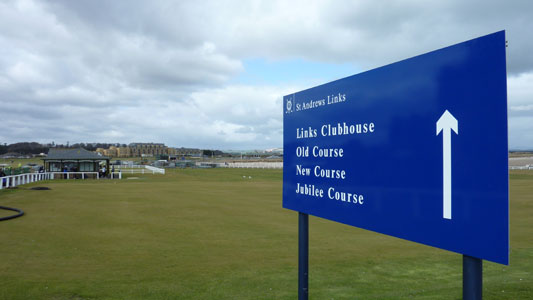 Lots of Golfing Shenanigans going on...I bought an Old Course Golf Ball!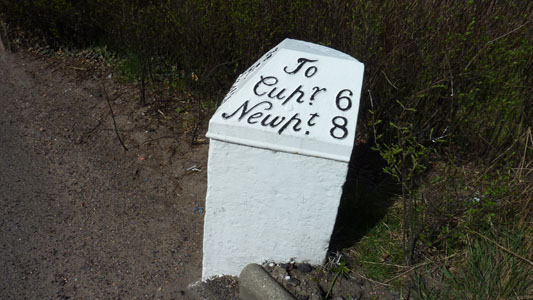 Mile Marker on the boring bit to Guardbridge/Leuchars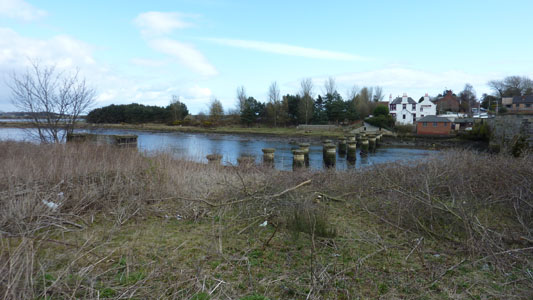 Piers...the sad remains of the St Andrews Railway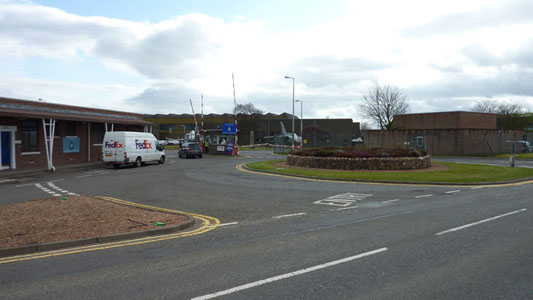 Leuchars RAF Base. With the present paranoia I was expecting the Men In Black to Haul me in for having the audacity of taking an innocent picture!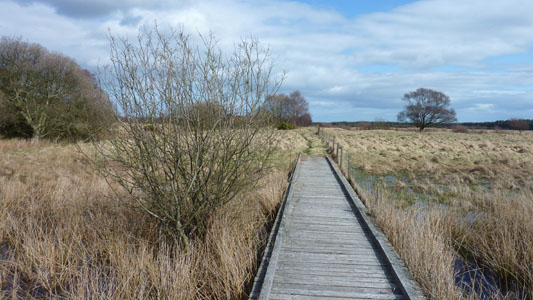 A lot of swampy walkway action en route to Tentsmuir Forest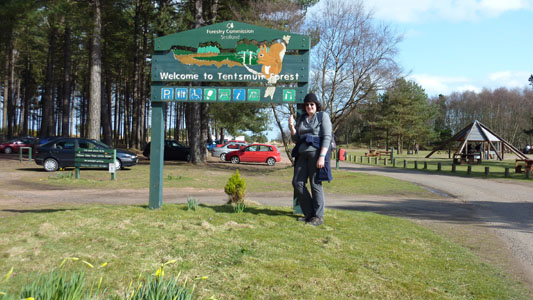 The Horror, the Horror..!
Something in Tentsmuir Forest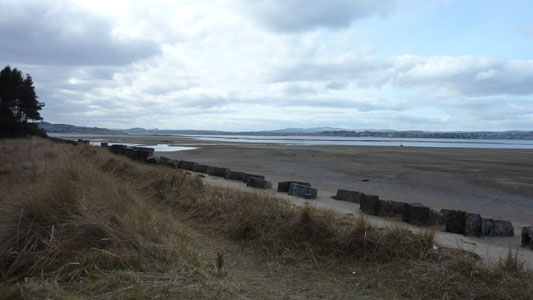 A Lovely place for late lunch - near Tentsmuir Point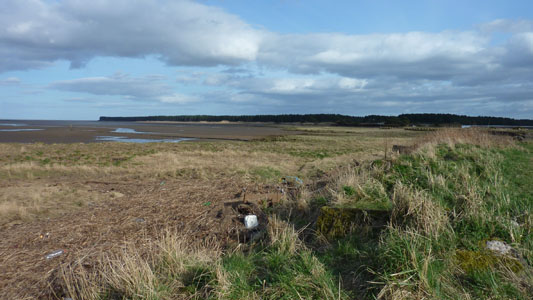 Retrospective - Tayport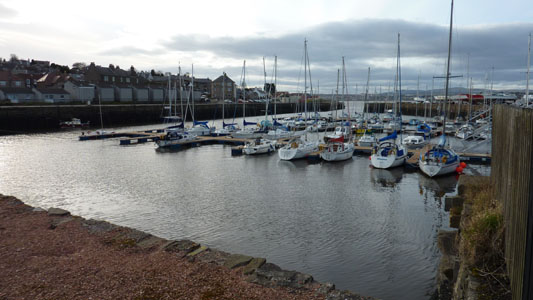 Tayport Harbour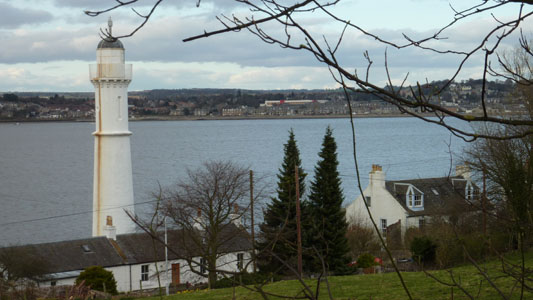 Passing a couple of old lighthouses - from the old railway trackbed approaching Tay Road Bridge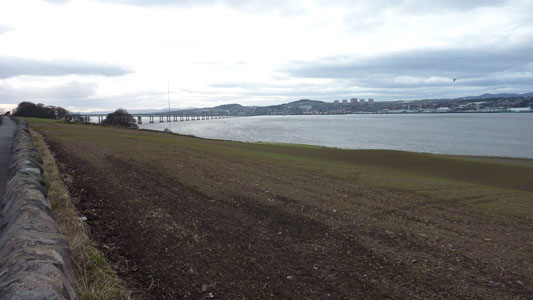 Nearly at the Road Bridge. The visitor centre was shut, so had to push on...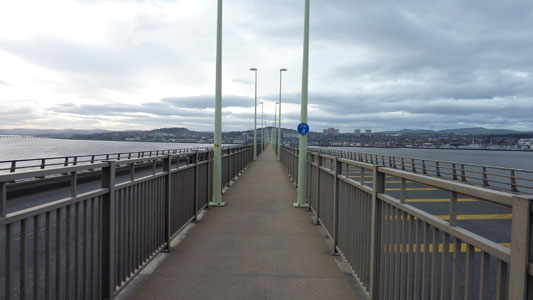 Crossing - gets rather previous with the loud traffic blasting past on both sides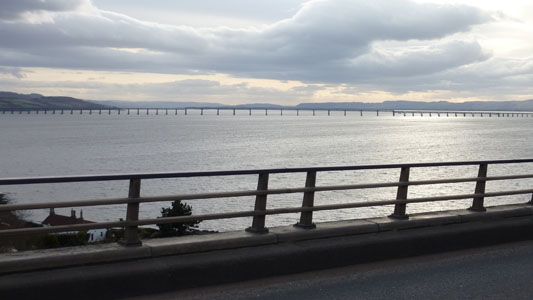 Rail Bridge In Distance. An hour later I crossed it heading South by train
RRS Discovery. Dundee is 'City Of Discovery'. Last memory of visiting was in 1990 - bought a broccoli quiche from Marks and it decided to make a reappearance at Loch Ness - good times! Anyway, job done - Southern Upland Way next challenge...