Cotswold Way National Trail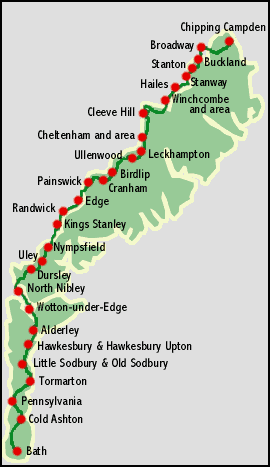 The trail runs 102 Miles from Bath to Chipping Campden.
Walked as Stanway to Chipping Campden, Bath to Cold Ashton, Hawkesbury Upton to Dursley, Dursley to Birdlip, Birdlip to Dowdeswell Reservoir, Dowdeswell Reservoir to Hailes, Hailes to Stanway
Stanway to Chipping Campden
November 2004 - 10 Miles
This was a gem. The walk was part of a non stop hectic short break to the Cotswolds which from East Sussex is a five hour drive (When you have an elderly diesel fiesta and you are trying to get there and back on one tank!)
A friend and I left at 6am and spent the day at the Glos Warks Railway Diesel Gala (Convinced of my anorak status now?) before staying the night at Stow In the Wold YH. Then I spent the next day doing 12 miles of the Cotswold Way then had to drive home after that!
I am completing a National Trail every year and this is 2008's choice.
Predictably, here are some pics: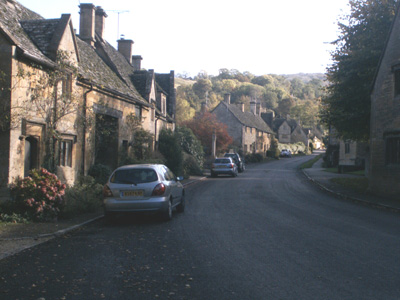 Stanton - Shame about the motors. My friend Stain sez they are really hot on stone cladding round here, but she is on a lot of medication!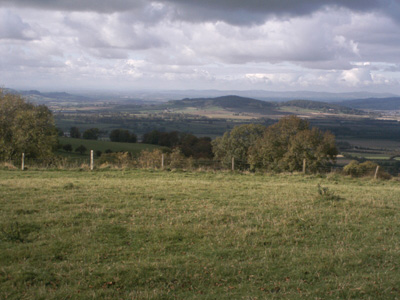 Evesham Vale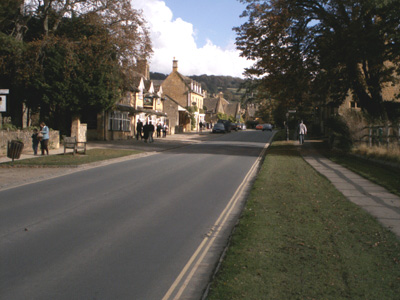 Broadway - I am a bit sentimental for the Cotswolds as my cousin used to live in Oxford and the late 80's were spent driving and biking all over this beautiful (expensive) area. Additionally much respect to the GWR for rebuilding to here in the near future.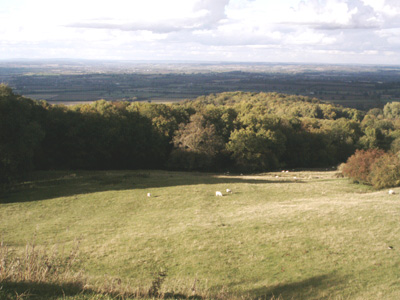 Dovers Hill - Spectacular (If you have been there)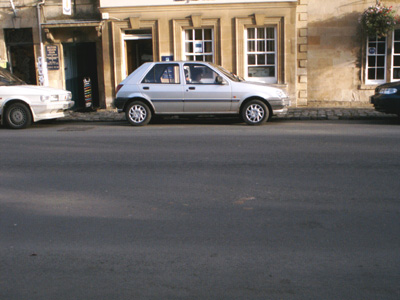 The chariot and a bored Stain awaits - Chipping Campden
Bath To Cold Ashton
Saturday Jan 2008 - 10 Miles
Walk ID19012008#3
Well - it's taken a few years, but I'm back! One of my friends now lives in Street, Somerset, so I have a base in the west country to do this and the Ridgeway. Unfortunately the weather was bad, raining all day - but I really had to get on with this, so slogged it all day and got soaked. Rather hard work on the hills, but fantastic scenery (what I could see through the mist). Started from Bath Abbey, but had a bit of trouble navigating out of the City Centre, after that the waymarking was good. The real piss off came when the bus, explicitly promised by Traveline never materialised, and I spent two hours waiting by the roadside - this is the third time that Traveline/Bus companies have let me down. Anyway, got a cab from the White Hart Pub (and a coffee) to Bath (£15!) and a train to Castle Cary (nearest station to Glastonbury after railway closures) so It all worked out OK.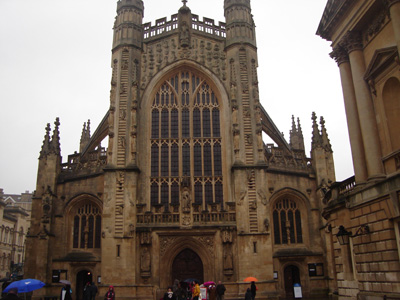 Bath Abbey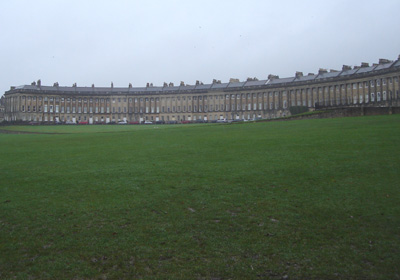 Royal Crescent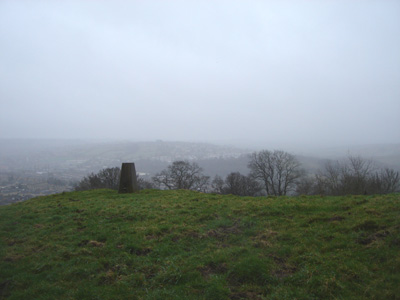 Penn Hill, the first climb from Bath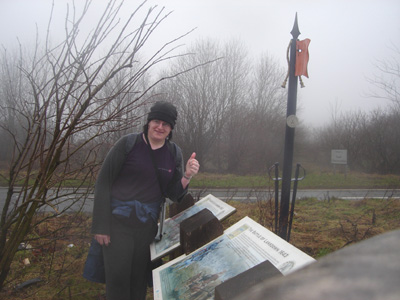 Keeping morale up - soaked at the Lansdown Battlefield (A big barney in 1643)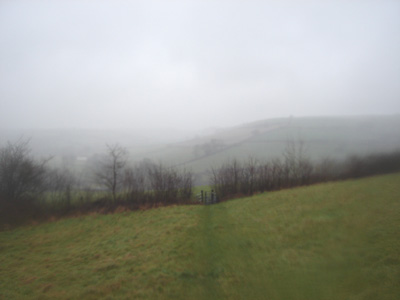 Descending - a couple of miles from Cold Ashton. Very misty and wet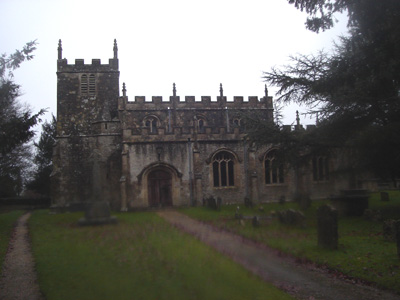 Cold Ashton church - the path leads to the White Hart Pub - very welcome on this section. Cold Ashton is also one end of the Limestone Link Path - 36 Miles (58Km) to The West Mendip Way, via Kennet and Avon Canal
Hawkesbury Upton to Dursley
Tuesday 19 February 2008 - 15 Miles
ID19022008#7
Bit of a mess up - was due to get down to Somerset on the Monday, and walk Cold Ashton to Hawkesbury on the Monday. Due to working my butt of at the Bluebell Railway on Saturday, had migraine, so couldn't leave till Monday, going straight to B&B, missing out lump of walk.
Anyway, Tuesday the weather was really cold and misty, but sunny! A bit hard around Wotton Under Edge (beautiful little town), but finished early and chilled on Stinchcombe Hill (did the entire circuit) and walked on to the railway station at Cam - got a bit frozen there...I have just looked up Stinchcombe Hill and notice that apparently golfers are not adverse to literally sticking the boot into Walkers! The problem seems to be that footpaths are badly waymarked at Golf Courses and conflicts thus arise...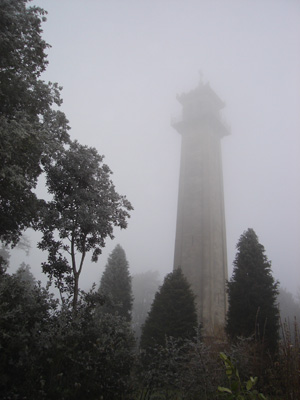 The Somerset Monument - Through The Fog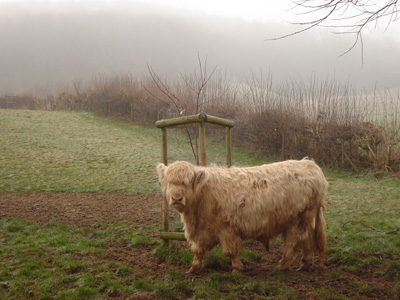 Sweet furry cow (Aberdeen Angus?)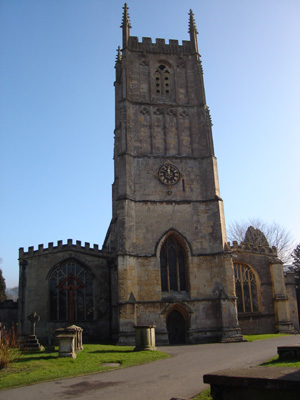 Wotton-Under-Edge Church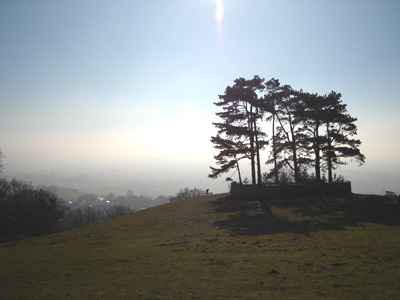 Steep climb up Wotton Hill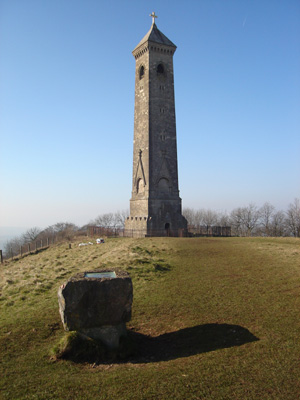 Tynedale Monument - Celebrates the geezer who translated the Bible into English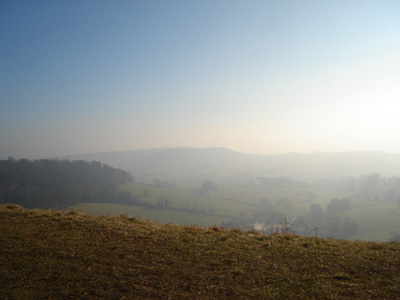 A very misty look back from Stinchcombe Hill to the Tynedale Monument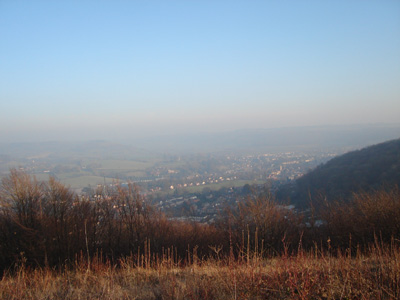 Looking down to Dursley - Couldn't even get a coffee there at 1630, the town had gone to sleep! Walked on 3 miles to Cam station
Cold Ashton to Hawkesbury Upton
Saturday 31 May 2008 - 14 Miles
ID31052008#19
Got to fill in the gap left from last walk. Weather was hot and humid, after the recent rain. Very spectacular and beautiful, with views over to the Severn Bridges and Wales, although misty. An early start from Highbridge station at 0624. Changed to bus at Lawrence Hill (Bristol) - supposed to be a really run down area, but I had a lovely cheap coffee and a friendly pensioner talked to me at the bus stop!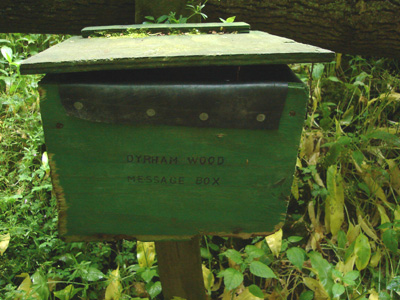 Dyrham Wood message box. I left my contribution...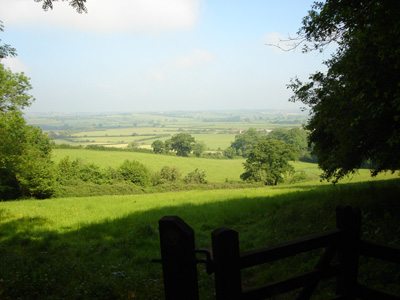 Leaving Dyrham Wood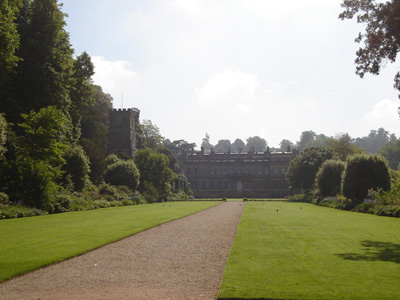 Dyrham House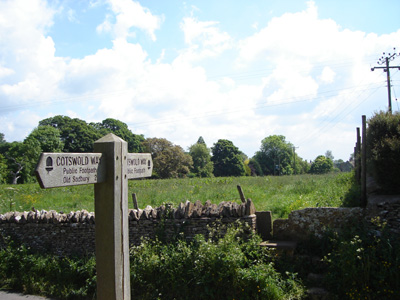 Leaving Tormarton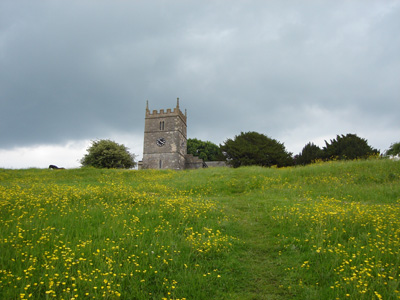 The slope up to Old Sodbury Church - Amazing Views and a welcome lunch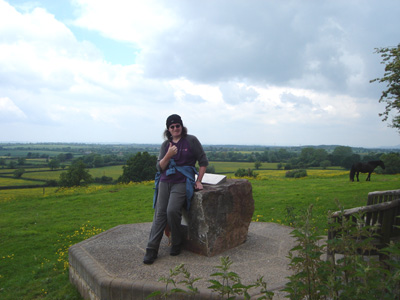 My carcass spoiling a great view - horse walks off in disgust!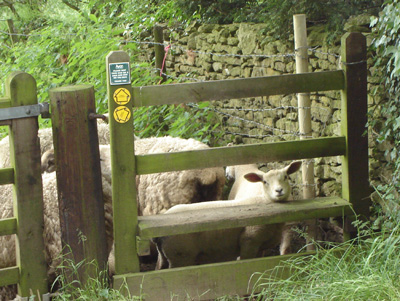 What you lookin' at?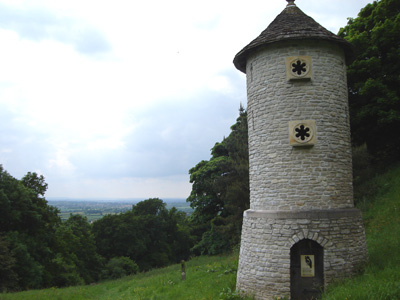 Stone built folly for the Millenium to keep Owls and Swallows nice and warm!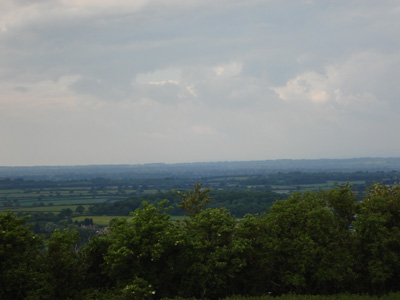 The Severn bridges are out there!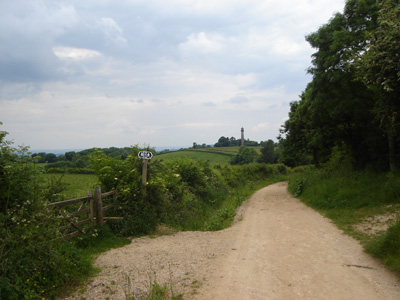 Approaching Cold Ashton and the Somerset Monument
Dursley to Birdlip
Saturday 26 July 2008 - 23 Miles
ID26072008#26
Another break in Somerset meant I could 'get jiggy' with the Cotswold Way. Extremely hot weather made for a bit of a slog up Cam Long Down (I had been dreading the first 6 miles) but an 'awesome' panorama justified the effort, but it was rather tough till Kings Stanley (Middleyard). A long section on to Painswick, but easier going, and offering some shade. This is where things started getting a bit dodgy - I had tried to get accomodation in Painswick in advance, but even with frantic door banging, it was all 'no room at the inn'. Decided to take a chance on walking on to Birdlip and trying my luck there - unfortunately only one place had rooms - at 75 gbp a pop! Needless to say I couldn't go for that - so after nursing a few drinks and feeling sorry for myself, spent my first ever night sleeping rough, wandering round the village and sitting in the bus stop till first light - so on the road before 5AM!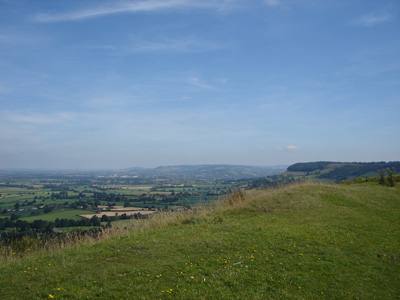 Cam Long Down, looking North East along the scarp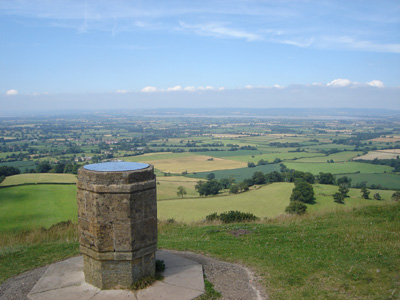 Coaley Peak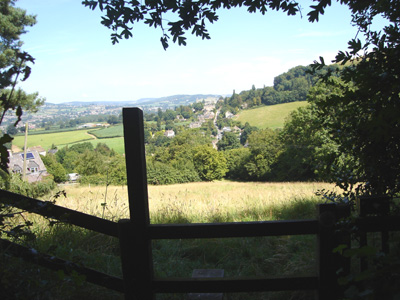 Looking down to Middleyard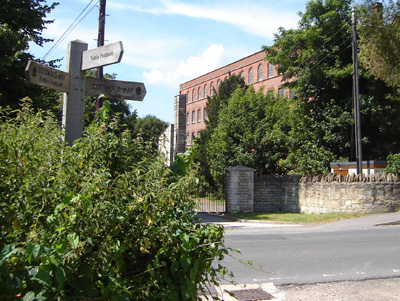 Stanley Mill - Once employed 1000 people...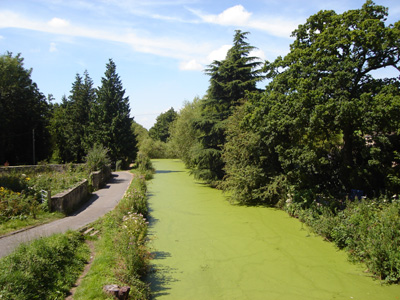 Stroudwater Canal - a bit disused innit...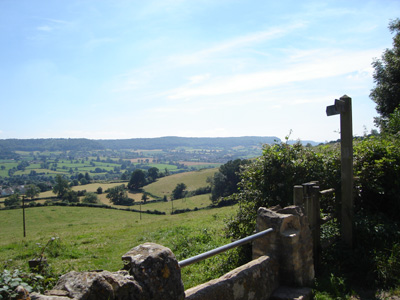 Steep climb up towards Westrip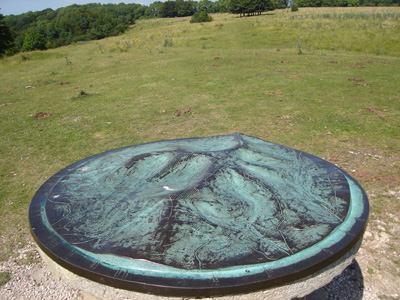 Topograph - unusual
Haresfield Beacon trig point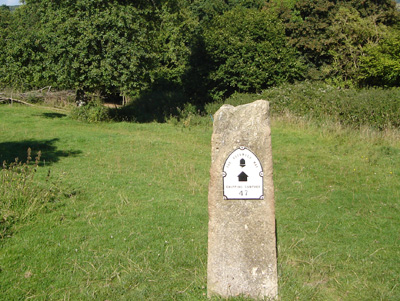 Marker near Edge - 'Bath 55, Chipping Campden 47'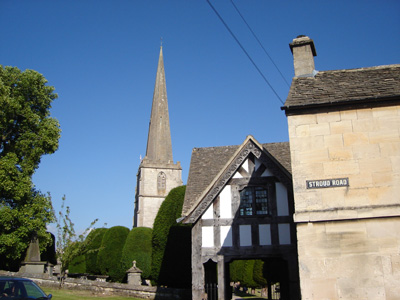 Painswick - no where to 'lay my hat'!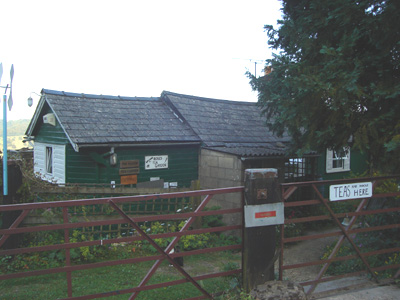 Haven Tea Garden - Unfortunately closed, as I hoofed it to Birdlip
Birdlip to Dowdeswell Reservoir / A40
Sunday 27 July 2008 - 9 Miles
ID27072008#27
So, a very early start. The day progressively got 'schorchio' again and I had to have a kippy next to a hedge at Leckhampton Hill. The Devil's Chimney was very impressive, sprouting from the scarp and the view across Cheltenham and beyond amazing. After some tiring up n down action eventually reached the reservoir, where I decided to call it a day (even though it was only 1230)
The 'Reservoir Inn' had just changed hands and they had cheap scoff and a free pint promotion - so I sat in the sun and chilled for a couple of hours, before the long walk into Cheltenham, a bit dull along the A40.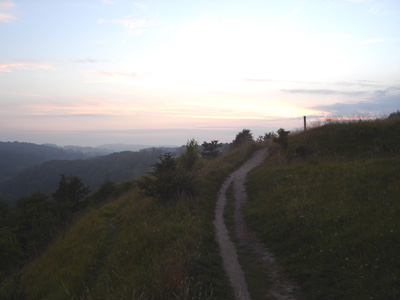 Just outside Birdlip, blimey it's 0521!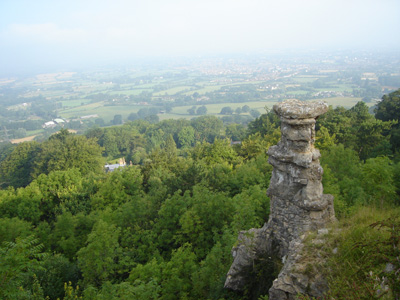 The Devil's Chimney, Leckhampton Hill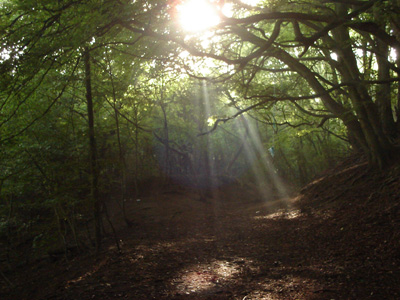 Beautiful Light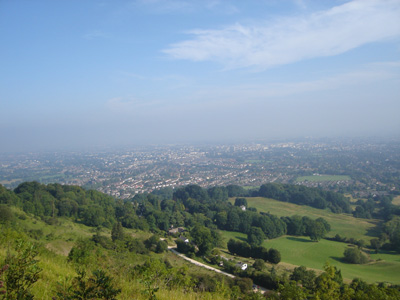 Cheltenham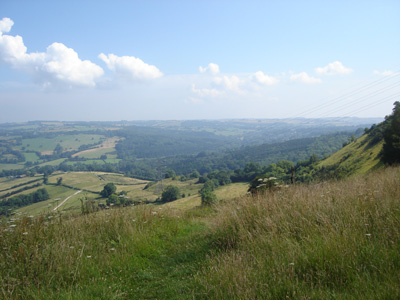 Almost at Dowdeswell - and the walk into Cheltenham
Dowdeswell Reservoir to Hailes
Saturday 23 August 2008 - 14 Miles
ID23082008#33
Last session. Completed over a weekend of slightly autumnal weather, but I find this makes for better progress, than blzaing sunshine. From Dowdeswell walkied along to Cleeve Hill and Common, where you make a large circuit, giving spectacular views towards Cheltenham and much further afield. The going is rather steep in places. The landscape then changes to fields and becomes easier, with beautiful shades of brown and green. Past a long barrow and down to Winchcombe, a very pretty town, but I wasn't hanging around! Finally reached Camp Site at Hayles Fruit Farm (near Hailes) and stayed for the night, not before doing a further 4 mile circuit (including a sliver of the Gloucestershire Way) - nuffink else to do!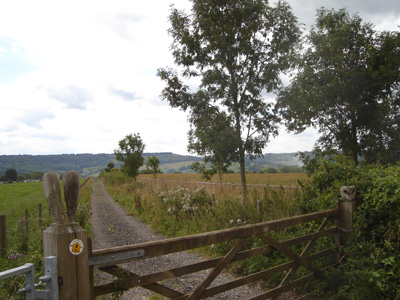 After the climb up from Dowdeswell Reservoir (A40)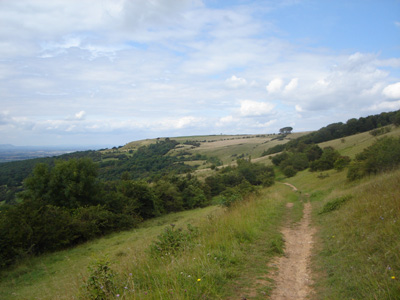 Cleeve Common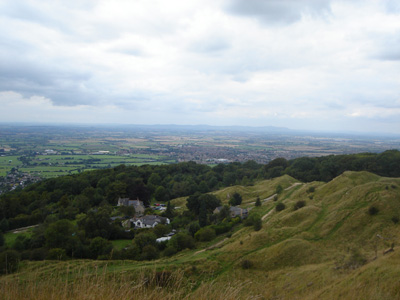 More Cleeve Common, looking West
A bit of climbing coming up!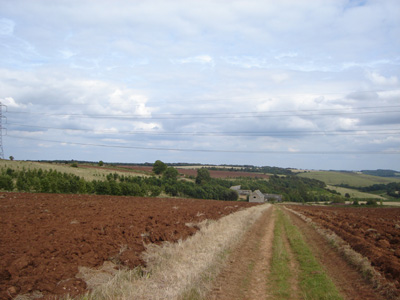 The colours and landscape then change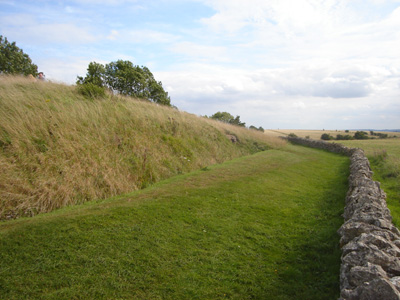 Restored long barrow (burial mound) - Belas Knap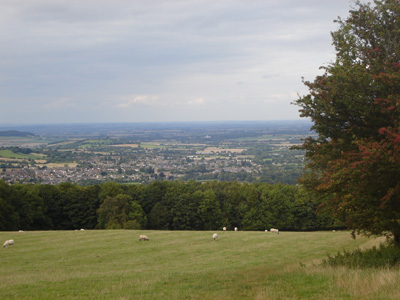 Winchcombe approach
Hailes to Stanway
Sunday 24 August 2008 - 4.5 Miles
ID24082008#34
Unfortunately I froze in my tent, and then it rained all night, went for a 3 miler before brekky to defrost my carcass. In a very upbeat mood, as had so little to achieve to finish the walk, and had a ride on the Glos Warks Railway and a nice ride back to Burnham-On-Sea in front of me. Hilly at start and finish, but it was a descent into Stanway, and the walk into Toddington. Job Done, next stop the Ridgeway!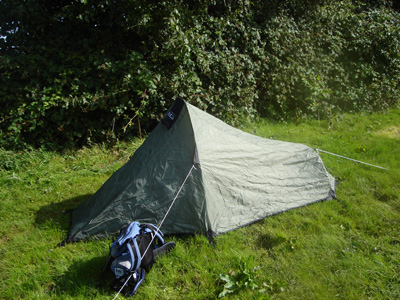 A rather cold night in a tiny tent - Hayles Fruit Farm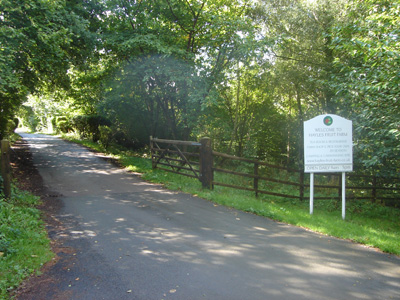 Entrance to Hayles Fruit Farm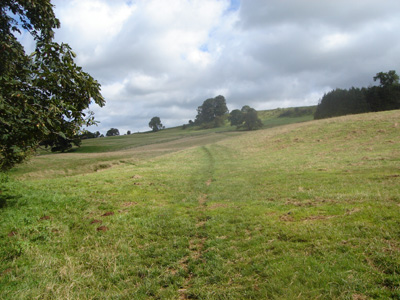 Immediately after leaving the fruit farm, there is a bit of climbing...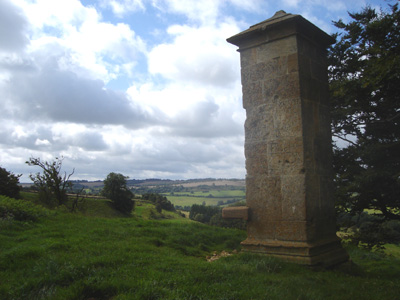 Up to this monument - something to do with Cromwell apparently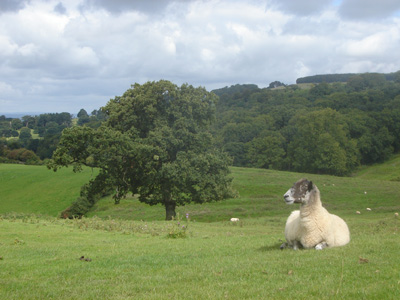 Last couple of miles - to finish back in Stanway - job done