Regents Canal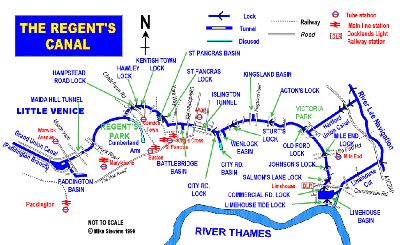 The Regent's Canal is a canal across an area just to the north of central London. It provides a link from the Paddington arm of the Grand Union Canal, just north-west of Paddington Basin, in the west, to the Limehouse Basin and the River Thames in east London.
Little Venice to West India Quay
Sunday 24 February 2008 - 10 Miles
ID24022008#8
A nice little walk innit. Started from Victoria Station, walked through Hyde Park, then walked from Paddington Basin up to Little Venice. An interesting walk, taking in London Zoo and Camden Lock, through the redevelopment around St Pancras, and onto Islington, where you leave the towpath at the Tunnel. I meet up with a friend, and she and I walked the rest of the way together, back onto the towpath, and going through the edge of Victoria Park. We came off the towpath here (getting dark) and walked down to West India Quay for a dose of Cineworld...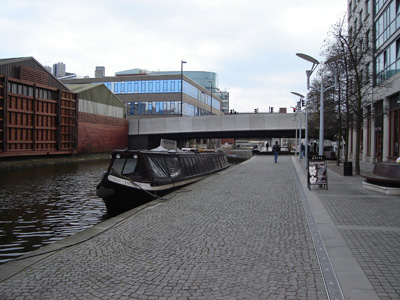 Paddington Basin - just before Little Venice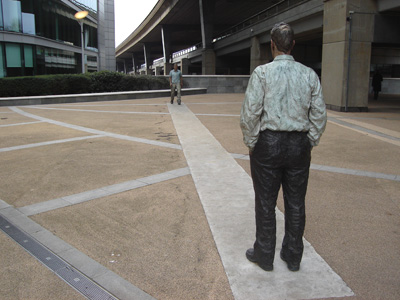 Modern Art - Metal figures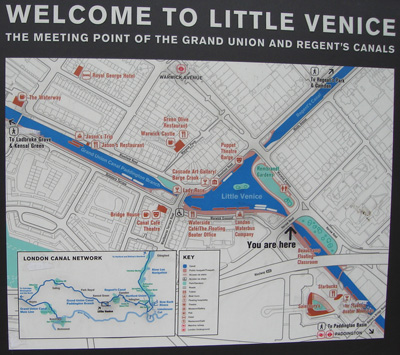 Information Board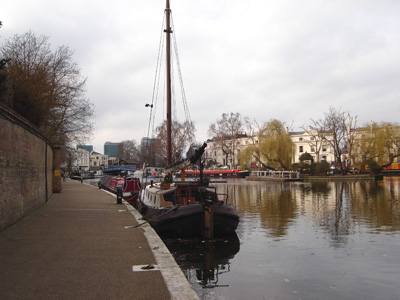 Little Venice - Grand Union straight on, Regents to the right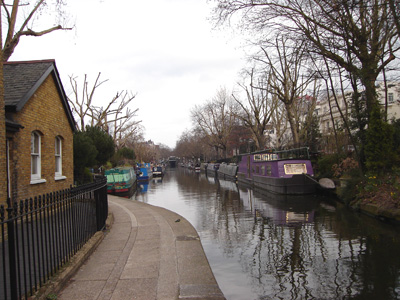 Approaching Maida Vale Tunnel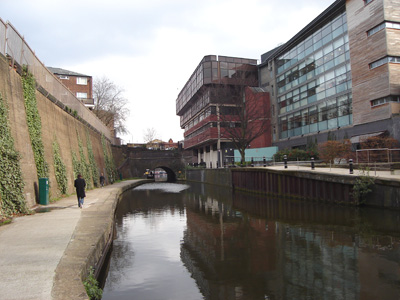 Looking back at Maida Vale Tunnel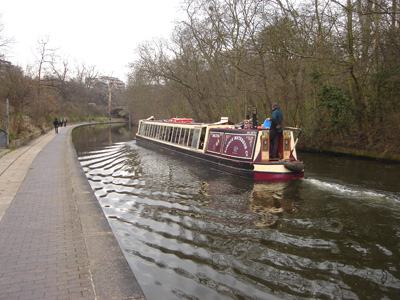 Near the London Zoo Section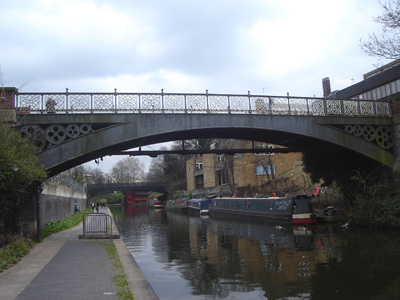 London Zoo on both sides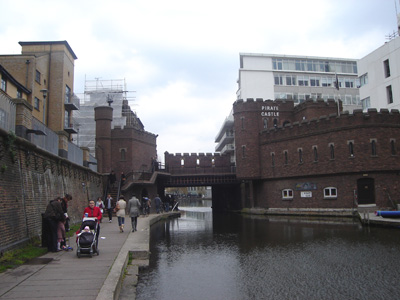 Pirate's Castle - Camden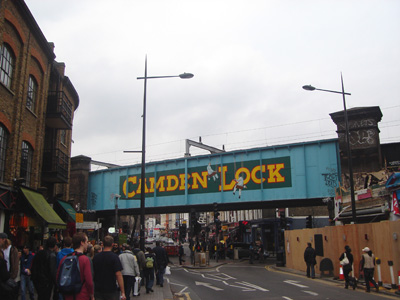 Camden Lock - Trendy, but too busy and oppresive...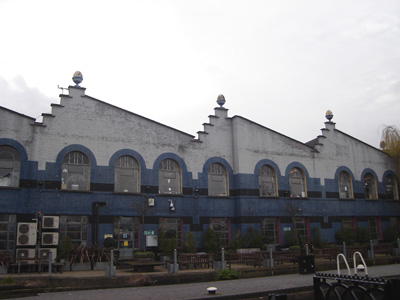 The old TV-am building, Camden Lock - Now owned by MTV Europe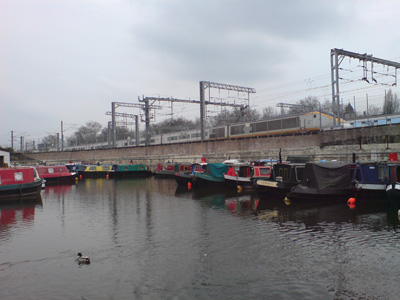 Eurostar, near St Pancras Station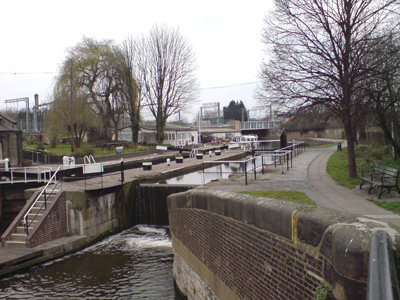 St Pancras Lock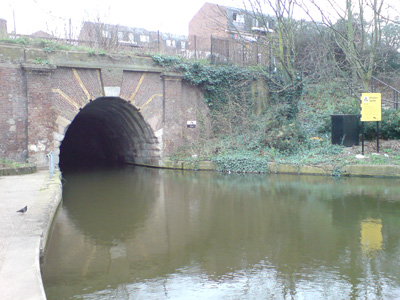 Islington Tunnel - You then have to leave the towpath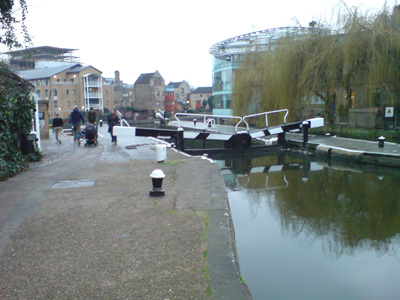 Sturt's Lock - Back on the towpath, eastern end. No more pictures, but carried on to Mile End
Mile End to Limehouse Basin
Sunday 7 December 2008 - 1.5 Miles
ID07122008#53a
Part of a multi trail walk, I recommenced where I left off in February, for a very brief walk. Passed Mile End Locks and the canal was iced over - the winged critters looked a bit stumped!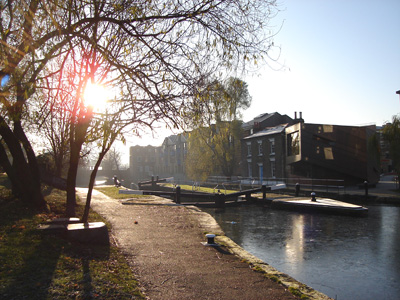 Mile End Lock
Passing under Mile End Road - Canary Wharf in distance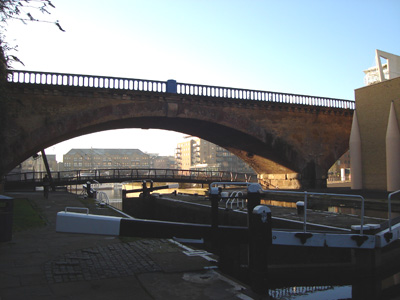 Commercial Road Lock - and the entrance to Limehouse Basin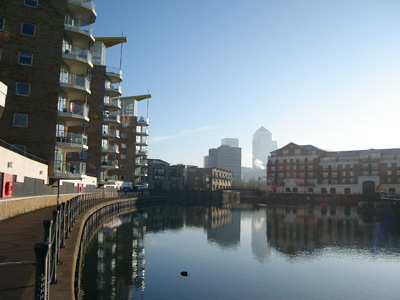 Limehouse Basin - also joins with The Lea Navigation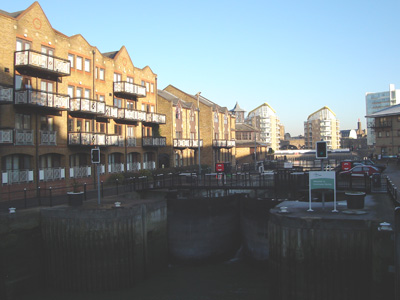 Limehouse Tide Lock