Capital Ring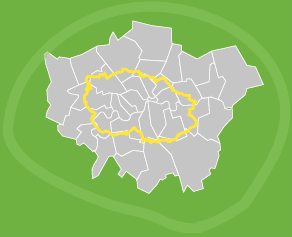 South-East London: Here the Capital Ring comprises three walks, 1 to 3 and is known as the South East London Green Chain. It starts from the Woolwich foot tunnel and ends in Crystal Palace Park. Points of interest in this section include the Thames Barrier, Severndroog Castle, Eltham Palace and the remains of The Crystal Palace.
South London: In this section, the trail comprises two walks, walk 4 and 5. Points of interest in this section include Biggin Wood (one of the few remnants of the Great North Wood), Streatham Common, Tooting Bec Lido and Wandsworth Common.
South-West London: Here the Capital Ring comprises two walks, walk 6 and 7. Walk 6 consists of a brief walk through suburban Wimbledon Park, then crosses Wimbledon Common and then Richmond Park. While the route passes within about 100 metres of King Henry VIII's Mound, with its protected view of St Paul's Cathedral, this is not indicated on the signposts for the route. Walk 7 continues from Richmond along the Thames, before deviating through old Isleworth, then through the grounds of Syon Park. It then continues along the Grand Union Canal to Osterley Lock.
West and North-West London: Here the Capital Ring comprises two walks, walk 8 and 9. Points of interest in this section include the River Brent, the Wharncliffe Viaduct, Horsenden Hill (with panoramic views) and Harrow School.
North London: The Capital Ring comprises two walks, walk 10 and 11, in North London. Walk 10 starts from South Kenton railway station, crosses Preston Park and passes Preston Road underground station, before reaching Fryent Country Park. It then heads south and east to Brent Reservoir and West Hendon where it crosses the Edgware Road, M1 motorway and A41 to reach Hendon Park, near Hendon Central tube station
Walk 11 starts at Hendon Park, again following the River Brent and Mutton Brook through Hampstead Garden Suburb. It passes East Finchley tube station, Cherry Tree Wood and Highgate Wood (complete with a tea shop, interpretive display, and green grassy picnic area). From here it passes through Queen's Wood to the Northern Line's Highgate tube station.
North-East London: The Capital Ring is made up of two walks, walk 12 and 13. Walk 12 covers Highgate to Stoke Newington, and walk 13 Stoke Newington to Hackney Wick.
Walk 12 starts at the Priory Gardens entrance to Highgate tube station and follows the Parkland Walk past Crouch End to Finsbury Park. After crossing the park it follows the New River past the Stoke Newington reservoirs. It then crosses Clissold Park and Abney Park Cemetery before reaching Stoke Newington railway station; Stoke Newington is also served by the 73 bus. Walk 13 heads east though the streets of Lower Clapton to Springfield Park before following the River Lee Navigation south through Lea Bridge to White Post Lane, near Hackney Wick railway station.
East London: In this area, the Capital Ring comprises two walks, walk 14 and 15, which pass through the area earmarked for the London 2012 Summer Olympics, including Pudding Mill Lane DLR station. Walk 14 follows The Greenway for most of its distance.
Charlton to Penge East
Sunday 3 January 2010 - 15 Miles
ID03012010#01
First walk of 2010 and a right good 'un. Cold, but lovely and sunny and mostly easy to follow and chock full of interest. I chose to start from Charlton station with it's close proximity to Maryon Park as I have done the Woolwich bit several times and in the past have walked from the Thames to this point, and even though I am not a football supporter, was intrigued to walk past 'The Valley' - Charlton FC ground as I occasionally drive coaches full of supporters here and it is not visible from the drop point. An easy connection, following the 'Green Chain Walk' Link Path
Anyway, the Walk took me through pretty Maryon/Maryon Wilson Park then across a larger and open Charlton Park - with view of Charlton House, then bland Hornfair Park and along to Woolwich Common. with major military connections. Along and across Shooter's Hill, with a climb to Severndroog Castle - built to commemorate Commodore Sir William James, which has seen better days. A breathtaking view opens up - this is, at 121 metres, the highest point on the Capital Ring.
A convoulted route through woodland takes you through Oxleas Meadows and past the attractive Cafe, then through Oxleas Woods (a friend once wrote a protest song - I believe it was threatened with some development in the past) and across the A2 along Eltham Park, crossing Bexley Road, along Butterfly Lane then through Conduit Meadows and past the ruins of a sluice. A bit of road walking to Eltham Palace, which was very attractive.
Along King John's Walk, across a railway and road near Mottingham and along Mottingham Lane and across the sports grounds by the concrete channel of the Quaggy River. A dull ugly road section at Grove Park, then eventually into Downham Woodland Walk, a lovely narrow strip running for a mile then another road section crossing the A21 Bromley Road and into grounds, crossing over the Ravensbourne River and then a convoluted circuit in Beckenham Place Park, skirting a golf course and passing the very grand Mansion (used as a club house for this public course) and joining the A2015 as dusk fell.
As it was road walking for a while I carried on, turning into Stumps Hill Lane, and turning left at the bottom, passing near Cystal Palace training ground, and along the front of Kent County Cricket Club. New Beckenham Railway station, It became clear that this station would be a useless place to finish/start the next section, so I pushed on first to Kent House, where I missed a train by seconds, so, missing the small park sections and sticking to the main roads, pushed on (past the most amazing Christmas lights I have ever seen on a private house) along to Penge East Station, which I am glad that I reached, as I wanted to try to do about 15 miles, and be very close to Crystal Palace Park for the next section. It is also a very convenient station for me to reach next time.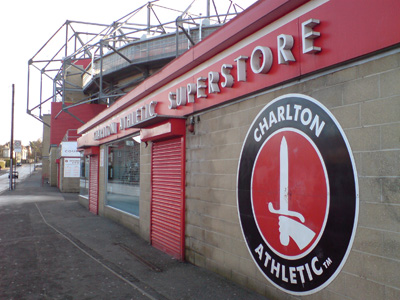 The Valley - on the link path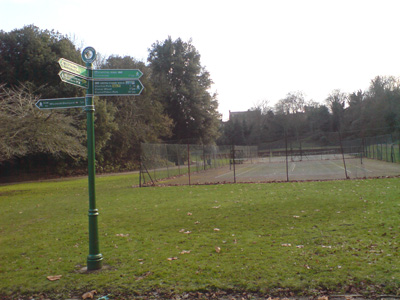 Maryon Park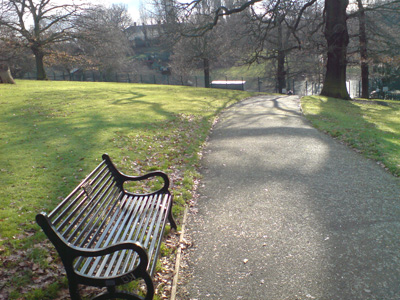 Maryon Wilson Park - just past the critter enclosure!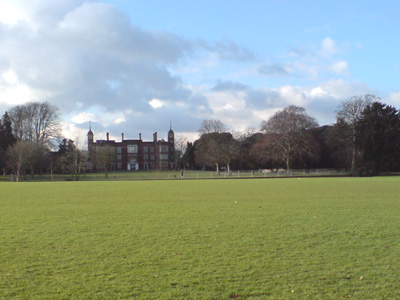 Charlton House - Charlton Park
Hornfair Park - a bit bland...(Encyclopedia Annierakus)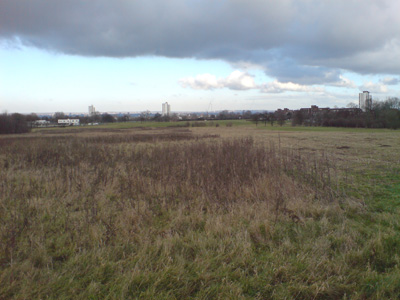 Woolwich Common - nice here innit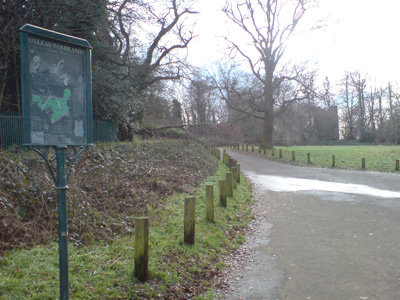 Oxleas Woodlands - approaching Severndroog Castle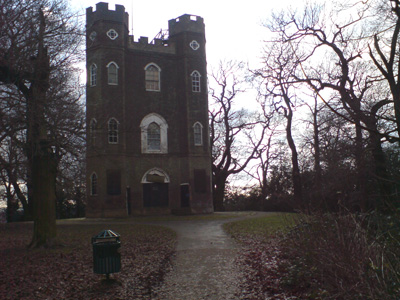 Severndroog Castle. Needs a bit of attention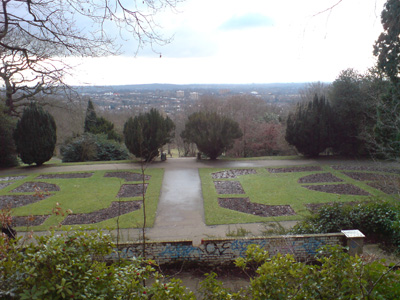 View from this, the highest point on the Capital Ring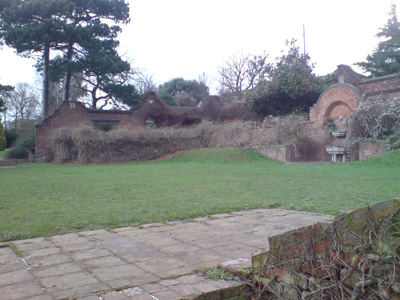 Terraces of the former Castlewood House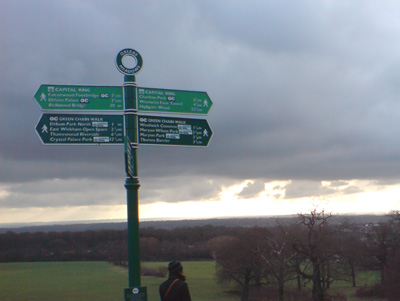 Waymarking - Oxleas Meadows, by the Chalet style cafe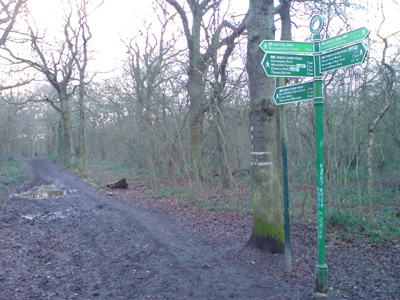 Save Oxleas Wood etc...oh, it has been!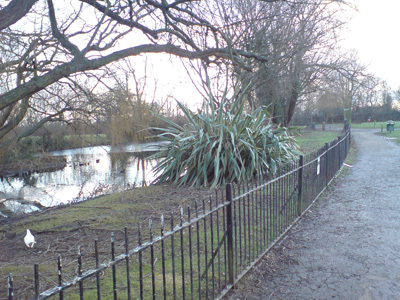 Long Pond - Eltham Park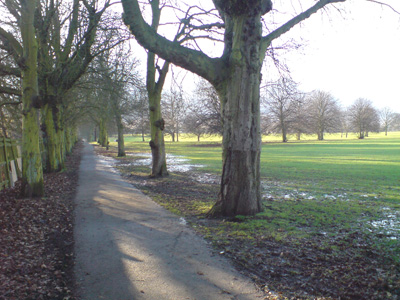 Eltham Park South
Conduit Head - old sluice for springs near Eltham Palace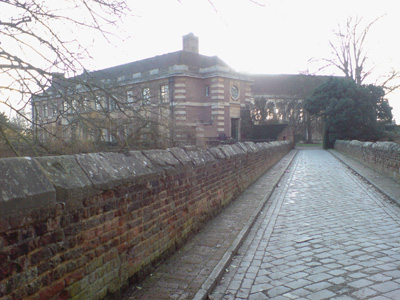 Eltham Palace
Another fine view - from King John's Walk - Canary Wharf to the right in the far distance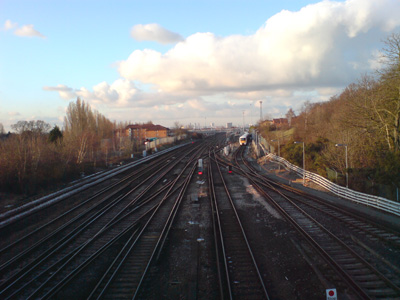 Wrong side of the tracks - near Mottingham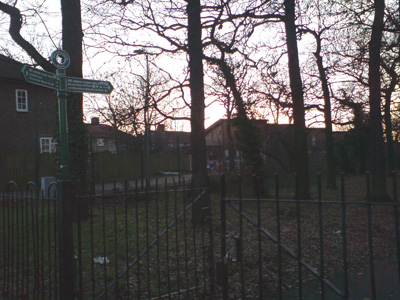 Downham Woodland Walk - scoff time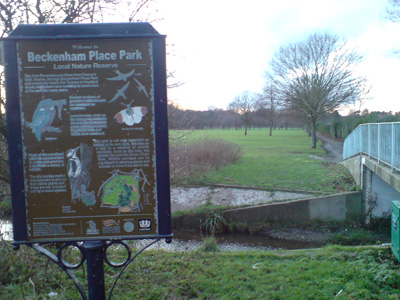 Beckenham Place Park - crossing the Ravensbourne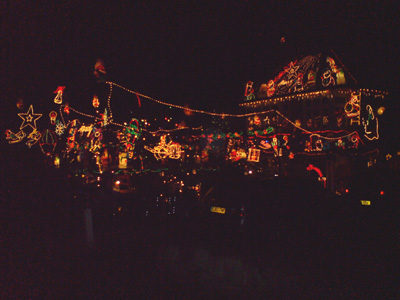 too dark for anymore pictures except:
Near Penge East - and a hefty leccy bill
Penge East to Wimbledon Park
Saturday 23 January 2010 - 11 Miles
ID23012010#02
Finally able to carry on walking, after several weeks of crap weather, with snow and torrential rain, so rather stir crazy by the time it was reasonable again. Didn't get up early enough to make it all the way to Richmond, so had to settle for Wimbledon Park station, as dusk drew in. A fascinating walk - these urban hikes are really growing on me, with a huge variety of visual experiences, mostly pleasant. This particular section was additionally more poignant to me, as my mother's side of the family are 'Sarf Lundun' and this area holds some memories for me.
From Penge East into Crystal Palace Park - last visited in 1986 - remembered the concrete dinosaurs, and had a nice hot chocolate to go from the cafe - I was pleasantly surprised at this, and many other of the parks and green spaces I am encountering. Passing the low level station, with some stiff climbing through Penge, through Westow Park and across Upper Norwood Rec. A215 then down hill into Biggin Wood, where on the edge I encountered a flock of parakeets, birds that seem to be doing well in London.
Climbing across Norwood Grove (Gibson's Hill) with a lovely Mansion and grounds, where I encountered a very tame squirrel that clearly wanted some of my scoff... on to Streatham Common, another pleasant open space, downhill to, and across the A23, and passing near Streatham Common Station, and some road walking (a darling little kitten stared out of a window at me with heartbreaking innocence) eventually reaching Tooting Bec Common, where football practice was in full swing. More road walking, then Wandsworth Common, with the noisy railway immediately adjacent, pausing briefly on the edge of this area to have a quick late lunch.
Passing in front of Wandsworth Prison, then a long gradual descent alongside Earlsfield Cemetery to the station. Another bunch of back streets (crossing the River Wandle) where I made my one slight mistake in this great zig zag on the route, eventually reaching Wimbledon Park Station in the dusk. I had originally wished to reach Richmond, but another 7 miles would have been impossible to achieve in the dark, and as the CR runs right by the station steps, it is a good access for the next section, so got the train to Embankment and then Charing Cross to home.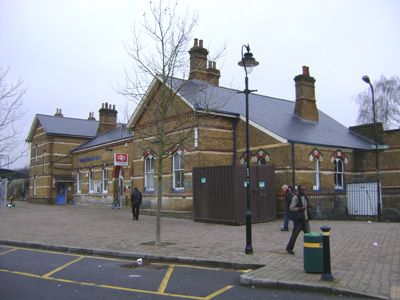 The glories of Penge East station!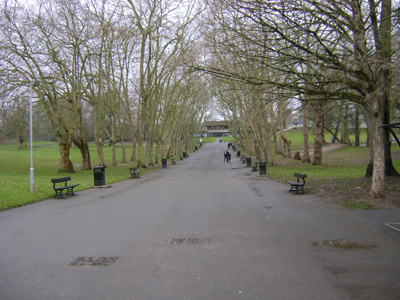 Entering Crystal Palace Park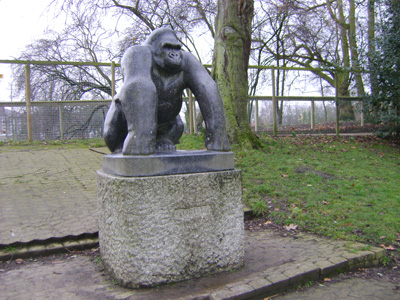 A relative...uncanny resemblance!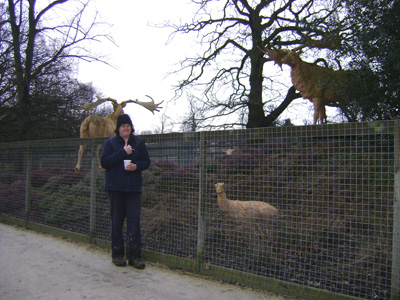 Hot choccy from the cafe, and some company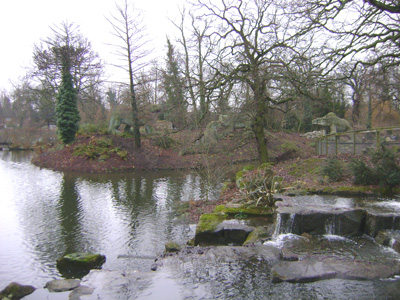 Some of the famous concrete dinos...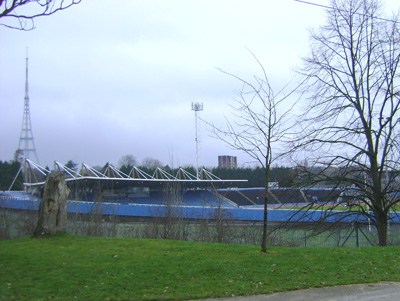 The National Sports Centre and BBC transmitter behind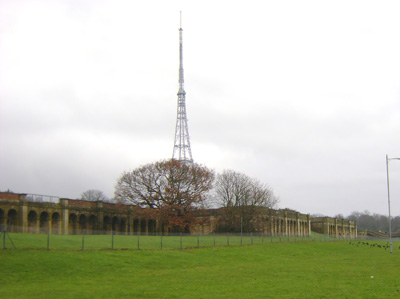 The Italian terraces where the Crystal Palace once stood - it burnt down in 1936 ( how!) There was also a dedicated high level Railway Station on its own branch line - nothing much remains today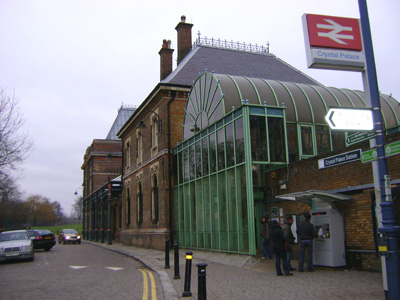 The extant low level station - right on the Capital Ring and immediately adjacent to the park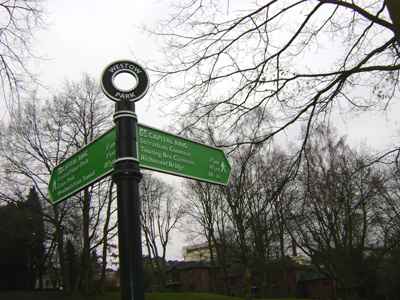 Westow Park - had a funny de ja vu moment - think I walked through here as a kiddie?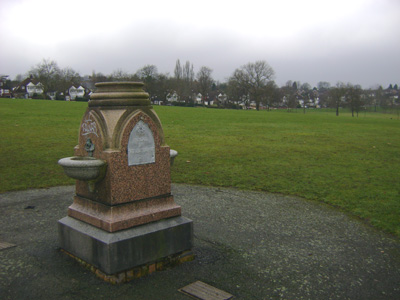 Redundant drinking fountain on Upper Norwood Rec - with statutory graffiti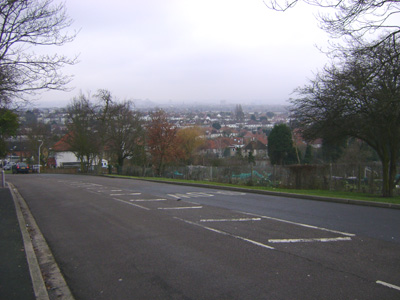 Biggin Hill with view towards Croydon methinks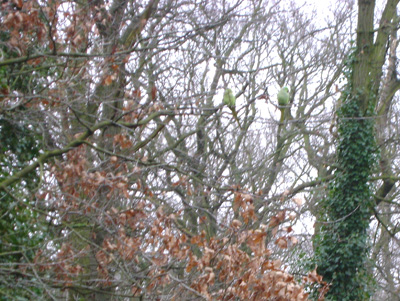 A couple of Parakeets in Biggin Wood - a veritable flock were on the move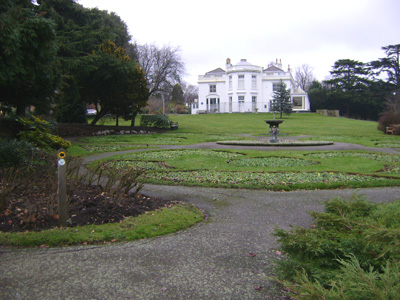 Norwood Grove and Mansion - a pleasant surprise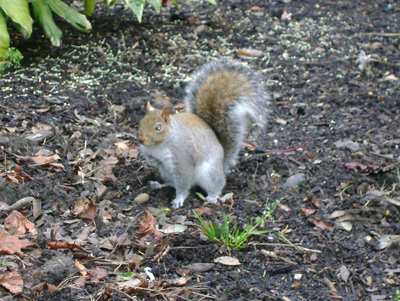 No, you can't have my lunch - sorry!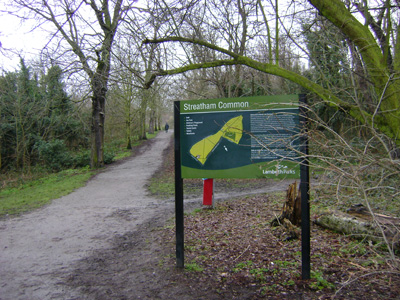 then onto Streatham Common...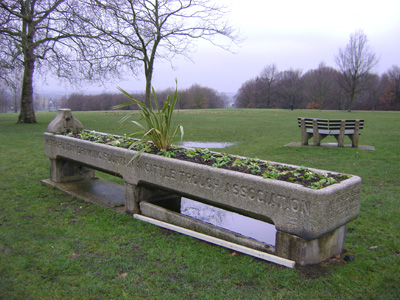 Lovely old cattle trough before descent to A23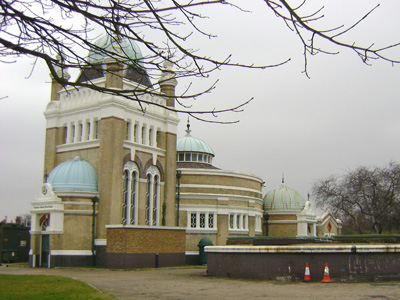 Beautiful Victorian Pumping station from 1888 - Streatham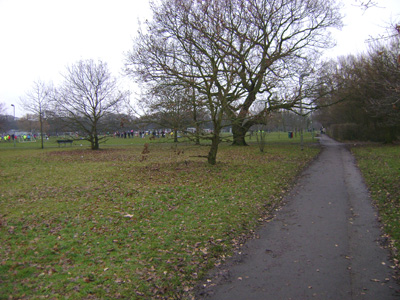 Tooting Bec Common. Football practice and turtles apparently..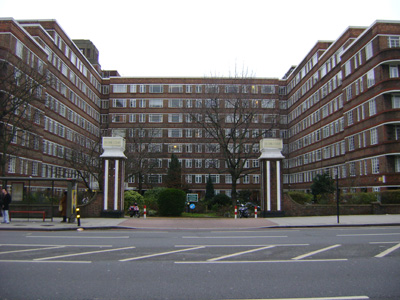 Striking, massive Art Deco apartment block - Balham High Road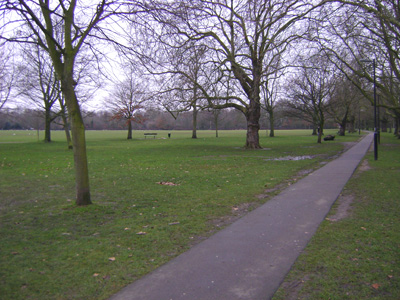 Wandsworth Common - another nice open area, and time for scoff break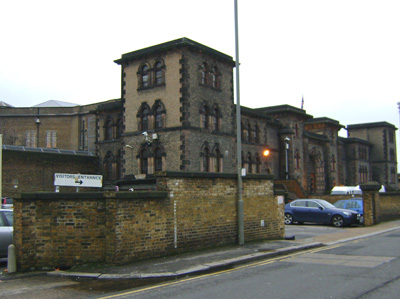 Wandsworth Prison - a secure gaff for wrong 'uns - who ain't neva dun nuffink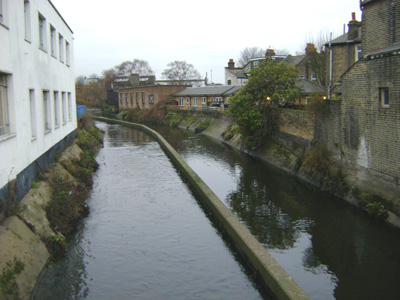 Crossing over the River Wandle, not look particularly attractive at this point - I then got a bit lost on the back roads 'zig zag' shortly after, but soon regained my way, as dusk drew in at Wimbledon Park Station and I reluctantly called it quits for today
Wimbledon Park to Hanwell
Saturday 30 January 2010 - 12.5 Miles
ID30012010#03
Struggled to get up at a decent time again - so didn't get 'on site' till 1215! Anyway, another kick ass walk (luvin the Capital Ring) with much variety and surprises (basically that London actually has some decent green bits). A cold but sunny day. The walk took me through Wimbledon Park, then a bit of back road walking with a stiff climb up to Putney Heath, passing the attractive Windmill/Cafe combo. Skirting Wimbledon Common, then briefly following Beverley Brook to cross the A308, for this section I had the company of a small group on horseback and a load of other hikers - the arrangements to cross the road are quite sophisticated, with a wooden sided lane to stop horses going for a canter up the dual carriageway!
On into Richmond Park, once the preserve of Royalty, now accesible to the hoi polloi... a beautiful Park, so large that you can only see countryside around you. Passing the pen ponds and eventually leaving the park after a dogleg round Pembroke Lodge following a ridge, then downhill into Petersham. A lane leads to the Thames near Richmond. This was the most awkward section, as the suggested route was underwater - so I had to follow the road into Richmond - again, this bank of the Thames to the suggested crossing at Richmond Lock was all under water, so I crossed Richmond Bridge and took the higer level walk on the other side - even then, at Richmond Lock the road was flooded, with the pavement only just escaping the water, following the Thames Path - previously walked.
Along to Isleworth, crossing the River Crane with a deviation away from the Thames past Nazareth House, rejoining at Isleworth Ait (Island). A walk through Old Isleworth, stopping for scoff at All Saints Church. Feeling refreshed, on through Syon Park and joining the road at Brentford, leaving the Thames Path and joining the Grand Union Canal - this section also previously walked, along to Hanwell Flight of Locks, where I branched off to follow the River Crane (also posted as the Brent River Walk), passing under Hanwell Bridge and shortly under a very impressive Railway Viaduct, designed by IK Brunel, don't you know... reluctantly I had to peel off here to the station, as my original goal of Greenford would have been impossible without night vision binoculars...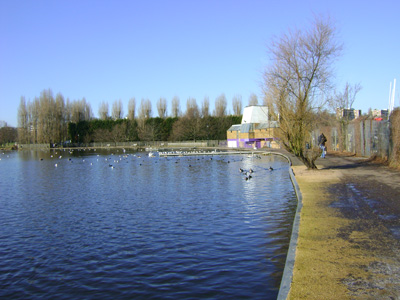 Wimbledon Park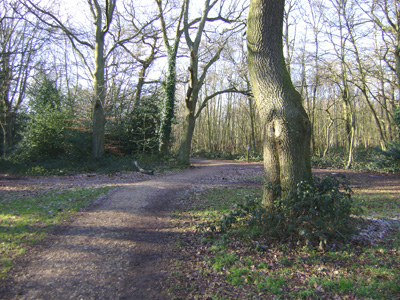 Putney Heath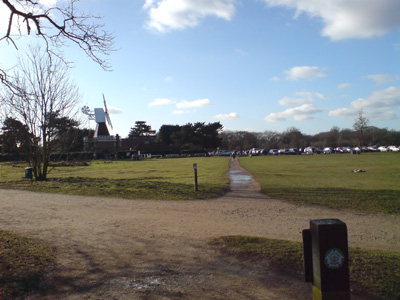 Putney Heath Windmill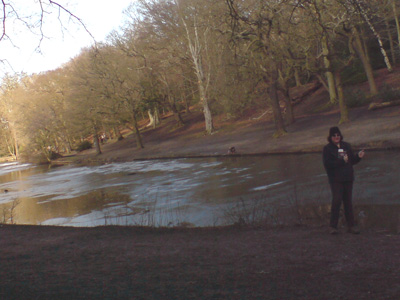 A Womble at Queen's Mere - Elizabeth Beresford sez this is their fav retreat!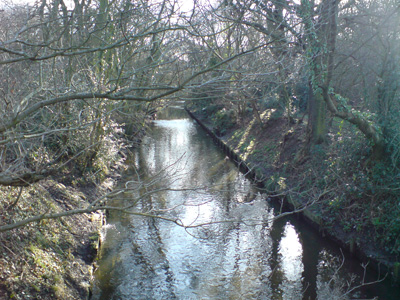 Bridge over...Beverley Brook (Yet another walk to do...)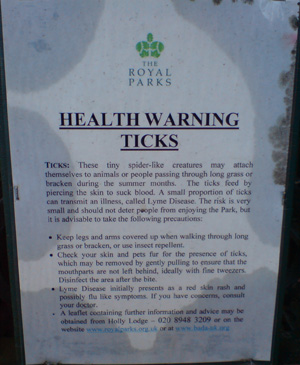 welcome to Richmond Park! I had to get one of my cat once, looked like a miniature alien!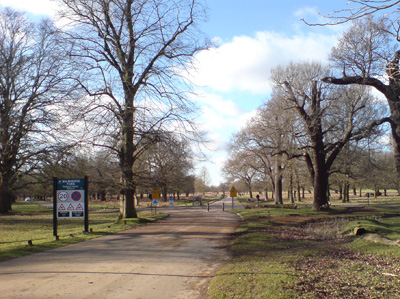 Richmond Park - one time playground of Charles I - the cheeky bastard had it enclosed with a big wall just so the selfish sod could go hunting. No wonder he had his canister involuntarily removed!
Pen Ponds - Airborne Devices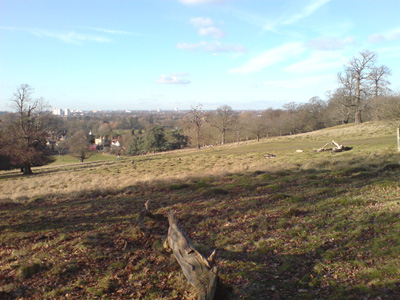 Descending to Petersham by Pembroke Lodge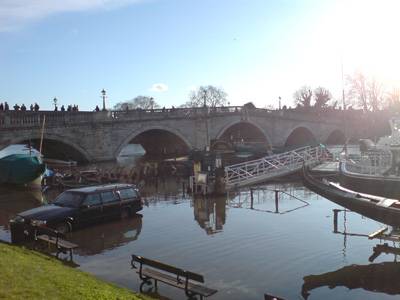 Richmond Bridge. Bit stumped like for a while, on best way to get along Thames 'prom' - look at benches and Volvo! Eventually crossed bridge and followed a higher path to Richmond Lock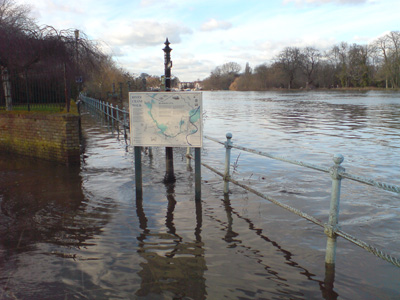 Oh...River Crane walk not looking so inviting today...fortunately managed to detour this bit and rest of Thames Path section was 'navigable'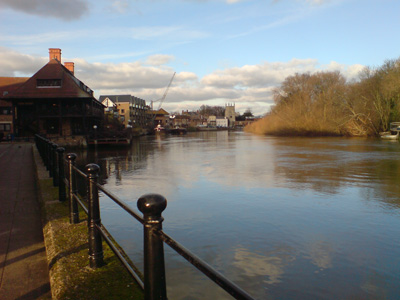 Isleworth. A School friend used to live here - not a bad gig...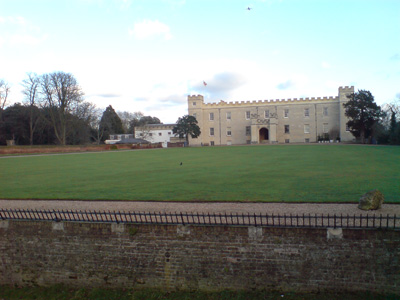 Syon House, Syon Park - Thames Path reloaded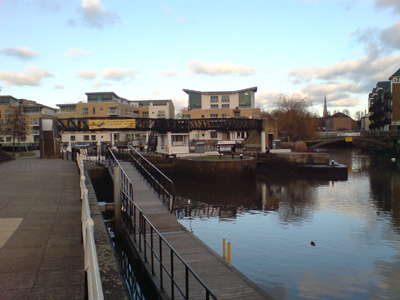 Grand Union at Brentford - another reload, all the way to Hanwell Locks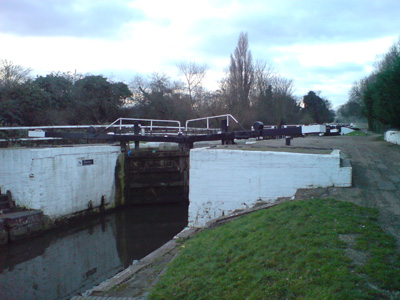 Hanwell Locks - goodbye Grand Union (for now!) No more piccies to Hanwell as dusk did its thang
Hanwell to East Finchley
Saturday 6 Feb 2010 - 19 Miles
ID06022010#04
I wanted to really get truckin' on this section, as I want to finish the ring in just one more day. Managed to get to my station for 8am train (it's a 2 mile walk through the countryside to get there) and reached Hanwell at 1030. I would not say this walk was as attractive as last weeks, but it still held many interesting moments and some lovely views. From Hanwell following a path roughly shadowing the River Brent to Greenford, leaving the river at Perivale Park, and then alongside the railway from South Greenford to Greenford Station (confused?) anyway, a bland bit past Westway shopping Centre, through a wetlands, then joining the Paddington Branch of the Grand Union Canal.
At Horsenden Hill you leave the canal, and have a nice view across London. A rather grotty section through to Sudbury Hill, then it all gets posh as you climb up the main road into Harrow On The Hill - passing through the grounds of Harrow School, where such as Winston Churchill and Byron were edumacated...(I went to a second rate Comp) a bit grooty again along to South Kenton Station, but some reasonably nice suburbia follows before reaching Fryent Country Park/Barn Hill Open Space. A surprisingly pleasant vista above Wembley Stadium exists, with a pond, trig point, fingerpost and a comfy bench. At this juncture, a couple of fellow walkers made conversation about the Capital Ring (Which was nice) I recommended the London LOOP to them... anyway, crossing pre Roman Eldestrete and the A4140 - and on to the summit (62m) of this, another large open space, but with a rather convoluted route to escape back into suburbia, zig zagging down to Brent Reservoir/Welsh Harp - where a very pleasant time was spent having a late lunch, watching the sailing boats going round and around, on a lovely sunny afternoon. Leaving the reservoir, crossing a quaint old bridge into West Hendon, another drab slice of faded shopping area, crossing a railway and the M1.
Passing near Brent Cross Shopping Centre, climbing and crossing the A41, shortly entering Hendon Park. A few more twists and turns, then meeting the North Circular and slipping into an adjoining park, reunited with the River Brent, which soon becomes the Dollis Brook, following this to Mutton Brook near Hampstead Garden Suburb, through Lyttleton Playing Fields, and after a final flourish of suburbia, reaching East Finchley Station at dusk. I had hoped (at best) to reach Highgate, but was well satisfied, as I should be able to complete to Capital Ring with one more expedition.
The River Brent at Hanwell
Greenford Bridge - great waymarking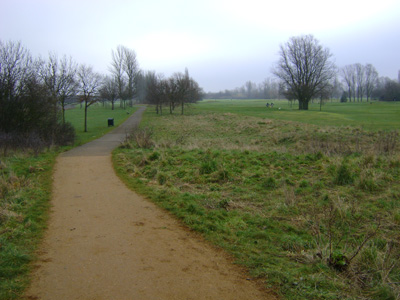 Perivale Park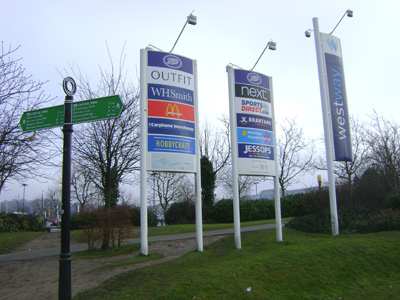 Westway Shopping Centre - Spend all your bunce, then go for a walk...(a short leap from the canal)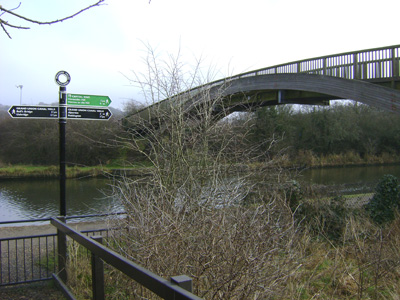 Joining the Grand Union (Paddington Branch)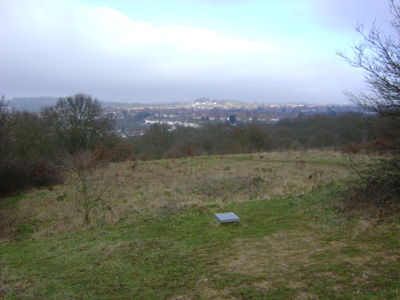 A view from Horsenden Hill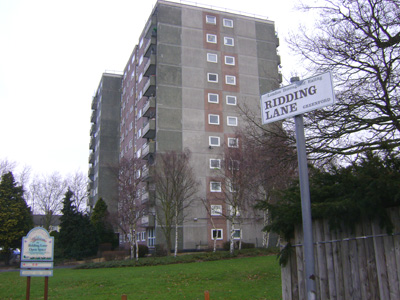 I was looking for a three wheel yellow reliant van...Greenford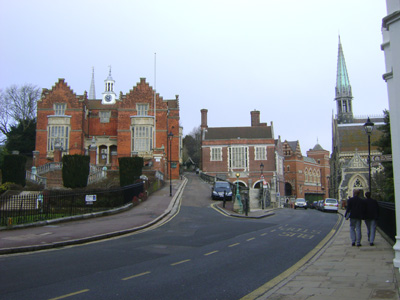 Contrasts some what with Harrow School - students strolling along with 'Boaters'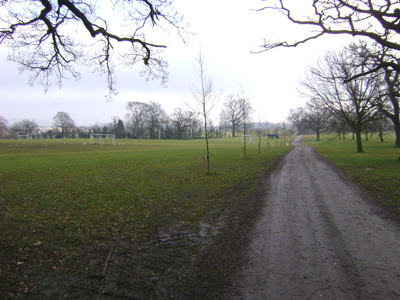 Lavish Recreation Grounds at Harrow School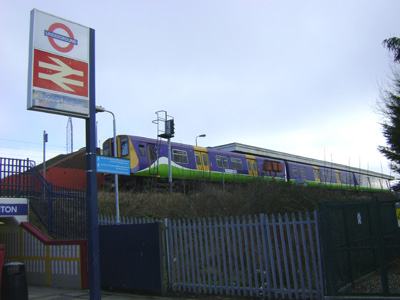 South Kenton Station - a non descript kinda place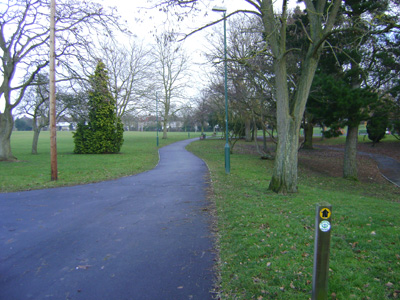 Preston Park (Not Brighton!)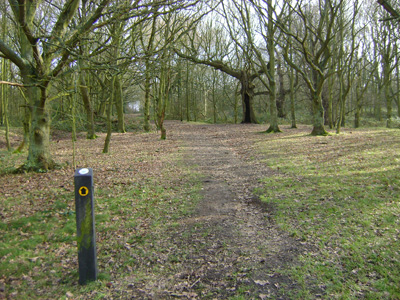 Very pleasant approaching Barn Hill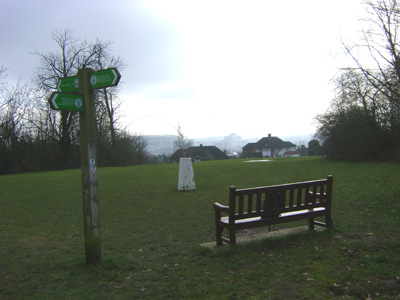 Lovely spot for a chill session - Barn Hill Pond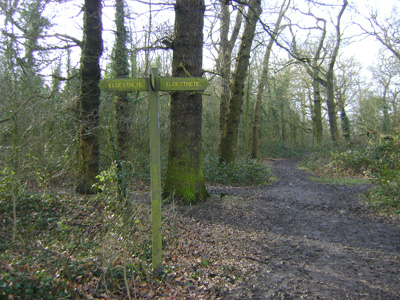 Crossing Eldestrete, an ancient trackway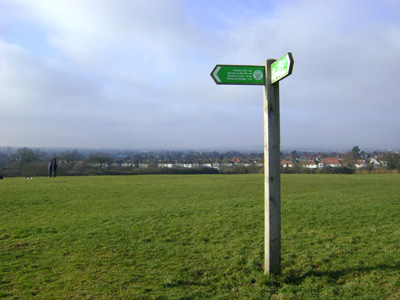 Fingerpost atop the dizzy heights of Fryent Country Park, beyond the A4140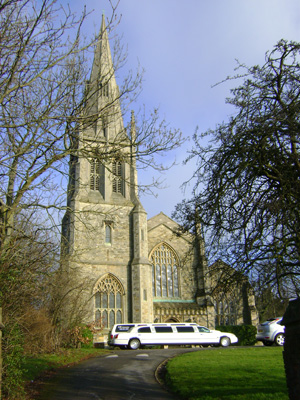 Pretty St Andrews Church, Kingsbury. The old church is next door, in a rather dilapidated state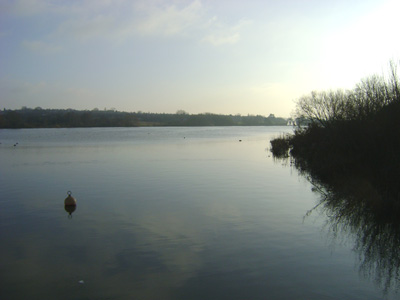 Very enjoyable Brent Reservoir - Built in 1883 to supply water to Regent's Canal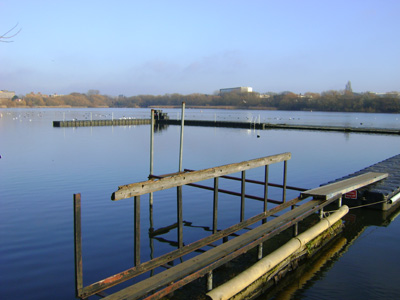 So nice that here's another piccie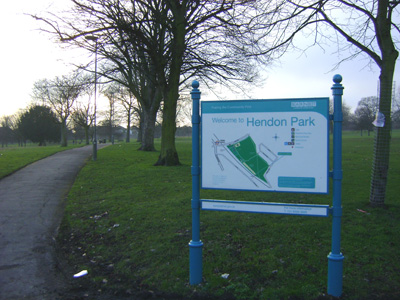 It's...Hendon Park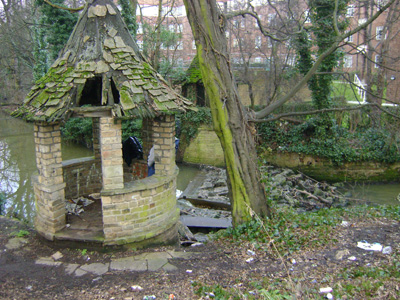 2 knackered Gazebos by the North Circular, all that remains from the erstwhile Brent Bridge Hotel. This is a particularly grotty, noisy area. I didn't notice the geezer looking into the Brent until 'developed' piccies back home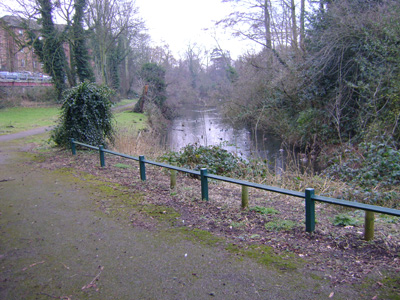 Brent Park, sandwiched next to the North Circular. Probably OK on a warm sunny day. Apparently these were decoy ponds to catch ducks for the dinner plate!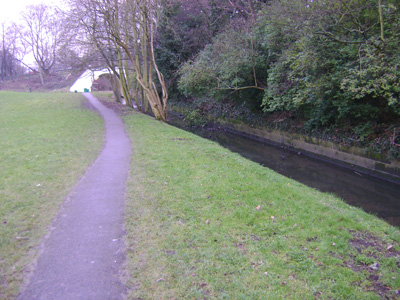 Becomes more pleasant again, following Dollis Valley Greenwalk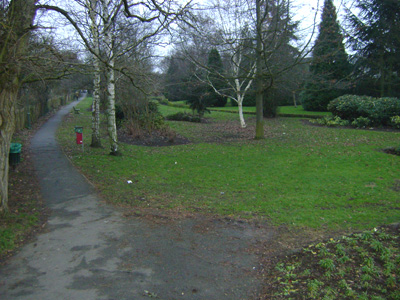 Nice linear parkland approaching Hampstead Garden Suburb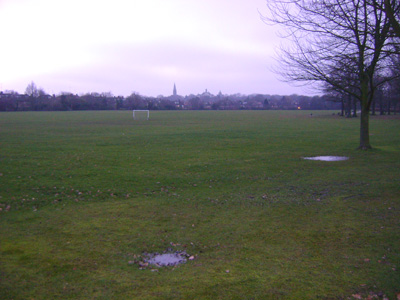 Lyttleton Playing Fields. Getting dark. A short walk onwards took me to East Finchley Station, where I ended this walk
East Finchley to Charlton
Saturday 27 February - 19 Miles
ID27022010#07
Finally back to finish this one off. Amid warnings that the weather was going to suck, I went for it anyway - got drenched at the start, then after 30 minutes it stopped raining and I gradually ended up dry again (apart from my feet and socks - yuk!). From East Finchley through Cherry Tree and Highgate Wood , then into a wilder and steeper Queen's Wood down to Highgate Station. The along the Parkland Walk (I have done this before) to Finsbury Park. Another reload along the New River Path to the West Reservoir, and on to Clissold Park. A not unpleasant street walk through Stoke Newington and through the fascinating dereliction of Abney Park Cemetery.
Some slightly less celubrious streets till Springfield Park, and down to join the Lea navigation at the Marina. Following the Lea for some time till Old Ford Locks, passing the Ex Lesney Industries 'matchbox' building which was being demolished. At this point I joined the Greenway, a fascinating path built on top of the Northern Outfall Sewer, channeling London's Shite out of the smoke, but a lot more pleasant than it sounds, with a panarama over Stratford and the Olympics village being constructed, where I chose to stop for a late lunch. This path goes through West Ham, Plaistow and you eventually leave it at Beckton.
The next section though Beckton down to the old docks at Cyprus, I found rather uninspiring and rather grotty in places, with several bland park areas, but that is just my opinion! However, the rest of the walk, firstly by Royal Albert Dock by UEL and across the Sir Stephen Redgrave Bridge at the head of King George V dock was very impressive, leading past the end of London City Airport and reaching the Thames at Gallions Point. It was starting to get dark by the time I reached the Woolwich Ferry, where I decided to use the Foot Tunnel instead after first checking out the defunct railway station. Once on the south side of the thames, I followed a convoluted path that is forced away from the bank to Charlton, where I walked to the railway station, thus completing my circuit around London. Job done and another wonderful experience.
Chuckin' It down, getting rather previous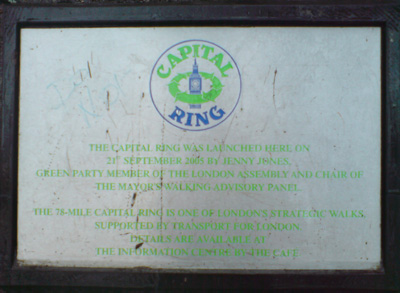 Plaque in Highgate Wood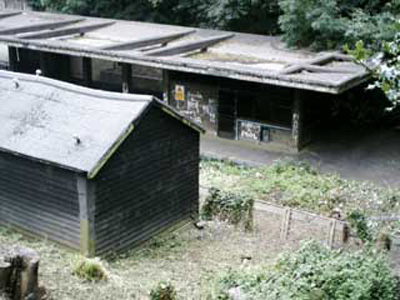 High level station - immediately above LT station, Highgate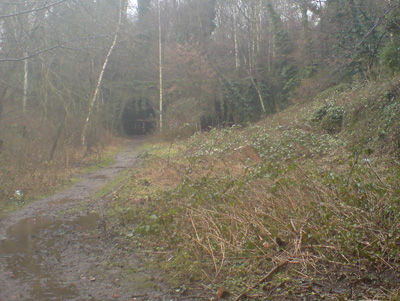 Tunnel Portals - Highgate - Parkland Walk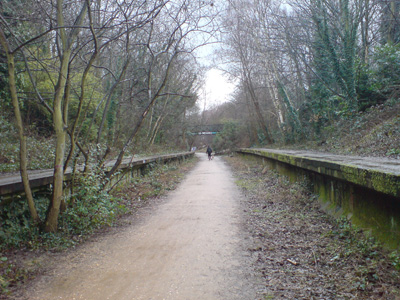 Crouch End Platforms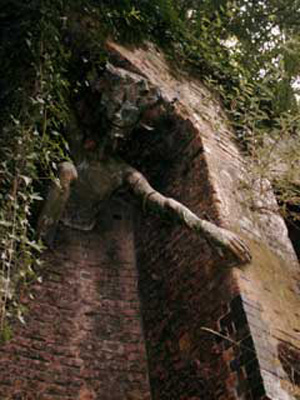 Big stone giant thing at Crouch End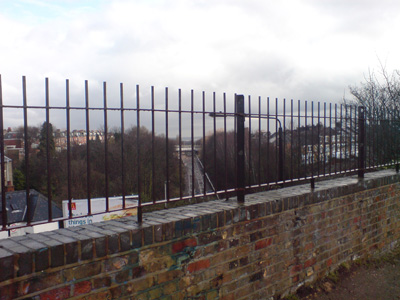 Stroud Green former station site, crossing over Stapleton Road and the Barking - Gospel Oak Line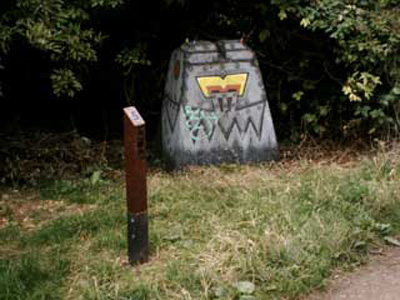 A 'robot' type fing (from a signal post block?)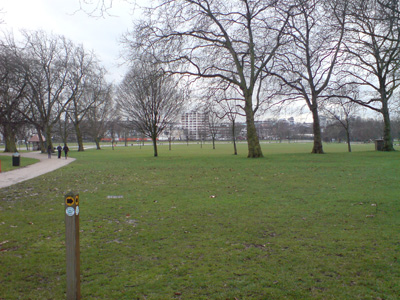 Finsbury Park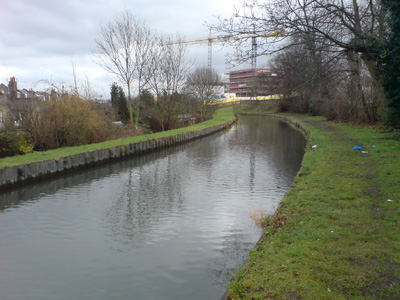 By the New River Again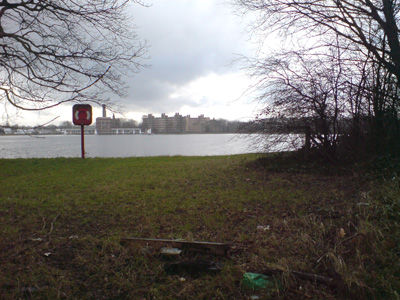 West Reservoir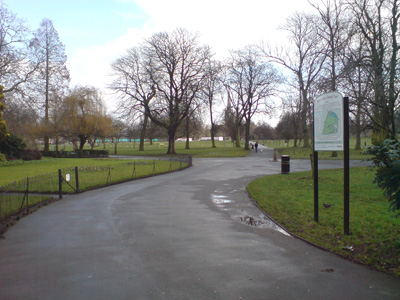 Hey, it's Clissold Park (again)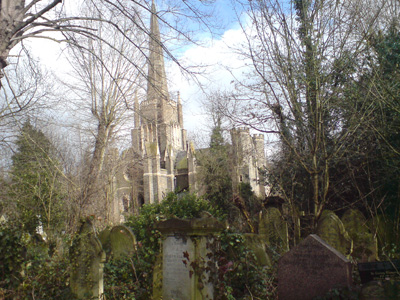 The derelict and bonkers Abney Park Cemetery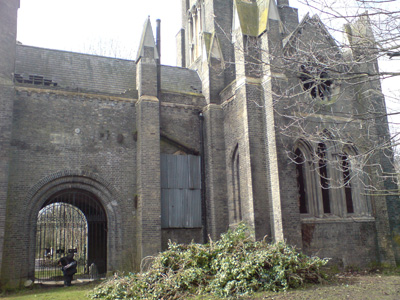 The derelict Chapel. The graveyard was never consecrated and abandoned in the 1970's, now run as a nature reserve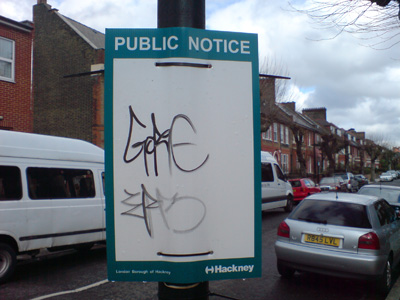 Whatever...
Springfield Park, near the Lea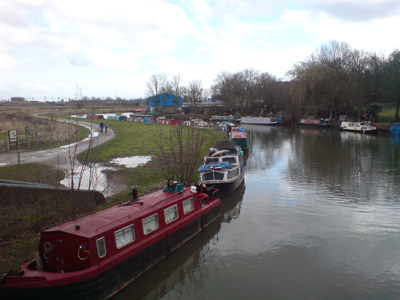 Walthamstow Marshes to the left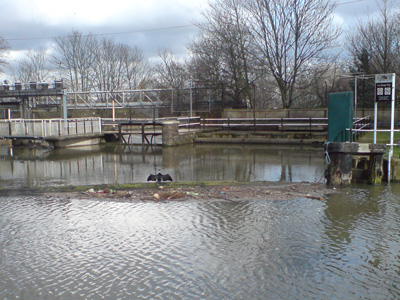 Heron having a stretch - Lea Bridge Weir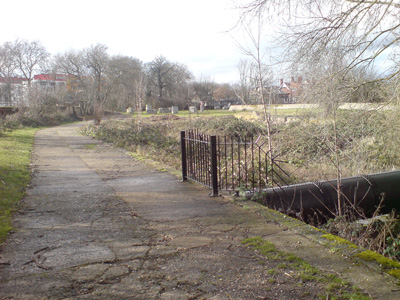 'Ackney 'Enge and Middlesex Filter Beds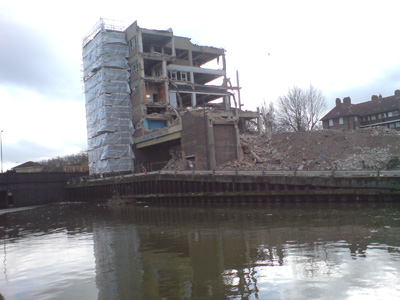 A landmark bites the dust - Lesney Industries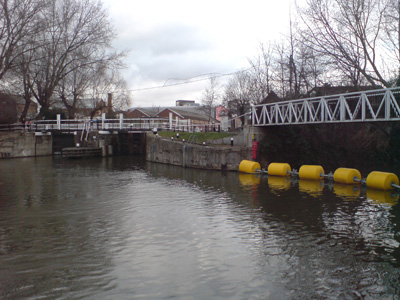 Old Ford Lock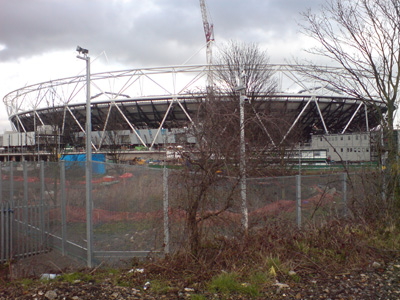 Olympics Stadium - Stratford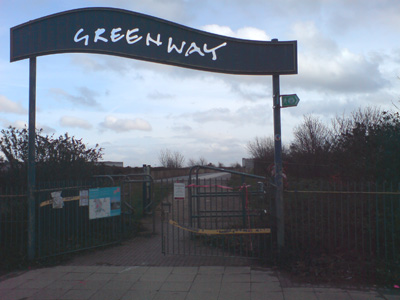 Joining The Greenway again A11. Most of this walk is incorporated into the Capital Ring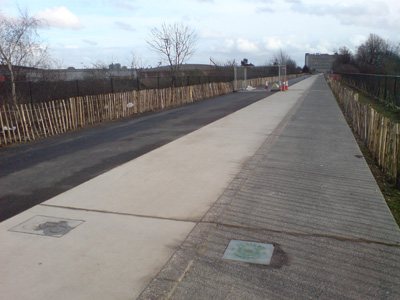 The Greenway also confusingly forms part of the Jubilee Greeway, a new walking path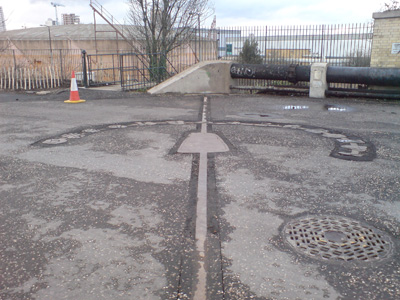 Meridian line, carcass split down the middle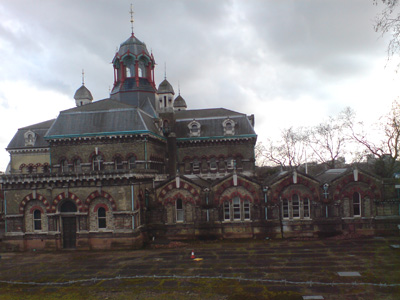 Redundant Abbey Mills Pumping Station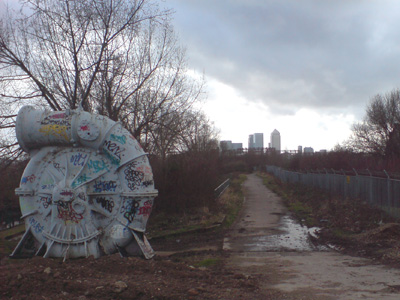 Interesting shite pump type thing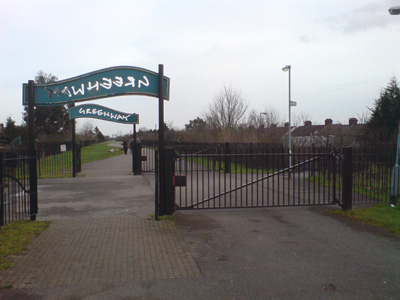 Leaving the Greenway at Beckton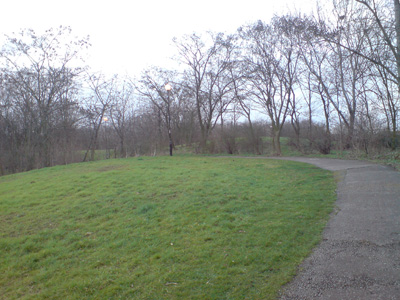 One of the several bland open spaces in Beckton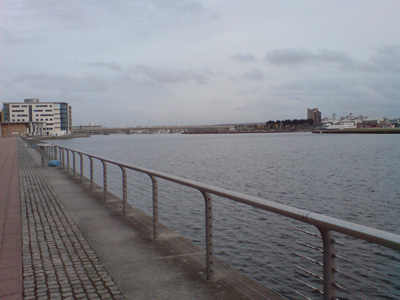 University Of East london Campus by Royal Albert Dock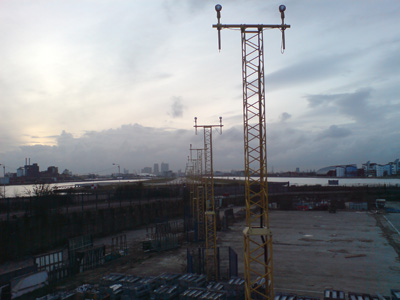 Runway approach lights - London City Airport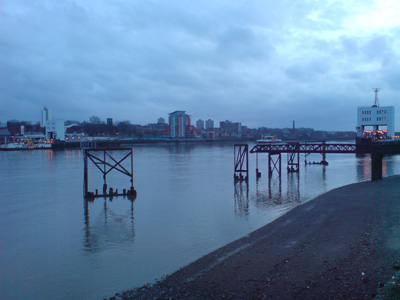 Woolwich Ferry - you can either take this free crossing or use the foot tunnel - I chose the latter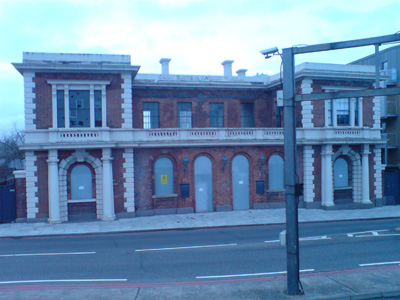 Before using the foot tunnel I had a shufty round the old railway station platform...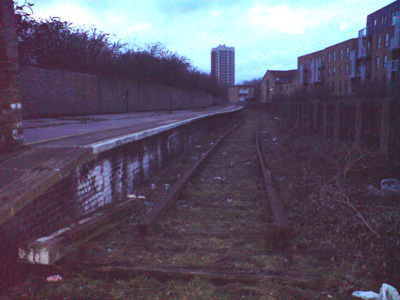 I had travelled several times in the past on this line until its demise due to the DLR extension opened in 2006. This station and branch has quite an interesting history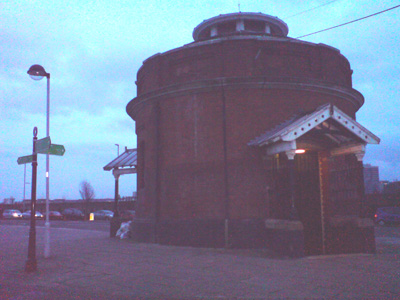 The Foot Tunnel Entrance Building. The lift was out of use so a bit of a slog down, across then up the south shaft and along to Charlton Station