Southwest Coast Path National Trail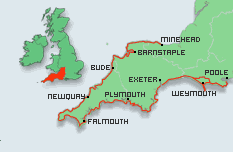 A very long walk to undertake, and a national trail that will likely take a decade to complete, as it is so far from home and so strenuous. I had never walked anything like this before - many steep ascents and descents, rocky and treacherous in places - but so spectacular.
Running from Minehead, Somerset to Poole, Dorset it is 630 miles. Currently walked 182.9 Miles.
Sections walked: (2005)Pendeen Watch to Porthcurno, St Ives to Pendeen Watch, (2006)Porthcurno to Marazion, Hayle to St Ives, Gwithian to Hayle, Marazion to Praa Sands, (2007) Praa Sands to Lizard Point, Lizard Point to Porthallow, (2008) Porthallow to Falmouth, Portreath to Gwithian, Newquay to Trevaunance Cove, Trevaunance Cove to Portreath, Falmouth to Portloe, Padstow to Newquay, (2012) Swanage to South Haven Point
Pendeen to Porthcurno
August 2005 - 15.5 Miles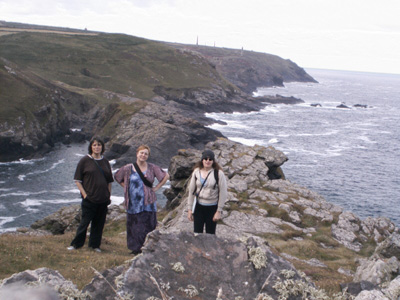 My friends see me off on my first lump of SWCP at Pendeen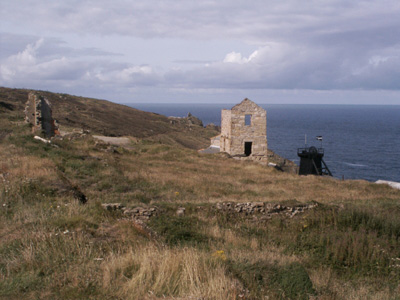 Some of Cornwall's famous tin mine heritage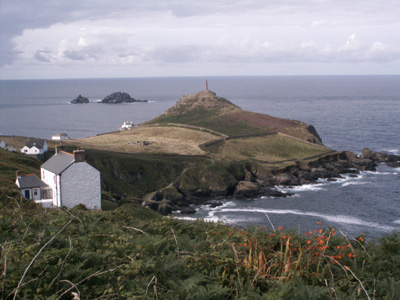 Cape Cornwall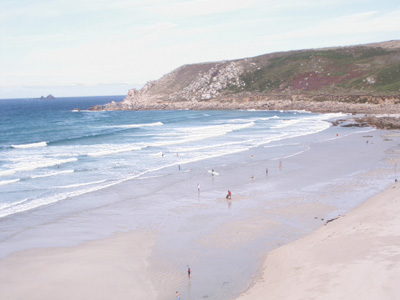 Sennen Cove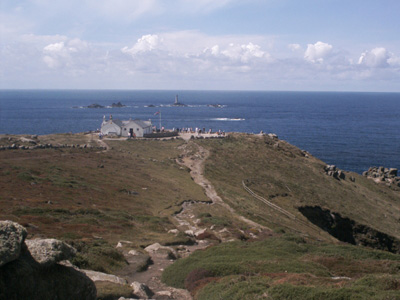 Lands End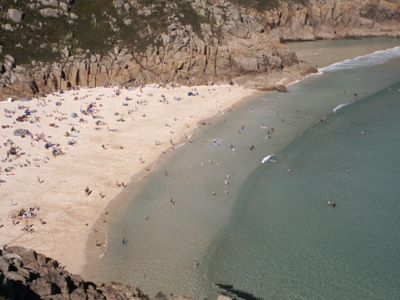 Porthcurno. That evening we went to the Minack Theatre and saw Shakeys Anthony And Cleopatra. Wonderful atmosphere - a magical experience (the walking wasn't arf bad either)
St Ives to Pendeen
August 2005 - 13.7 Miles
This section was so hard - scorching hot, very uneven underfoot and long - but spectacular as usual for the SWCP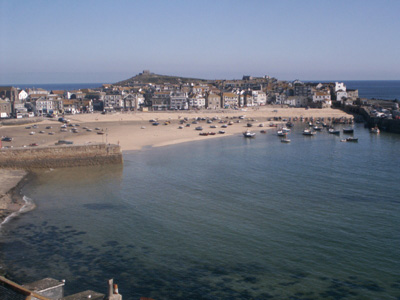 St Ives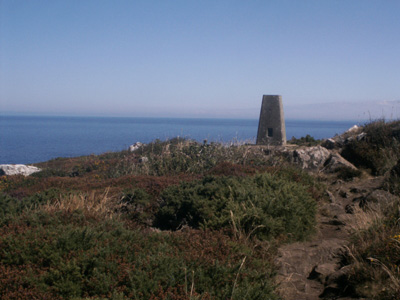 Trig point near Carn Naun Point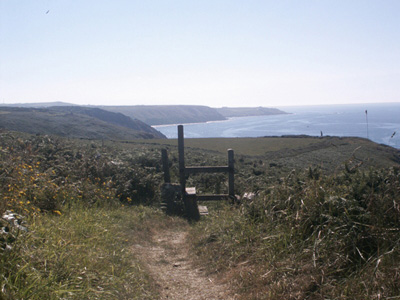 Finally - Pendeen in Site
Porthcurno to Marazion
Tuesday 19 September 2006 - 14.6 Miles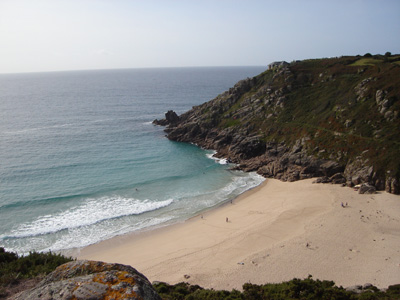 Porthcurno again - a year later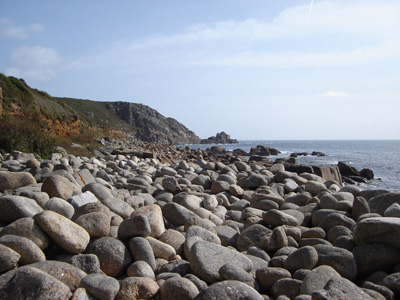 A few miles on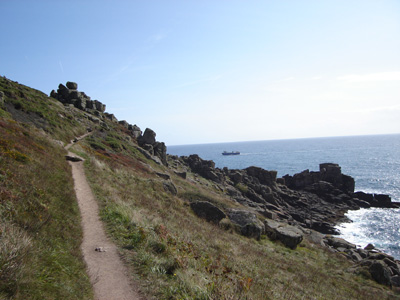 Somewhere near Mousehole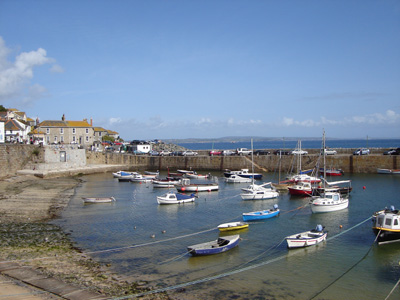 Mousehole - a quintessential Cornish fishing village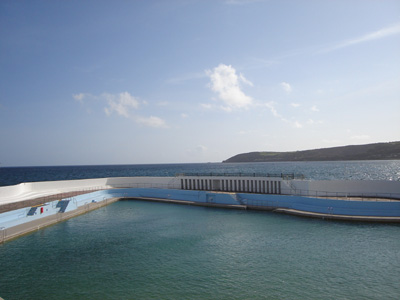 Wherrytown Lido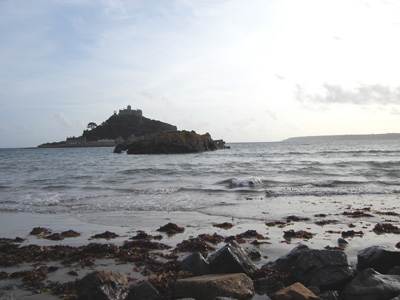 Marazion and St Michaels Mount. Last year it was low tide and three of us walked the causeway.
Hayle to St Ives
Wednesday 20th September 2006 - 6.1 Miles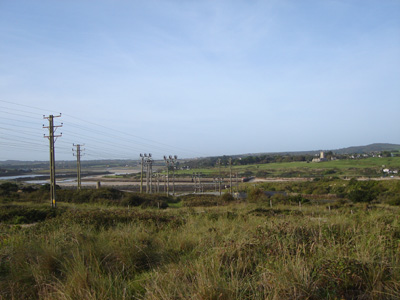 This was the view from our chalet at Riviere Towans, Hayle, looking across towards Lelant on the St Ives side of the river Hayle. So started walk from doorstep - amazingly covenient that SWC passes right through chalet park!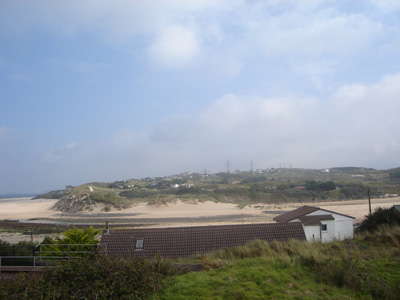 Looking across from Lelant. It's a long walk round here, but too treachorous to cross directly (and I don't like wet boots)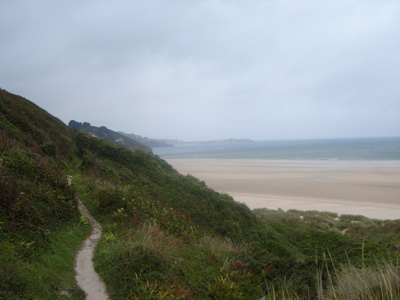 Towards Carbis Bay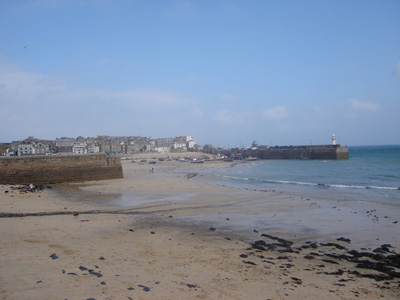 St Ives
Gwithian to Hayle
September 2006 - 4.1 Miles
A very short stroll along the cliffs and beach back to chalet park as only had morning before travelling elsewhere later.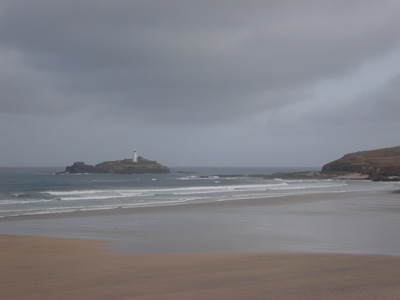 Looking to Godrevy Point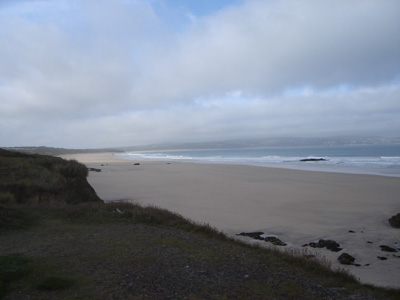 Looking towards Hayle River and Carbis Bay
Marazion to Praa Sands
21 September 2006 - 6.3 Miles
A continunation of my days walking that had already seen completion of St Michael's Way. The intention was to walk on to Porthleven, bit it was extremely windy with storms around the coast and it got a bit to much. At Praa sands cafe waiting for the bus, the sea spray was coming in the door and windows! Also the bus was half hour late and I then missed my connection at Penzance back to Hayle and had to be picked up - oh well, shit happens!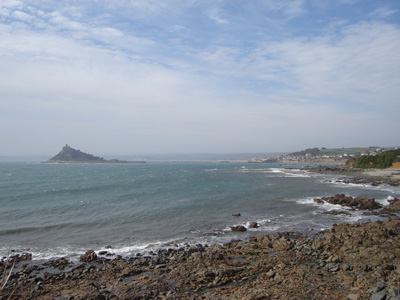 Looking back to Marzion from near Perranuthnoe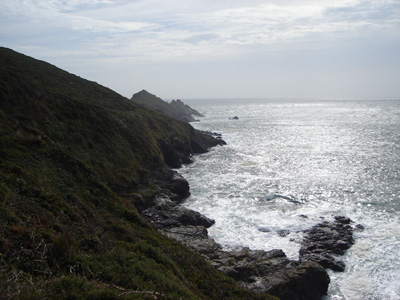 Cudden Point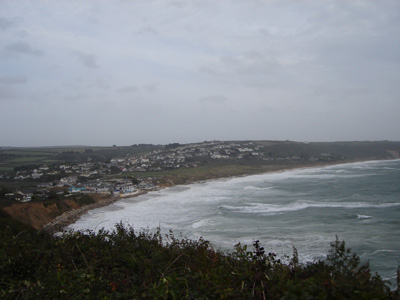 Praa Sands
Praa Sands to Lizard Point
Monday 24 September 2007 - 16 Miles / 25 Km
A Very blustery day - hat got blown off repeatedly! hard work, particularly on the rollercoaster between Praa and Porthleven, but as usual, stunning scenery and grim determination prevailed!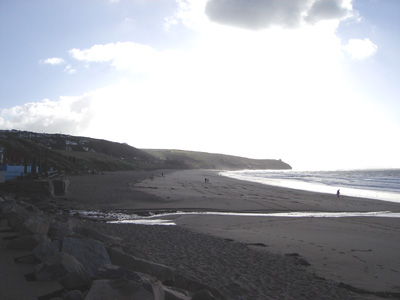 Praa Sands - again!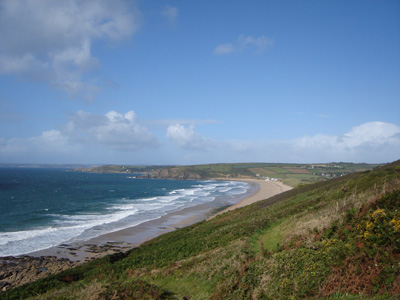 Deceptively calm looking - Beyond Praa Sands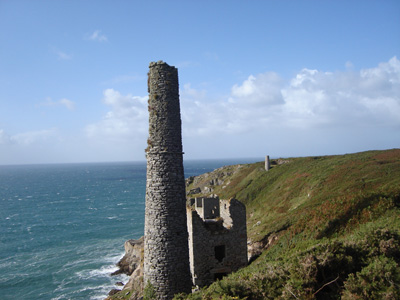 Ubiquitous Engine Houses...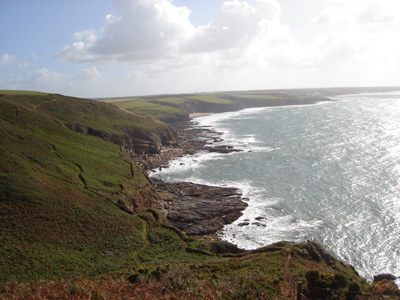 The Path To Come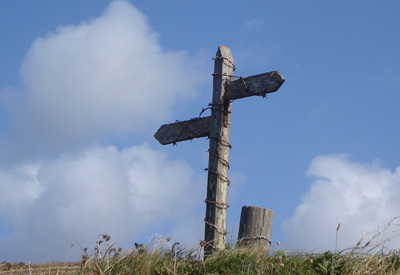 Interesting symbolism - just a method to keep the post together, or a strange method for the landowner to display a dislike of walkers?
A tribute to lost souls and a Navy ship on the horizon...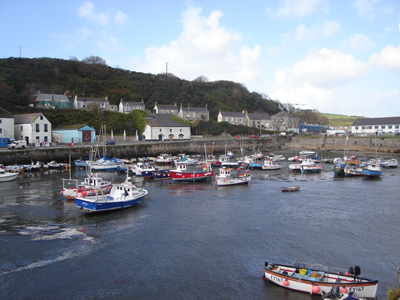 Porthleven - one of many delightful villages with a harbour and fishing boats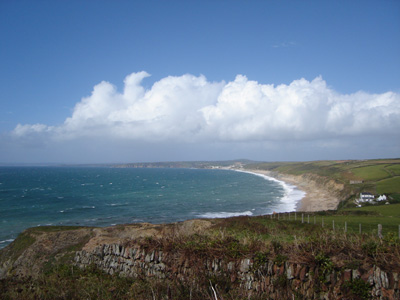 Near Porthleven Sands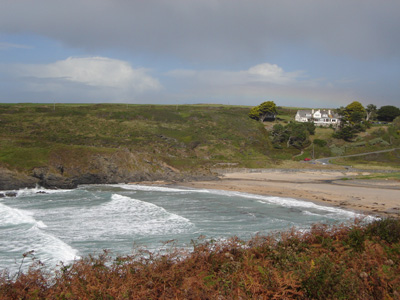 Poldhu Cove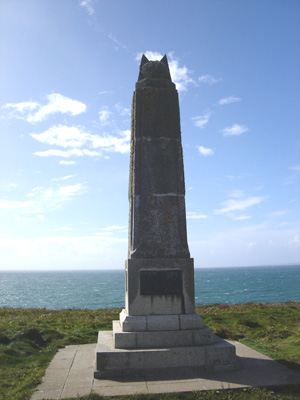 Marconi Monument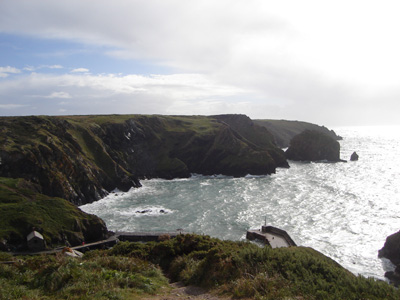 Polurrian Cove - I thought this was Mullion, and mistakenly had my skoff here - Doh!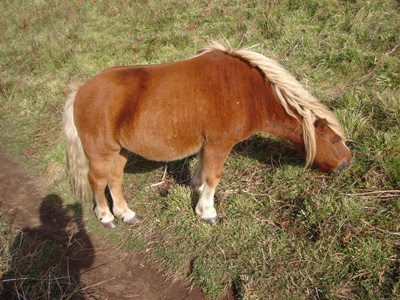 One of the Shetland Ponies helping to keep the vegetation under control - sweet!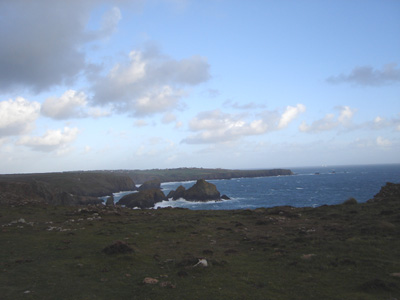 Looking ahead to the Lizard (Southern most point in England)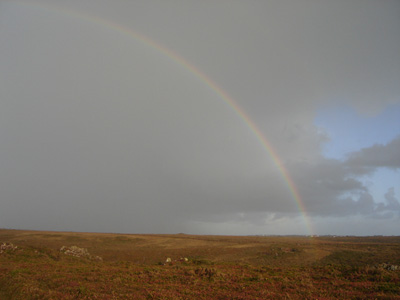 Rainbow - chucked it down for ten minutes then quit!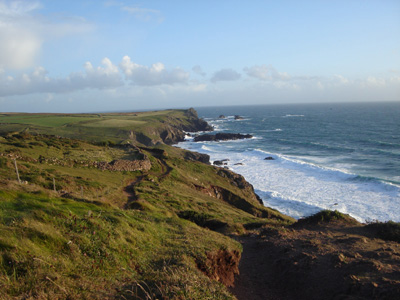 Nearing the Lizard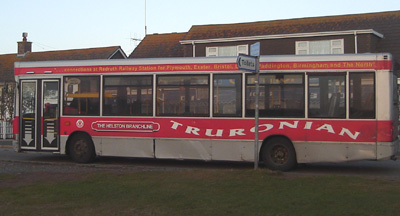 The bus was very welcome - but I resent the use of 'The Helston Branchline' name - as a railway with that name was chopped in the 1960's - although an enthusiast group are aiming to resurrect some of it http://www.helstonrailway.co.uk/
Lizard Point to Porthallow
Thursday 27th September 2007 - 15 Miles / 24 Km
A great walk, but ended badly, with needing to be resued from Porthallow as there were no more buses when I arrived. The pub was also shut so I couldn't wait in the warm while my friends arrived from Hayle. Thanks go to the mystery puddy that sat by me for twenty minutes on the bench and Liz, Karen and 'Bruce' (The Sat Nav - using an Australian voice file!)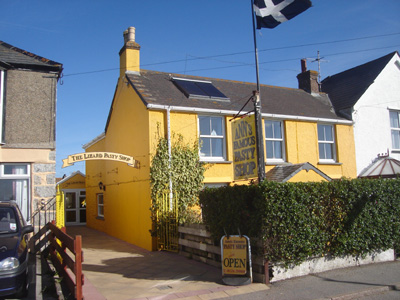 Ann's 'famous' pasty shop - admittedly good gear!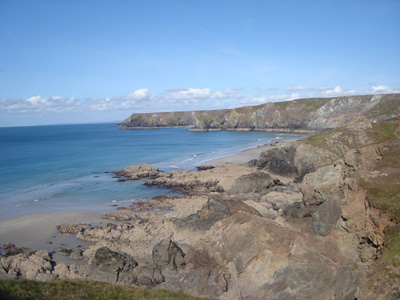 Looking back at the Lizard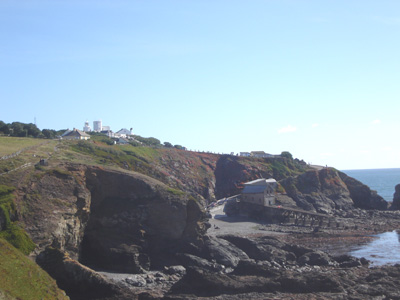 Lizard - Lighthouse and some boathouse thing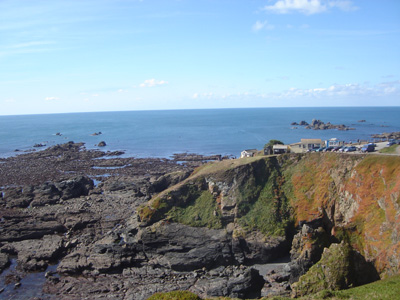 Looking back to the most Southern Cafe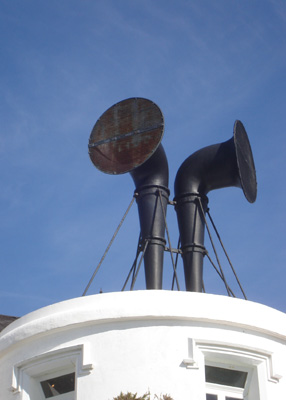 Lighthouse foghorns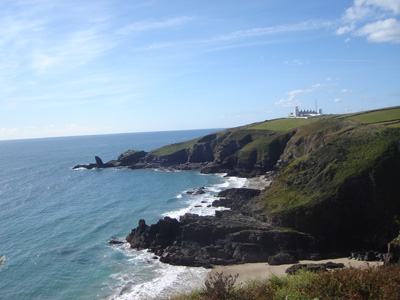 Looking back to the lighthouse (had a great tour the next day)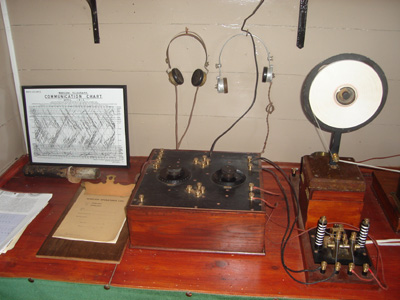 Marconi Wireless Station near the Lizard - Run by the National Trust - In 1901 receieved a signal from the Marconi Station on the Isle Of Wight. Full of old equipment, lots of valves and stuff.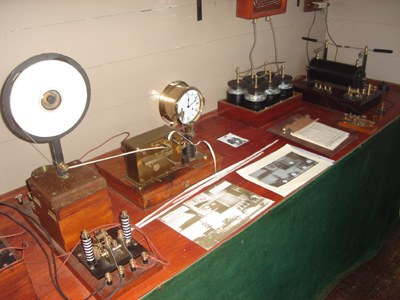 More gear - paper tape on left, spark generator on right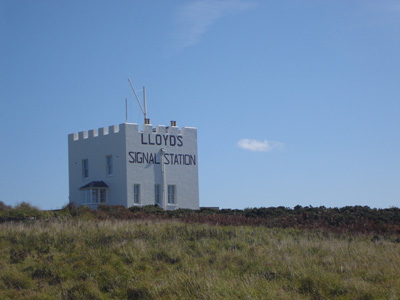 Looks like a lego brick!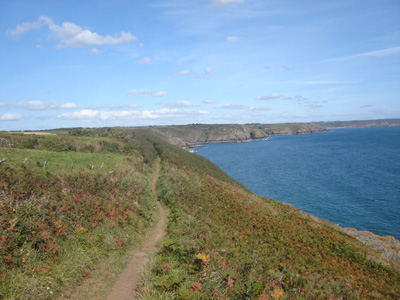 Hot Point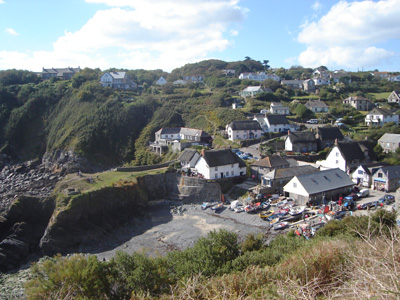 Cadgwith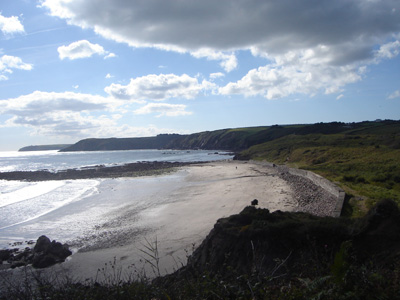 Kennack Sands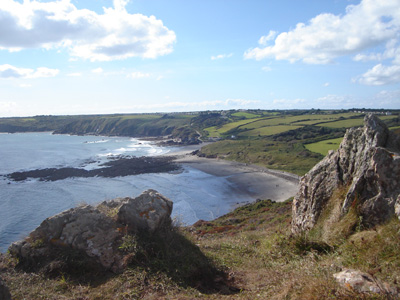 Beagles Point - A hard climb then lunch!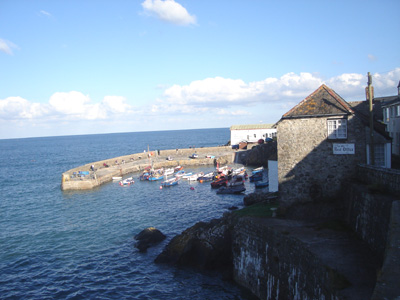 Coverack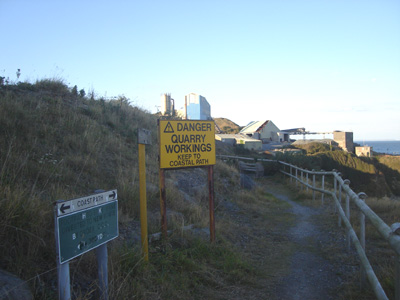 The path takes you through a working quarry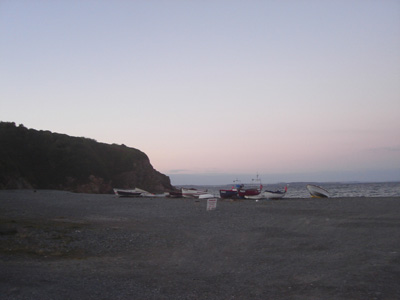 Porthallow - And no buses!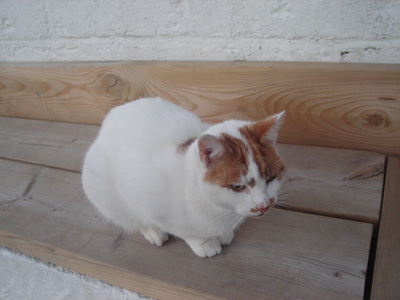 This sweet puddy kept me company at Porthallow
Porthallow to Falmouth
15 September 2008 - 17.9 Miles
ID15092008#37
Here we go again! Third year based in same chalet in Hayle, this time for a bonus two weeks, so made condsiderable progress - nearly 90 Miles in total. Rewarded with kick ass Cornish pasties, ice cream and cream teas.
First walk was a sod - Bus never turned up in Helston (Thanks Truronian!) so had to sit for nearly three hours in Helston in the drizzle...Finally got to Porthallow then had to jog and route march along in the mud to get to the Helford Ferry - also had to do an annoying detour as the Gillan ford that would have been crossable had the bus arrived was now impassable, and after a very wet attempt to just do it anyway, had to concede defeat and ended up walking along the roads to get the ferry. Then had to go quick to get to Falmouth before dark.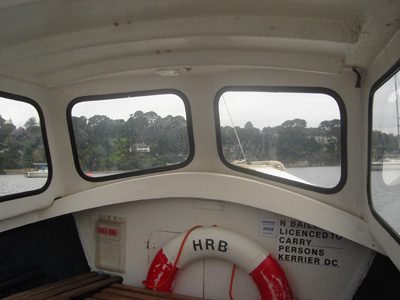 Helford Ferry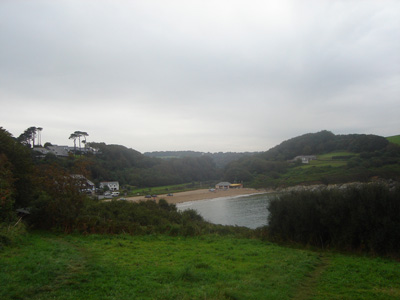 Approaching Maenporth
Near Falmouth
Portreath to Gwithian
17 September 2008 - 7.5 Miles
ID17092008#38
A more agreeable walk - I was deposited in Portreath by friends, then made my way back to our chalet park - only needed to go as far as Gwithian, but ended up walking the Hayle section as well. Nice Skoff at Hells Mouth Cafe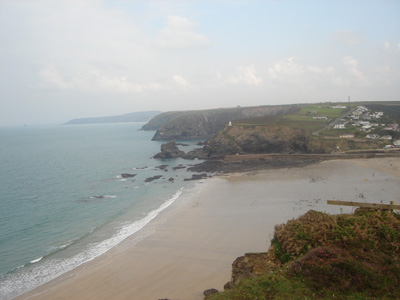 Looking down over Porthreath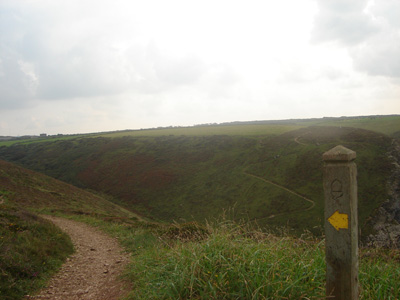 Zigzag hilly bit near Portreath - typical SWCP - although this section is quite easy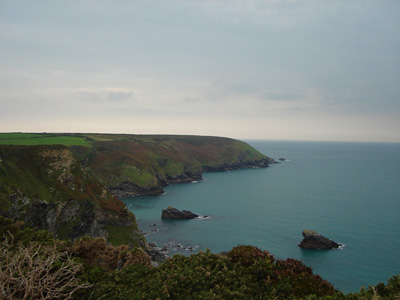 Near Hell's Mouth?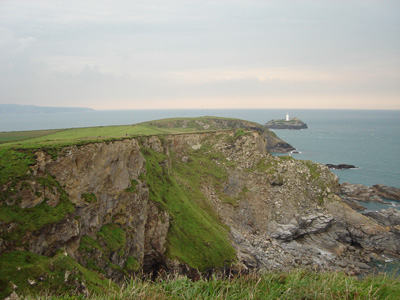 Godrevy Point and Lighthouse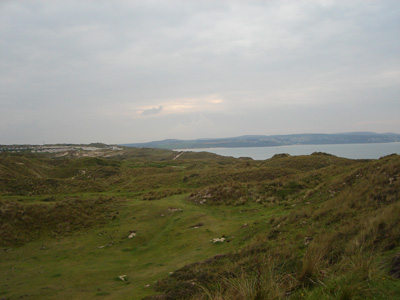 Dunes and caravans - Mexico Towans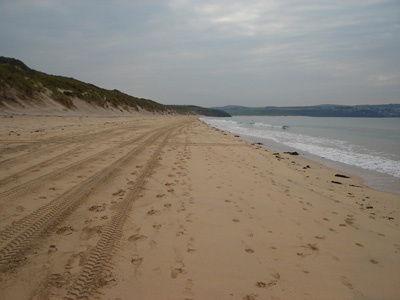 Towans beach - towards Hayle
Newquay to Trevaunance Cove
19 September 2008 - 16.5 Miles
ID19092008#39
Walked above Fistral beach, crossed the Gannel on low tide across the sand and had another archetypical SWCP experience. Gave up at St Agnes as did not think would make Portreath before dark (and knackered)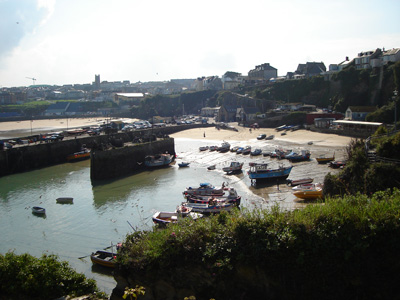 Newquay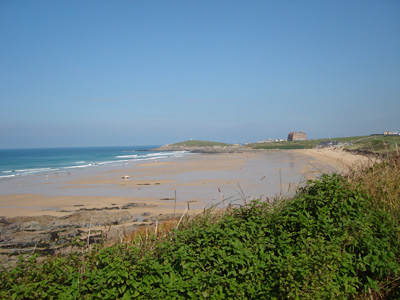 Fistral beach - lots of surfing shenanigans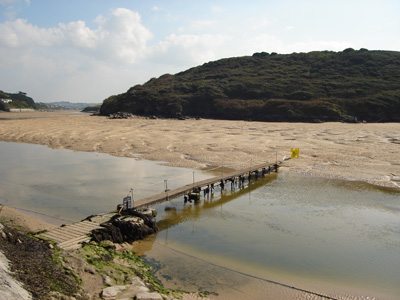 Crossing the Gannel at low tide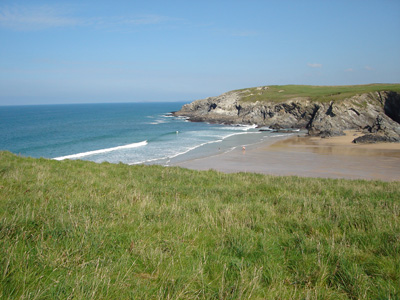 Holywell Beach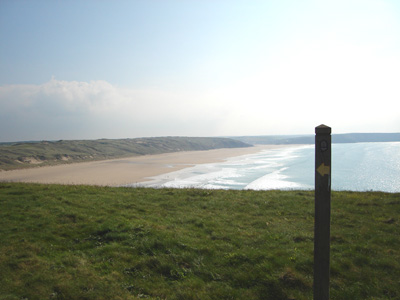 The long expanse of Perran Beach
Nearly at Perranporth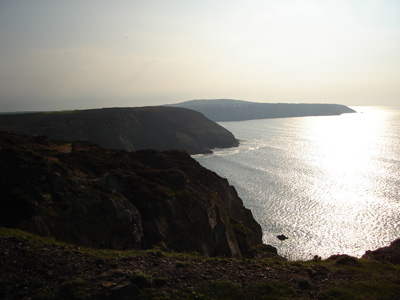 Still some way to St Agnes Head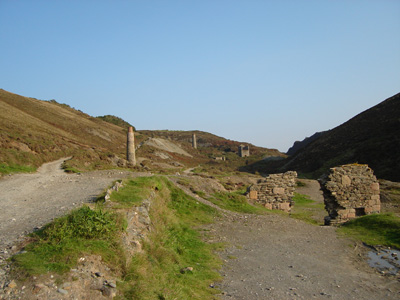 Mining artefacts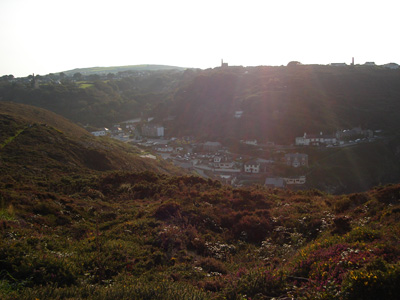 Trevaunance Cove
Trevaunance Cove to Portreath
21 September 2008 - 8.5 Miles
ID21092008#40
Short but quite a rollercoaster - rather knackered by Portreath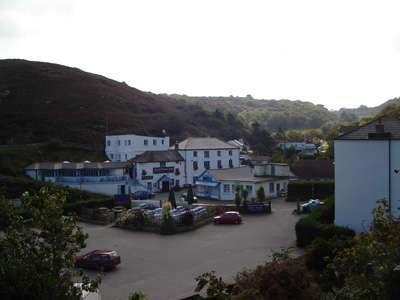 Trevaunance Cove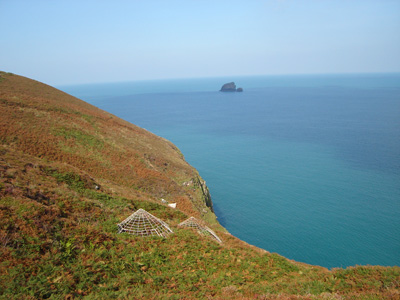 Mineshaft covers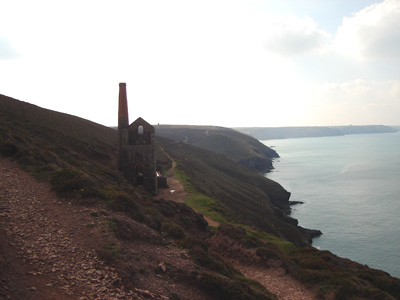 Mine buildings near Porthtowan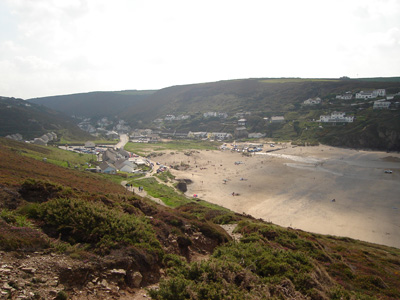 Porthtowan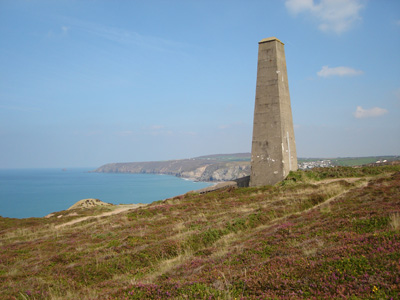 Looking back towards Porthtowan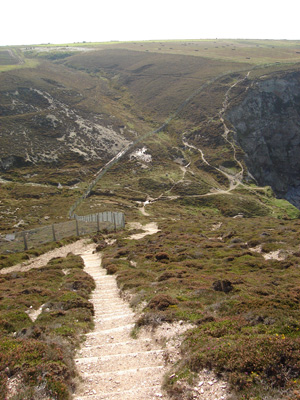 Yet another rollercoaster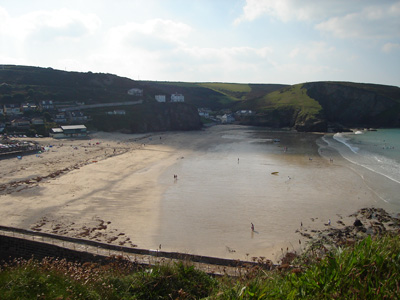 Portreath again
Falmouth to Portloe
22 September 2008 - 13.5 Miles
ID22092008#41
Groovy picturesque walk. Had the company of my (very) occasional walking companion, who lives in Hayle. Two ferries at the start, from Falmouth to St Mawes then to Place, then a beautiful but hard walk in places with many steep ups and downs - Nare head and approach the hardest.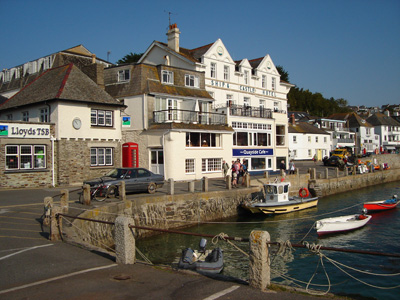 St Mawes - ferry interchange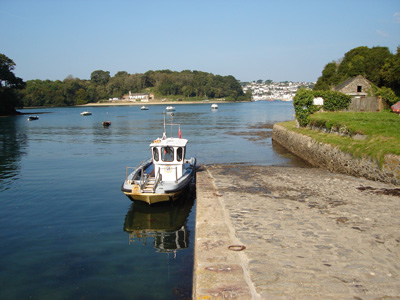 The Place ferry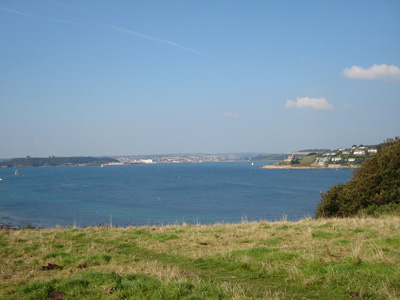 St Anthony Head looking towards Falmouth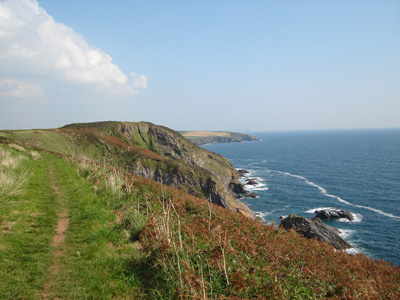 Porthmellin Head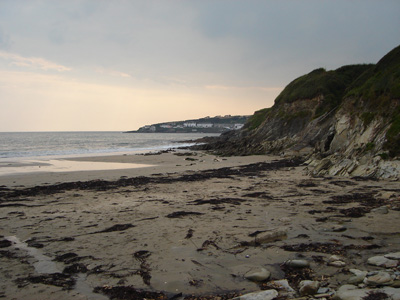 Looking back to Portscatho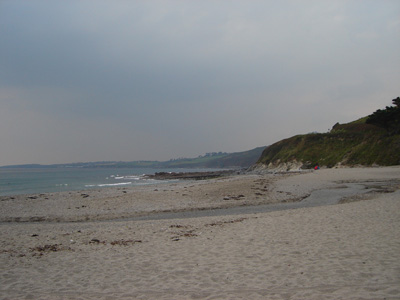 Lunch at Pendower Beach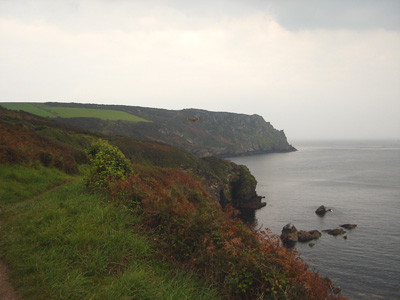 Oh dear - here comes Nare Head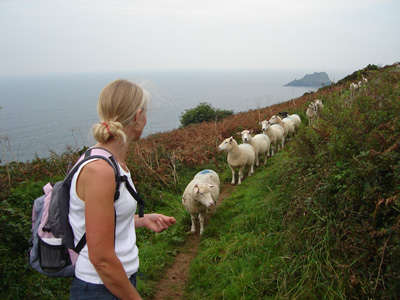 So sweet - these sheep panicked and half were in front of us pinned against a stile and half behind, not knowing what to do. We shooed them away from the stile and they went on their merry way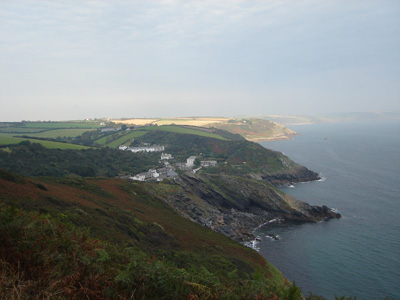 Approaching Portloe - a nice village with no facilities, except a bus route
Padstow to Newquay
25 September 2008 - 24 Miles
ID25092008#42
Much easier gradients in general, very pretty coastline. However, a few miles out of Newquay had a bit of a giddy spell - an apple gave me that final boost, then fishcake and chips in town and a nice train ride back to Hayle. Last SWCP walk this year.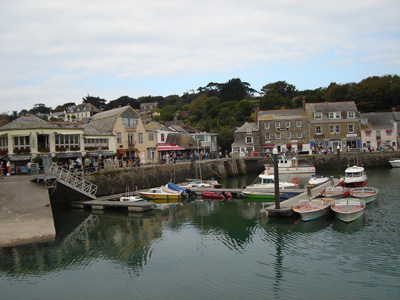 Padstow (Padstein) - pretty but pretentious!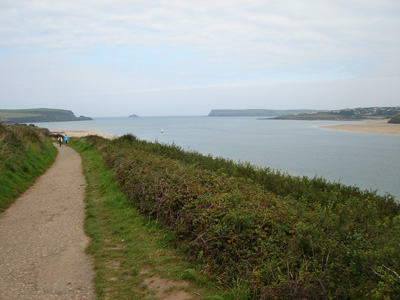 Low cliffs leaving Padstow alongside the River Camel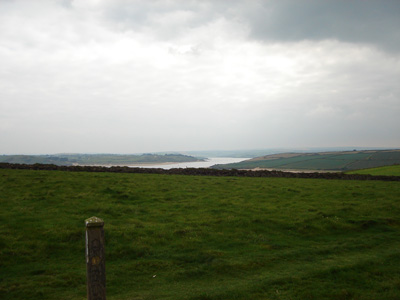 Looking inland to the river Camel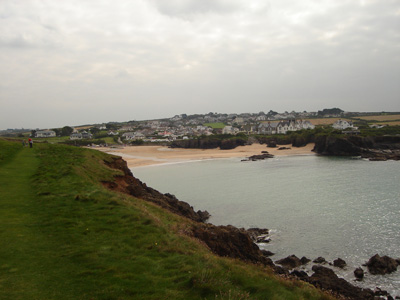 Looking towards Harlyn Bay in far distance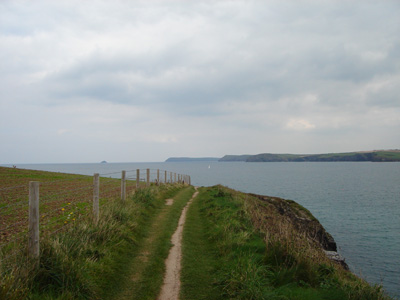 Mother Ivey's Bay
Trevose Head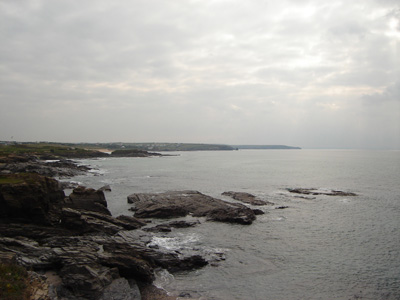 Towards Constantine Bay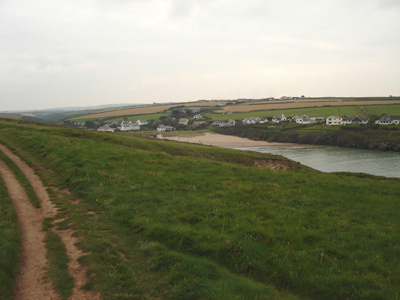 Porthcothan
Trenance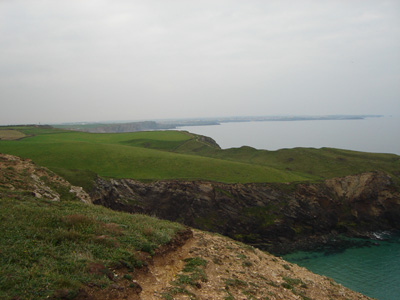 Still miles to Newquay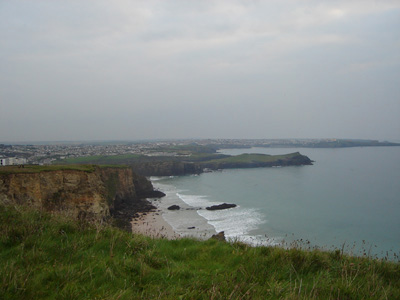 Finally - nearly there
Swanage to South Haven Point
Saturday 27 July 2012 - 7 Miles
ID28072012#38a
Blimey - it's been four years since last dose of SWCP!
I have wanted to bridge the gap between my E9 walking so far and the SWCP and this has been on the cards for a long time as I then continued on to Bournemouth via Sandbanks Ferry on the Bournemouth Coast Path
I took the train to Wareham and caught the bus (route 40) down to Swanage (First ever visit to the Isle Of Purbeck) passing the beautiful Corfe Castle on the way, and soaking up the gorgeous undulating countryside, before bailing out at the bus station and having a shuftie round the Swanage Railway station before heading to the beach (via Greggs of course) and then heading along to Ballard Down, then passing by 'Old Harry' hanging a left to pass through Studland, then a miserable bit trying to walk through sand dunes along Studland Bay, before finding a better path walking along the wet sand on the foreshore, but accidently walking through a nudist beach, with all kinds of things swinging about like! Anyway, keeping myself to myself finally rounded the corner to Shell Bay and got on the Sandbanks Ferry to continue on to Bournemouth. This is the Official end of the South West Coast Path, but as I have not done the rest of it contigiously I have a lot more to do yet - I havn't even set one boot in Devon yet!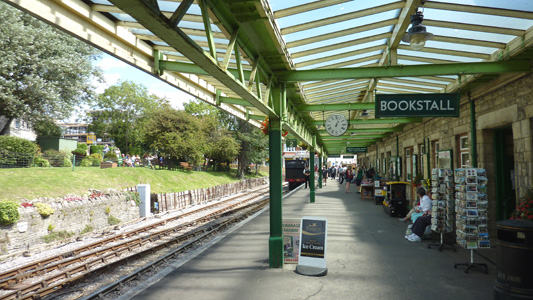 Swanage Station -No time to take a train unfortunately
A busy Swanage Beach, on a very unusually nice day for 2012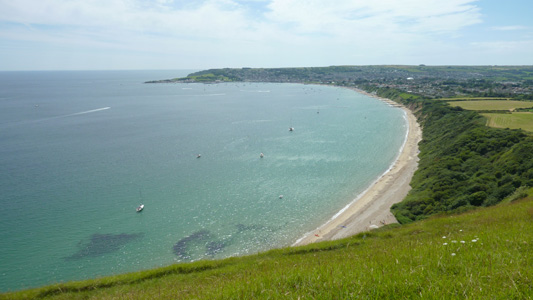 Looking back over Swanage Bay from Ballard Down, a bit of a climb in the heat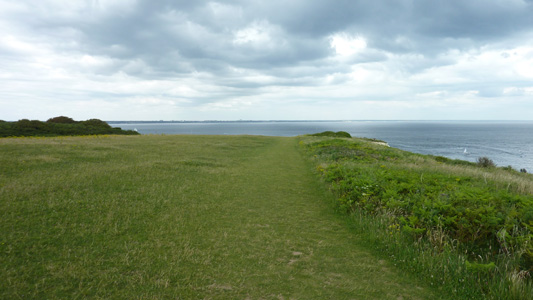 Handfast Point, Looking towards 'Old Harry' who used to have a 'wife' (They are rocks by the way)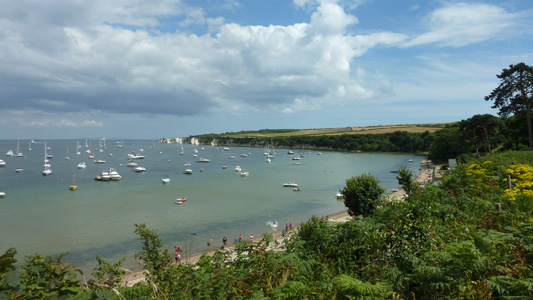 Handfast Point from Studland
Memorial to Royal Dragoon Guards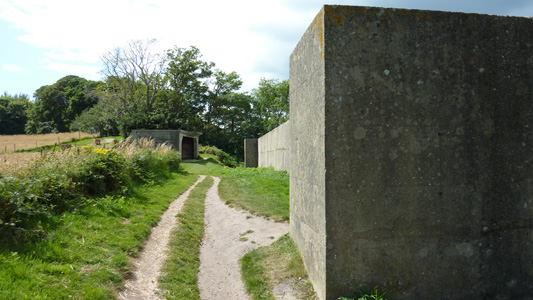 Former Military Installation - Studland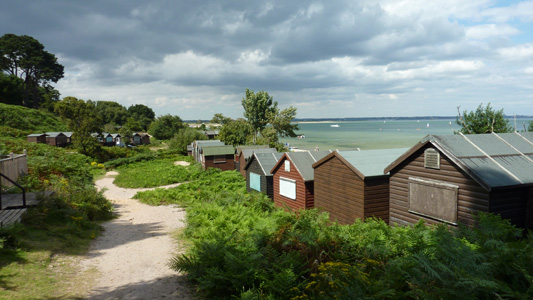 Chalets at Studland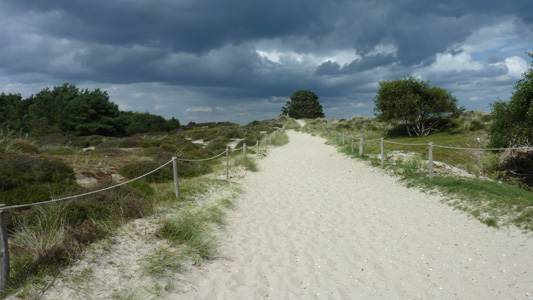 Pesky Sand Walkway - bleedin hard going, although not as bad as shingle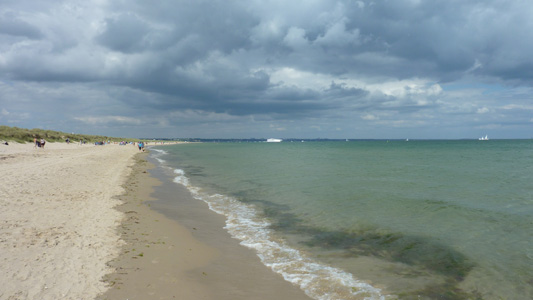 A bit easier by the foreshore - just ahead the nudist beach - I put my camera away for the horror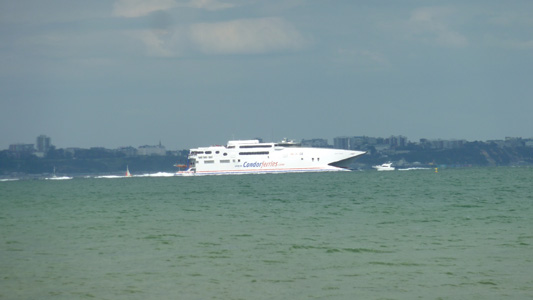 Zoomed into the Condor Ferry from above Picture. These lucky peeps are on their way from Poole to The Channel Islands, another place I have yet to visit
The Sandbanks - South Haven Point Ferry. I took this to get across to walk on to Bournemouth. It is very busy as it saves a 13 mile drive round to get onto the Isle Of Purbeck. This is the end of the SWCP