Tunbridge Wells Circular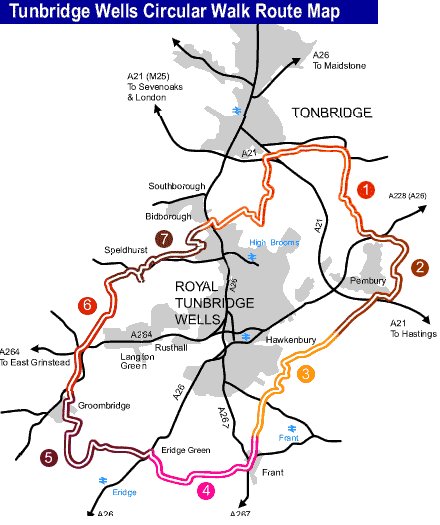 Formerly named the High Weald Walk, this route explores the variety of countryside around Royal Tunbridge Wells on the borders of Kent and East Sussex and is within the High Weald AONB. It passes through a rolling landscape of ridges and valleys with a patchwork of small fields, hedges and broadleaved woodland. On the route are Groombridge Place, High Rocks, Eridge Rocks and Harrison's Rocks, all sandstone outcrops popular with climbers, and Eridge Park, a remarkably unpopulated area for south east England. Using the marked linked routes and the stations at Southborough (High Brooms), Tunbridge Wells, Frant and Eridge, shorter circular and linear walking options are possible.
Another wonderful walk - done in three sections. This walk can be done in many different ways as there are so many access routes and permutations for circular and linear routes. I actually completed over three different occasions: Pembury Circular, Sussex Circular, Speldhurst & Southborough Circular. The walk is 27 miles if you do the challenge in one go - certificates and badges are available (I have a badge on my rucksack!) I did the sections in early 2004.
Probably the only crappy bit is the first section from High Brooms to link into the main path and Rusthall as it's a bit chavvy round there, other than that it's the good old rolling weald that we all love. A high point is around Groombridge with such as Harrisons and High Rocks (and the Spa Valley Railway). You may also see deer around.
The piccies are another casualty of my hard drive melt down so sorry about that! I may walk it all again though and go for the one day challenge.