St Edmund Way

A route across Suffolk, using the Stour Valley Path (East Anglia) It is not waymarked, but on OS mapping and although mostly coincident with the Stour Valley Path, it starts from Manningtree Station rather than Cattawade and has a little crisis on the edge of Stoke By Nayland and an alternative path between Nayland and Bures. Then to Sudbury and Long Melford and going via Lavenham and Little Welnetham to Bury St Edmunds, burial place of the martyr King Edmund slain by the Danes in 869, along the waymarked Lark Valley Path (13 miles and included on OS mapping) to the Icknield Way Path at West Stow before striking over the Brecks to Thetford and the Hereward Way.
Manningtree Stn to Flatford Mill
Saturday 7 November 2009 - 1.75 Miles
ID07112009#33a
Another 'Brucie Bonus'. I did not expect to make it back to Suffolk until December, but my Bro organised a family shindig to celebrate a very significant Birthday for me mum, so stayed for the weekend and after dismissing continuing the Angles Way due to very bad train timings, started this walk instead. Due to assuming that my train from Ipswich was going to stop at Manningtree, I ended up having to get off at Colchester and back up to Manningtree loosing half hour! I have no real plans for the St Edmund Way for a while, but it was more pleasant to go direct along this path from the station to intersect with the Stour Valley Path at Flatford Mill, rather than a road walk to Cattawade to follow the Stour Valley Path from there. Obviously extremely brief section, alongside the mainline rail station, under a bridge and up to join the Stour to Flatford Mill and Lock.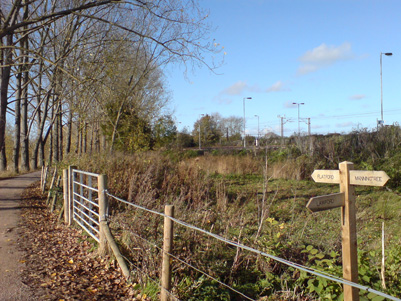 Been here before. Straight on for the St Edmund Way (no unique waymarking) and left to Lawford to hook into the Essex Way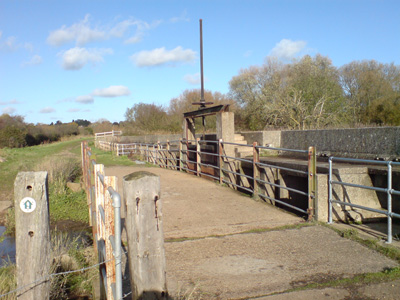 Sluice gates for when the Stour throws a wobbly!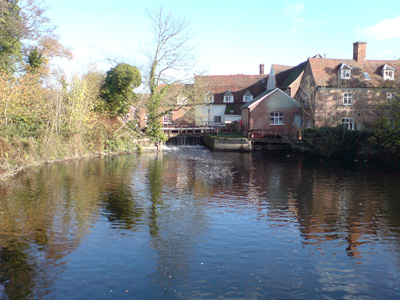 On the Stour bridge at Flatford, looking towards the Mill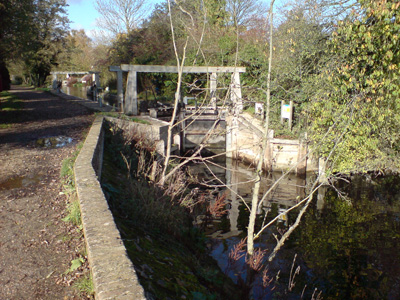 Flatford Lock. Bit of a waste for canoes!
Thetford to Brandon
Friday 3 August 2012 - 9 Miles
ID03082012#41a
This was another last minute idea - I am going through a period of opening up new walks and walks in new areas so this was a nice choice. Train to Thetford - Still a bit down on its luck but the world is always a bit shinier for me after a Greggs wedge up, so in good mood wandering by the Little Ouse River, soon entering into Thetford Forest where I saw a Muntjac Deer. Unfortunately my mood soured somewhat when the route became almost impenetrable on the river bank, but I finally found a better track more away from the river and had no more problems with undergrowth, passing by a big mysterious factory, then passing under the railway briefly 'kissing' the A134 before heading in a more westerly direction with the river and railway as companions to pass through Santon Downham, after initially overshooting and doubling back almost a mile due to lack of attention to the route. At Santon I found a lovely little village shop and stopped for an ice cream and had a break by the church, then pushing on through the edge of the forest to soon reach the edge of Brandon. I headed straight to the station and after a 30 minute wait took a train on to Ely then Waterbeach to do the second walk of the day on the Fen Rivers Way . This walk leaves a big gap in the St Edmund Way but I no longer get so anal about sequential sections (I know what I mean). I had an idea to start the Hereward Way from Harling Road Station, which hooks into this walk near the factory, but the Station (along with several others on this line) has an appalling level of service, I don't know why but it makes it difficult walking in this area, especially as their are lots of trains on this line!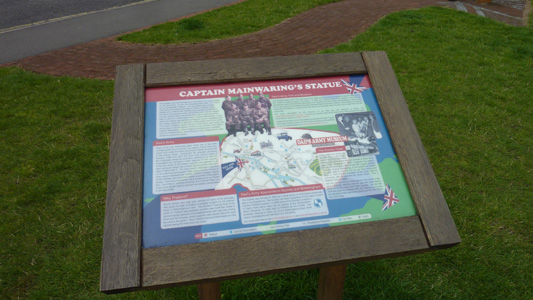 Captain Mainwaring's Statue - Dad's Army Interpretation Board. The Thetford area was where the majority of the series was filmed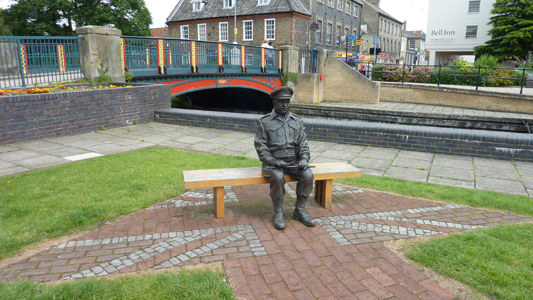 They Don't Like It Up 'em!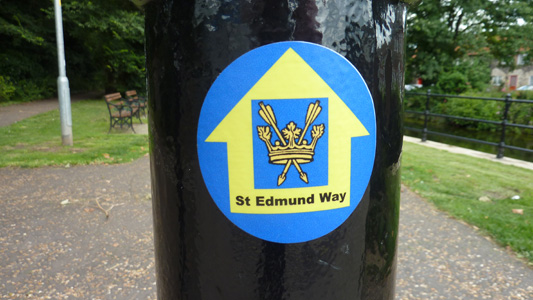 Bit weird - the walk is not waymarked apparently, certainly it wasn't on the Suffolk Section that it shares with the Stour Valley Path but at least from Thetford on it was and I was very grateful. The path is on OS Mapping (diamonds). This path is also marked as the Little Ouse Path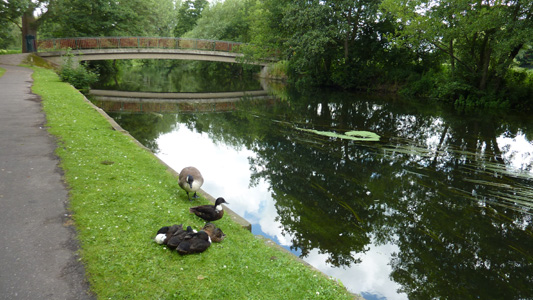 Ducks kipping and chilling by the Ouse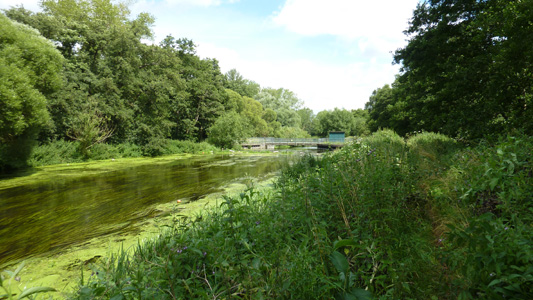 Path becoming impenetrable by the Ouse...I had to head inland to find a parallel path to continue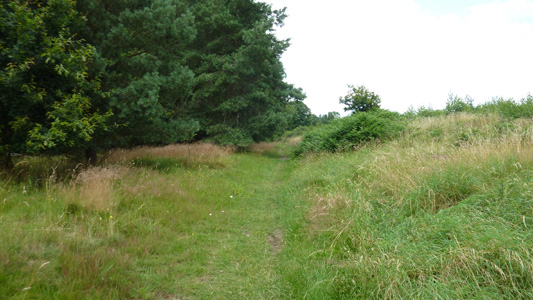 Able to make progress on decent tracks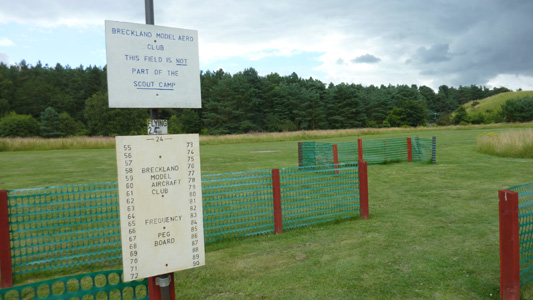 Breckland Model Aero Club area by the mysterious factory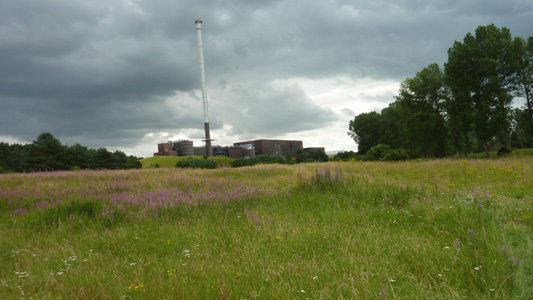 Factory of some description that looms out of the forest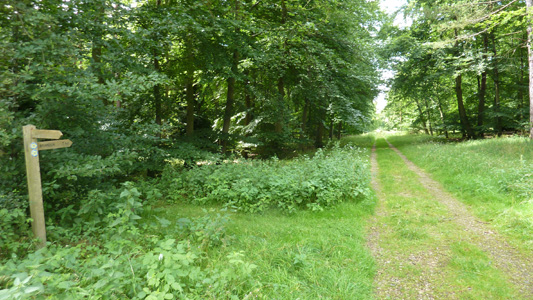 Easy forest tracks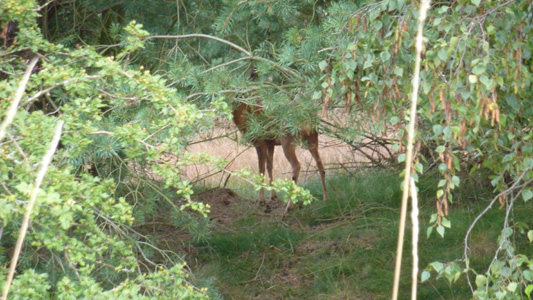 This deer saw me first but then stopped about 20 metres away...we had a standoff for several minutes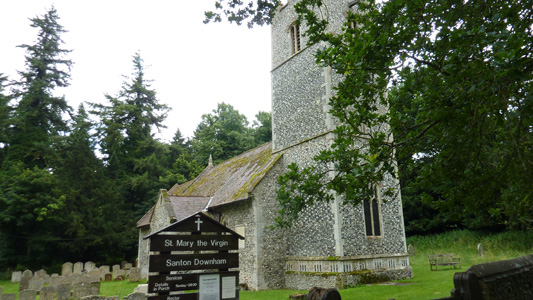 Santon Downham Church and time for a food break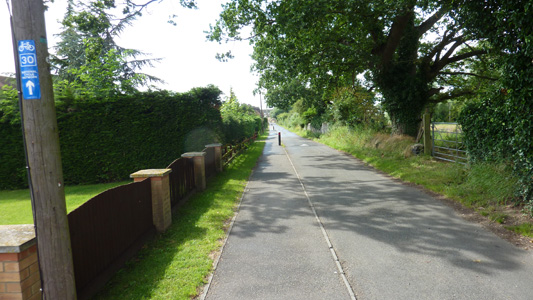 Approaching Brandon