Bournemouth Coast Path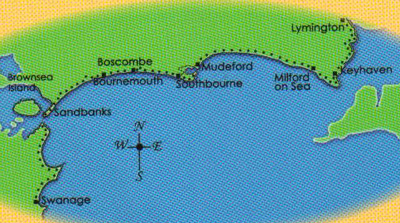 The Bournemouth Coast Path is a 20 mile long-distance footpath through Dorset and Hampshire, England from Sandbanks to Milford-on-Sea. The path follows the coastline and goes through Bournemouth, Boscombe, Southbourne, Hengistbury Head, Mudeford and Highcliffe. Between Hengistbury Head and Mudeford the path uses a ferry to cross Christchurch Harbour. In winter, when the ferry does not usually run, there is a 3 mile detour through Christchurch. The Bournemouth Coast Path connects with the South West Coast Path (by the Sandbanks Ferry) in the west and the Solent Way in the east. The path is not on OS mapping (yet!) or waymarked in its own right, but E9 waymarks and the no brainer of being a coast walk make it pretty straight forward, the only fiddly bit is at Chewton Bunny (a coastal valley)
Bournemouth to Milford On Sea
Saturday 4 July 2009 - 14.25 Miles
ID04072009#20a
This is really pushing it for a day walk, as it is a 4 hour train journey there, and not much less coming back, and a total walk of 21.25 miles. I am just determined to close the gap with the South West Coast Path, although I am still left with a 6 mile gap to Sandbanks. I used the excellent Leigh Hatts guide, which details a walk from Swanage through to Lymington and found the path became more and more attractive, as the overcast conditions broke to another hot sunny day, and the scenery changed from samey prom to beautiful marshland with the Isle of Wight as a backdrop. The route started from Bournemouth Pier, through Boscombe, Southbourne, Hengistbury Head - then a ride on the ferry to Mudeford, Barton on Sea, Milford On Sea and on to Keyhaven, and a very twisty walk along the marsh wall to Lymington Station. Rather crispy critter by the end and only just made it back to Hastings! For the Milford to Lymington Section done on the same day, see Solent Way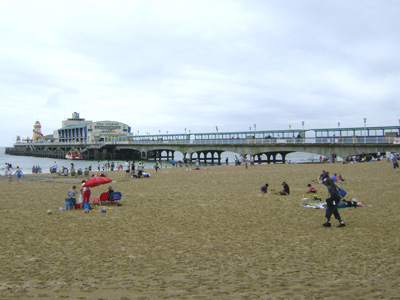 Bournemouth Pier. A bustling place indeed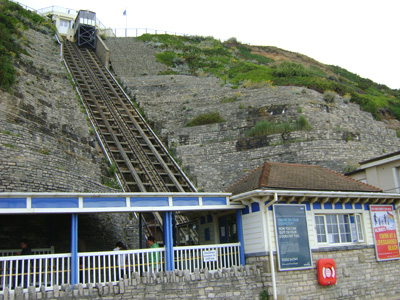 East Cliff Funicular Railway - one of three in Bournemouth (Stannah on Steroids!)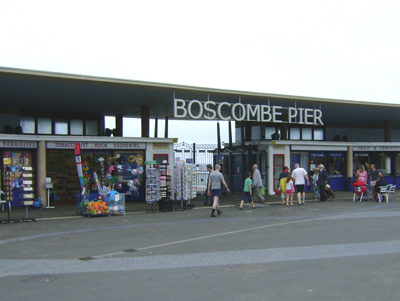 The other pier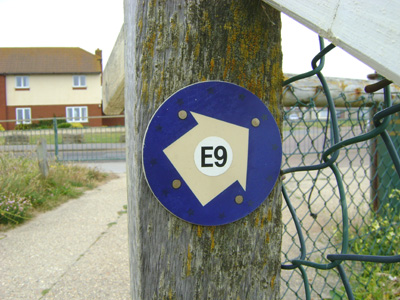 My first ever E9 waymarker - on the Bournemouth Coast Path they are common (which is nice!)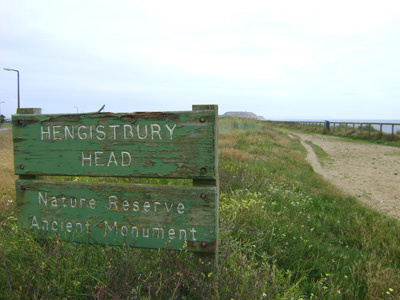 Finally off the promenade, which was going on a bit - Hengistbury Head in distance to the right of sign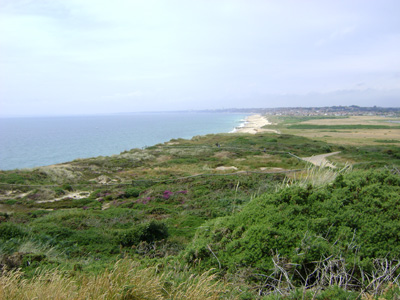 Looking back to Bournemouth with Isle Of Purbeck Beyond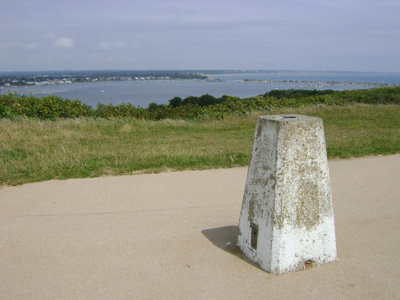 Christchurch Harbour from Hengistbury Head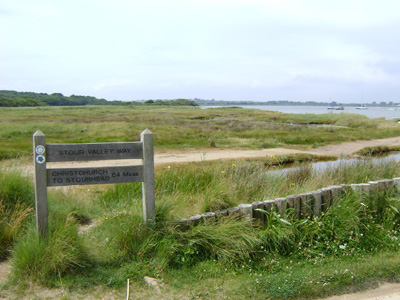 Stour Valley Way - from Christchurch to Stourhead - another one to do...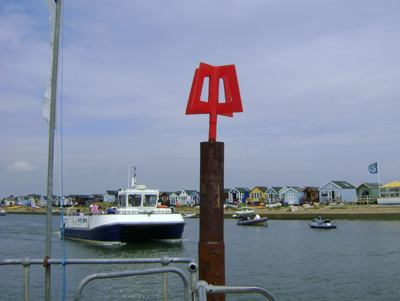 Mudeford Ferry - A chance to chill for 10 minutes and a shortcut across Christchurch Harbour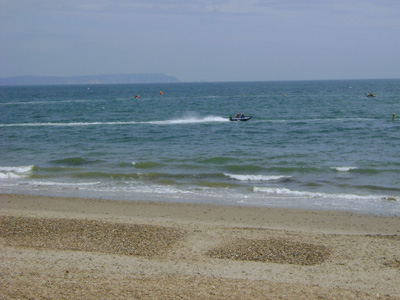 Powerboat racing at Friars Cliff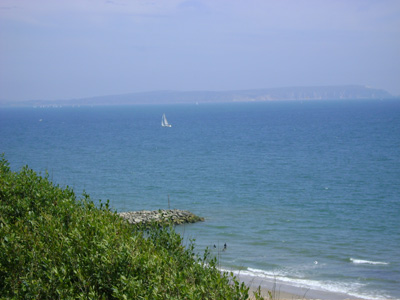 IOW from near Chewton Bunny - such a sweet name!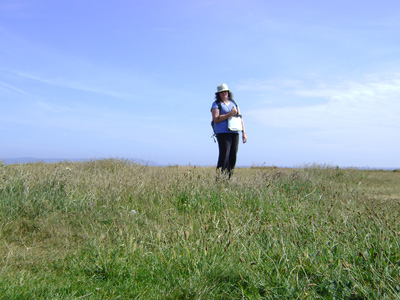 How did that one get in there...shenanigans at Barton On Sea after fiddly bit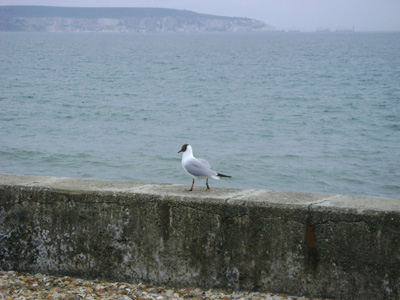 Scoff time at Milford. Black Headed Gull and backdrop of the Needles
The rest of the walk to Lymington is under Solent Way
Sandbanks to Bournemouth
Saturday 28 July 2012 - 6 Miles
ID28072112#38b
This walk has been on the to do list for a long time and finally got to it. This was the second of todays walks, following on immediately from the SWCP section from Swanage to South Haven Point.
From the Sandbanks Ferry, crossing the small opeing into the huge Poole Harbour) I walked past the Brownsea Island Ferry Terminal (another place to go to one day) and after walking along the B3369 for a while, then headed down onto the beach and followed the prom, which abruptly ended, so another shoreline walk for half a mile (Sandbanks is apparently very exclusive but I didn't rate it personally), till the prom proper started, followed all the way, very busy with tourists enjoying the sea and sunshine, passing by Poole Head and Flag Head, Canford, Branksome and Alum Chine before chillig at the pier and hightailing to the station to get home at a reasonable time (2145)
The Ferry to Sandbanks. A very short trip and I didn't have to pay nuffink. Apparently one of the chains once broke and it started drifting about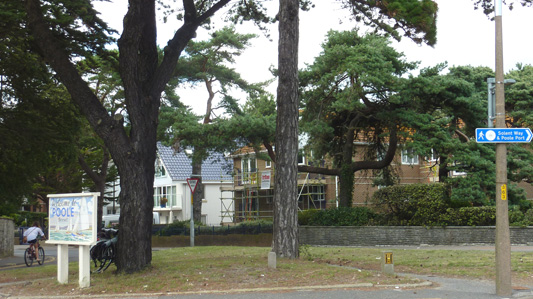 Strange sign for the Solent Way - as it does not reach here, but ends some distance away at Milford-on-sea. This is informally the Bournemouth Coast Path, conincident with the E9 so there!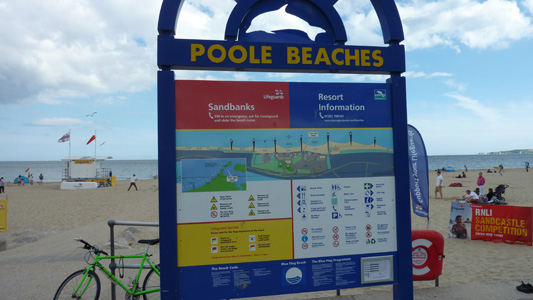 One of many Info signs on the way into Bournemouth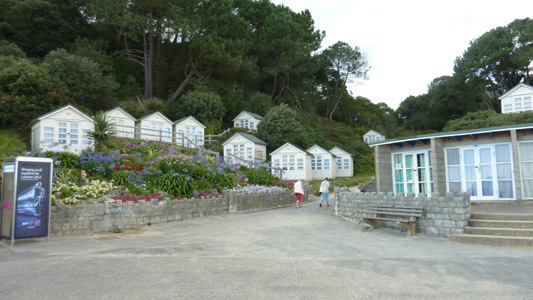 Nice little dingly dell beach huts. Some along the way could be hired by the day or week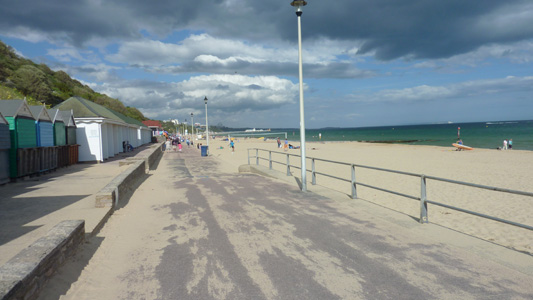 On the prom between Branksome and Alum Chine. Pier in far distance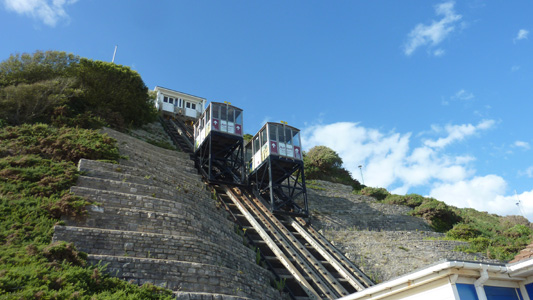 West Cliff Funicular Railway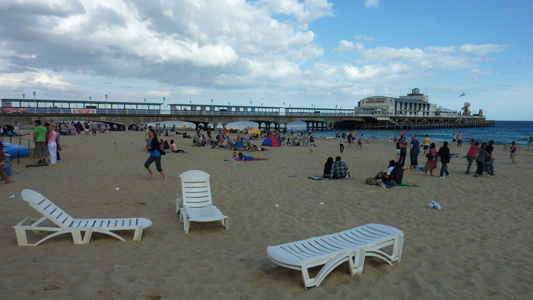 Bournemouth Pier. I had a quick chill sitting on the Pier, then legged it to the Railway Station as I had not real desire to hang out in Bournemouth - job dun