Thames Path National Trail
Thames Path Extension and Thames / Shore Link (Self Defined)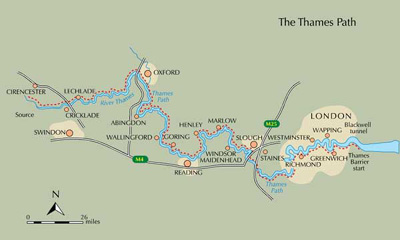 Trail Map
This started out as an annierak mission to walk over all the accesible bridges on the Thames in central London, alternating banks each time - then I discovered the Thames Path and decided to do the entire walk, starting from the Woolwich flood barrier, to the source near Kemble in Gloucestershire. I have walked it in these sections: Tower Bridge to Putney, Putney to Kingston (Bank Alternation S to N crossing all bridges/walkways), Woolwich Ferry to Cutty Sark (Round Millenium Dome/Peninsula), Tower Bridge (Southbank) to Cutty Sark, Kingston to Staines, Staines to Maidenhead, Maidenhead to Reading, Reading to Wallingford, Wallingford to Oxford, Oxford to Newbridge, Newbridge to Lechlade, Lechlade to Cricklade, Cricklade to Source.This was completed on Sunday 18th November 2007. I have found it a fascinating and quite easy to follow trail from tourism choked central London, through the burbs into lovely countryside, with the ever dwindling Thames a fascinating companion.
Woolwich ferry (Thames Barrier) to Cutty Sark
May 2003 - 4 Miles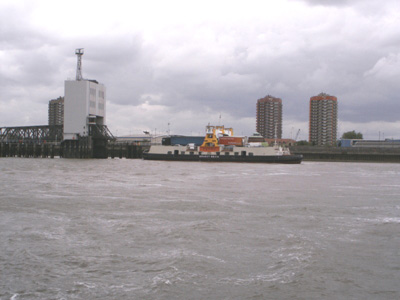 Woolwich Ferry - not strictly on the path - the official start is at the flood barrier - but an extension runs to Erith. Besides, this brings back a few memories of a cheap day out!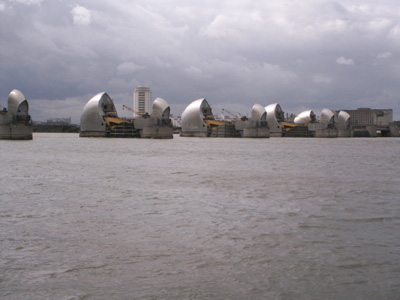 Thames Barrier - official start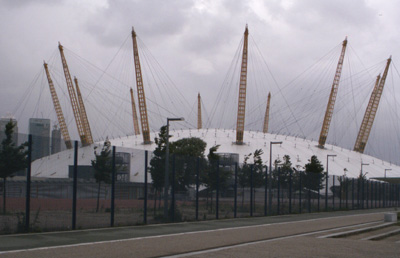 The nawty dome - now being reused, although I did go to the Millenium Show and really enjoyed it in 1999. Everything seemed really positive then, with all that cool Britannia stuff, but it didn't last.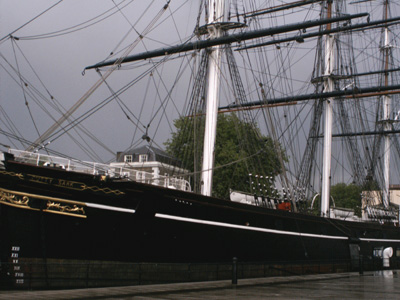 Cutty Sark - got a bit burnt recently!
Tower Bridge to Cutty Sark
May 2003 5 Miles
On a litle day trip decided to plug the gap so far, but walked eastwards this time. Had nice walk round Greenwich Park and up to the Observatory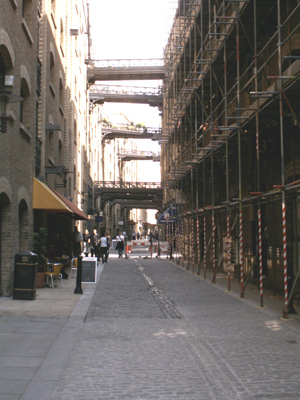 Butlers Wharf - lots of walkways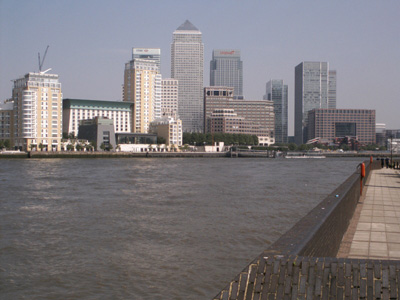 The 'Mini Manhatten' that is Canary Wharf - from Bermondsey. This area seemed to exude menace - some geeza on a bench made a rather suggestive comment as I walked by - unusually I was nicely dressed, but really!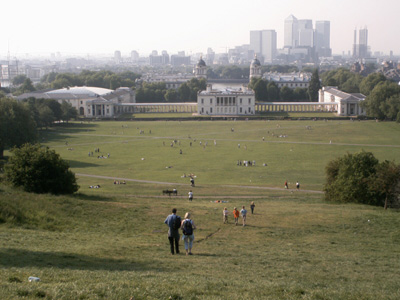 Very pleasant Greenwich Park
Tower Bridge To Putney
February 2003 - 10 Miles
A mate in Hernia Hill helped make this a two day jaunt. Tower Bridge to Putney, then Putney to Kingston the next.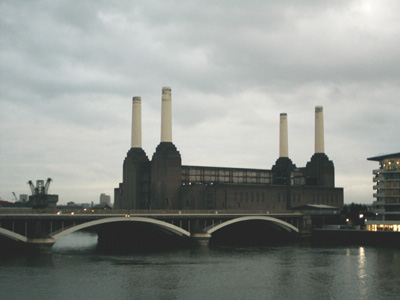 Iconic Battersea Power Station - an empty shell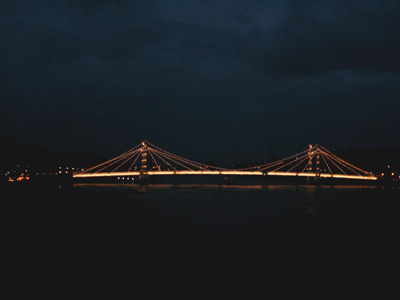 Albert bridge at night - this walk was unusual for me as I could continue into the night - not so easy in rural Sussex.
Putney to Kingston
2003 - 13 Miles
Could have called it quits at Richmond but pushed on. It was very dark by the time arrived at Kingston - pesky February!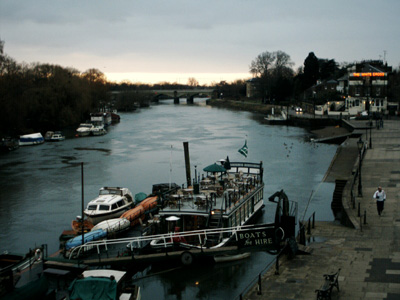 Richmond
Kingston to Staines
2004 ? - 15 Miles
No Photos
Staines to Maidenhead
July 2005 - 13.5 Miles
Staines - Ali G innit! Not that bad actually, a hot day. Maidenhead a bit drab.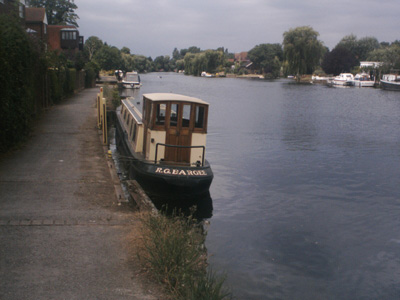 Between Staines and Maidenhead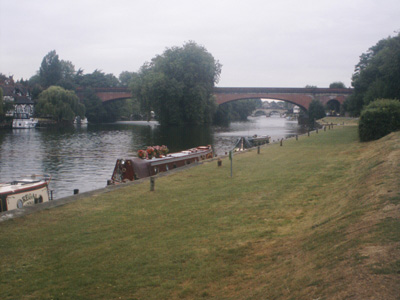 Approaching Maidenhead - Brunel's famous Arched Bridge.
Maidenhead to Reading
Sat 27 May 07 - 24 Miles
ID27052007#?
A long day - up at 0500 for a journey via London to Maidenhead. Finally getting back to this walk. So dopey that I walked away from an ATM at Paddington before it had given me my money - so some lucky sod got a free £20 wedge up - so the day didn't start well, spent the day muttering about my stupidity! Anyway, the walk was great (after leaving the drab confines of Maidenhead) - through Marlow and Henley and the anti climax of Reading. Avoided Luunduun on the way back - home via Guildford/Gatwick Airport, finally sat down at 2300. Lots of big gaffs and beautiful boats and scenery, and sweet adimalds. It has taken me two years to get to doing this next section, although I will do the rest rapidly.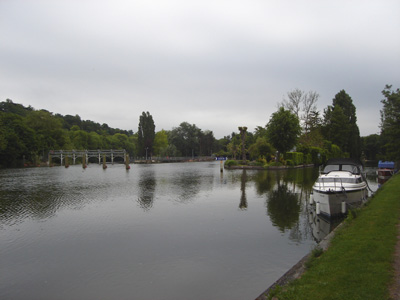 Near Boulter's Lock - Maidenhead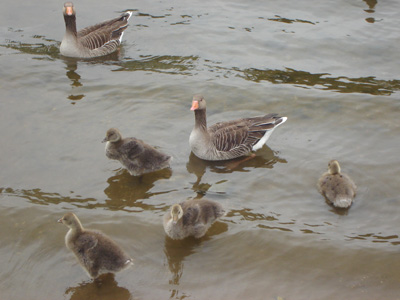 Ahh - Goslings with mummy and daddy...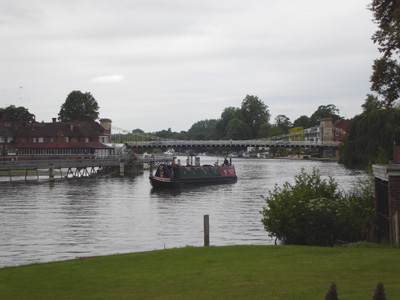 Marlow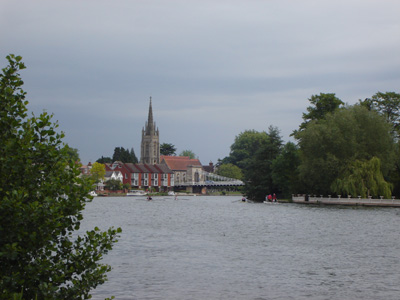 Looking back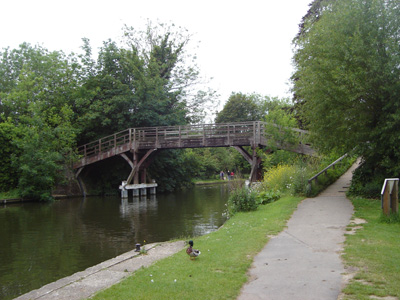 Temple Lock - walkers bridge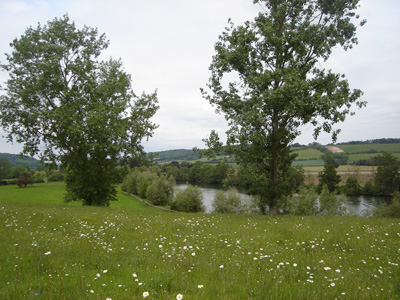 The Thames from Culham Court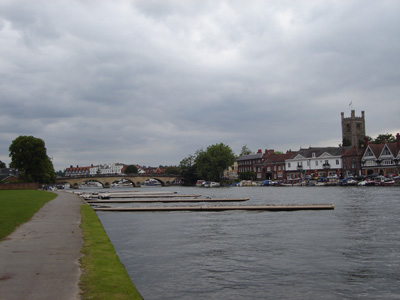 Henley - very posh...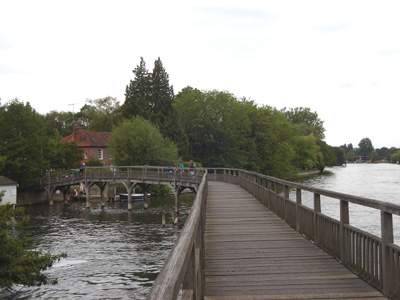 Wooden walkway at Marsh Lock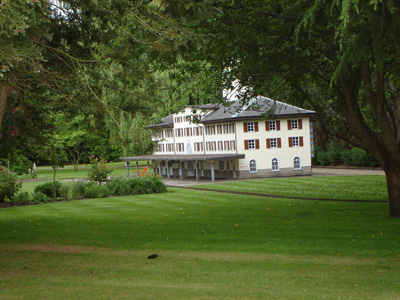 Extensive miniture gauge garden railway at Shiplake (station building)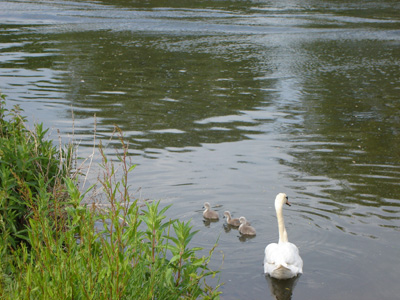 More little fluffy critters with beaks - this time cygnets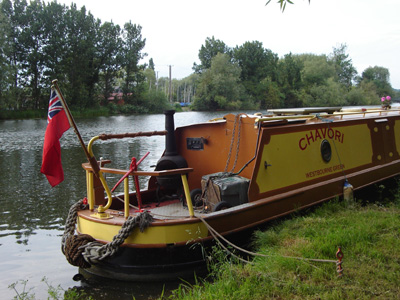 I am sure there is an innocent explanation for the name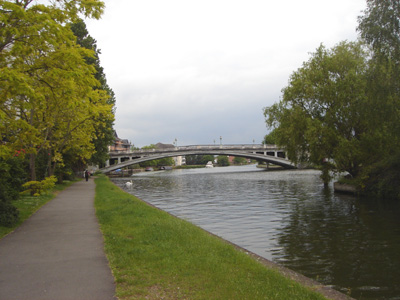 Reading bridge and the descent into 'civilisation'
Reading to Wallingford
Saturday 9 Jun 2007 - 18 Miles
ID09062007
Another wonderful experience of the Thames - even skirting the conurbation of Reading/Caversham/Purley, these towns do not intrude on the experience and the experience is mostly rural (apart from some housing estate action). Pangbourne, Goring / Streatley and Wallingford all seemed pleasant enough places, Streatley interesting for being where the Ridgeway National Path crosses the Thames Path. At Wallingford I took the heritage railway to Cholsey where I could get mainline trains back to St Leonards-On-Sea.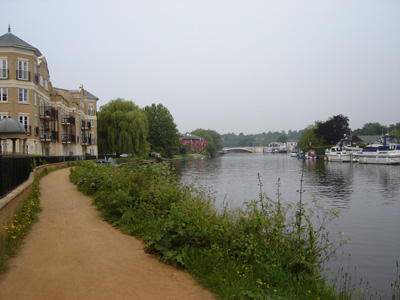 Caversham bridge in distance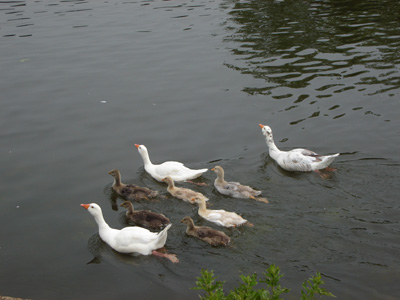 Ahh - more Thames Geese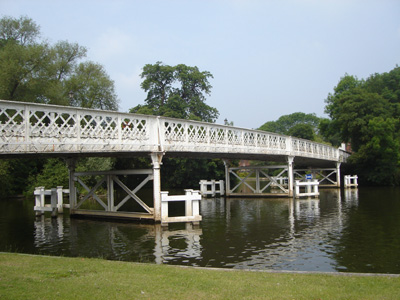 Pangbourne bridge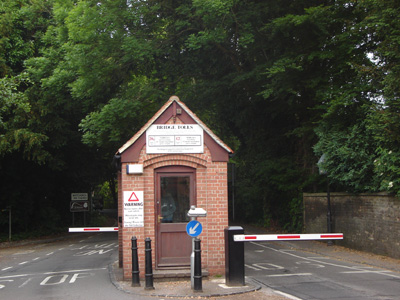 Pangbourne/Whitchurch toll booth - apparently 1 of two toll crossings on Thames - not applicable to walkers though! Also start of a long diversion back to the towpath.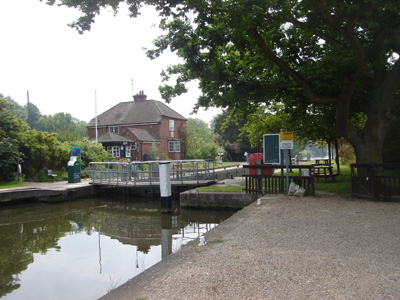 Cleeve Lock near Goring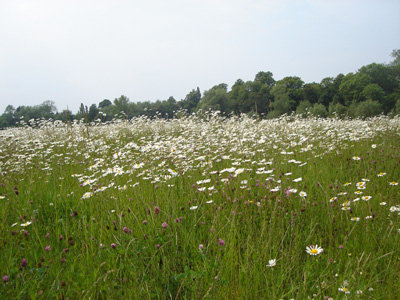 Meadow near Wallingford. It was a panic to get from here to catch the last train from Wallingford to Cholsey.
Wallingford to Oxford
Sunday 8 July 2007 - 23.5 Miles
ID08072007#?
After a hiatus of nearly a month since my last week, due to holiday, migraine, flood and famine (well, probably not the last one!) I finally get to continue my Thames Quest. The first weekend for ages, it has been a dismal summer. Anyway, I was rather out of condition, and the heat got to me so it was with immense relief that I got on the train at Oxford. Beautiful scenery as normal, from Wallingford through Dorchester, Abingdon and then even the loop through Oxford city was picturesque. It has been at least fifteen years since I last hung out in Oxford! The Thames did narrow in parts, but is still a substantial river so far. Only annoying thing was train and tube delays meant missing bus in Reading, so hour late starting walk.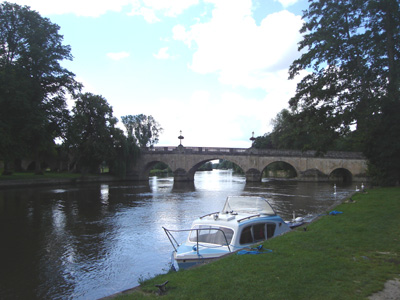 Wallingford Bridge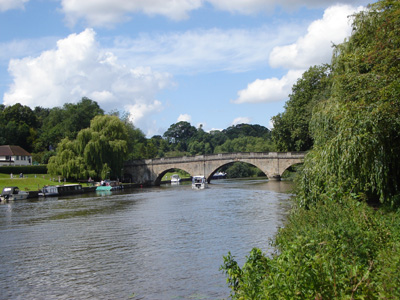 Shillingford Bridge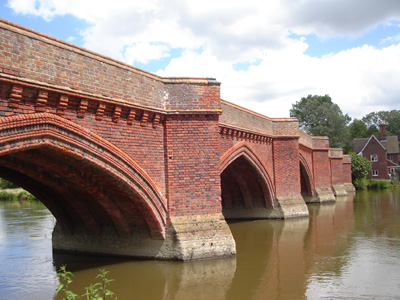 Very pretty Clifton Hampden Bridge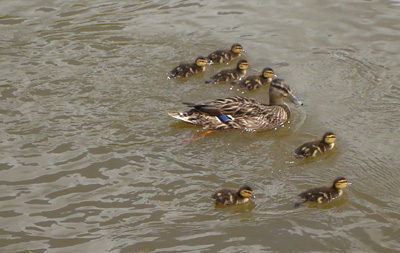 More beaked fings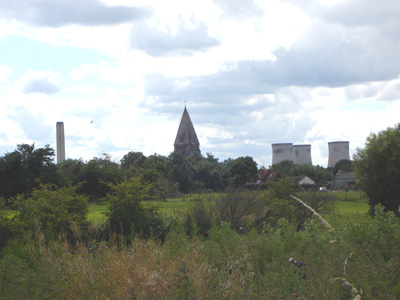 Lovely montage of church and Didcot Power Station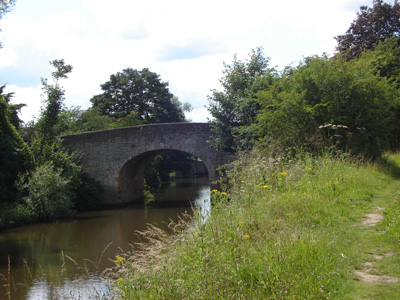 Culham Bridge. At this point, the river is quite narrow and overgrown - a sign of things to come, but it soon widens out again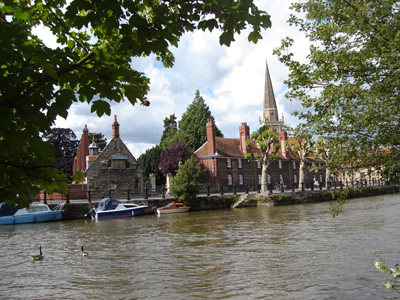 Abingdon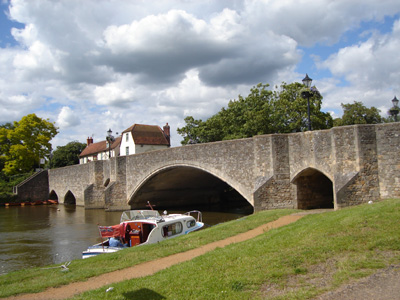 Abingdon Bridge. I used a roboschiller here - but had to give the door a kick to gain entry - good old Berghaus boots!
Oh dear - just abandoned, near Iffley lock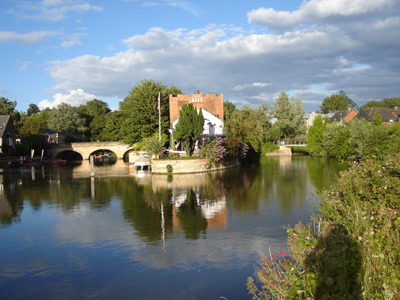 Looking to Folly Bridge and the loop round Oxford City Centre (AKA the Isis)
Oxford to Newbridge
Saturday 20 October 2007 - 13.5 Miles
ID20102007#?
Finally I have been able to get on with this walk. After the floods in July, I was then in the States, Then Cornwall, then along with the usual migraines and crap weather, only got round to this now. Another lovely walk, shorter than I would like, but transport is difficult at Newbridge. I also have a big issue with the X15 bus service, who in its infinate wisdom chooses to ignore stopping here - the bus stop is just driven straight past! Quite clearly the bus company cannot be arsed to provide their statutory service here - you are expected to wait on the dangerous road 10 metres away and if you avoid geting mown down, then maybe a bus might stop for you...eventually got home at midnight!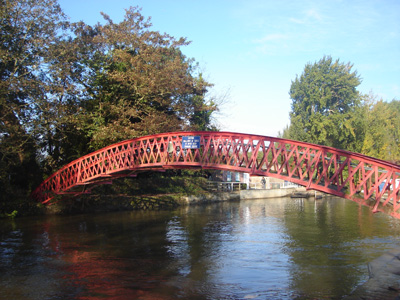 Footbridge near Oxford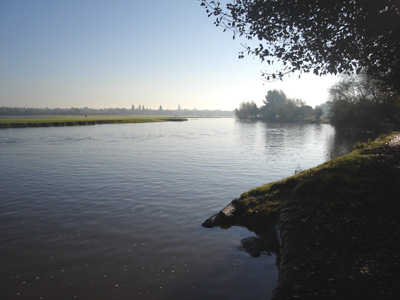 Flood plain - looking back towards Oxford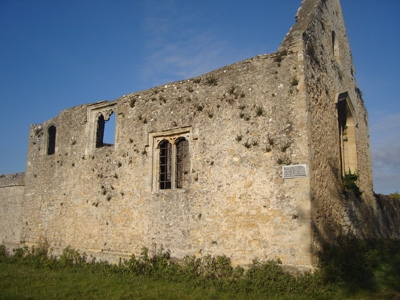 Remnants of Godstow Abbey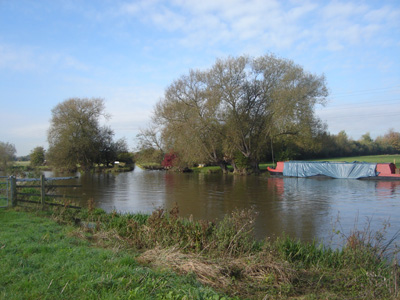 The Thames meets the Evenlode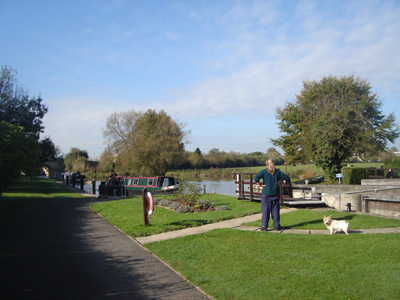 Eynsham lock and Swinford bridge
Near Pinkhill Lock. Acccording to my 2000 guide, I had to make a decision to take the official inland route, or use the Bablock Hythe Ferry. This choice was then taken away from me when I discovered the ferry had not been running for some time!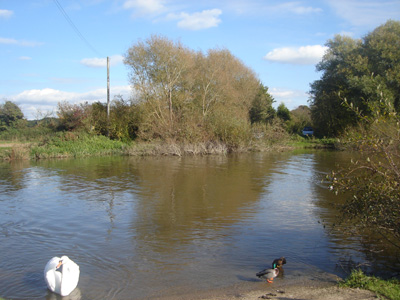 Bablock Hythe - No ferry, and no promised bridge either!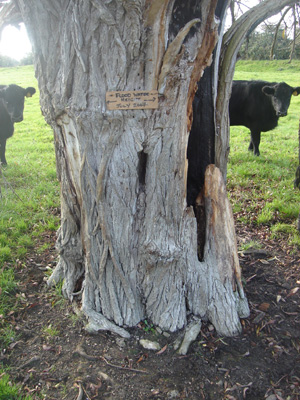 Fascinating - this flood water sign marks the level reached in July 2007, between 1.5 and 2 metres above the level observed today!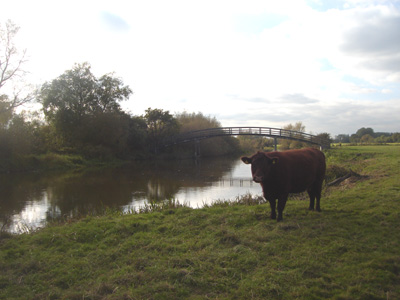 Cow posing for picture near Newbridge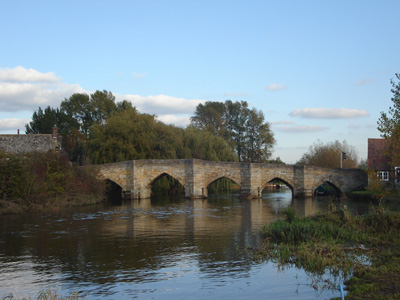 This bridge at Newbridge is actually 750 years old!
Newbridge to Lechlade
Saturday 3 Nov 2007 - 17 Miles
ID03112007#?
Groovy! It all went really well - I managed to get to Oxford just in time to catch an early bus to Kingston Bagpuize and hoofed in to Newbridge for a 1000 start. There was a two mile discrepancy between the finger posts and my guide book so it may have been 15 miles!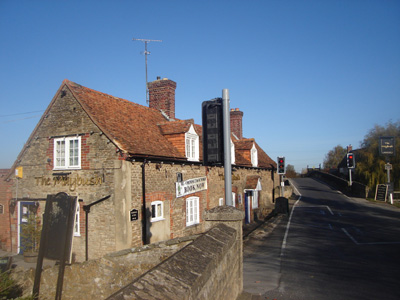 recently reopened Maybush at Newbridge after them pesky floods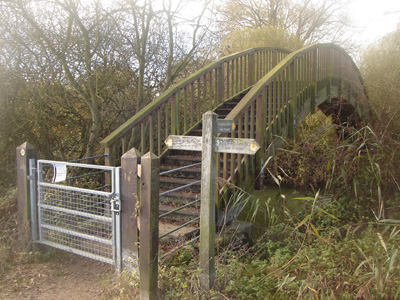 A bit weird around Shifford - I think some of the rerouting hinted at at for the future in my 2000 guide book must have happened, as I was expecting a bit of a detour from the river here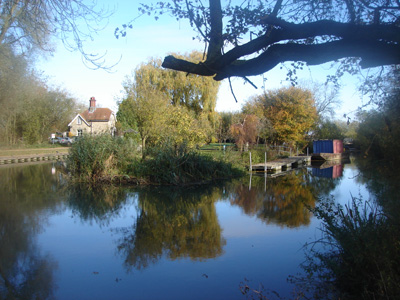 Shifford Lock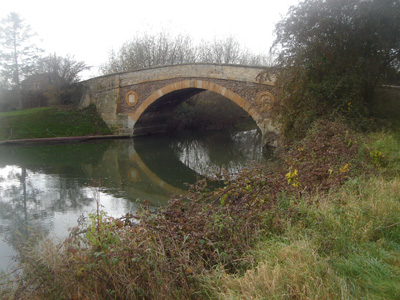 Tadpole Bridge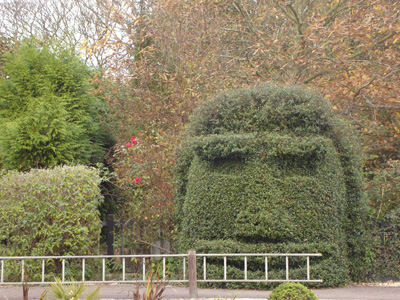 Smiley face at Radcot Lock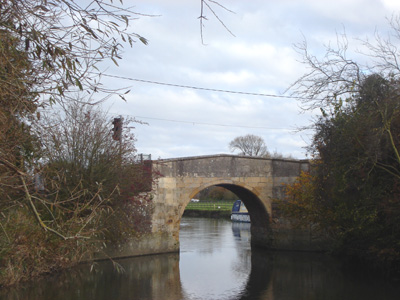 Radcot Bridge, with non-aesthetic Traffic Lights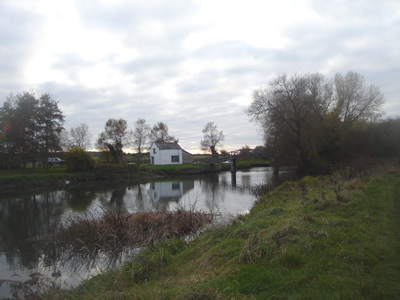 View near Buscot Lock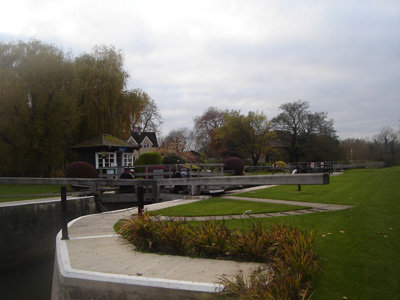 Buscot Lock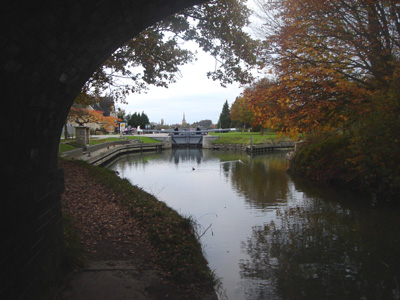 Looking from St John's Bridge, to the lock and the church at Lechlade
At Last - Old Father Thames. This has done a bit of travelling, from the Great Exhibition in 1851, to The Source, then to here in 1974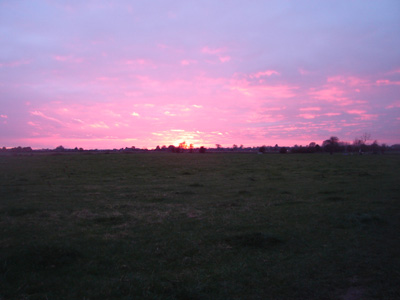 Sunset near Lechlade - just finished before dark, blinkin GMT
Lechlade to Cricklade
Saturday 17 Nov 2007 - 10 Miles
ID17112007#?
I decided that I could best complete the walk by staying at a B&B and doing the last leg to the source on Sunday. The train ride to Swindon was fine (apart from a security alert at Reading, resulting in sitting outside the station for 20 minutes). I have never been to Swindon before, and after David Brent put his boot in 'i.e. Dropped a bomb resulting in £15 of damage' I was not expecting that much - but in fact from the small amount I saw of it didn't look any better or worse than your average English provincial town - although the bus station was a bit of a dive (arn't they all?) Anyway, the walk from Lechlade was fine apart from a dull yomp along the main road for a couple of miles, but then get off into the beautiful countryside again. You don't see much of the river for the first half of the walk to Cricklade but when you do it's shallowness is apparent and it is only suitable for non motorised navigation to Cricklade, then it becomes unnavigable and gradually disappears, before you get to the source, marked by a large stone (I couldn't read the writing on it!)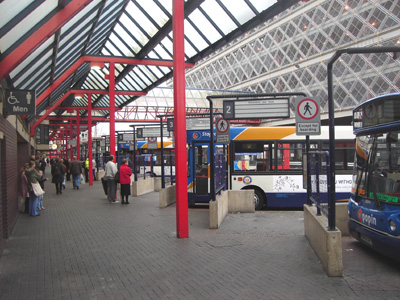 Swindon Bus Station!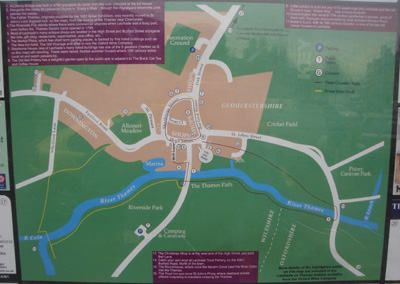 Lechlade town plan - you can get round Oxfordshire, Wilts and Gloucestershire on the local three counties walk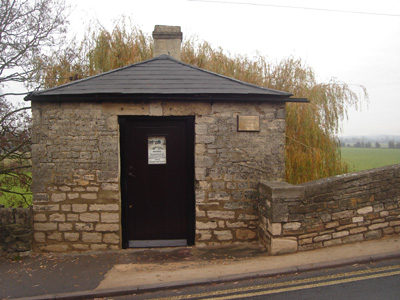 Ha'penny bridge toll house (toll 1/2 d...)
A better view of the bridge (approached last time in darkness)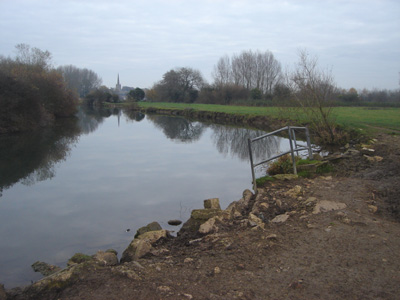 Looking back to Lechlade - damage to bank probably from recent flooding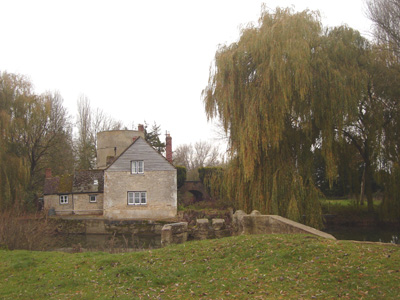 Slightly further on, the Thames takes a sharp turn to the left - the entrance to The Thames and Severn Canal is straight ahead, with a fascinating roundhouse and remains of the bridge that used to continue the towpath on - where navigation would have been able to continue in the past. From this point the Thames is only open to non powered craft, such as canoes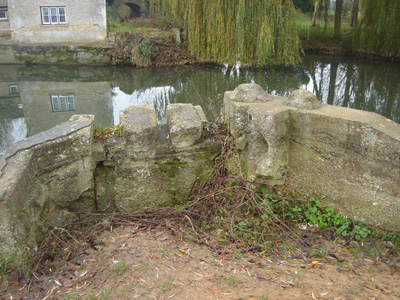 A close look at the remains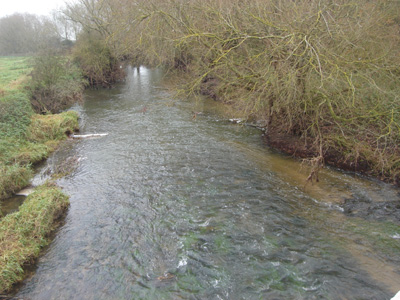 Hannington bridge looking downstream - very shallow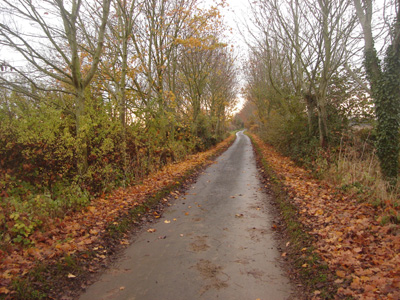 A lovely country lane - near Kempsford - autumnal!
Interesting trees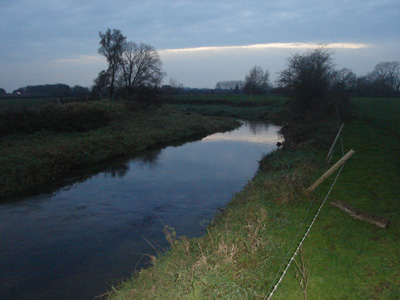 Approaching Cricklade - this is pretty much the real light level - my flash went off!
Cricklade to Source (Kemble)
Sunday 18 Nov 2007 - 12.5 Miles
ID18112007#?
I arrived yesterday early evening in the dark into Crlcklade - on the meadow approach I had a staring contest with a deer on the other side of the river for 15 minutes! After picking up some chuck from Tesco, I walked to Latton by torchlight, alongside the Cirencester Road, which was a bit spooky, and found my B&B - The Doll's House. I had a very pleasant stay and I would recommend this to anyone walking the Thames Path (but get the bus!)
A couple I met over breakfast had been there since the floods in July!
Anyway, it had been raining overnight, and I had been warned it would rain all day - and it damm well did, I was completely soaked, welll before the end, even with 'waterproof' trousers and jacket - but made the most of it. I did not get comfortable again until I got in the bath back home 5 hours after finishing the walk...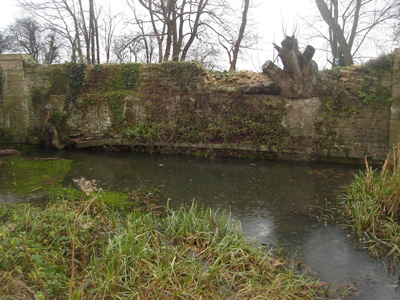 This was on the path linking Latton with the North Meadow and joining back with the Thames path. I think it may be part of the Latton basin, part of a former canal spur from the Thames and Severn which ran nearby. The area is awash with old canals and railways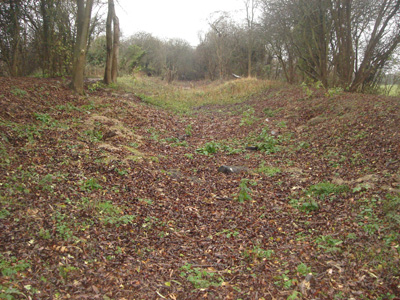 The bed of the connecting canal - a group is doing restoration work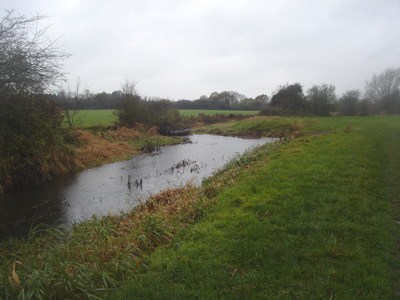 The Thames at North Meadow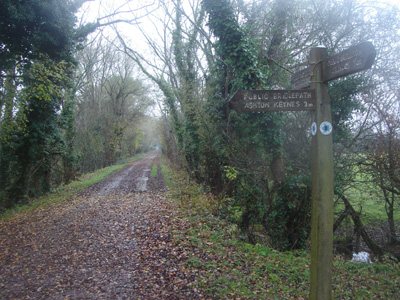 Railway trackbed - Swindon Cirencester line
Cotswold Water Park, one of many lakes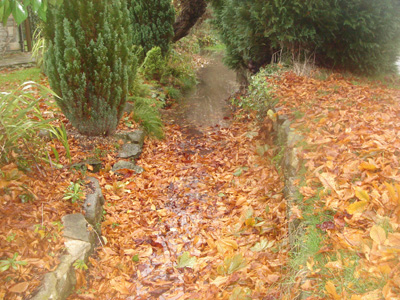 Very Juvenile looking Thames at Ashton Keynes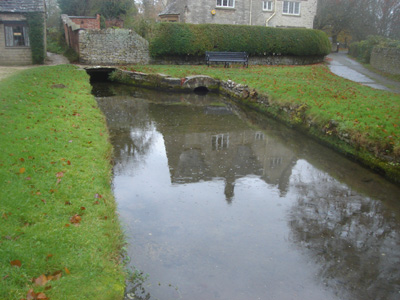 But...it widens out again, disappears under a mill race...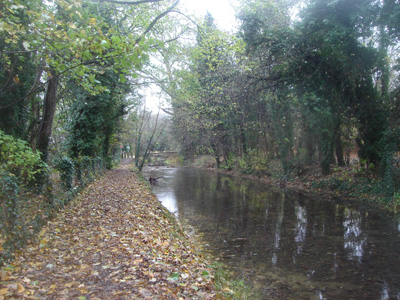 then looks a bit canalised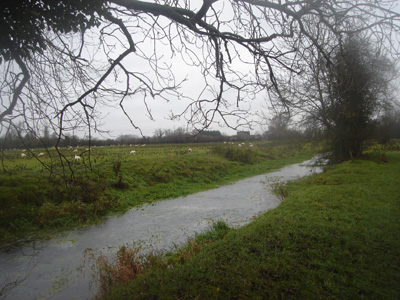 Near Kemble Mill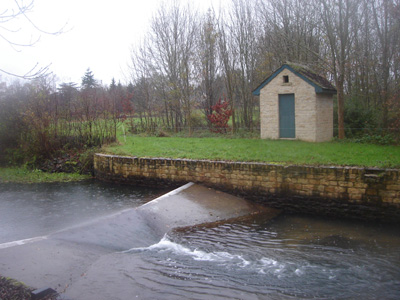 Weir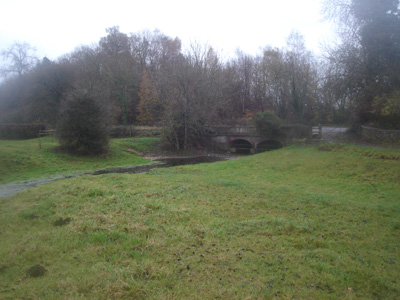 Just a dribble of water, just outside Kemble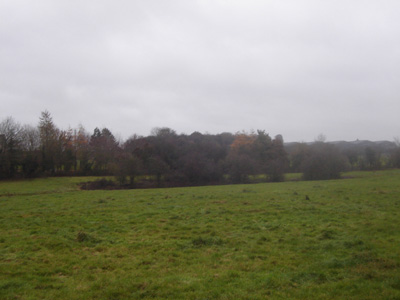 Thames Head - no more water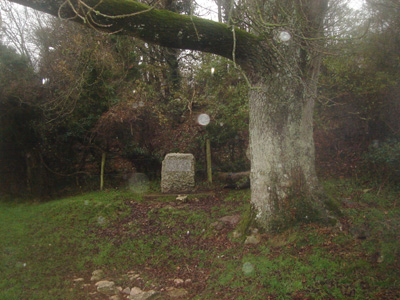 The stone marking the source - the dots on the photo are the droplet reflections from the flash - I sat here and had a late lunch, cold and soaking wet sitting on the stone plinth
On the recommendation of my Cicerone Guide I decided to do the 'Full Monty' and walk on to the Tunnel house Inn above the Sapperton Tunnel, another 1 1/2 miles
on from the source - well I couldn't get any wetter and I couldn't get on my booked train for another two hours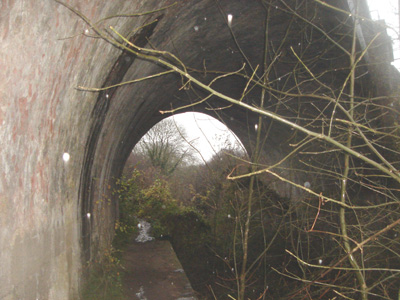 Rail over bridge on Thames and Severn - the bed was almost dry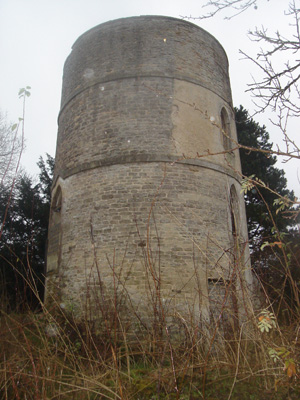 A roundhouse nearby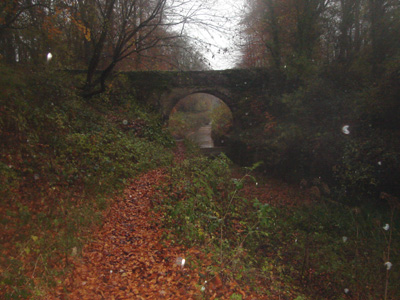 Near Sapperton Tunnel - there is a dam under this bridge - presumably to help bring the water up to a level for boat trips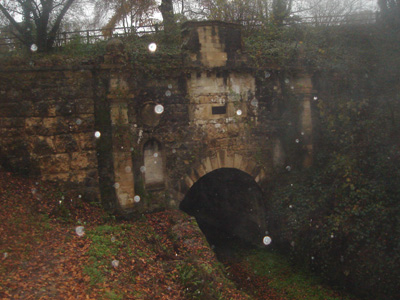 Finally - Sapperton (Coates) portal. This tunnel runs for two and a half miles, but has been disused for nearly 100 years! Apparently there are moves by the Cotswold Canals Trust to restore this navigation - good luck to them, although this tunnel has structural deficiences and has become blocked in parts
I then hightailed it back to Kemble station and shivered all the way home - but with a glow of another job done!
Thames Path National Trail (North Bank)
Saturday - 30 November 2008 - 1.75 Miles
ID29112008#52b
A Short little section, never previously done, to get me home, via Tower Bridge and London Bridge Station. Disappointing gated sections, closed after dark, meant a road slog in places, around Shadwell and Wapping, although the Tower Bridge Vista was lovely.
Limehouse Basin to Island Gardens
Sunday - 7 Dec 2008 - 2.75 Miles
ID07122008#53b
Another small little bit, on the North bank, to get me to the Greenwich Foot Tunnel. Again, never before walked. Very interesting down the Isle Of Dogs and through Millwall - although, again, gated sections to keep the snobs from the plebs caused a bit of frustration.
Looking upriver at Limehouse - 'Gherkin' in distance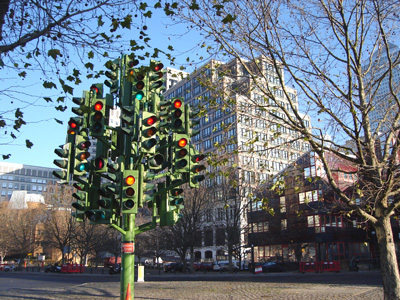 A fascinating Traffic Light Tree (With a real one) just entering Millwall. This is one a roundabout, and certainly confused a few car drivers.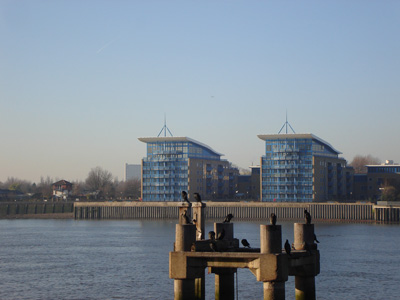 Some foreign winged critters - Millwall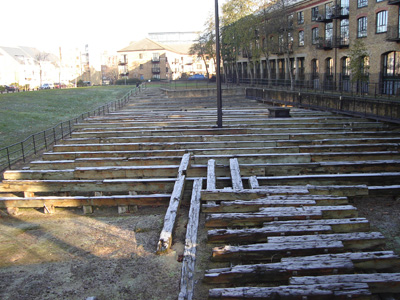 The SS Great Eastern was an iron sailing steam ship designed by Isambard Kingdom Brunel - this is where it was launched from, with great difficulty, apparently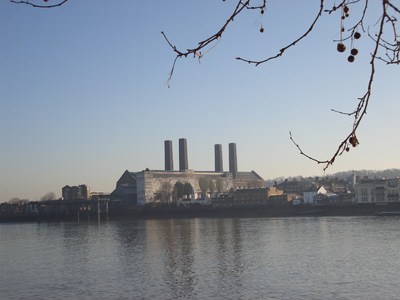 Greenwich Power Station, on the South Bank - available to help power the Underground if necessary. I then crossed the Thames via the foot tunnel.
Thames Path Extension
Woolwich to Crayford Ness
Sunday 7 December 2008 - 9 Miles
ID07122008#53c
Continuing my mission to complete the Thames in its entirety, carrying on from the above walk, I caught the Thames Clipper boat service to Woolwich Pier, via the O2 (Millenium Dome) - A fast and exciting way of bypassing a bit of Thames I had already previously walked. The Thames Path Extension runs to Crayford Ness, but shares the path with the LOOP from Erith. It has its own Thames Barge symbol, and is sometimes referred to as the Thames Path Southeast Extension. Mostly rather grim and industrial and also rather smelly around Crossness - but, even so, interesting enough, and the stretch approaching the Darent from Erith is nice (Erith has a nice handy Morrisons as well)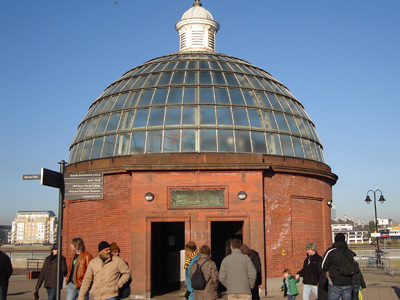 Greenwich Foot Tunnel - South Bank - An interesting little walk under the Thames - then ferry to Woolwich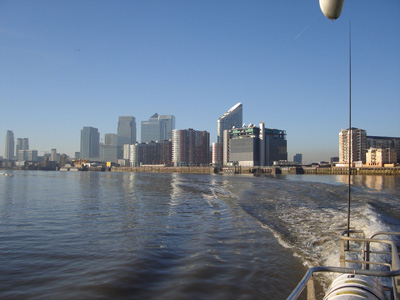 Canary Wharf and 'Mini Manhattan' from the Thames Clippers Service - A kick Ass ride for a fiver!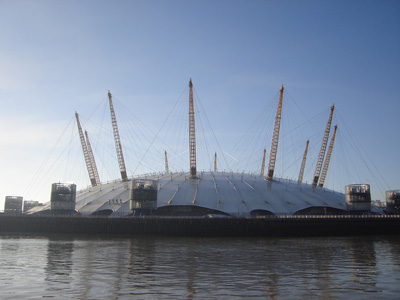 Approaching the O2 - QEII Pier, changing boats for Woolwich Arsenal Pier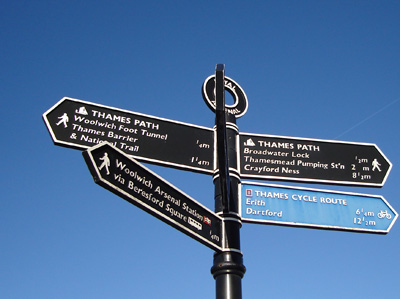 One of the attractive finger posts - showing the distinctive Thames Barge TPE Waymark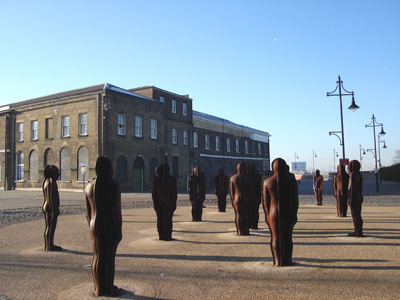 Great steel people at Royal Arsenal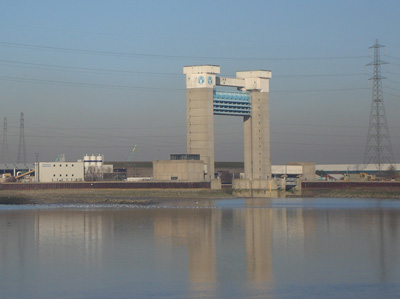 Barking Creek Flood Barrier (does it matter if Barking Floods? Sorry, couldn't resist it!)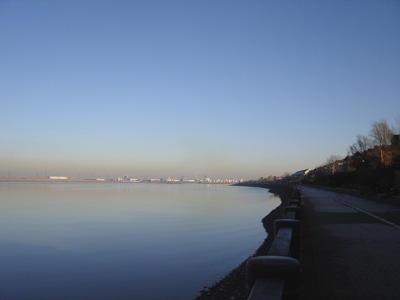 The manifest delights of Thamesmead (sorry, a bit sarkey today - I just always start thinking about Clockwork Orange!) I'm sure it's nice...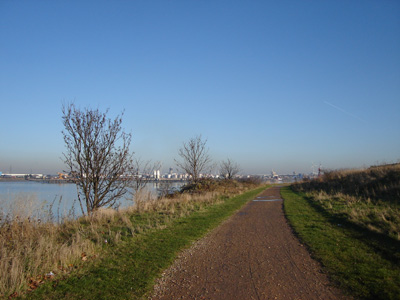 Crossness - a bit nicer before...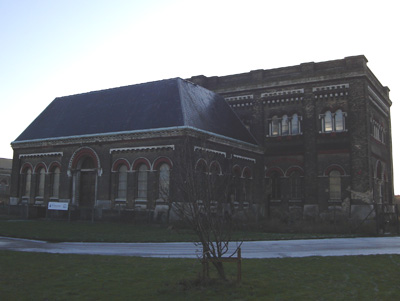 The Victorian Crossness Pumping Station - Designed by Sir Joseph Bazelgette. Being restored by volunteers, it used to pump all the effluent out into the Thames at high tide. With the New shite incinerator next door, it is a bit smelly round here...but this would be worth a look at when open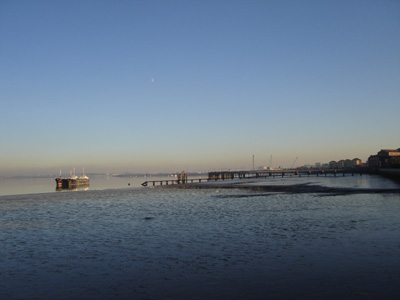 On the approach to Erith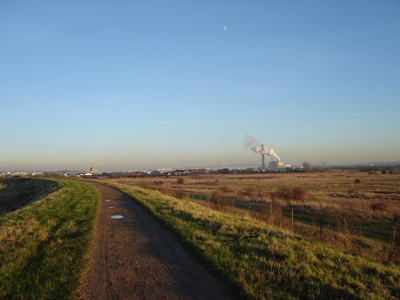 Towards Crayford Ness and the River Darent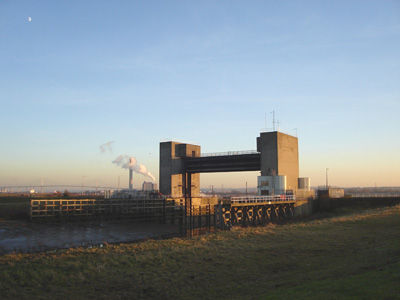 The Darent Flood Barrier, with Darford Power Station and the QEII Bridge in the background. I can't believe that they didn't have the intellect to build a bridge for walkers here - could have been incorporated into the structure. Anyway, this is the end of the TPE. From here, it's the LOOP, but the opposite bank hosts the Darent Valley Path.
Dartford to Gravesend
Sunday 18 January 2009 - 12.5 Miles
ID18012009#2
This walk allowed me to finally complete the Thames, from Source to Sea. Starting with the Darent Valley Path not previously walked to The Thames, then East - past Littlebrook Power Station, under QE2 Bridge and over the tunnels (Dartford Crossing), through Greenhithe, across Swanscombe Marshes and over High Speed 1 Tunnel (Eurostar), Then very industrial through Northfleet, into a cement works, and past the old Henleys Works (originally producing Telegraph cables) into Gravesend, actually very enjoyable!
I find it strange that this part of the Thames is the only one not to enjoy waymarking, as it is a missing link between the Thames Path Extension and the Saxon Shore Way and is well worth the effort, although it was a beautiful sunny day, when everything feels alright with the world - never mind the 'Credit Crunch'!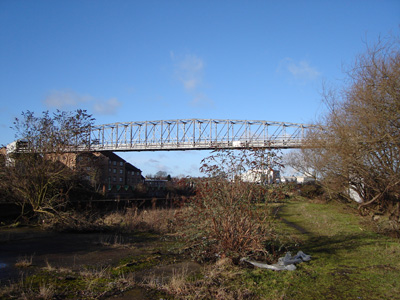 Bridge over the Darent, just outside Dartford. I didn't realise the significance of this structure until it hit the news on 20 July 2009. Apparently this is a major cable carrier for 4 HV circuits supplying power to a large area, which in an act of terrorism has been set alight causing power outages for Dartford, Orpington and Bexleyheath. Power still not fully restored 3 days later. I would introduce the perpetrators to a nice sit down in an electric chair as an example to chavs everywhere - this overpopulated world needs to be cleansed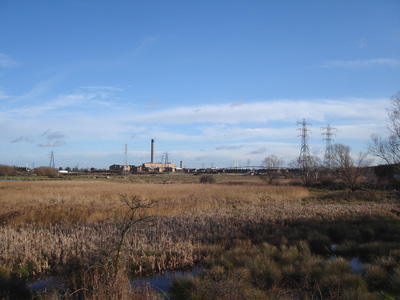 Darent fresh marshes - a big paintballing competition was going on in an adjacent field
The huge amount of wood, plastic and other detritus next to the Darent (and Thames)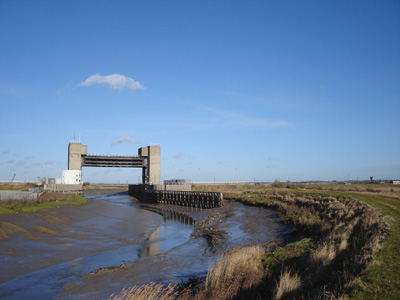 The Darent flood barrier - this time from the East bank - please build a bloody bridge!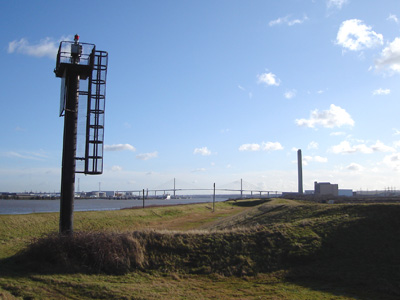 At the Confluence - Dartford Bridge in distance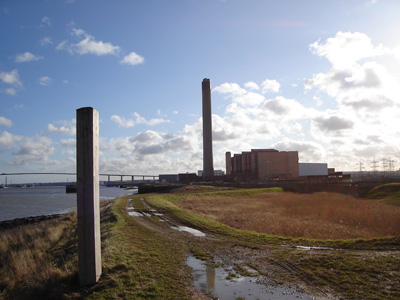 Littlebrook Power Station - didn't seem to be operating today - before Christmas it was giving it large...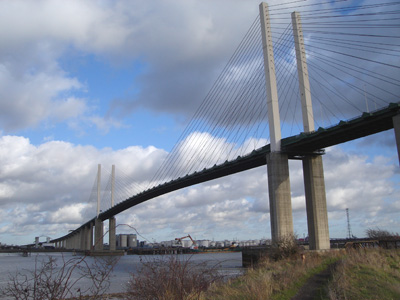 Dartford/QE2 Bridge - Quite attractive actually. Carries the A282 (M25 Link) between Kent and Essex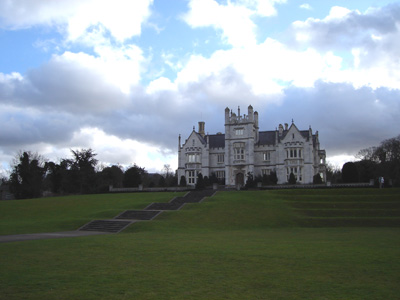 Ingress Abbey - Greenhithe, bit out of context in the new housing estate...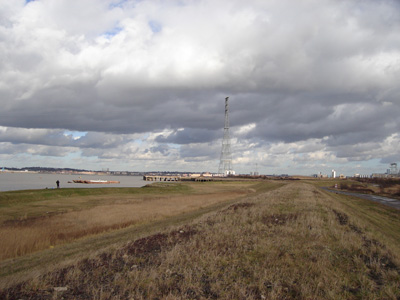 Swanscombe Marshes - A huge pylon takes 'leccy across the Thames in the distance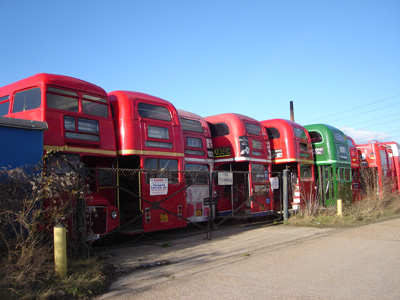 Walking past a big bunch of London Transport old 'Routemaster' buses at Northfleet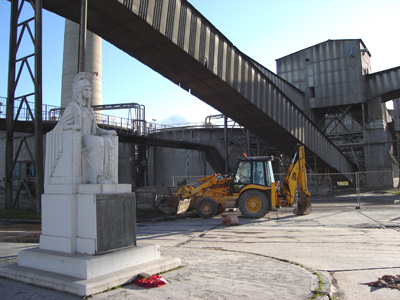 Some of the wonderful industry - the juxtaposition between the war memorial and the Blue Circle cement works at Rosherville is interesting, fortunately it was Sunday..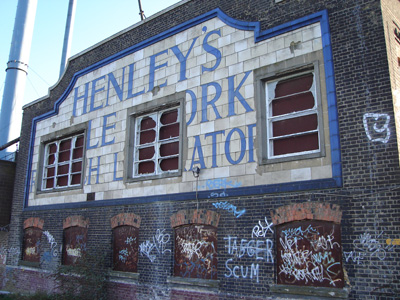 A sad testiment to the death of manufacturing in Britain - 'Henleys Cable Works r.....h Laboratory' with the delicate artistic input of the local 'yoof' sticking the boot in...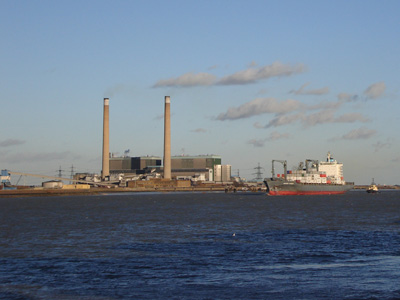 And finally Gravesend - looking across to Essex and Tilbury Power Station