Stour Valley Path


The Stour Valley Path is a 96-kilometre (60 mi) long-distance footpath in Suffolk, England, from Newmarket to Cattawade, a village near Manningtree. The path follows the catchment area of the River Stour. The majority of the route forms part of European Path E2. It connects with the Icknield Way, the Suffolk Coast and Heaths Path and the Essex Way.
Flatford Mill to Stoke By Nayland
Saturday 7 November 2009 - 8 Miles
ID07112009#33b
The second path of today's walk - the first being along the St Edmund Way to Flatford from Manningtree Station avoiding the very first sliver of this path from Cattawade. Officially hooked into this walk at Flatford Mill, after having a look at the river by the mill represented in Constable's 'The Hay Wain'. Whilst I am not a fan of his paintings, Flatford is a lovely setting and I vaguely remember going there as a sprog and getting a packet off an electric fence, as I couldn't grasp the meaning at the time! Anyway, continuing along by the Stour passing on the opposite bank to Dedham and eventually reaching the A12, where you pass underneath and then come up to Stratford St Mary. You then come back to the Stour and cross several fields, before joining a farm track and crossing the B1087 east of Thorington Street. You then start to climb on another track and paths, past Eastfields Farm - (nearby a bunch of numbnuts were brushing for pheasants) and with the coountryside now becoming quite undulating, eventually reaching the B1087 again on the edge of Stoke by Nayland. Unfortunately I did not have enough time to reach Nayland before my bus was due. Instead had a leisurely skoff break by the beautiful church and 'chilled' for an hour before the bus to Colchester Station. A beautiful sunny, but cold day, walking through stunning countryside that I long to get back to asap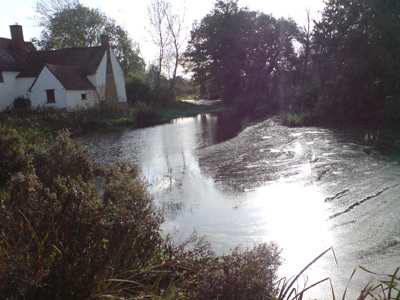 Where the 'Hay Wain' painting by Constable was located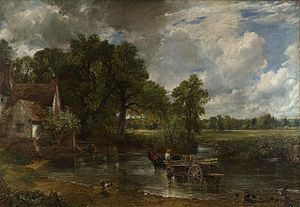 The Hay Wain, shows some artistic license, such as the roofline adjustment to Willy Lott's Cottage and a changed landscape. According to wikipedia, the water level has risen due to East Angular (sic) sinking a foot or so since the picture was created!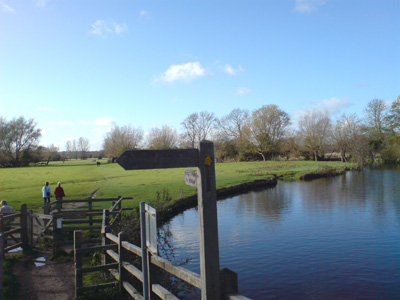 Follow the Stour towards Dedham, with the 'fair weather' walkers!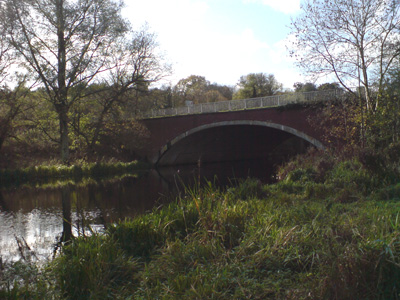 Bridge for the A12 to enter Essex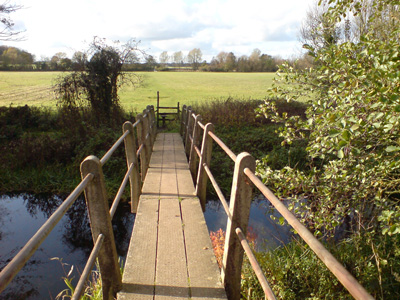 Footbridge near old lock at Stratford St Mary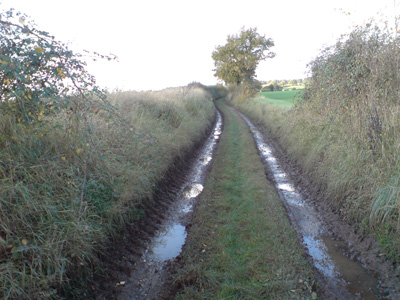 Muddy track shenanigans (need 4x4 boots) south of the B1068
The path becomes increasingly undulating, and very attractive towards Stoke by Nayland. This is all Dedham Vale. Stoke By Nayland Church peeping over the hill between the two trees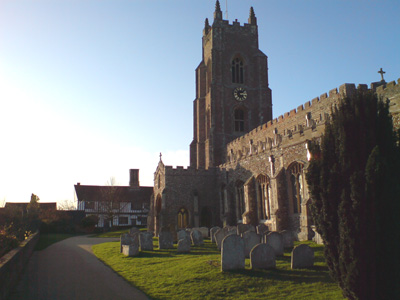 A very pleasant village - Stoke By Nayland. Chav free and a beautiful church, where I had my late lunch and killed an hour waiting for my bus
Stoke By Nayland to Bures
Tuesday 29 December 2009 - 8.75 Miles
ID29122009#36
Another great Xmas walk. After a lovely Monday chilling, made this the last walk before heading back home on Wednesday. Train/bus to Stoke By Nayland. Straight on from the church, turning left at Beacham's Farm, down to Nayland and then passing south parallel with the Stour, past an impressive weir. Crossing the A134 Colchester - Sudbury road, then shadowing the Stour past Wiston Mill (i wanted a picture of this impressive structure, but a posho has made access impossible without trespass) - turning left over a river bridge (parting company with the St Edmund Way) and through woodland, then climbing (at the time) a very muddy steep field that sapped my energy, and it was starting to rain as well, but then along a ridge at the top with great valley views, passing north of Little Horkesley, then meandering towards Wormingford, where lunch was had in the graveyard, before pushing on North West, passing back over the Stour at the beautiful Bures Mill (another private residence) and shortly joining the road on the outskirts of Bures. By this time I was getting soggy and fortunately only had a brief wait for a train back towards Colchester on this sad truncated line. A long wait at Marks Tey, then back to mums for dinner...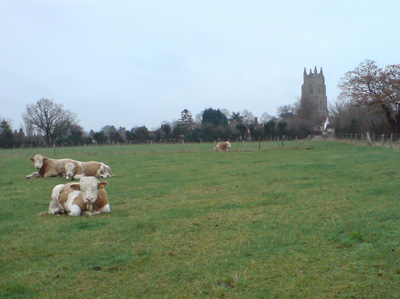 Cows chillin' at Stoke By Nayland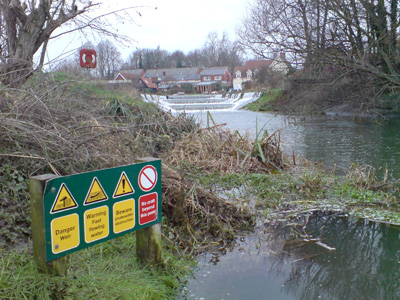 Weir - Nayland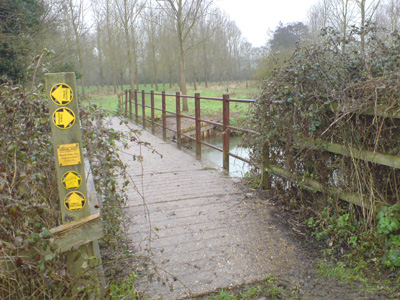 Parting company with the St Edmunds Way (no marking) near Wiston Mill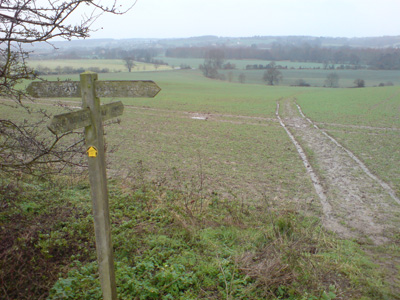 Nasty muddy field - my boots grew muchly in weight, but then onto a ridge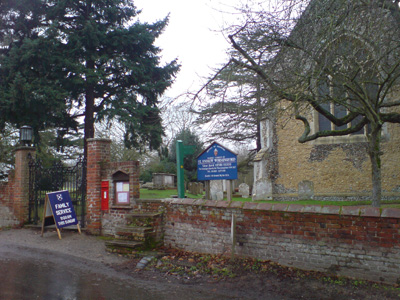 Wormingford Church - a welcome rest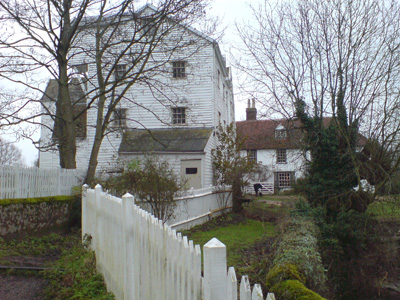 Bures Mill - nice gaff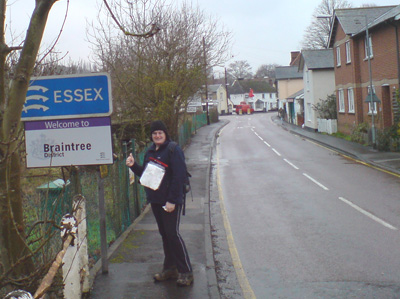 Bures - job done
Bures to Long Melford
Thursday 15 April 2010 - 10 Miles
ID15042010#13
Last walk of my two week break - from Bures northwards near the river Stour, passing through Lamarsh, a bit of lane walking, then a meandering course, eventually reaching Sudbury via Ballingdon. A very lovely walk through the edge of Sudbury on the floodplain - then joining the trackbed of the erstwhile railway to Cambridge at Brundon. A pretty walk eventually joining the road west of Rodbridge Corner, then north East, crossing a lane near Liston and then cutting across flood plain to finish in Long Melford (Last visit in 1991). I rather disappointed myself with such a short walk, but I would not have made it to Glemsford in time for the last bus, and I was getting a bit of walk fatigue after 5 walks whilst on holiday. Caught bus back into Sudbury and hung out for an hour to get a bus back to Trimley.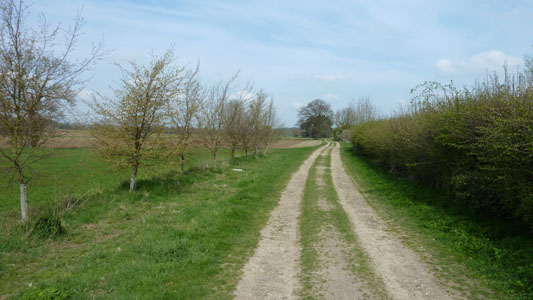 Track near Bures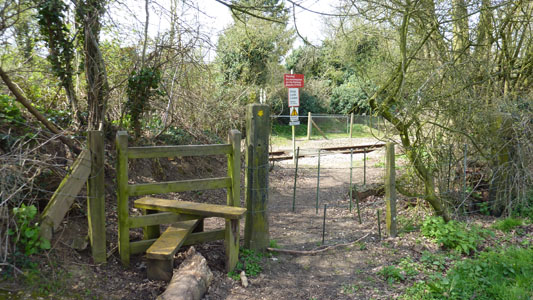 Railway Line near Bures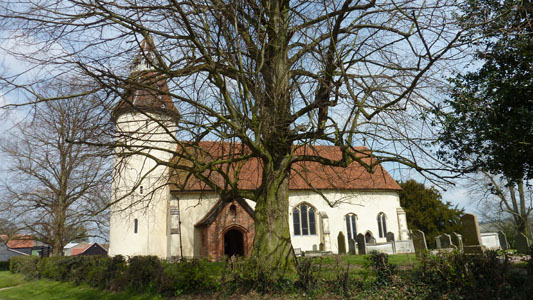 Lamarsh Church
Lovely vista near The Valley Farm
Track - Hickbush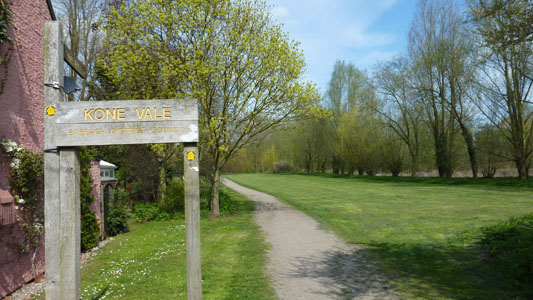 Kone Vale - Edge of Sudbury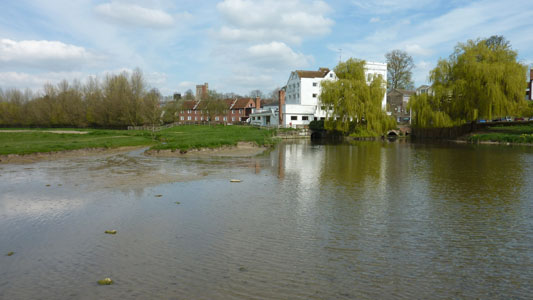 Sudbury Mill. A beautiful setting now a Hotel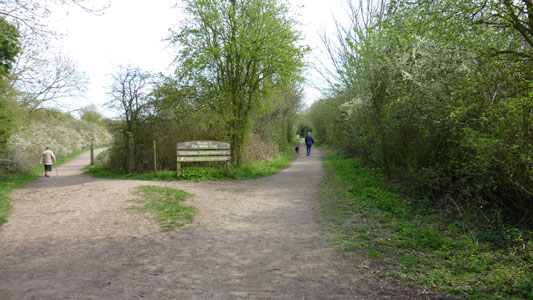 The STP joins the valley way - the old railway trackbed, where the truncated railway now ends at Sudbury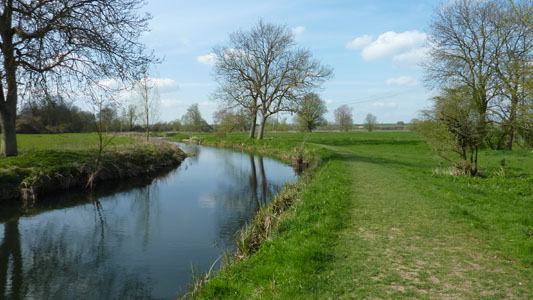 Rejoining the Stour at Liston, after some road walking. Shortly afterwards you bear off North-East into Long Melford - where I finished my walk
Long Melford to Baythorne End
Saturday 7 April 2012 - 14 Miles
ID07042012#18
Another jolly to Suffolk, while on Easter Break. Headed up from East Sussex on the red eye and reached Long Melford about 1030. A glorious walk through beautiful countryside and through very touristy villages, from Long Melford passing Melford (the St Edmund way peels of here towards Lavenham) and Kentwell Hall (some jousty shenanigans in progress at Kentwell) then along to Glemsford, then Cavendish, then Clare, Stoke by Clare and finally Baythorne End, not touristy particularly, but as far as I could get before catching the last bus to Sudbury and going on to me mams for Easter (and a choccy egg). Appalled to realise this walk was almost 2 years since last section, so must get jiggy to Newmarket in Summer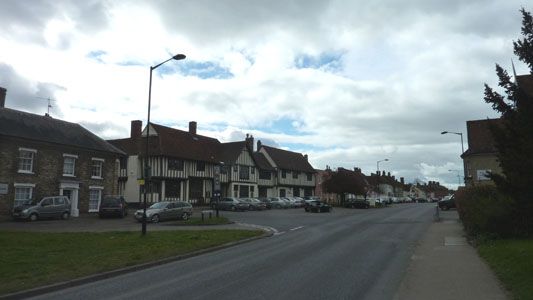 Long Melford - It sure has a long main street - no Greggs though!
Melford Hall - National Trust. I'm a member, but no time to explore on this occasion. Just got an eyeball while munching my Egg Bap from the Co-op!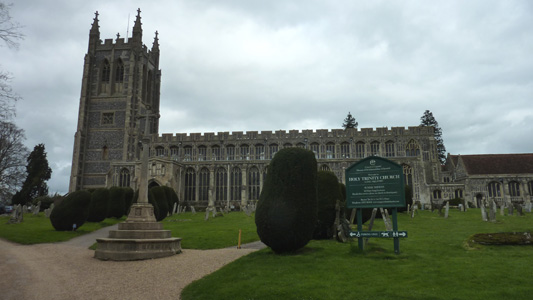 Holy Trinity Church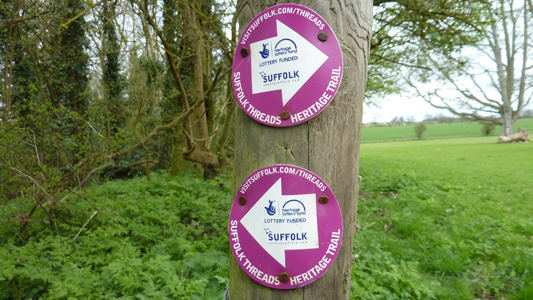 I looked this up afterwards and it is one of seven walks, each around one of Suffolks historic 'wool towns' http://www.visitsuffolk.com/threads/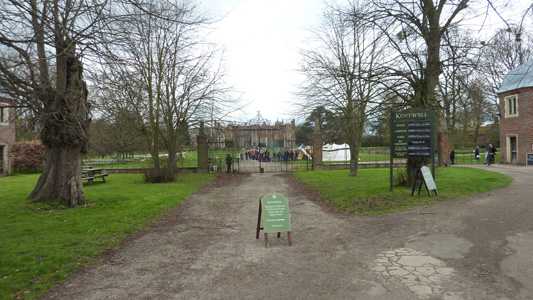 Kentwell Hall - lots of punters were piling in for some Easter Shenanigans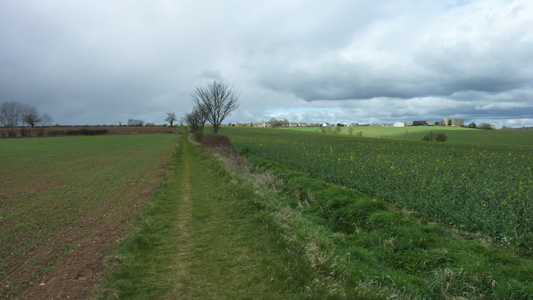 Glemsford approach...not a place I know much about, and you only briefly pass through it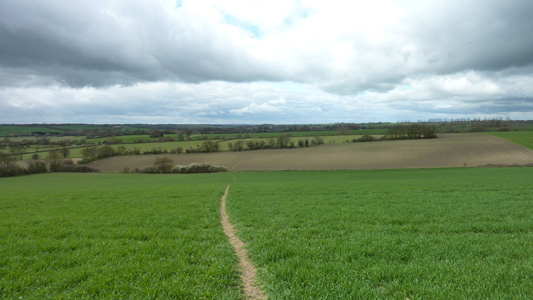 Lovely rolling countryside - with Cavendish Church in far distance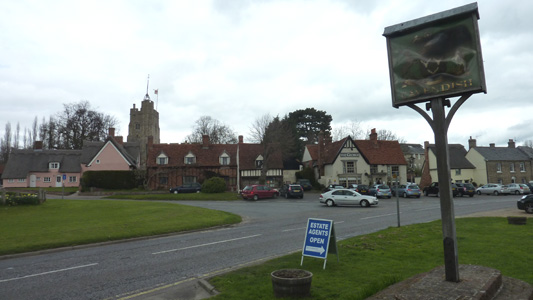 Cavendish. Took Piccy and 'turned and burned' onwards (sorry, too much Ice Road Truckers!)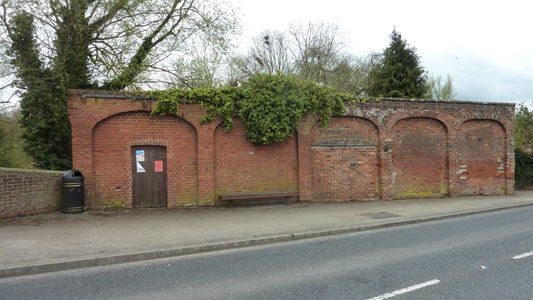 I was intrigued by this wall on the edge of Clare (as you do) It looks like it used to be part of something far more significant, maybe a Mill?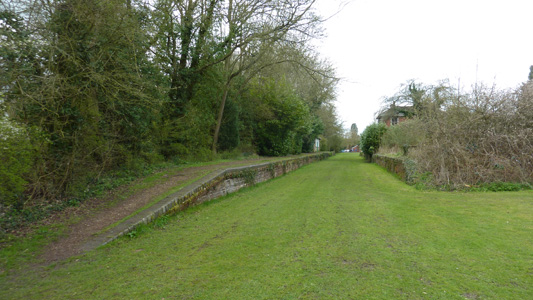 Five minutes on you come across the sad remains of Clare Station, although it was a good place for a bit of nosebag and a breather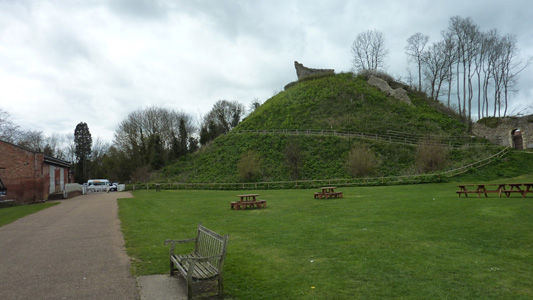 Parked my carcass by Clare Castle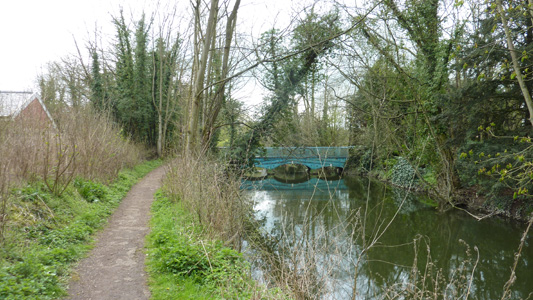 Pretty bridge over the Stour, on the brief section of destructed railway line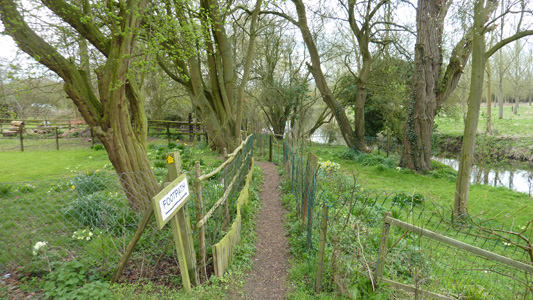 Then you go through some gardens...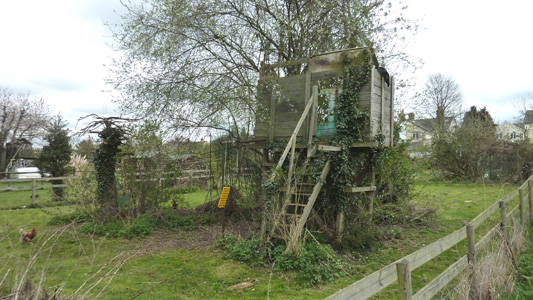 Someone has let the Tree House go to pot, maybe the sprogs grew out of this activity many years ago...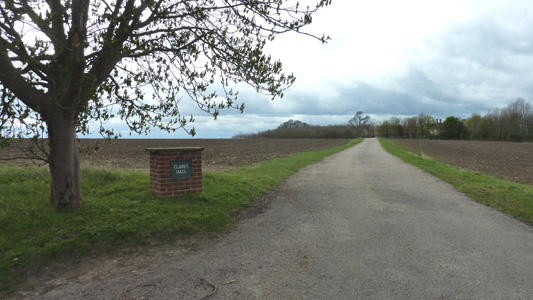 Claret Hall after a small road walk away from the River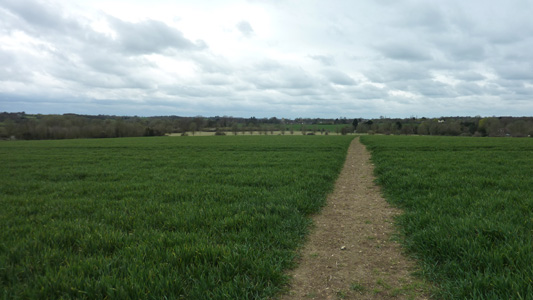 After going wrong for ten minutes, got back on track towards Stoke By Clare...a combination of the batteries on My Memory Map going South and a lack of belief in the GPS fixing on my Galaxy meant a frustrating mistake, but I guess I should also pay more attention as well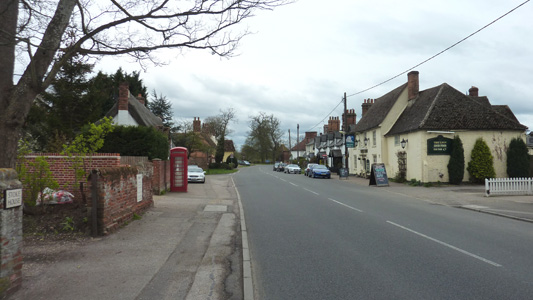 Stoke By Clare. A very quick calculation (CSE maths) seemed to indicate that I could keep on truckin to Baythorne End before the bus was due...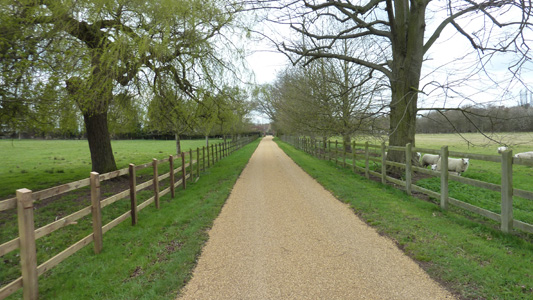 Driveway of Baythorne Park, a posh gaff innit. At end of driveway, hung a right and right again very quickly into Mill Road and a short wait for the very welcome bus out of Dodge. Trimley beckons!