Staunton Way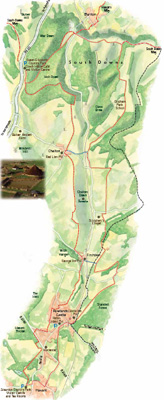 The Staunton Way is a 8.5 to 20.5 mile route from Queen Elizabeth Country Park, near Petersfield on the South Downs to Staunton Country Park near Havant. You can walk the whole route or one of the six sections, each offering a good day out.There are many interesting buildings and places to visit along the route. The route is well sign posted with the logo of a roe deer on a green arrow.
QE Country Park to Bedhampton
Saturday 19 September 2009 - 10 Miles
ID19092009#29b
The first part of today's walking was along the Hanger's Way. From Queen Elizabeth Country Park, I recommenced my journey looping back through the park Eastwards, then heading South down to Chalton, along lovely high level paths giving would would be wonderful views on a clearer day. Passing by the attractive Church, joining the Sussex Border Path (previously completed) then more pleasant walking to Finchdean, and a bit of road walking, soon coming to the edge of Rowland's Castle (another old haunt). Finally leaving the SBP, and very briefly following the Monarch's Way, then across a golf course and a little but more road walking to enter Staunton Country Park when the weather turned nasty and I got soaked eating my late lunch, but the weather soon cleared up again. The waymarking was also lacking and I made a wrong turn, finally blowing the dust off my compass and working it out, ten minutes later. From this point on the waymarking then became non-existant, with a confusing set of circular walks called Staunton Trails or something sending me a bit of course, passing a lake where many people were fishing, and down to housing on the edge of Havant. It was relatively simple to then follow a stream all the way to Bedhampton, where I peeled off at the station, as I had previously done the last part of the Staunton to Langstone Harbour under the Auspices of the Solent Way.
The last couple of miles are a bit grotty and hold the usual mix of urban decay and bad attitude, not entirely unpleasant, but a bit of an anti climax.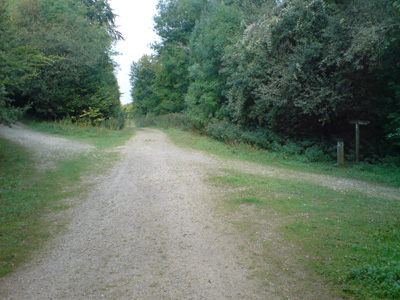 Right turn, goodbye QECP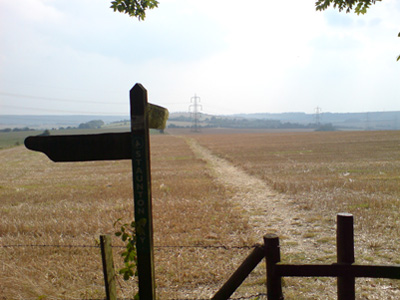 Out into the open, towards Chalton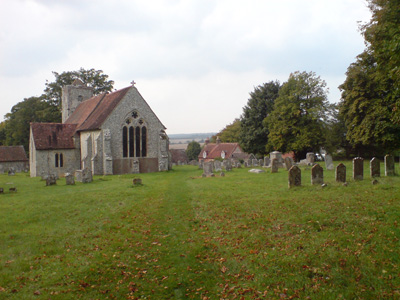 Chalton - joining the combined Sussex Border Path section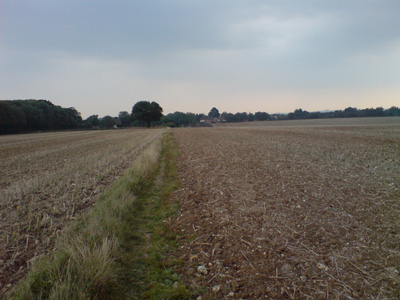 Lots of nice easy walking - approaching Rowland's Castle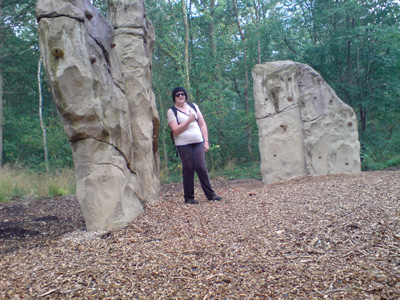 Sumfink lurking in Staunton Country Park. Don't expect much waymarking from this point on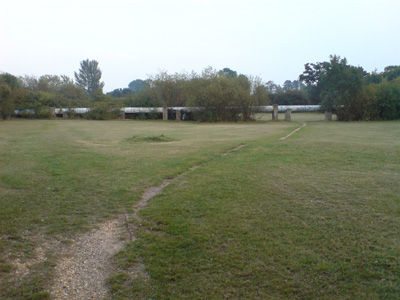 Pipeline in Havant - probably not for oil!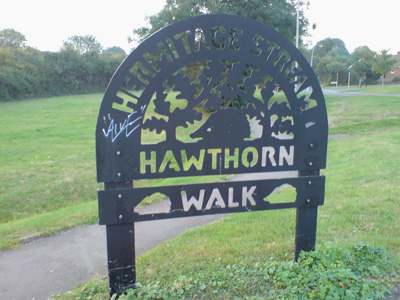 Most of the Havant walking is by a stream. As you can see, some effort has been made to theme it and make it a pleasant experience - but there is always a chav around to ruin things, aka 'shitting on your own doorstep'. A short walk further took me to Bedhampton station