Icknield Way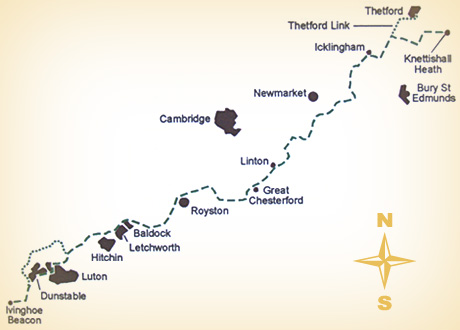 The Icknield Way is unique among long distance tracks because it can claim to be "the oldest road in Britain". Extending from Ivinghoe Beacon in Buckinghamshire to Knettishall Heath in Norfolk, it consists of prehistoric pathways, ancient when the Romans came. Dotted with archaeological remains, it survives as splendid tracks and green lanes along the chalk "spine" of England.
Ivinghoe Beacon to Leagrave
Monday 10 August 2009 - 13 Miles
ID10082009#23b
This was walked the same day as the last lump of the Ridgeway and Leagrave was the final destination, due to rail link and having already walked the Lea from here. Not quite as well waymarked as the Ridgeway (expected) and briefly got lost a couple of times, particularly tricky through Dunstable and into Luton/Leagrave, but a very pleasant and interesting walk throughout, reaching Leagrave station in the dark, with half hour to spare to catch last train to hastings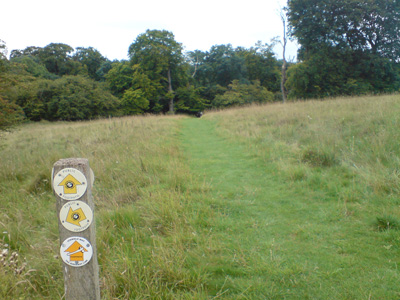 Near Dagnell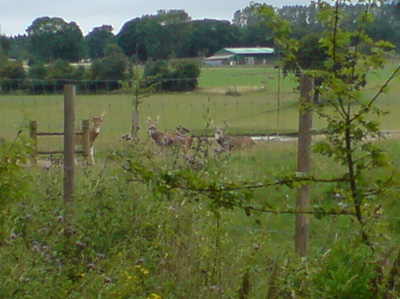 Reindeer at Whipsnade, lots of sweet critters, including a wallaby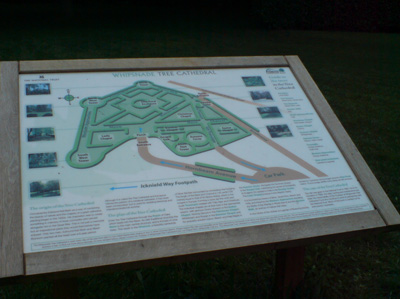 Whipsnade Tree Cathedral - I didn't really have time to hang around and couldn't get any pictures worth reproducing here, so just the map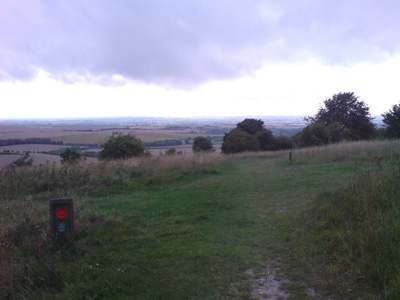 Interesting glass markers on Dunstable Downs. Some miles from Leagrave. I had some trepidation of the urban section, but it turned out to be quite fascinating and required concentration as I struggled with the lack of light
Leagrave to Letchworth Garden City
Sunday 3 April 2011 - 13.2 Miles
ID03042011#4
First section in over a year and a half - just been rather low priority, but now want to 'get jiggy'. Anyway, train up to Leagrave, then started walk, leaving the dubious delights of the urban sprawl, to head in a North East direction, first to Warden Hill, a modest climb, offering a surprisingly pleasant vista over Luton/Leavgrave/Dunstable. Then down and back up over Galley Hill, crossing a Golf Course then onto a real pucker lump of the Icknield Way, followed for a few miles, then a road section, then another modest climb at Telegraph Hill (I love the name...) then onto Pirton, the first settlement since Leagrave, a pleasant enough little village, with an old Motte and Bailey - as usual I had my sustenance at a bench by the church. Then onto Ickleford, along another piece of 'proper' Icknield Way, to eventually cross a railway, then bear uphill to another road with views across to the right with a railway viaduct, and on into Letchworth, passing some interesting prefabs and down to the railway station. It is a town I vaguely remember visiting as a sprog with me da when he was an advertising 'rep'. Anyway, back home via Kings Cross. A very pleasant walk on a glorious spring day - what life was invented for (maybe?)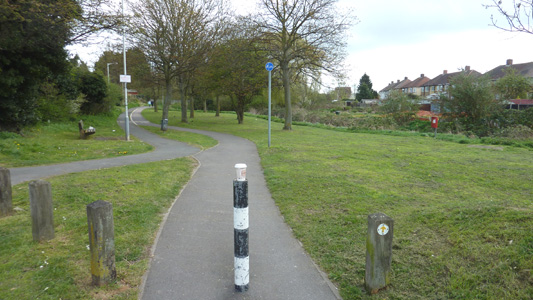 Leagrave - this first half mile or so is shared with the previously walked Lea Valley Path - The Mcdz Latte is mine...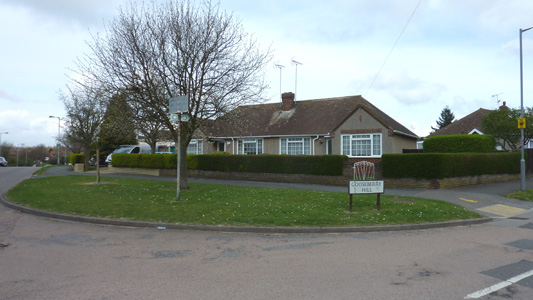 Gooseberry Hill Limbury - Just escaping Suburbia. Another intriguing name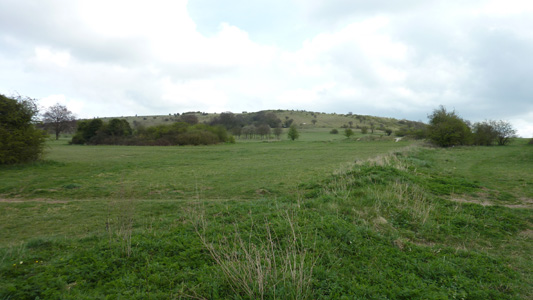 Warden Hill, not too challenging
Pleasant view back over Luton from Warden Hill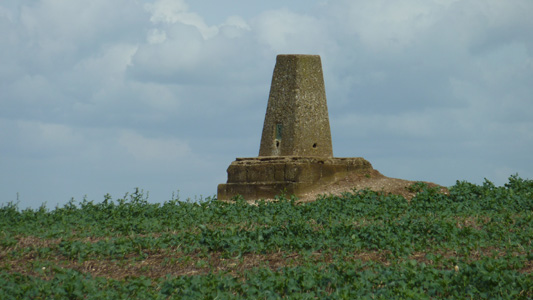 Unusually, the Trig Point is in a farmers field, roughly 50 metres from the path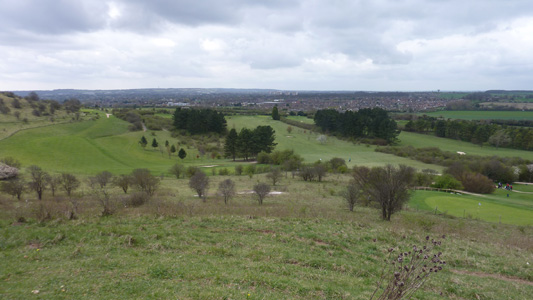 Galley Hill, overlooking the pesky Golf Course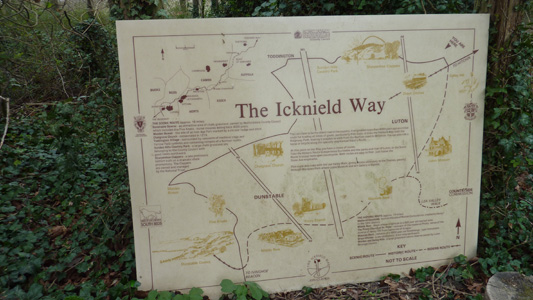 An info sign, sadly propped against the bottom of the frame it is supposed top be mounted into on the track at the bottom of Galley Hill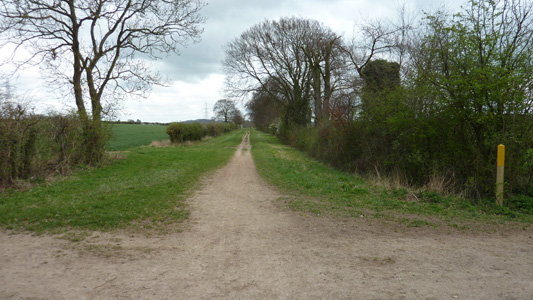 The easy flat section on the Pucker Icknield Way - keep on truckin'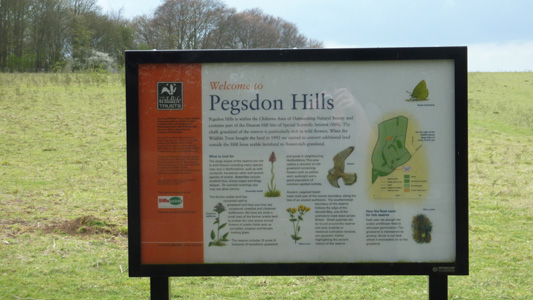 Info board for Pegsdon Hills - managed to get a ghostly reflection of my photography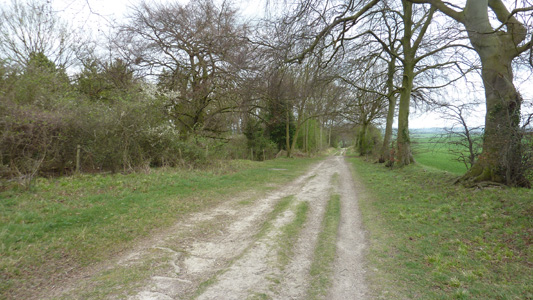 Just miles of this - bootiful!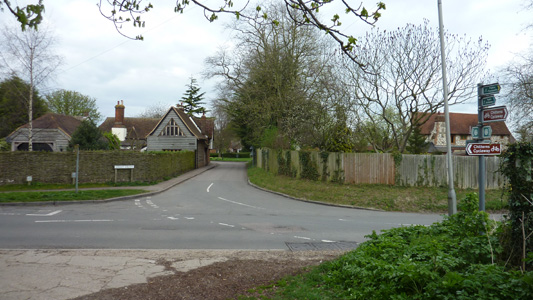 Pirton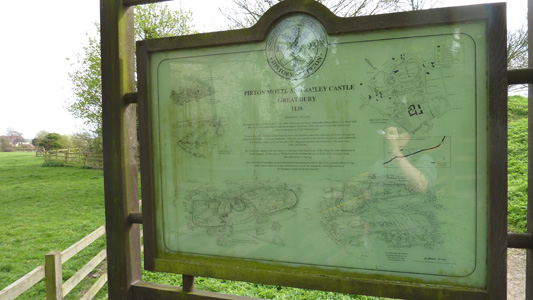 Instead of a piccie of the pleasant church next door (where lunch was served) here is a board dating from 1993 with stuff about the motte and bailey castle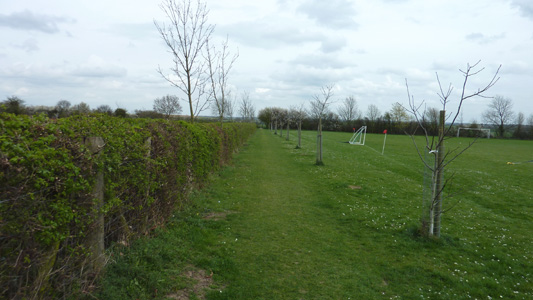 A spirited game of footie was in progress as I hoofed it out of Pirton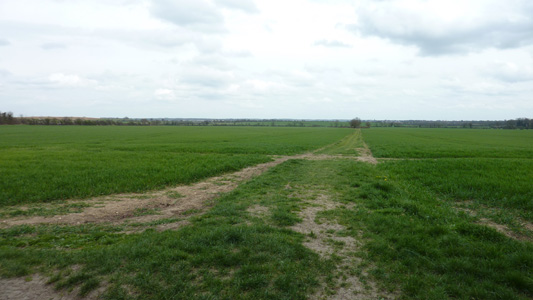 Back out in the wilderness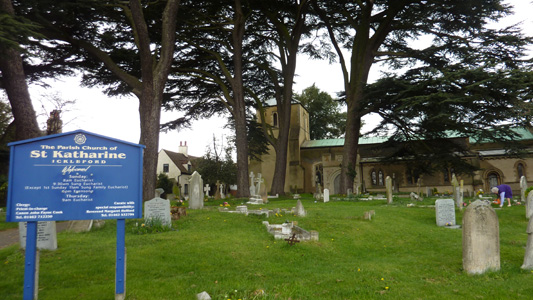 Ickleford. Not so nice (was my snap impression)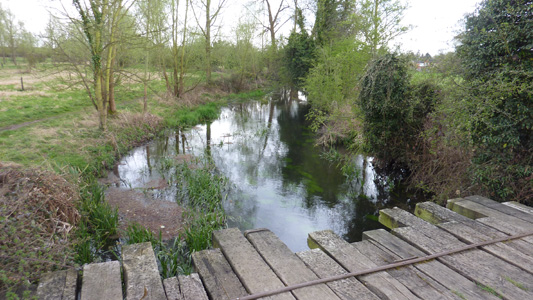 Crossing the River Hiz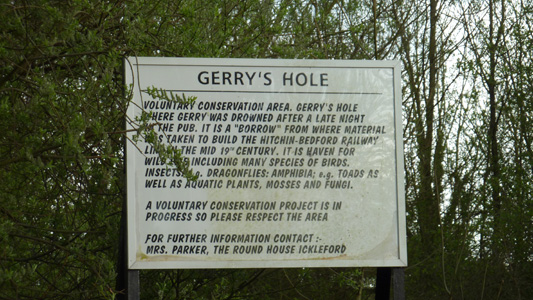 Very curious - poor old Gerry! The railways remains languish here also (bridge abutment). A page with a bit more 'gen' here - I still don't know when Gerry lost his oxygen breathing privileges or if Gerry was a 'Navvy'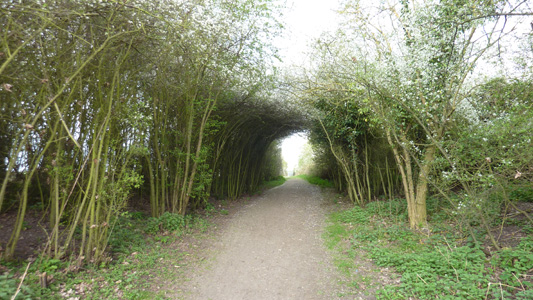 Nice little tree tunnel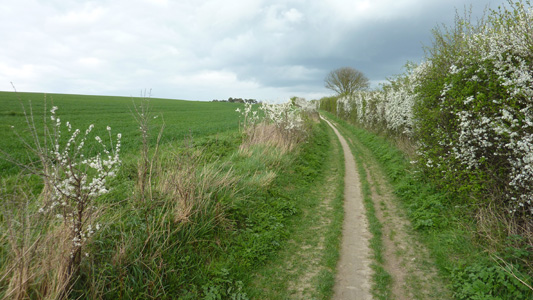 Nearly at the edge of Letchworth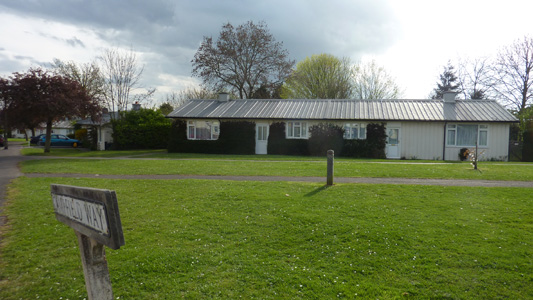 Example of Letchworth prefabs. I think they are really groovy. There are a load at Pevensey Bay as well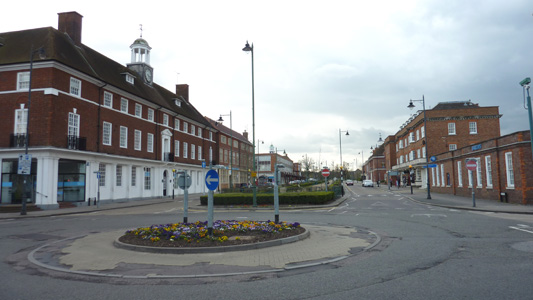 Letchworth Garden City. A damm sight nicer than some new towns that I could mention (but at the risk of being lynched would rather not!) 15 minutes later it chucked it down with lightning...but quickly went all nice again