Union Canal Walk
The Union Canal is a 31.5-mile (50.7 km) canal in Scotland, from Lochrin Basin, Fountainbridge, Edinburgh to Falkirk, where it meets the Forth and Clyde Canal.
Edinburgh (Lochrin Basin) to Broxburn
Friday 23 December 2011 - 12.5 Miles
ID23122011#23
My last day in Scotland so was great to get this canal walk started, unfortunately my da didn't come on this extravanganza coz still a bit crook from Kelvin Walkway. From Haymarket Station I walked the short distance to Lochrin Basin, which is the slightly truncated terminus of the canal, and is being 'poshed up' with hotels, restaurants etc, capitalising on the revitalised canal. Continuing on Westwards through Slateford, Kingsknowe, The Bronx (Wester Hailes), East Hermiston, then becoming much more rural in character, to pass through Ratho, where I had some lunch by the Bridge Inn, and got mugged by some nawty geese, who had a penchant for Worcestershire Sauce Crisps. On to cross over the river Almond on a most impressive Aquaduct and eventually passing under the rebuilt Bathgate - Airdrie Line and M8 to arrive in Broxburn - a great walk but a bit depressing waiting in the drizzle for a late bus accompanied by mums enveloping their broods in a carcinogenic fugue. Whatever, caught bus eventually to Uphall, and got carcass repatriated to dad's gaff via Livingston North. Next section will be on to Linlithgow.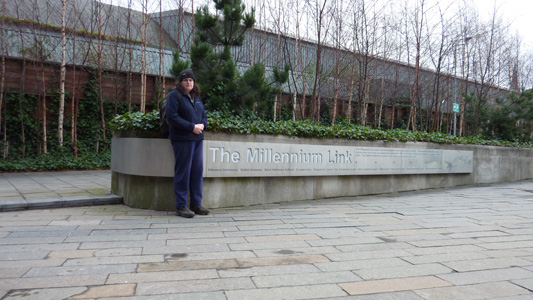 Missing Link duz the Millenium Link - Lochrin Basin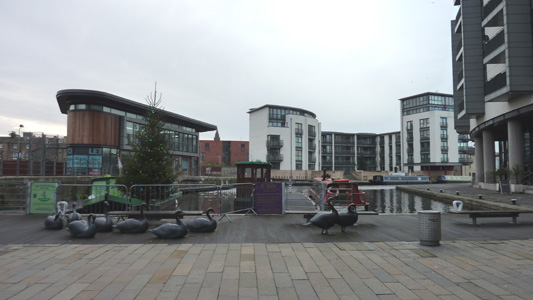 Truncated and Poshed Up - don't you love regeneration?
Leamington Lift Bridge - I don't know if that refers to the location or manufacturer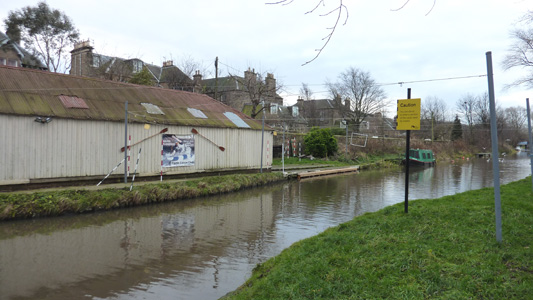 The David Florence Canoe Club - nice idea, with those stripy pole things that go out across the water when being used - although they can't get much white water in these parts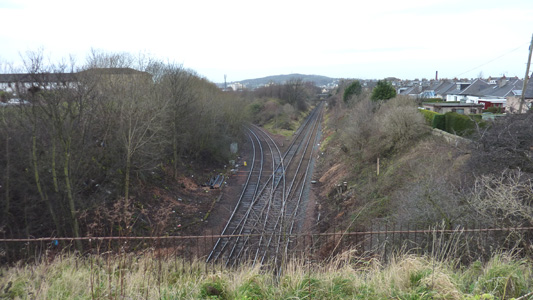 Aquaduct over railway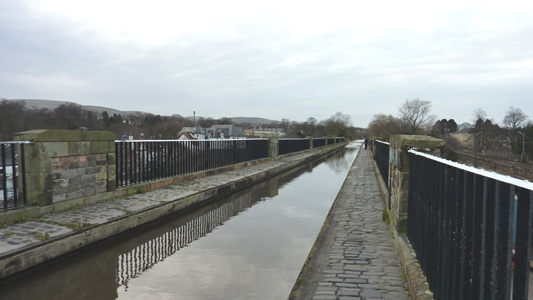 Slateford Aquaduct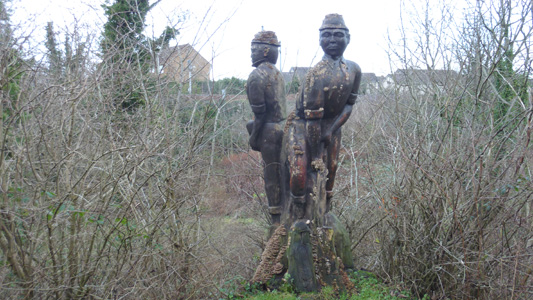 Wooden Things - Bill and Ben?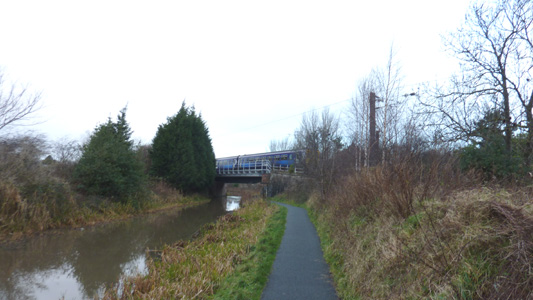 Under the railway at Kingsknowe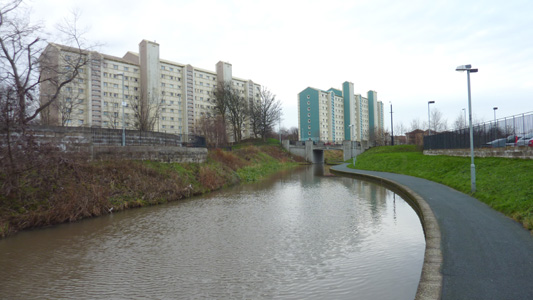 Wester Hailes - rudely interrupts the canal with a rather forlorn and protracted appearance, just rather stark and gladly dispensed with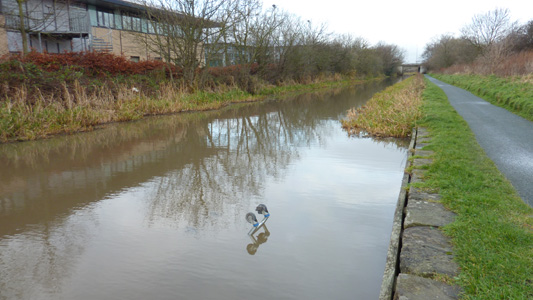 Trolley in the water...par for the course but rather dangerous for boats - bleedin Neds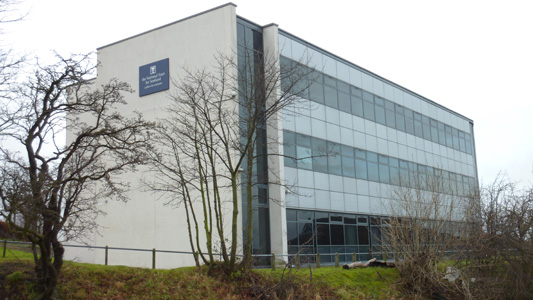 National Trust For Scotland Building - a little bit of civilisation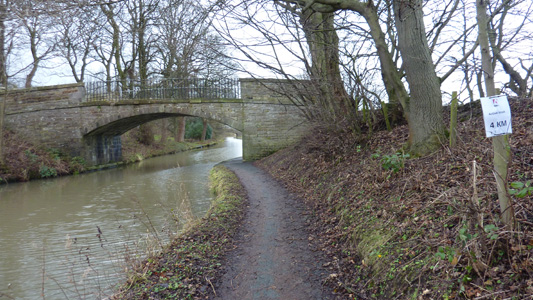 Rather nice from here on - bridges approaching Ratho. Looks like some kind of health push is happening hereabouts - 'Adobe Active Week!' Some geezer on a bmx asked me for the time (one of very few people about) and was relieved that he had time to finish his 44 mile round trip journey to Lochrin from Linlithgow before dark!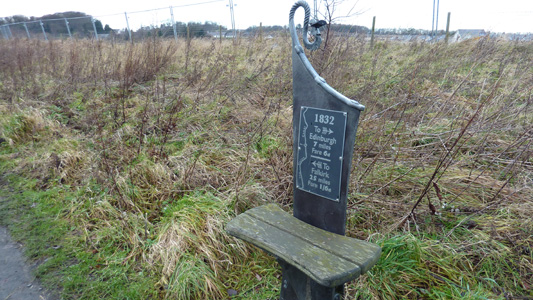 Seat at Ratho with canal info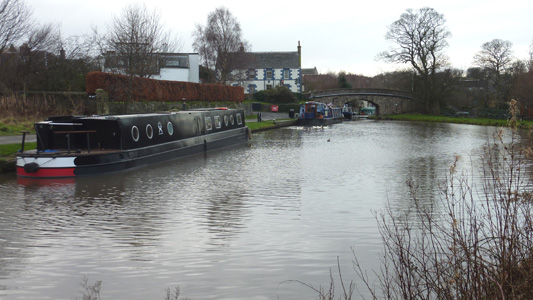 The bridge Inn - Ratho. Restaurant trips available from here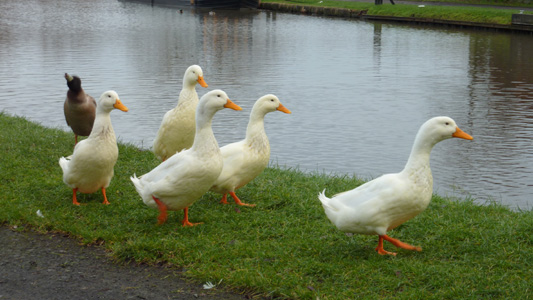 These Geese ganged up on me and demanded food with menaces - sweet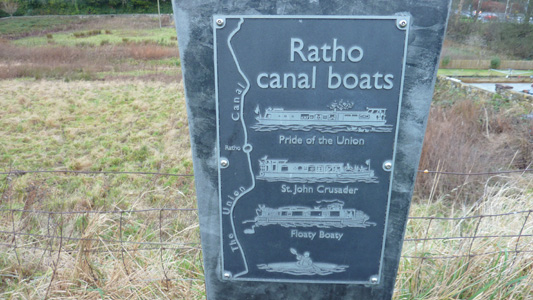 I love 'floaty boaty'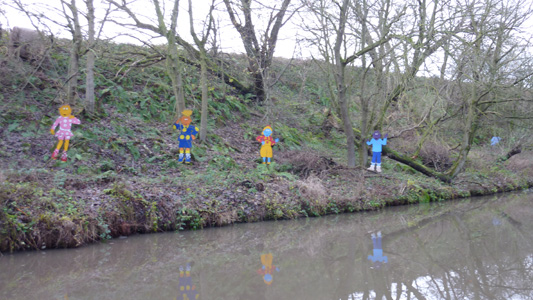 From Ratho for some distance there are cutouts of most childrens characters you could mention - presumably on cruises to keep the bairns under control - although if the tweenies existed when I was a nipper I think I would still be undergoing remedial therapy - they are rather sinister!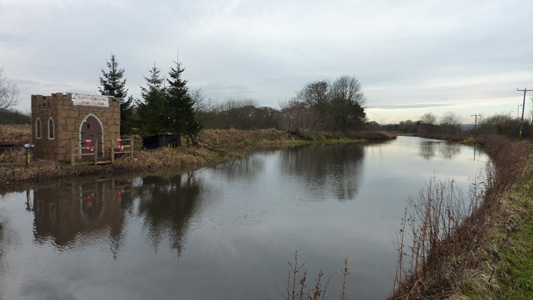 Presumably the climax of the Kiddie Cruz - Santas Grotto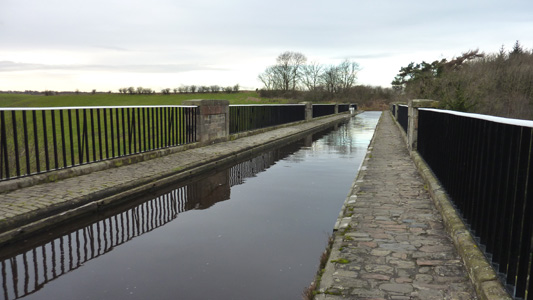 Superb and rather vertigo inducing River Almond Aquaduct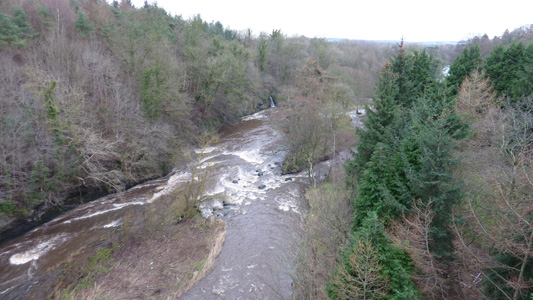 River Almond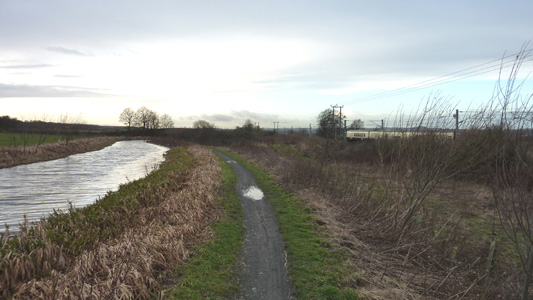 Strathclyde Passenger Transport Train near Broxburn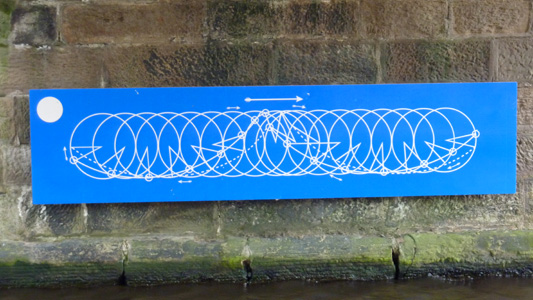 Don't know what this means - sort of thing Da Vinci would cook up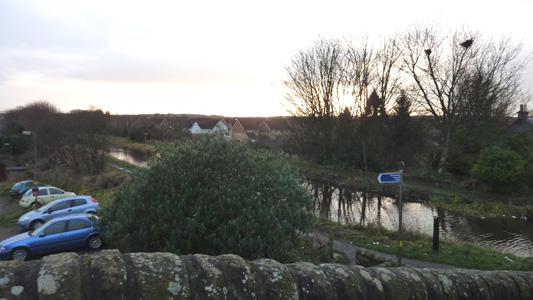 Leaving the Union at Broxburn - I kept thinking Blackburn in my noggin for some reason. Anyway, that's it for this session in Scotland
Broxburn to Linlithgow
Saturday 5 January 2013 - 9 Miles
ID05012013#1
First walk for a month and of 2013, weather has still been rubbish, but today was quite sunny and the towpath not too slippery. Back in Scotland for a quick few days with the folks before going back to work.
Magz dropped me and the dad at Broxburn, and we just followed the towpath on the East bank all the way, passing by Niddry Castle and shadowing railway lines for most of the walk, with the regular hum of trains heading to Falkirk, Edinburgh etc.. After the drabness of Broxburn we passed through Winchburgh and into rather rural areas and pleasant tree lined sections, before eventually reaching Philpstoun - a small village where we had lunch by the canal (rather cold) and then headed on to soon pass into Linlithgow on a pleasant embankment with lovely views over the town and Palace. This section of canal was a bit dull in one way because it follows the land contours and has no locks It was wonderful to have company on this walk and thanks go to my wonderful Father for the company on this walk, even if his jokes are a bit crap sometimes!! All finished off with a lovely deluxe Hot Choccy in a trendy Cafe before an expensive train ride back to Livvy North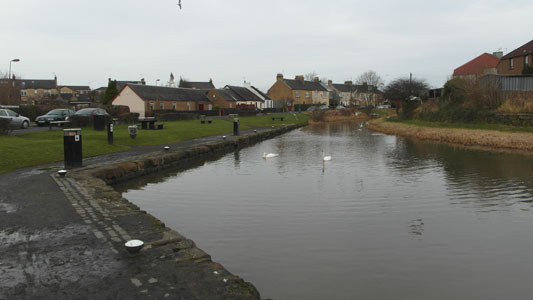 Broxburn. We initially followed the West Bank to the houses in the background, then had to retrace our steps to the bridge and follow the East bank instead - Doh!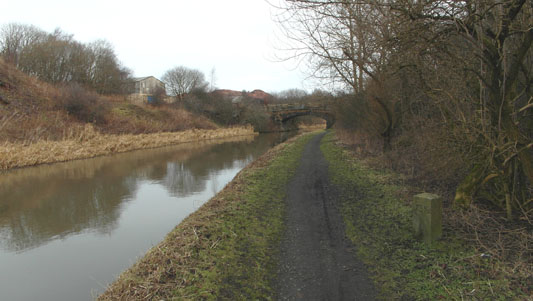 13.5 Miles marker from Lochrin Basin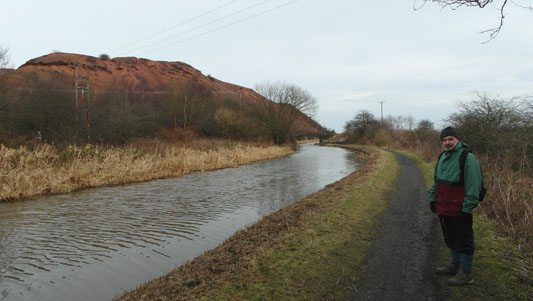 The Dad near Niddry. The Hills round here may be old slag heaps maybe as there was a lot of industry here in the past, they just don't look very natural - apparently Oil Shale Mining was the big thing round here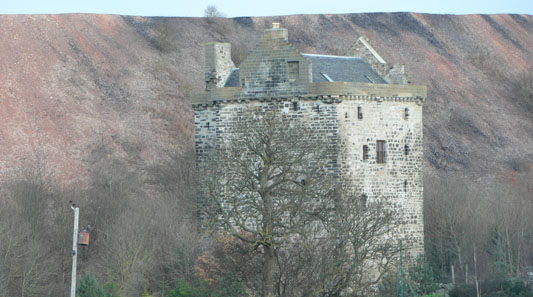 Niddry Castle with slag heap behind!
Winchburgh Cutting - a bit muddy like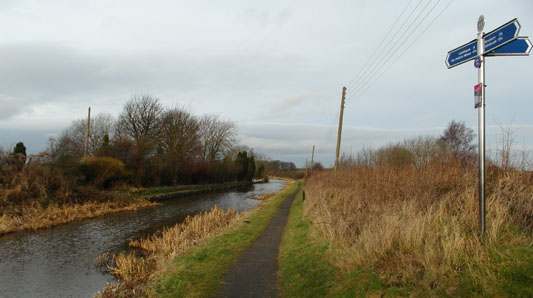 Reminder this is also cycle route 754 - Forth and Clyde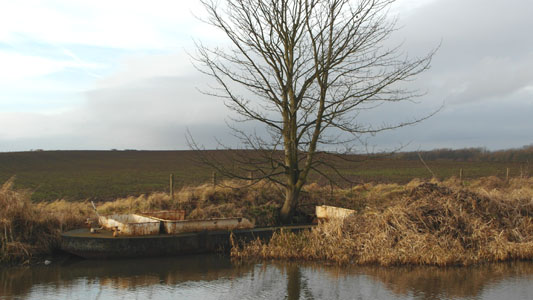 Some kind of maintenance boat moored up just North of Winchburgh where the view opens up nicely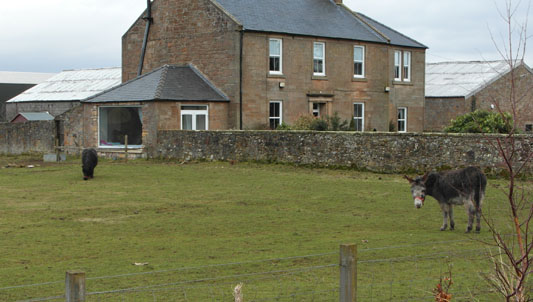 Tilly (Pony) and Dilley (Donkey) near the Park Bistro, not far from Linlithgow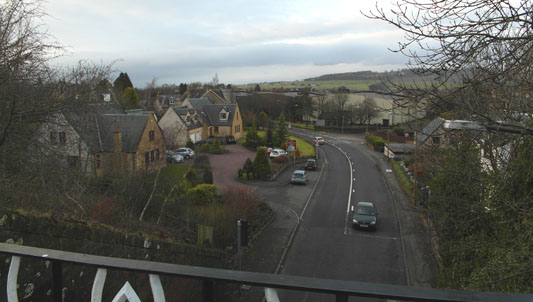 Embankment and bridges with lovely views North into Linlithgow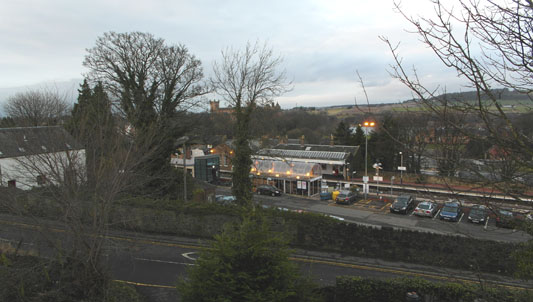 Linlithgow Station and the Palace in the distance. We had a nice hot drink in town and then got the train to Livvy North. Next section is on to Falkirk