Monarch's Way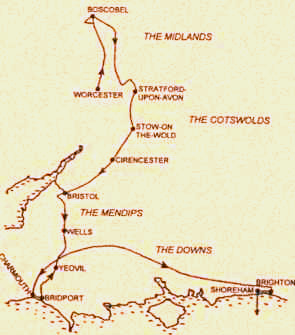 A very long distance path, at 615 miles, following as closely as understood, the travels of King Charles II after the battle of Worcester in 1651, before escaping to France from Shoreham, W.Sussex
The route runs south through the midlands, cotswolds, mendips and then east along the downs, so much spectacular scenery and lovely places are along the way. On the Charmouth - Shoreham section, visited are: Yeovil, Wincanton, Hambledon, Arundel and Brighton to name a few.
I will be concentrating my initial efforts on the way contained in book three covering the walk, ie from Charmouth to Shoreham, which is still a biggie, at 225 miles. It just sounds like a very exciting long challenge (to me!) but it will be done piecemeal over many years as I get further West it is difficult and expensive to do regularly.
Upper Beeding To Shoreham
Sunday 9 March 2008 - 16.5 Miles
Walk ID09032008#9
Finally, started! Been looking forward to this section for a long time. The walk describes a meander Eastwards across the Downs near Portslade, bounces along the edge of the A27, then heads to Hove, and Brighton Pier, then back , this time along the seafront, to Shoreham Harbour. An eclectic mix of open, quiet countryside, and the hustle and bustle of the city and shopping. I expect the rest of the Monarch's Way to be a real treat.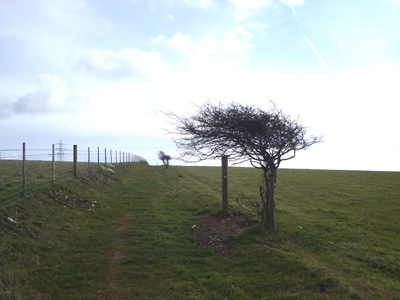 Very windswept section, climbing up from Upper Beeding onto the Downs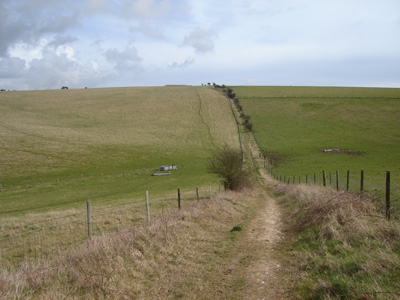 The path stretches out for miles...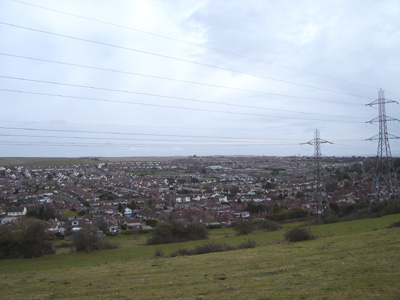 Looking down to Portslade and Mile Oak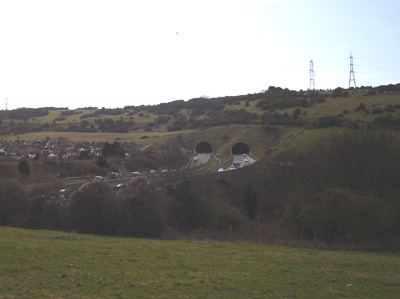 Southwick Tunnel - A27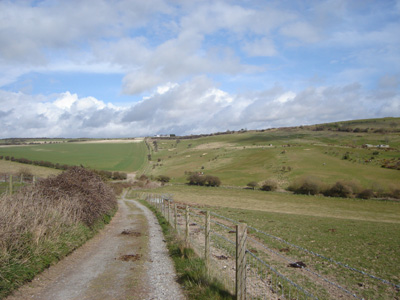 Passing West Hove Golf Club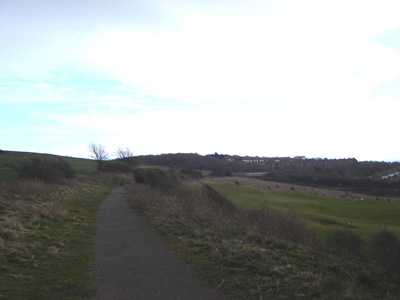 This part is on the trackbed of the former railway to Devil's Dyke, as you head towards 'civilisation' at Aldrington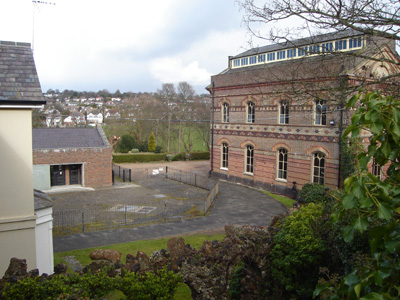 The former British Engineerium at Hove. Hopefully this will reopen soon - I remember visiting here in 1982 or 83!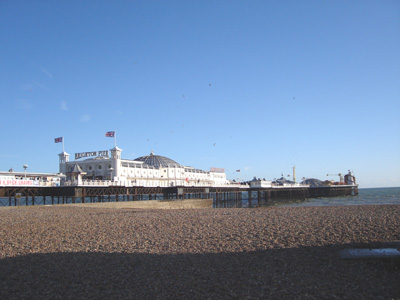 Brighton Pier, and now following the coast to Shoreham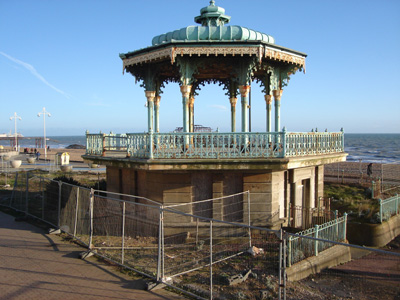 Decrepid Bandstand and West Pier skeleton in background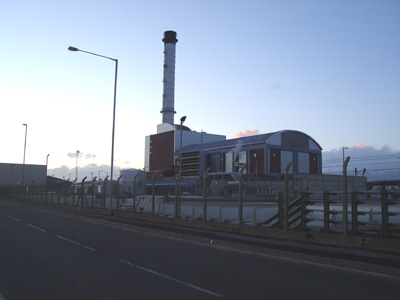 Shoreham power station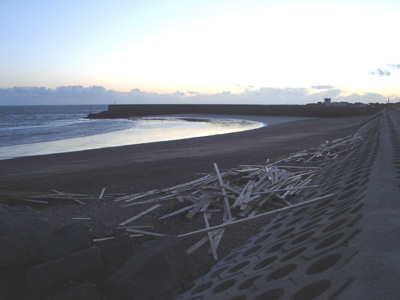 Shoreham Harbour Breakwaters - end of journey. The wood was washed up from a recent shipwreck - The 'Ice Prince' which sank about 26 miles (42km) off Dorset and littered a huge quantity of wood all along the south coast
Arundel to Upper Beeding
03 May 2008 - 17 Miles
Walk ID03052008#15
At last - finally got back to some good old fashioned long distance walking action!
Had some time off doing a few mundane walkies, such as Headcorn - Tenterden and also interrupted by 'can't be bothered itiss' and a great weekend on the Isle Of Wight (I so wanted to do some of the coast path, but was not able to take time away from clients)
Anyway, this second installment was very pleasant - a beautiful bright day, and stunning scenery meant I was in Upper Beeding before you can say Berghaus!
A bit strange at the A280 crossing before Findon, I got slightly lost, retraced my steps, then came across a gentleman who was in the same position. I consulted my guide book and enlightened us both as to the correct route - he never said thank you though, and motored off into the distance,ungrateful man!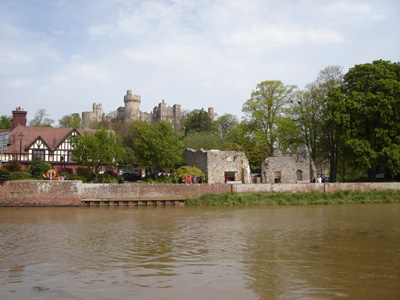 Arundel Castle from the river Arun (apparently, when I wiki'd it's ass - the river is named after the town, not the other way round). Even though the town has a Cathedral (Roman Catholic), it is not a city - why?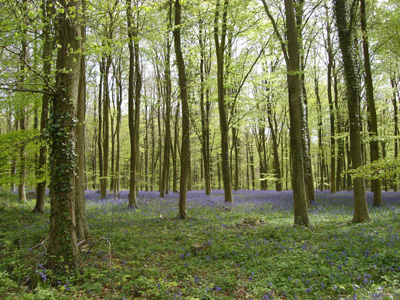 Beautiful display of Bluebells in Angmering Park (British or Spanish?)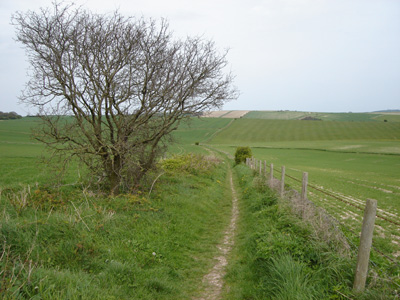 Hitting the downs past Findon - very moreish!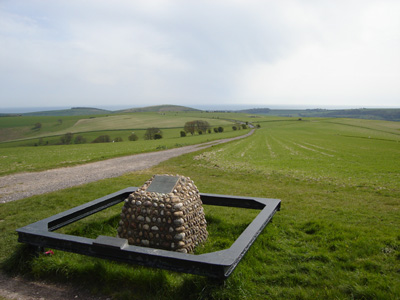 Where the Monarch's joins the South Downs Way, a couple of miles out of Steyning. It is always a bit weird for me meeting a trail that I had walked in the past - I cannot specifically remember the date , but it would have been 2003.
Coming down towards Steyning, Bramber and Upper Beeding
Amberley(Houghton) to Arundel
Sunday 16 October 2011
ID17102011#11
Wow...over three years since last dose of MW. I did not mean to leave it this long, but on a georgeous Autumn day did this short walk to make the next planned section (West Dean to Houghton) more distance friendly. On arrival at Amberley station I came across one of our companies coaches (can't even get away from work for a weekend!) but turned out to be very fortuitous coz driver gave me a lift back home, much quicker than the train journey, so had enough time for a unhurried walk, a chill in Arundel and back to coach via train back to Amberley.
The walk took me from Amberley station,adjacent to the impressive but as yet unvisited Amberley Museum (where the coach party had gone to). I walked by the River Arun to Houghton, where the Monarchs Way was joined, then into Arundel Park, with a significant climb, then a small ridge walk with stunning views over the downs and back towards Amberley. The path then descended with more stunning panorama over the park, before a gentle long rise up to the Plateau in the park crossing the gallops and coming to the tower - I presume this is a folly, but a very attractive and substantial one. Then just a short walk out of the park, downhill, past the cathedral and castle, down to the river, where I had scoff and chilled before walking to the station and heading back to Amberley for coach ride.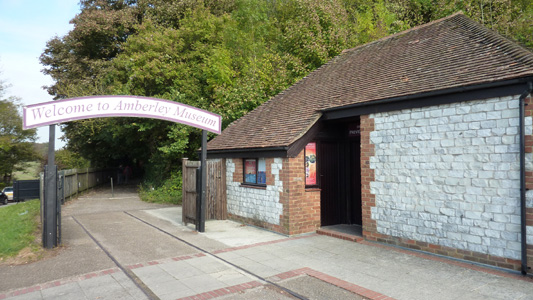 Adjacent to Station - Still not been in though...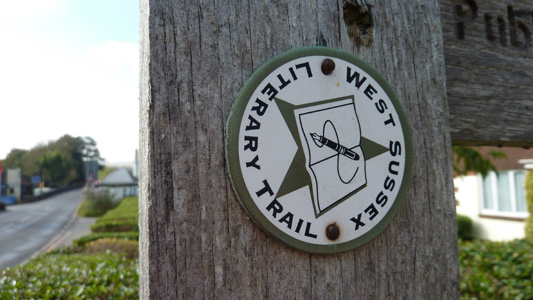 Cripes...yet another walk to do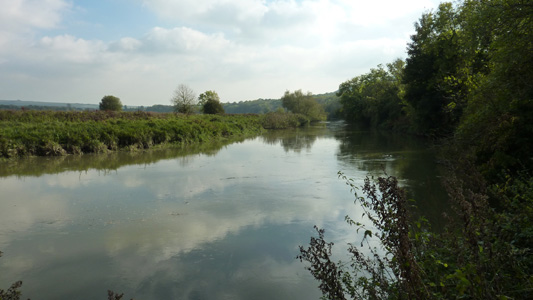 By the Arun near Houghton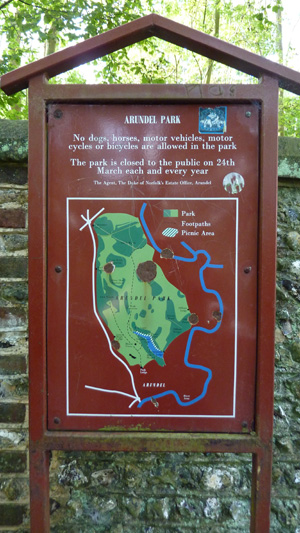 Info Sign for Arundel Park. Just here the ascent commences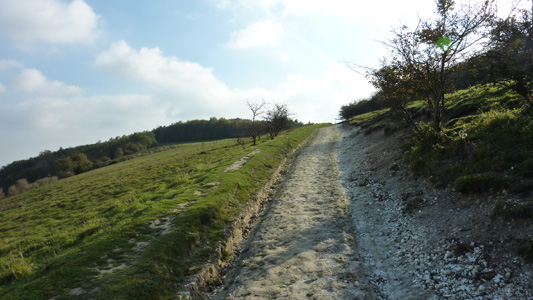 Blimey. Clanking like a steam loco at the top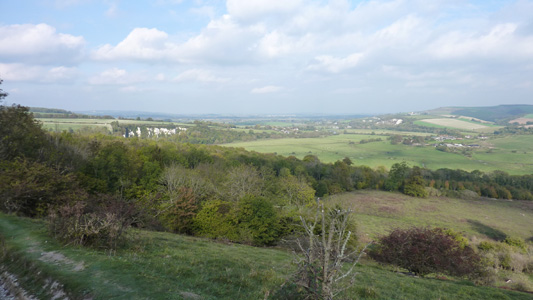 Well worth it though - after a breather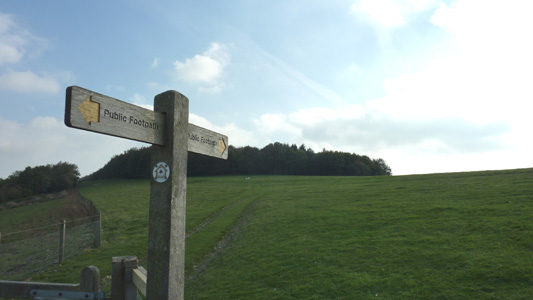 Just a little bit more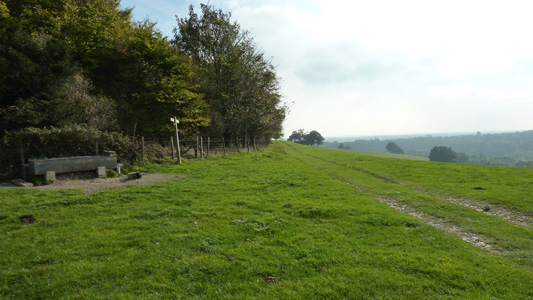 The Ridge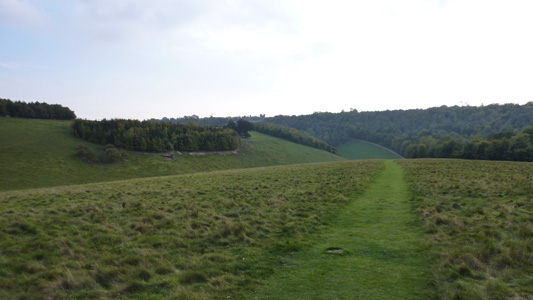 A descent - tower on horizon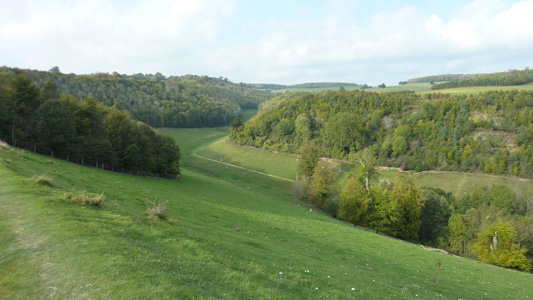 A retrospective towards last position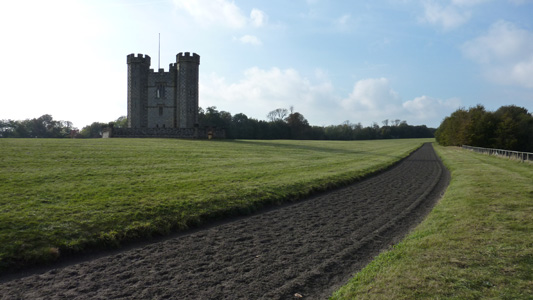 Tower and Gallops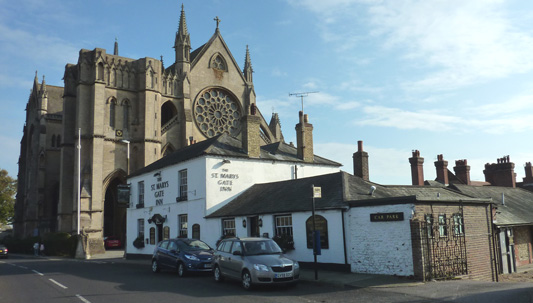 Arundel Cathedral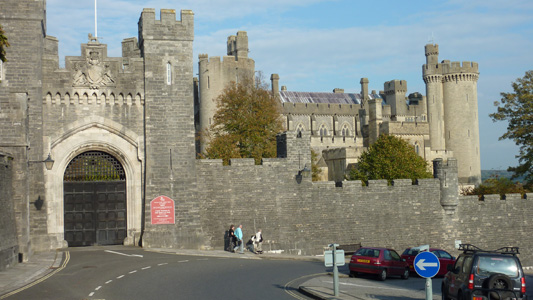 Arundel Castle. No shortage of impressive cribs!
Rowlands Castle to West Dean
Saturday 26 November 2011 - 10 Miles
ID27112011#19
Another little slice of a walk been meaning to do for ages - for some reason, recently I have been almost addicted to walking in London, and anything in the country has been sidelined - however I am trying to clear any walking left in West Sussex and this was a beauty - Another unseasonably warm November day, but with a slightly chilly wind just giving a hint of winter.
From Rowlands Castle station I walked along under the railway arch and right through a gap in the wall to reach 'The Avenue' - (leaving Hampshire) with a view towards Stansted House, a 1.5 Mile wide tree lined level walk with the house in the far distance. Very shortly passing the memorial to a pilot killed in the second world war, and also passing the point where the Sussex Border Path (previously completed) veers off towards Horsepasture Farm. Eventually passing near the left of the house, and continuing in a mostly Eastern direction, through the rest of the estate on easy paths to reach Walderton, the first village and an extremely small and secluded place, then climbing slightly, with beautiful walking surrounded by the open beauty of the downs. I passed several walkers and many cyclists during the day, as part of this walk is also on a downland cycle route. Soon a small descent took me into Stoughton, another small village of just one road, passing the 'Hare and Hound' Pub and then turning right to shortly bear left on a farm track gradually climbing up onto the downs again - passing more walkers. Near the top, even though it was really quite easy, I felt rather leaden, and had to have an emergency food top up on the thoughtfully provided bench, and with a beautiful view and some renewed energy carried on through woodland and descending again to reach the B2141 which is then crossed, and heading along Hylters Lane, which is rather quiet and gradually climbs again following the ridge, before turning right onto a narrow track which is left at an acute angle to lead uphill across some unpleasant flinty fields, reaching the corner of Lodge Hill Farm, forwards and then downhill through Whitedown Plantation, which had a strong smell of decay, reaching a road that leads towards West Dean, before crossing and walking on a delightful narrow shelf by woodland, and eventually coming to the A286 and across to end near West Dean College. Unfortunately, the railway has been destroyed here and I had to catch a bus to Chichester - although you can walk along the old formation southwards, but that will wait for when I do the New Lipchis Way. I was pleasantly surprised by the bustle of Chichester, and even better when I retired my old boots with a 40% off offer in Millets, and had a nice ride back home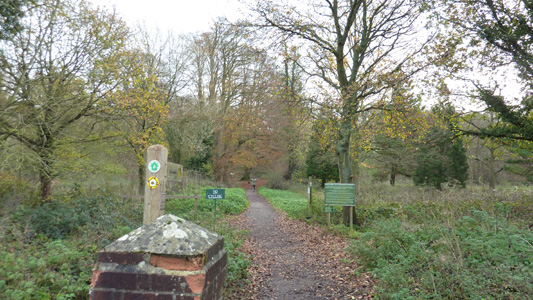 Rowlands Castle - The Staunton Way, Sussex Border Path and Monarchs Way all pass through here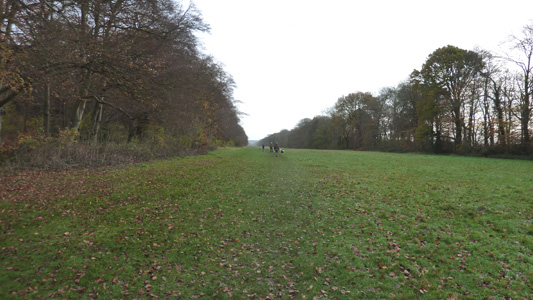 The Avenue - Lots of dog walking shenanigans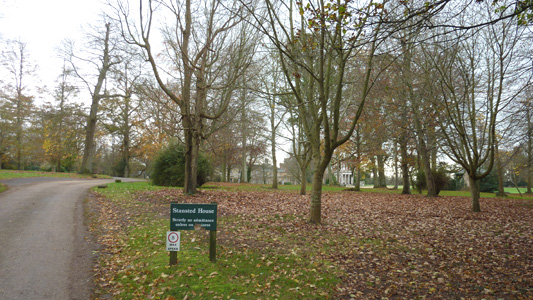 Stansted House - Weddings, Corporate Etc (says the website)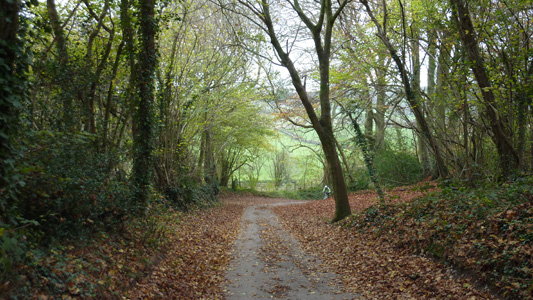 Near the B2146 and Walderton - a mountain biker makes the climb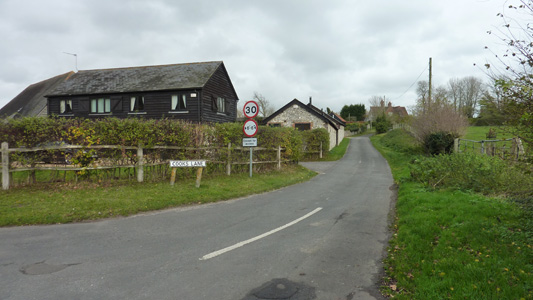 Cooks Lane by B2146 leading to Walderton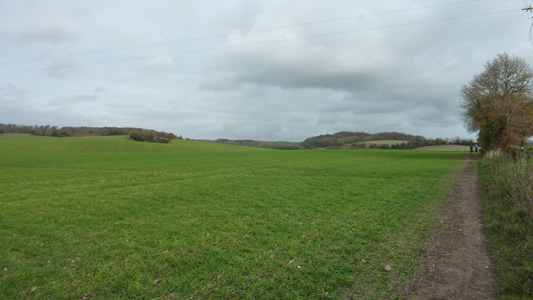 Just outside Walderton - two seasoned hikers approach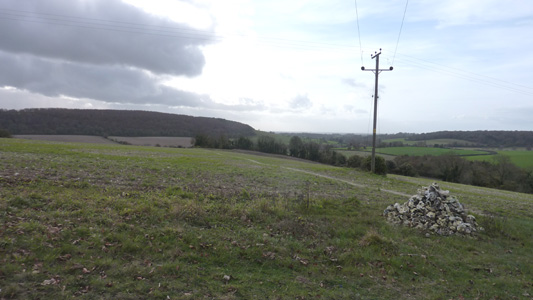 Looking back towards Walderton - I liked the Cairn and added my own stone, but this sure ain't Ben Nevis!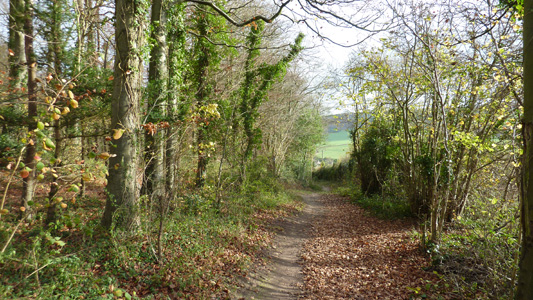 A sunny downhill jaunt to Stoughton
Hare and Hound - Stoughton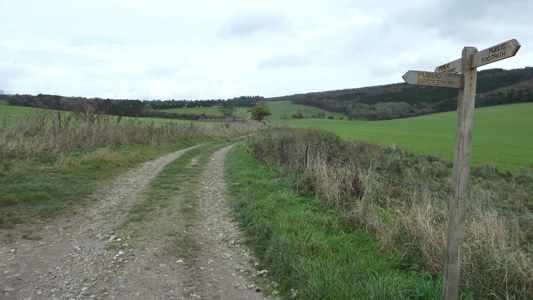 A farm track leading out of Stoughton gradually across and up the downland - unfortunately I had an energy wobble and needed a refuel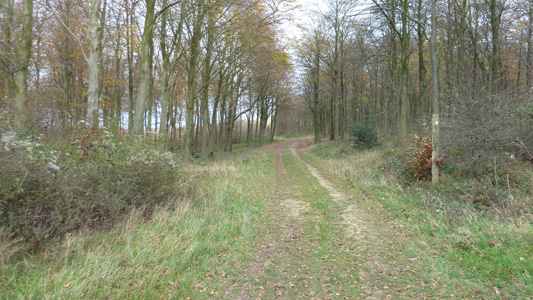 Woodland near Goosehill Camp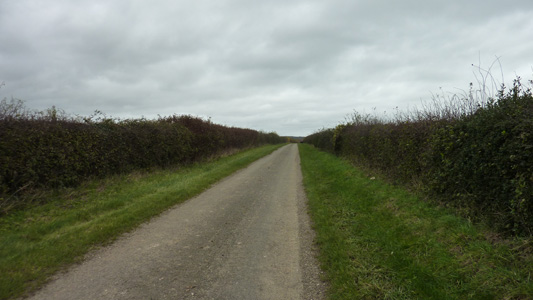 Hylters Lane after crossing the B2141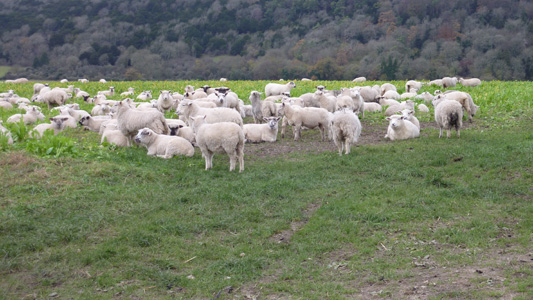 Vastly outnumbered by Sheeps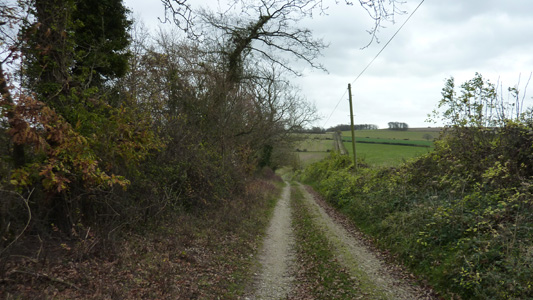 The quiet track (after the cyclists had gone) leading towards Lodge Hill Farm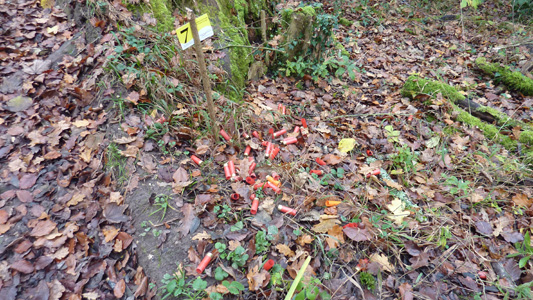 In Whitedown Plantation some halfwit had clearly been plugging away at the unsuspecting local wildlife and didn't even then have the decency to pick up the used shotgun cartridges - what a c***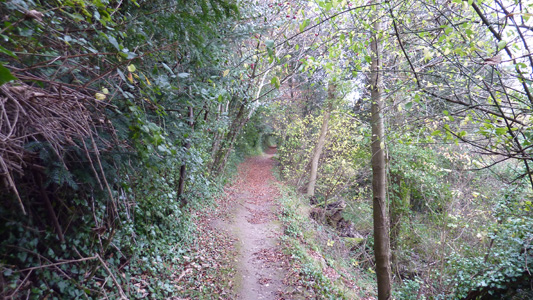 The attractive 'shelf' walk leading into West Dean. Looking at the OS I had crossed the old railway along here at some point but it was totally obscure to me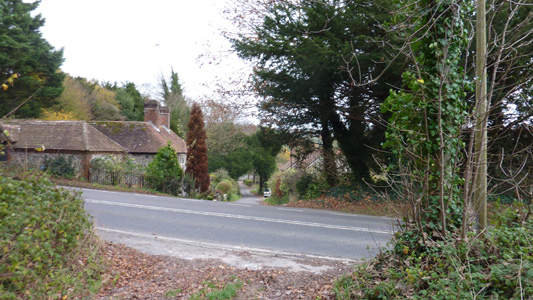 Meeting the A286 main road at West Dean and journeys end by the college walls. I had been to West Dean before and had a nice shufty round the gaff. This time it was late lunch and the 60 bus to Chichester
West Dean to Houghton
Saturday 14 April - 14 Miles
ID14042012#20
This walk closed a long outstanding gap in the Monarch's Way for me, so now I have completed it from the Hampshire Border to its conclusion at Shoreham. A nice sunny day for a very pleasant walk. From Chichester Station I caught the bus to West Dean and then followed the trail, over a little bridge out of the village, with a long stiffish climb by woodland, then the Trundle and St Roche's Hill, with a 'Grandstand' view over Glorious Goodwood. Then a road section after descending the hill, to sweep round the edge of the racecourse for a mile, then into fields and woodland, through Eastdean / Charlton Park, dropping down slightly to the edge of East Dean, before walking uphill on a lane and then into woodland at Chiseldown/Selhurst Park (No - not Crystal Palace FC!) and soon reaching the Roman Road of Stane Street - linking Chichester and London. You only walk on it for just over 2 Miles, but the National Trust owns a slightly longer (3.75 Mile) section of it, whatever, it was a superb section to Bignor Hill, where you cross the South Downs Way and then start heading down hill through the Denture and Houghton Forest. The A29 then rudley interrupts proceedings, carefully crossed, then a section following a lovely enclosed path running adjacent to the B2139 into Houghton, with great views towards Arundel and Amberley. Houghton is very quickly dispensed with, and you soon turn right and follow a lane and then path to reach the River Arun and here I had completed my missing link. Then I walked on to Amberley station and after waiting forty bleedin minutes got a train and started the journey back to Hastings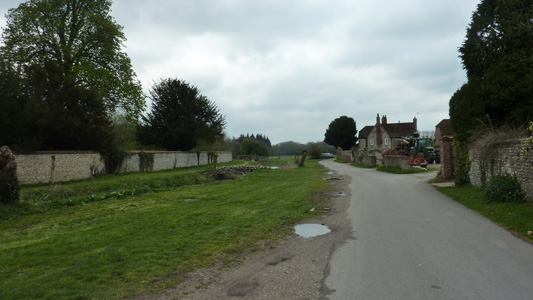 Leaving West Dean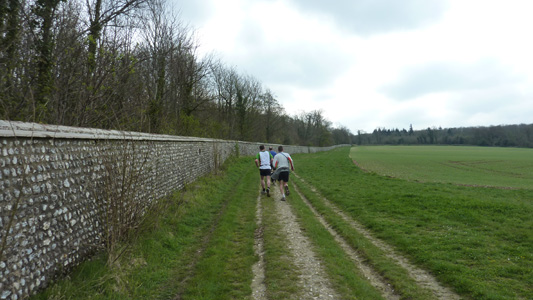 Feeling a bit pathetic here, I was plodding along when a bunch of quite senior joggers came steaming past me, additionally this photo makes the continuous ascent look pathetic!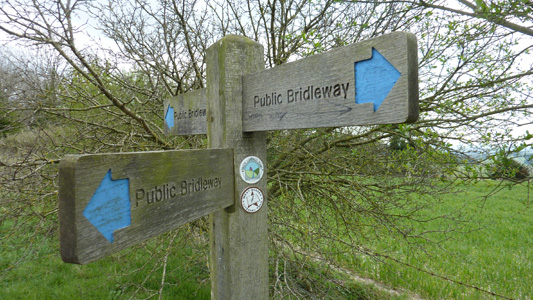 A meeting of ways - the West Sussex Literary Trail and New Lipchis also run through this section, at the foot of St Roche's Hill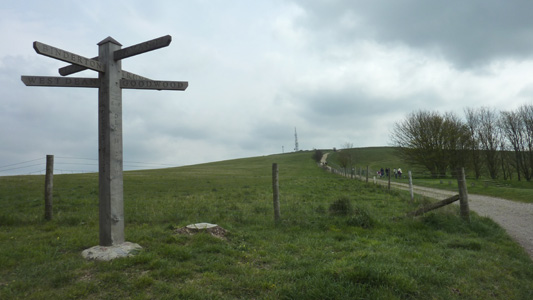 The rest of the trail was pretty quiet, but a fair few punters were hoofing it up St Roche's Hill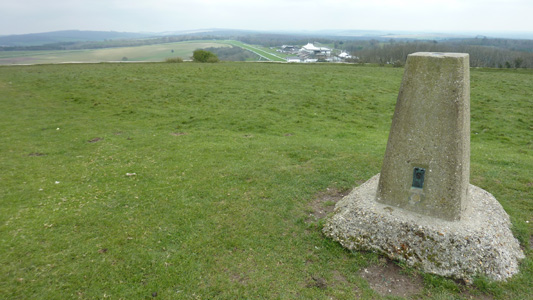 Trig Point with Goodwood Racecourse in the distance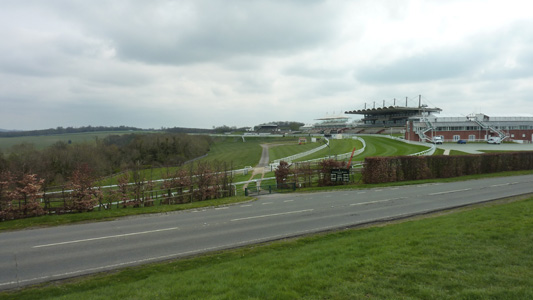 Goodwood Racecourse, nuffink going on today, but lots of horsey shenanigans coming soon (let's just hope no broken legs)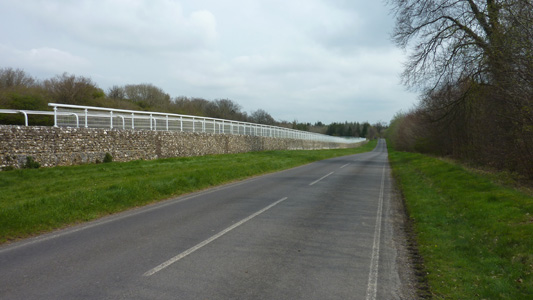 Following the perimeter of Goodwood, near the stands - you would get a fabulous view on a raceday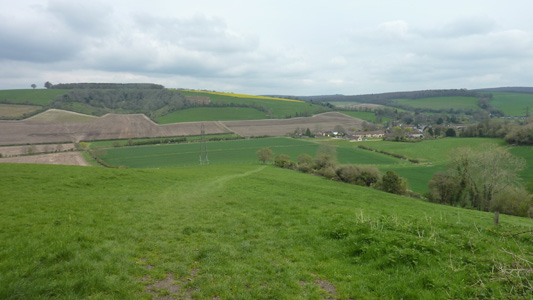 Path dropping down to East Dean from East Dean Park - you do a horseshoe route, climbing up again along the lane in the trees on the far right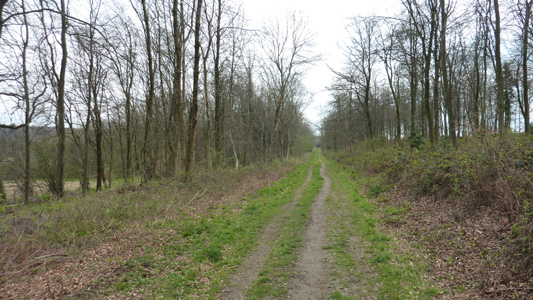 Easy walking at Chiseldown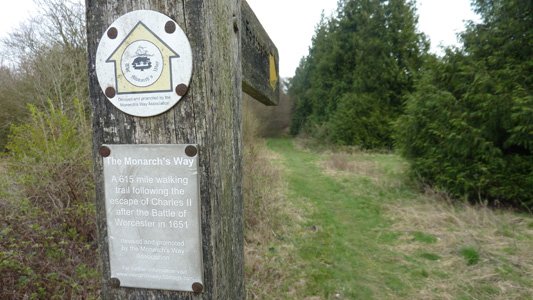 A plaque explaining the Monarch's Way - at 615 miles it will either intrigue potential recruits or scare them silly - I am really only doing the easy stuff right now, some of the Mendip and Cotswold sections look a bit brutal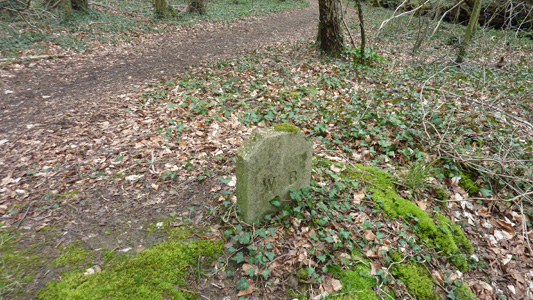 Presumably a boundary marker (WB?)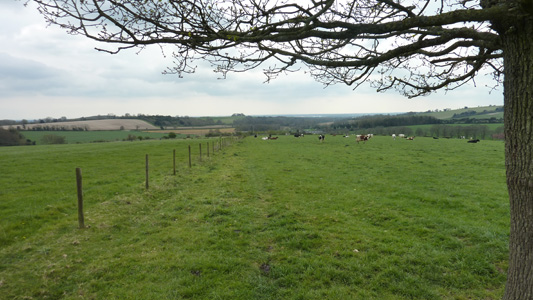 Near Selhurst Park Farm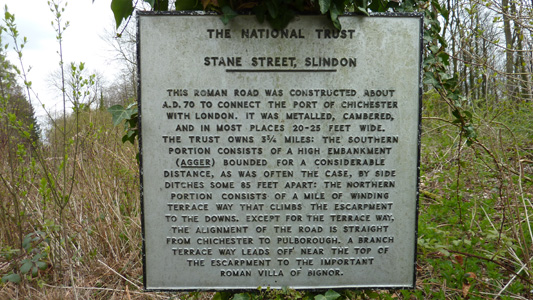 National Trust Interpretation Board for Stane Street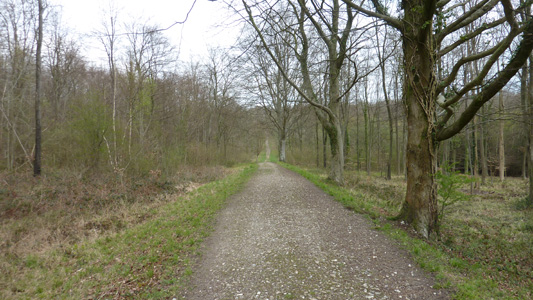 A yomp along Stane Street - you can just imagine Romans marching innit. I forgot that even though the roads are as straight as possible, they still have to follow contours, so this is a bit of an up and down affair, but great walking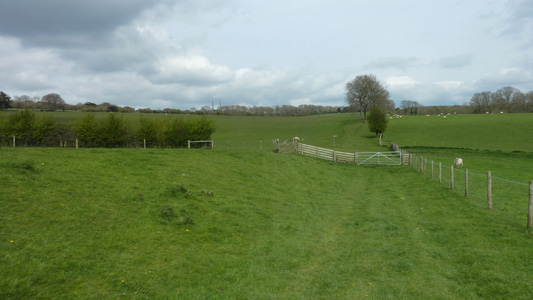 Still on Stane Street, but this section has been absorbed by the South Downs grassland, shortly before Bignor Hill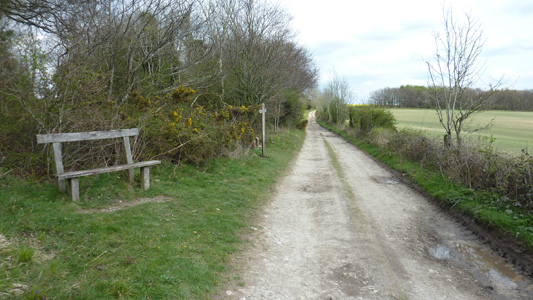 Now off Stane Street, heading for the Denture. The bench on left looks mighty uncomfortable. I was looking for somewhere to chill and eat lunch, but in the end I walked all the way to Amberley Station before opening my nosebag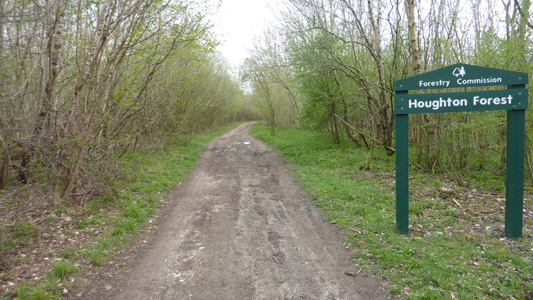 Entering Houghton Forest on the Denture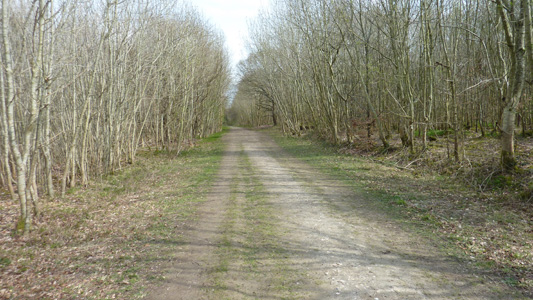 Houghton Forest bangs on a bit, but it's a pleasure
Crossing the A29, a brief gap in traffic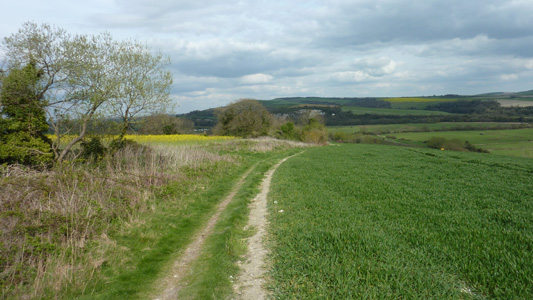 Approaching Houghton with Amberley in distance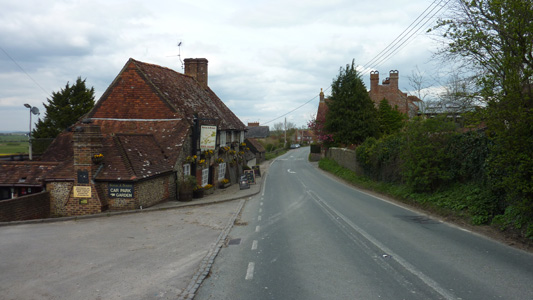 Houghton, another brief respite from the relentless traffic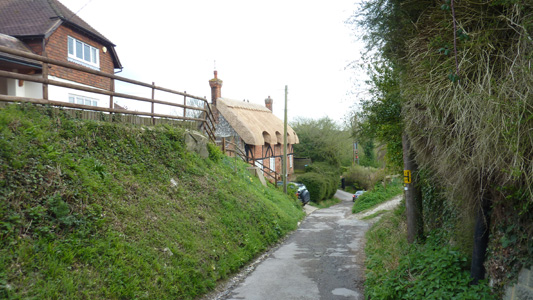 Lane in Houghton followed down to the Arun and Job done
Hambledon to Rowlands Castle
Sunday 2 September 2012 - 7 Miles
ID02092012#49b
Part two of today's adventure. After walking from Bedhampton to Hambledon on the Wayfarers Walk I then carried on after a short break at the Church, then up back out of Hambledon initially retracing my steps, before joining the Monarchs by Rose Cottage. The path meanders South Eastwards, across the usual mix of farmland and some woodland walking, but on the way I had the dubious pleasure of walking through Horndean, certainly the crappiest part of todays walk, with the path following narrow dingy paths round industrial units and passing by a Morrisons (although the garage was bleedin handy for a Lucozade wedge up) and across the A3M junction before becoming much better particularly across The Holt near Rowlands Castle, where I finished at the station - completing all the walks that run through here. It is interesting following the 1995 guide book - which is of course mainly accurate, but as a snapshot in time it of course has become outdated in some small details, for example hinting that a Safeway store was in the offing at Horndean, giving away its age - but it is still a wonderful companion on this amazing LDP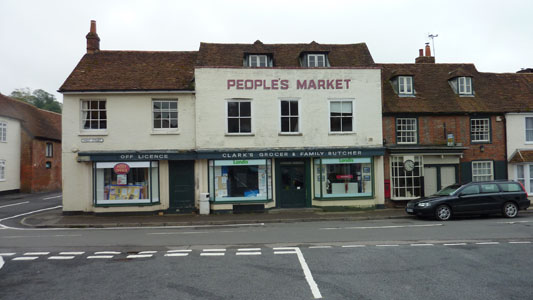 People's Market. Hambledon. A local shop...etc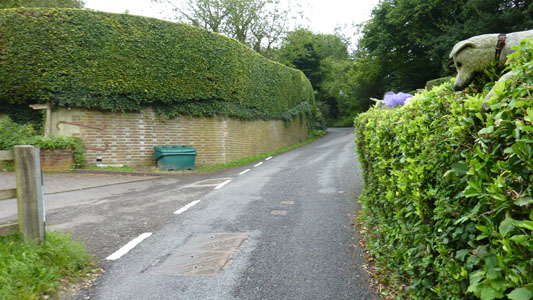 This is where you join the Monarchs Way, at the edge of Hambledon by Rose Cottage. The dog in the hedge is a furry toy, that is many with a mildewy coat and gave me the creeps...I wouldn't like to pass this way at night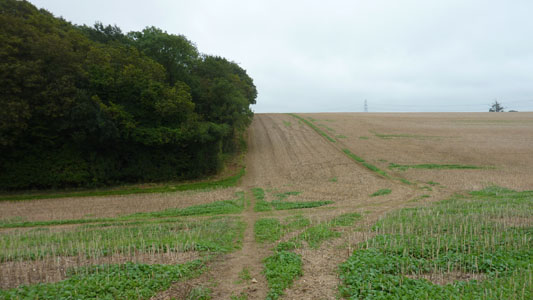 Lorra nice undulating pastoral pleasantry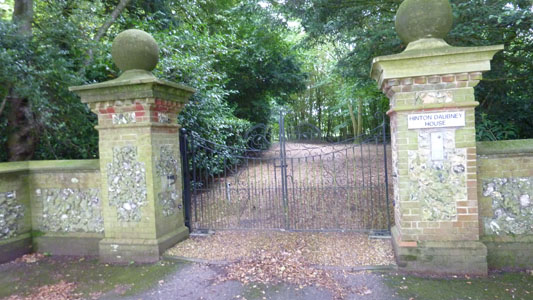 Hinton Daubney House, nothing special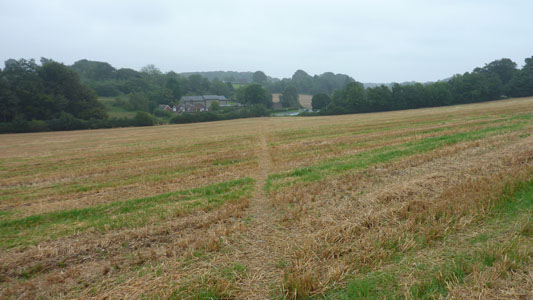 Quite pleasant before the horror of Horndean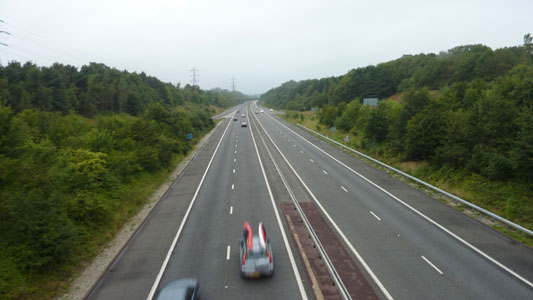 The A3(M) - Nuff Said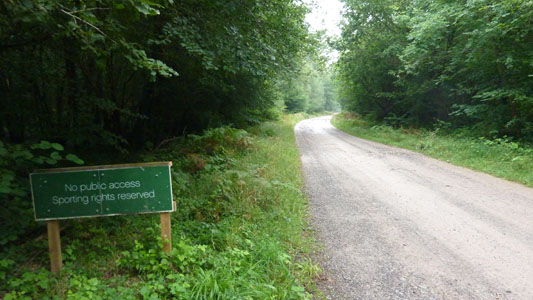 Crossing the Holt - quite a pleasant section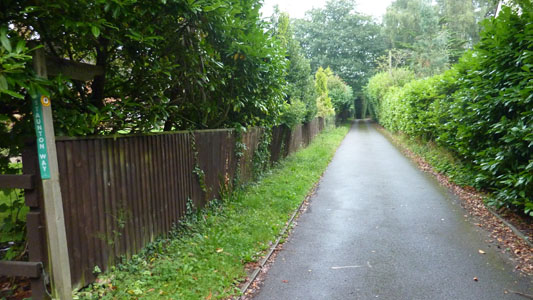 Finally, my last visit to Rowlands Castle, after completing the Sussex Border Path, Staunton Way and this section of the Monarchs Way - job done