Grand Union Canal Walk
No Sleep till Braunston...


147 Miles between London and Birmingham, following the Towpath of the canal. From the centre of London at Little Venice the canal heads to Slough and then through Hertfordshire and the Chilterns to Tring. Apart from the stretch through Milton Keynes the route is then largely rural passing the Canal Museum at Stoke Bruerne to Leamington Spa and Warwick. The final stretch is through the suburbs of Birmingham.
Little Venice to Brentford Via Bulls Bridge
Saturday 25 October 2008 - 16 Miles
ID25102008#45
Something different, a bit of urban walking again. Very interesting, but maddening amounts of graffiti and rubbish tarnished the pleasure of this walk. Ended up linking back into the Thames Path at Brentford to complete this walk, finishing the Paddington Arm and the connection at Thames Lock. Just got to walk to Birmingham now...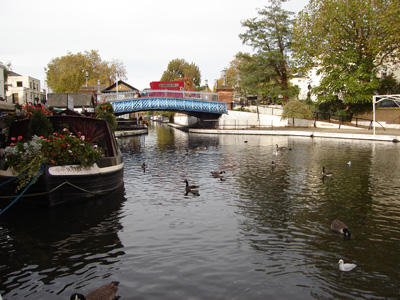 Little Venice (Paddington) - Been here before walking the Regents Canal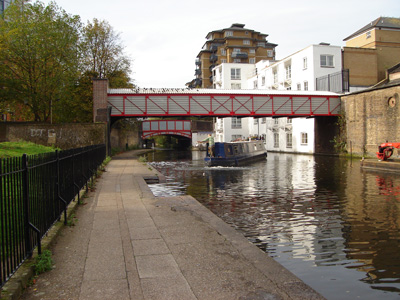 One of many, many bridges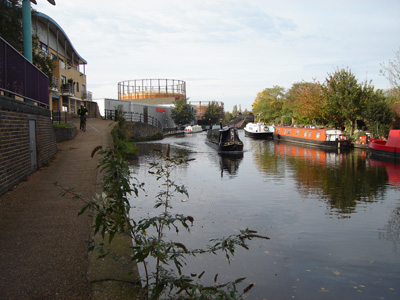 Near Park Royal
Impressive Aqueduct over the A406 (North Circular) - Wembley stadium white arch barely visible far right. I wonder what affect a breach would have at this point!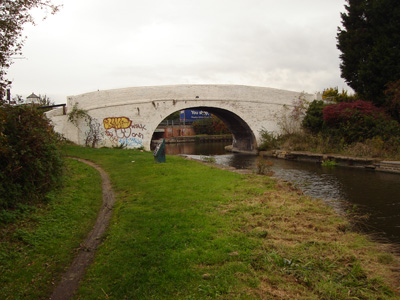 Bull's Bridge (Hayes Town) - where the Paddington Arm joins the main canal. The Thames is a few miles to the left, and 'Brum' a long way to the right. Graffiti really helpful :-(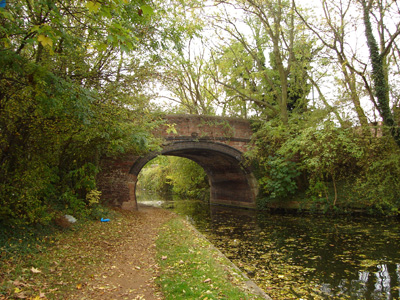 Nice bridge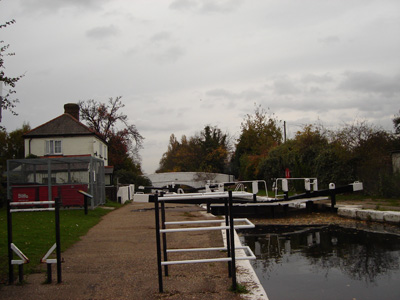 First lock towards Thames - at Southall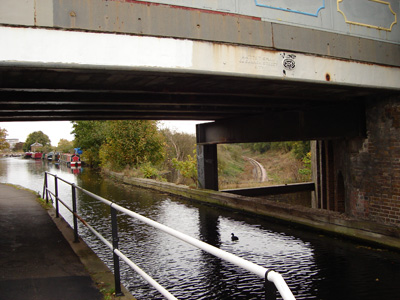 Aqueduct taking canal over Railway
Attractive series of locks at Hanwell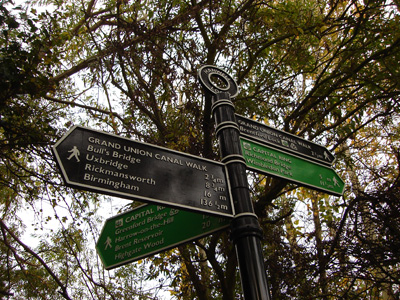 Fingerporst Hanwell - A meeting of Grand Union Canal Walk, Capital Ring and Brent River Path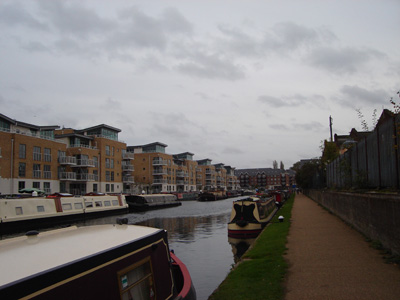 Brentford
Thames Lock
Rickmansworth to Berkhamsted
Saturday 12 November 2011 - 14.5 Miles
ID12112011#17
Right - on with the Grand Union. The interverning section from Bull's Bridge to Springwell Lock and Rickmansworth to Springwell Lock were walked under the auspices of the London Loop and Colne Valley Trail respectively. As I have rellys in Milton Keynes I am keen to get on and push this walk northwards, although there are several branches to complete first - wendover and Aylesbury. The Slough Branch I will probably do as an extension to the Celendine Route.
From Rickmansworth Station I walked through the Aquadrome (again!) and to Stocker's Lock. On the Colne Valley Trail I had turned Right, but this time I turned left. Walking through the edge of Rickmansworth and at Batchworth Locks there is a short navigable section where the river Chess connects at a side lock. Soon passing under the Ebury Trail and the Metropolitan Railway. The River Gade is always in attendance until Hemel Hempstead, occasionally as part of the Canal instelf. Passing by Croxley on your left, passing under the disused bridge of the mothballed Croxley Network Rail Line, and under another branch of the Metropolitan leading to Watford Station. Soon passing by Cassiobury Park soon passing under the M25 Watford Spur and Main Motorway and on to King's Langley. All along the walk there are regular locks as the canal 'climbs'. From Kings Langley on to Apsley where I had lunch at 1200 sitting by the pleasant marina development watching a really sweet scruffy pint sized terrier type thing looking really sorry for itself until its owner on the narrowboat fed it and gave it some fuss....ahhh!
After lunch a bit scruffy and grim (the scenery not me!) through Hemel Hempstead with the A41 and tower blocks and constant sound of trains roaring by, before a more rural scene on to Berkhamsted but still with these travel methods in close proxmity. Berkhamsted was quite pleasant, and instead of carrying on to Tring I chilled while watching a geezer get through the locks and in a bit of pain decided that the station here would be the end of this little adventure, as this was also the longest walk I had done since March - although I am working on my fitness level after letting myself go for sometime!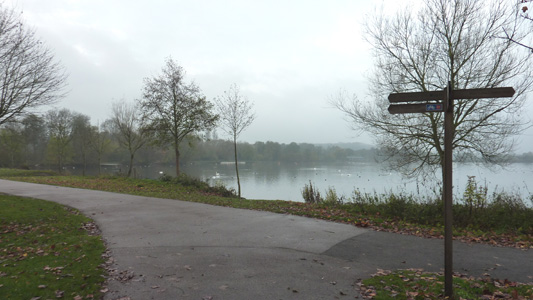 Rickmansworth Aquadrome Again - all a bit spooky and misty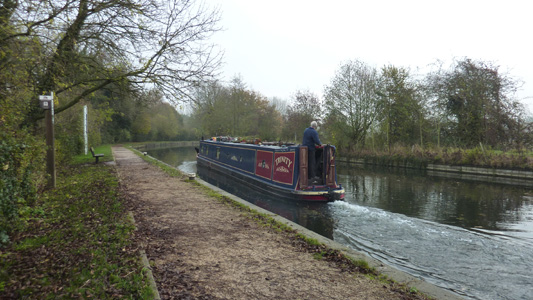 Stocker's Lock again - but turning left this time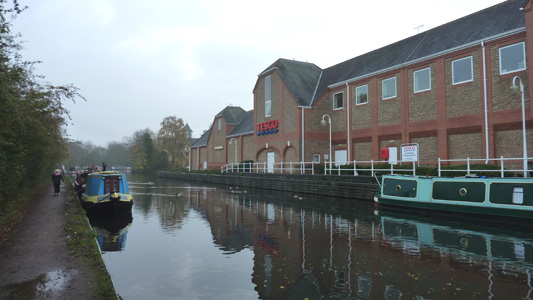 Ubiquitous Teskyz - With mooring facilities - every little helps!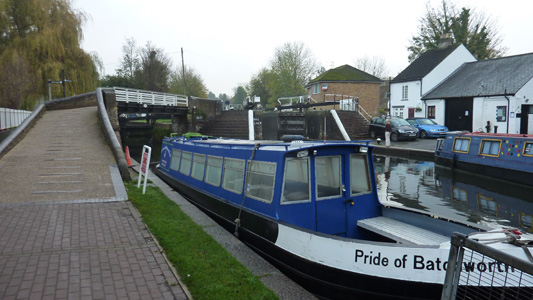 Batchworth Locks - The River Chess leads off to the left, GUC to the right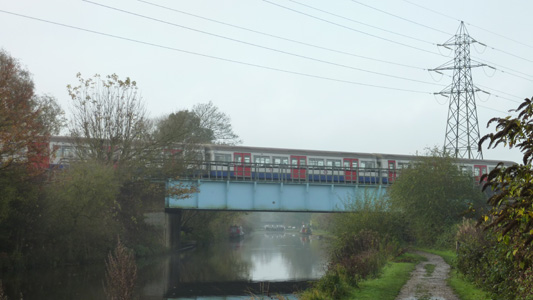 looking back to Batchworth Metropolitan Line Bridge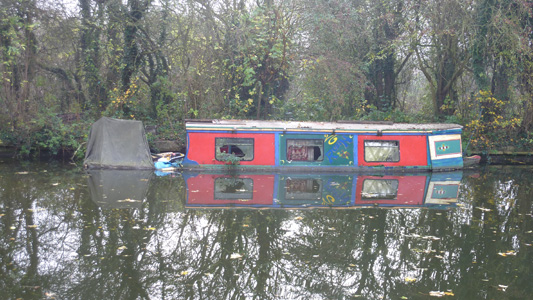 Narrowboat thinks it's a submarine - Fail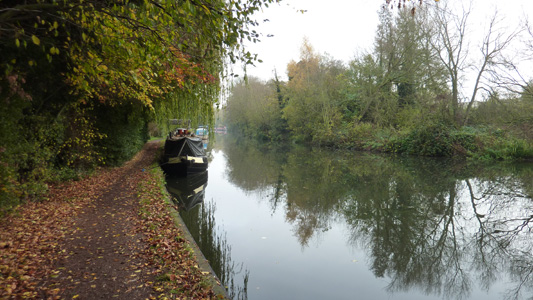 Quite Idyllic just before Watford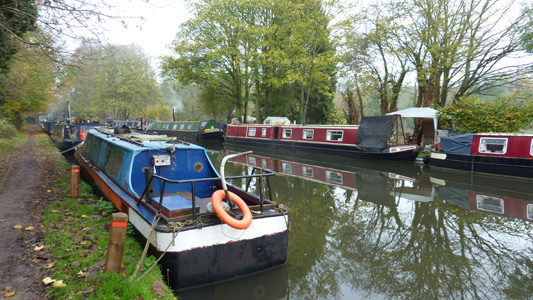 Lots of Mooring at Watford. A lot of long termers use the area beyond the towpath as an informal garden/workshop etc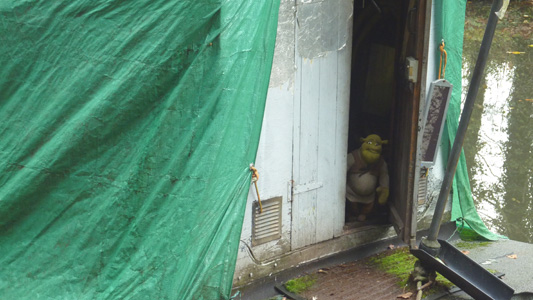 Shrek stands guard. Makes a change from the usual doggie!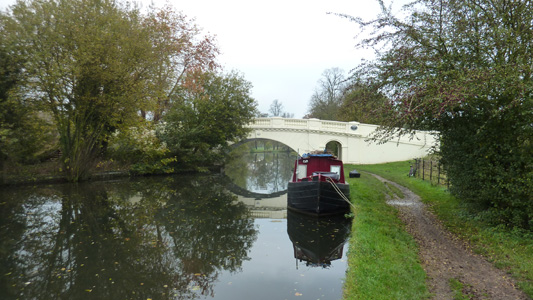 Very nicely restored Grove Bridge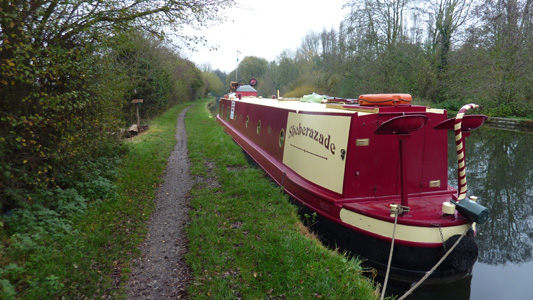 Sheherazade - a lovely bit of music - courtesy of Rimsky Baby - even a peasant like me can appreciate a dose of the classics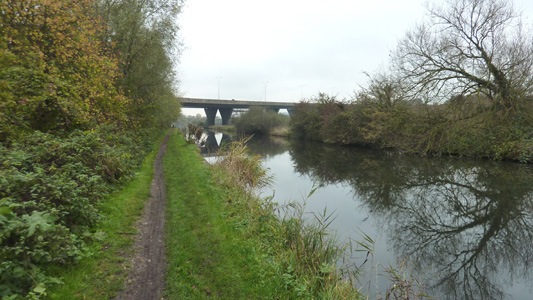 Approaching M25 bridge near Kings Langley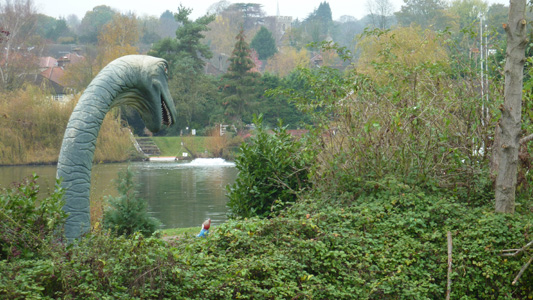 Kings Langley - I presume this is a feeder reservoir - I am more puzzled as too why a dinosaur appears to be about to swallow a gnome!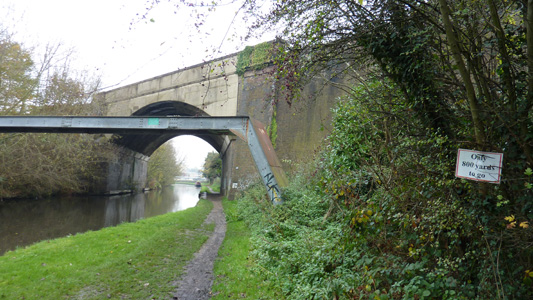 Apparently 'only 800 yards to go' - Reckon! This was part of the marking of the towpath in preperation for a mini marathon the next day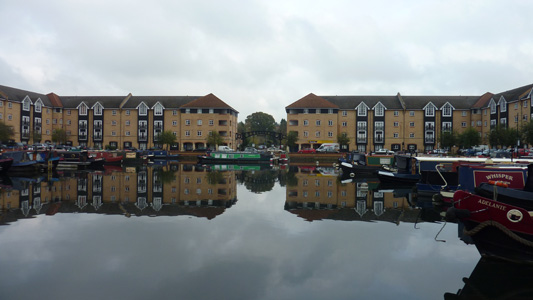 Apsley seems to be rejuvenating this section of the GUC - or 'poshing it up' - a nice place for half hour chill and scoff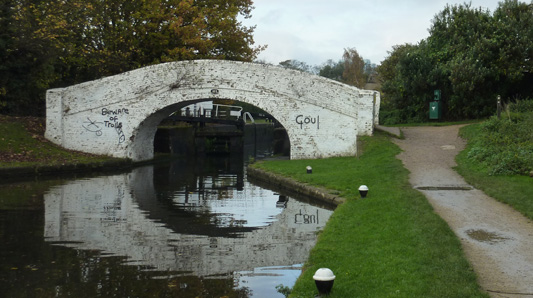 'Beware Of Trolls' - bridge 183 - I like the humour, but am saddened by the complete disrespect of such a wonderful historic corridor that the GUC provides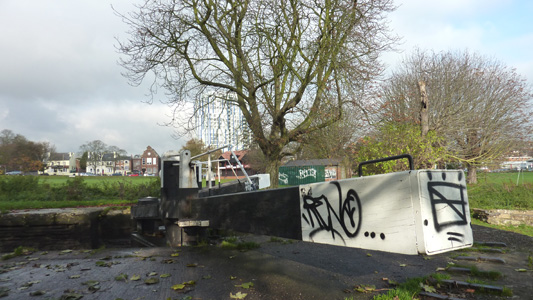 The concrete reality of Hemel Hempstead - tower block vs lock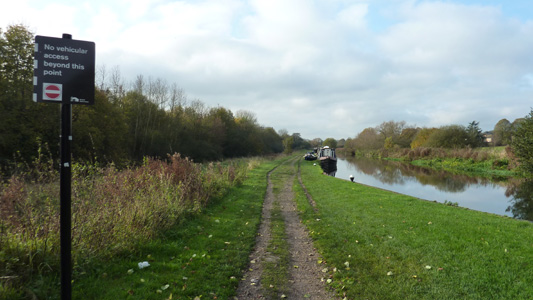 Just past Hemel Hempstead all a bit rural again - except for the roar of trains first to the left then further on, to your right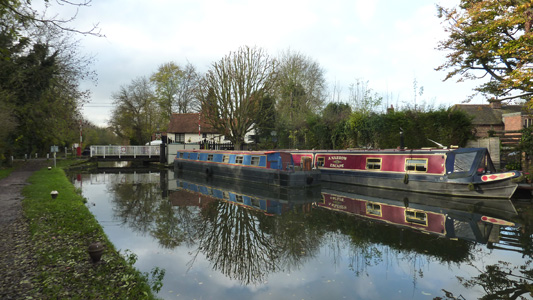 Winkwell Spring Bridge and nicely named Narrowboat - 'A Narrow Escape'
Overflowing Lock Gates Berkhamsted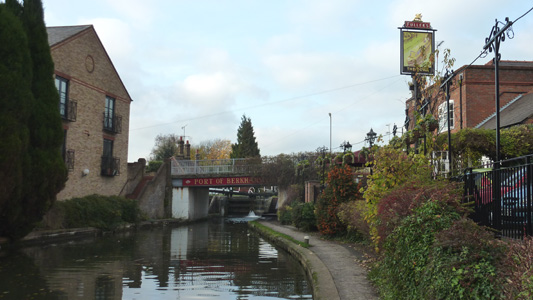 Port Of Berkhamsted - a nice stretch by the canal. I dumped my carcass down on a bench and decide that Tring was not gonna happen today as I was feeling a bit munky by this point and headed off to the very close station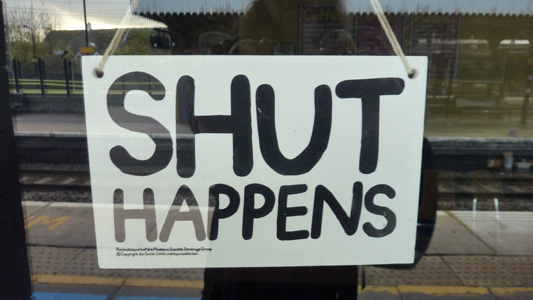 Humourous sign at station buffet, or it would have been if I wasn't gagging for some caffeine! A dose of Lucozade had to substitute
Slough Arm
Saturday 24 March 2012 - 5 Miles
ID24032012#15b
As I was already doing the Celandine and that ends at Cowley Peachey, it was a great opportunity to get the Slough Arm done, as I did not feel I should progress any further with the Grand Union until this was out the way. So, continuing on from the Celandine I just motored down to the basin at Slough, passing Iver and Langley before reaching the grim end in David Brent country - certainly a rather grim little ditch but It had to be ticked off the list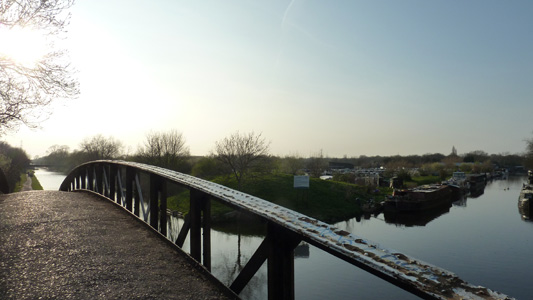 Up the Junction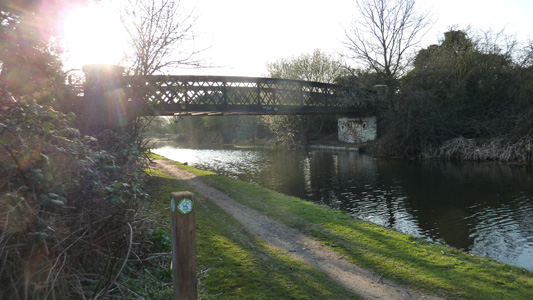 Adios LOOP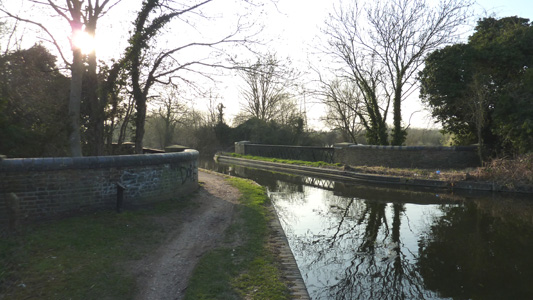 Passing over one of several bridges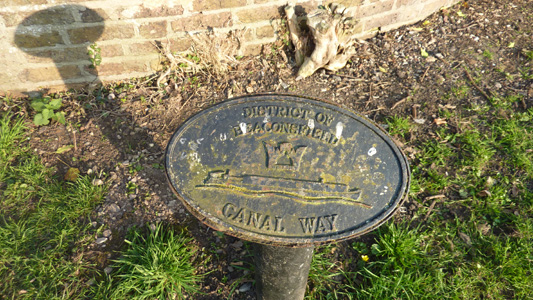 Beaconsfield 'Canal Way' marker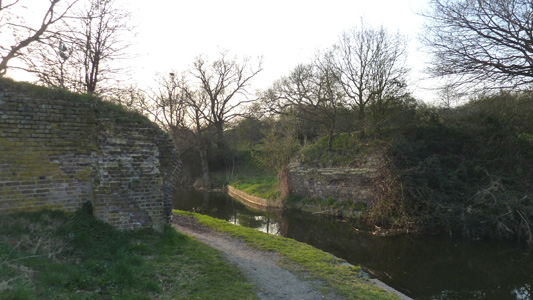 Remains of an overbridge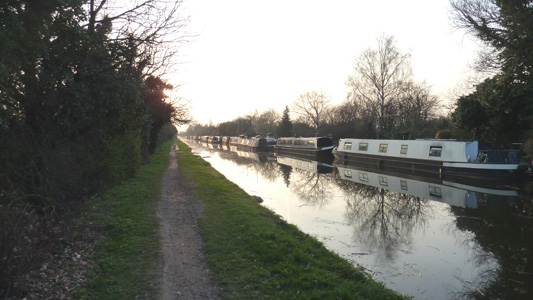 Moorings at Langley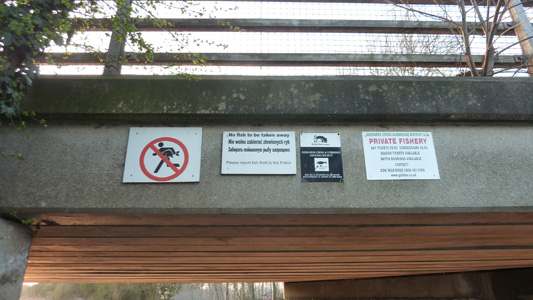 Warning signs not to take fish home - I certainly wouldn't want to eat anything that manages to survive in this fetid ditch of a canal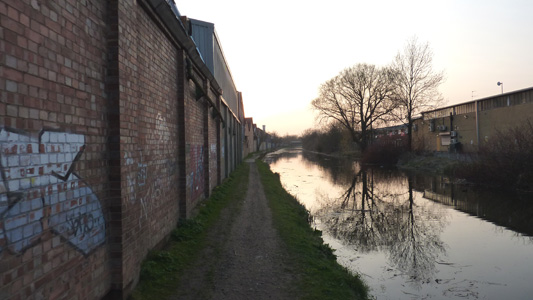 Industrial Units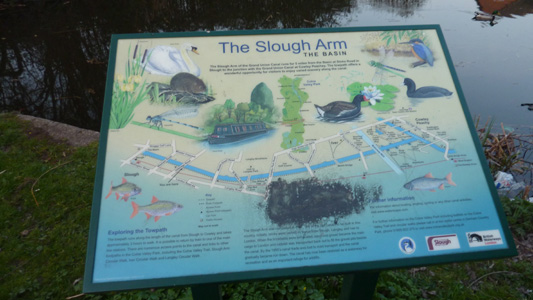 Interpretation panel for the basin - I do appreciate them trying to make the most of this section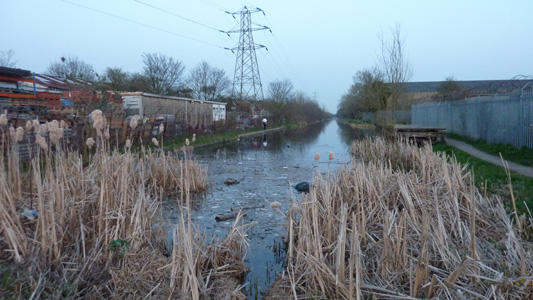 Unfortunately the 'basin' is hardly worthy of the name, rather an anti climax
Wendover to Aylesbury via Bulbourne
Saturday 27 October 2012 - 15 Miles
ID27102012#67
I'm having a bit of a Canal fetish at the moment, I find them fascinating anyway (remember, I am an Annierak) and with such shite weather this year, I have been reluctant to chance walking cross country through deep mud and possibly ending up wading through flood water, so bizarrely, walking by water is actually a good choice, as any precipitation has a tendency to end up in the canal, and the towpaths are generally in good order, so allowing my walking shenanigans to continue...anyway, after taking the train up from Hasties, I jumped ship at Wendover station (after a torturous journey across London due to engineering on the tube) and quickly reached the start of the canal. This arm of the Grand Union (6.75 Miles) has been abandoned for navigation since 1904, but an intrepid bunch Wendover Arm Trust are beavering away to make the whole arm navigable again - at this monent only the first 1.3 Miles are navigable. From Wendover the canal is a ducks paradise, with many of the quacking critters having a kip and being rather annoyed about my presence, but I walked along the delightful towpath by what was in appearance a shallow stream passing into open countryside with the Chilterns as a backdrop, very soon passing through the village of Halton and under a beautiful bridge to pass from the tree lined section into more open countryside before reaching the old A41. Crossing this road and then heading onto Drayton Beauchamp passing under the sympathetically constructed new A41 bridge, and reaching the first dry section of canal, where restoration work is very clearly progressing, with puddle clay work in the reexcavated cut and relining in progress, but no one working on this saturday, probably because the weather has made construction work difficult at the moment. Onwards to pass under two fine wooden bridge constructed by the trust to allow footpaths to cross the canal, with views to Wilstone Reservoir and the trees lining the Aylesbury branch only a mile North of my position. A very short section of canal which is completely filled in at Little Tring is reached, and here also is the present head of Navigation, which is strangely not connected directly with the rest of the canal, but requires a small detour under Little Tring Bridge to reach. Once I had reached the bund I then returned to the Bridge, walking now along the open navigation, passing the old stop gates and Tringford Pumping Station, soon passing a mill building, amazingly still producing Flour (I am so pleased that we still actually make stuff in this country) and very soon on to Bulbourne Junction. I turned North and walked about a mile passing Tring reservoir, passing locks to reach Marsworth Junction. Here I headed westwards on the Aylesbury Arm (6.25 Miles) with its Narrow locks, strangely using two half gates rather than the single gate as I have observed on other narrow canals. There was a stoppage at one lock which seems like it has been ongoing for some time, and I did not see one single boat travelling on this arm only moored craft. I had my lunch by a lock and then carried on. It was quite a desolate walk to Aylesbury, not passing by any villages, with only a few other walkers and a few folk fishing, but was still enjoyable. At the outskirts of Aylesbury the usual vestiges of urban decay started to appear (graffiti, litter, noise etc..) but I was grateful to pop into Tesco's, but when I left ten minutes later there was a brief hailstorm (apart from this the weather was quite cold but sunny). A short walk on brought me to the basin which was quite attractive, with many narrowboats, and right next to the new looking Aylesbury Waterside Theatre. I am not very familiar with Aylesbury, but it was easy to find the station, and luckily I was in the shelter of the platform before it started raining. The tiny little diesel train was dumped me back at Marrowbone and another nice day out came to an end!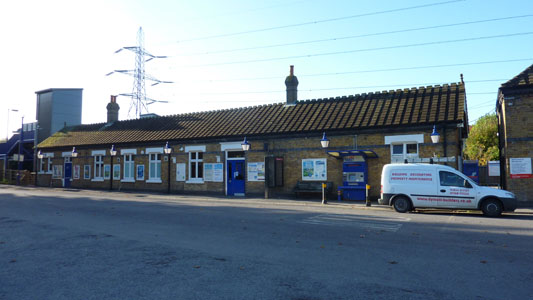 Wendover Station on the lovely line from Marrowbone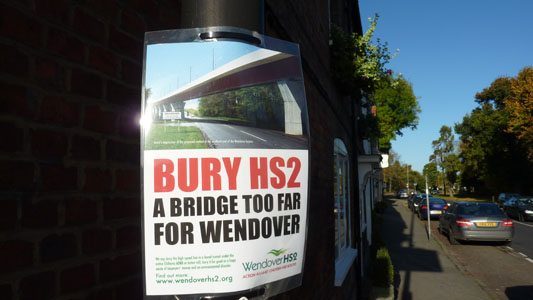 Walking to the Canal, I came across countless stop HS2 posters. I feel that HS2 is a bit of a silly idea myself, only because I believe that the money could be spent on seriously upgrading the Chiltern Line network and rebuild some missing rail infrastructure...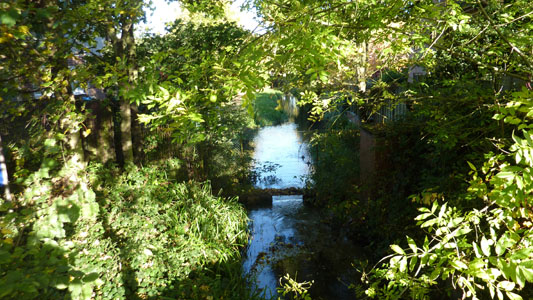 The start of the Wendover arm is little more than a stream - Actually fed by Heron Stream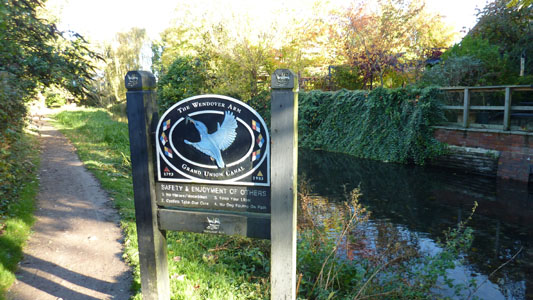 Lovely Welcoming Board for the Wendover Arm. All along the Arm, are many benches and signs giving you information, I was impressed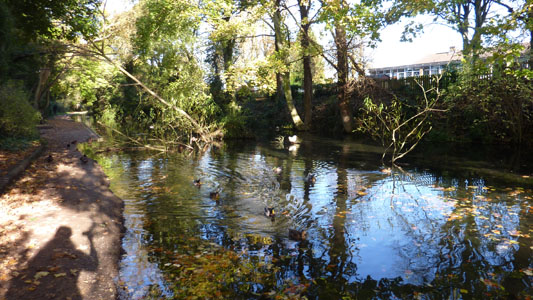 This part of the arm is a paradise for little ducks and other critters. This section is more environmently sensitive that further along the canal and I don't know how this will gel with the aspiration to make the whole arm navigable again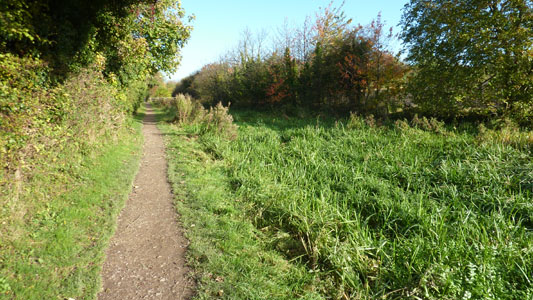 Some of the canal resembles a patch of long grass, however there is still water along all this section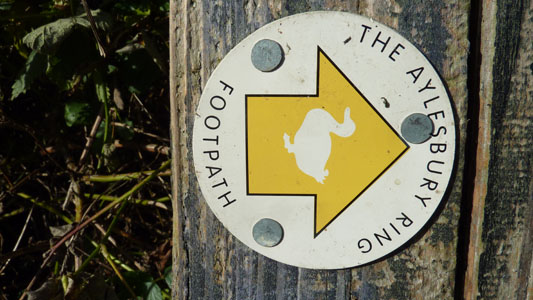 Waymarker for the Aylesbury Ring - sharing some of the route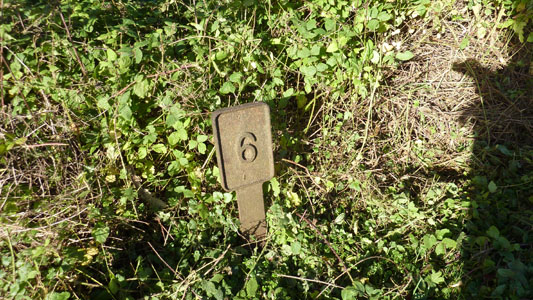 A mile post - presumably 6 Miles to Bulbourne Junction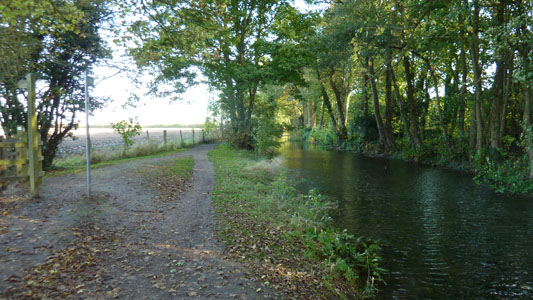 On the Way to Halton their was a rather lovely tree lined section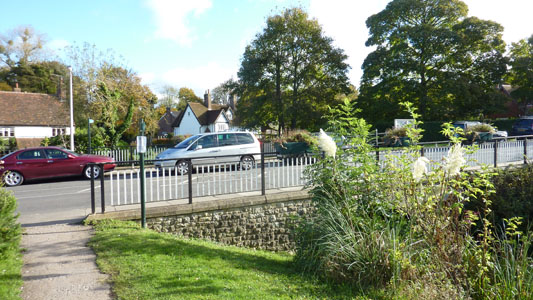 This modern bridge at Halton would have to be rebuilt as it is too low for Navigation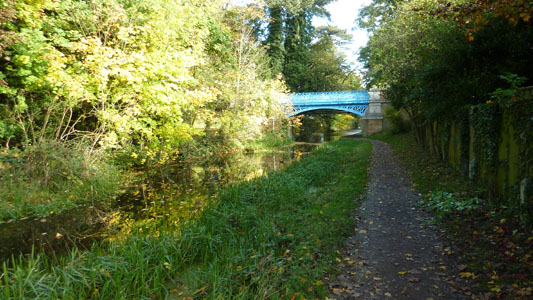 Rothschilds Bridge - very pretty. A private bridge on the estate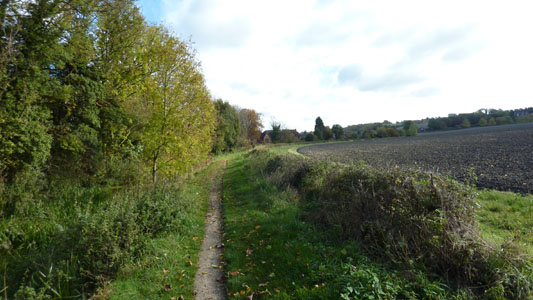 Between Halton and Aston Clinton
Just after the culvert of the old A41, another bridge that will have to be rebuilt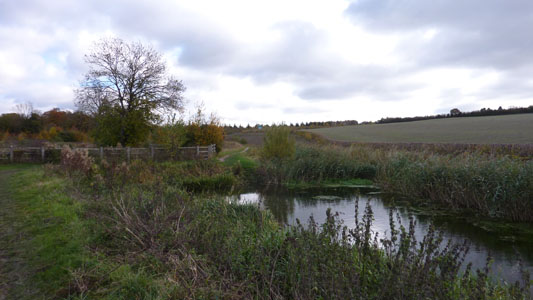 Realignment approaching new A41 Bridge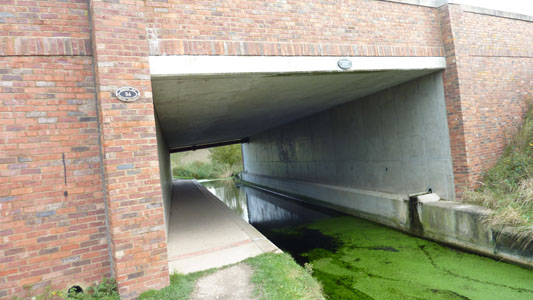 The intelligently built new A41 bridge, with plenty of room for navigation. I cannot stand it when bridges are rebuilt as a cheapo bodge, blocking the way, instead of bearing in mind the possible reinstatement of a canal or railway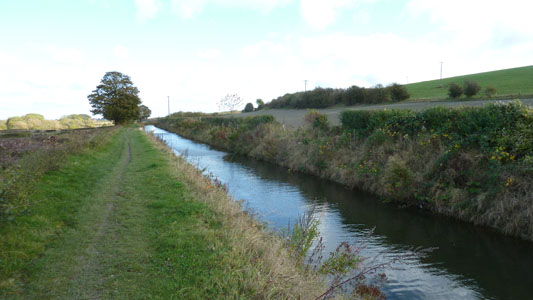 There is a section after the A41 after Drayton Beauchamp which looks navigable, but it is isolated and has earth bunds at either end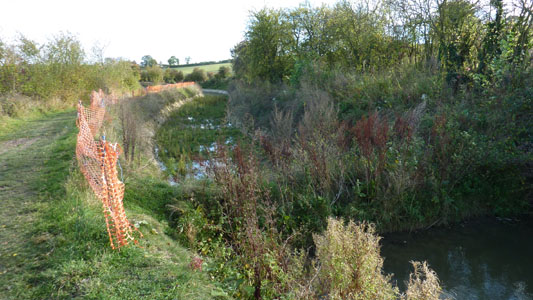 The earth bund leading into the long section being repuddled and having its walls rebuilt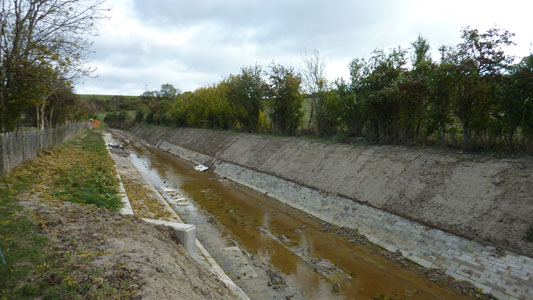 Example of the hard work being put into rehabilitating this canal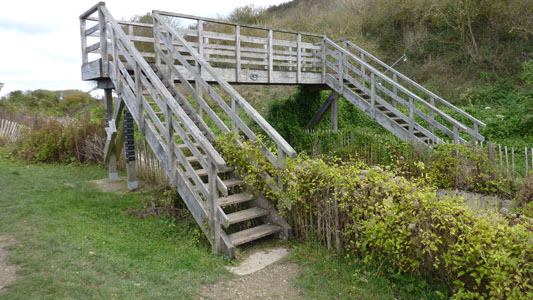 One of two pedestrian bridges taking a public footpath across the line of the canal. There are lots of sponsorship plates attached to the structure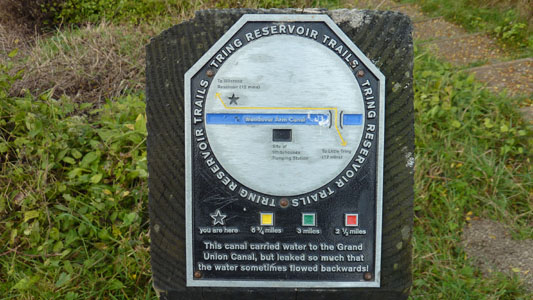 One of many signs for the Tring Reservoir Trails. I love the bit which states that this canal, which was created as a navigable feeder, actually drained water from the main canal, which led to its demise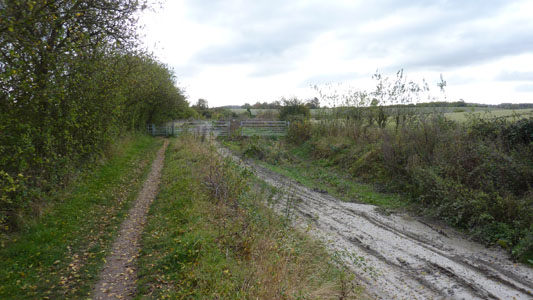 Short section at Little Tring that needs to be reexcavated. Strangely the towpath isn't contigious and you have to walk up the road to reach the bridge over the canal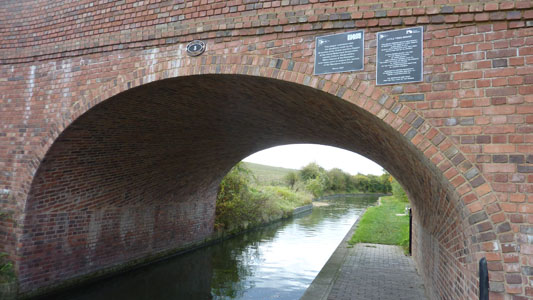 Walking up the road brings you to Little Tring Bridge. Walking back under here you can follow the canal back towards the dry/filled in section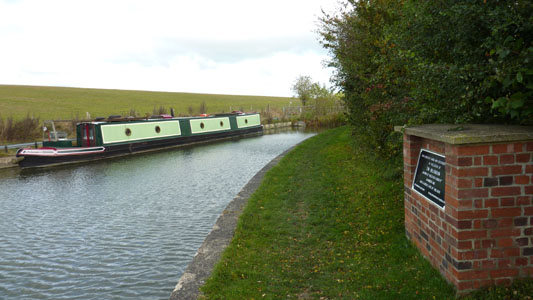 Only a short way on from the bridge, there is a winding hole and the end of navigation for now. The plaque comemorates the rebuilding of this first section from the stop lock to here in 2004 by the legacy of Tim Wilkinson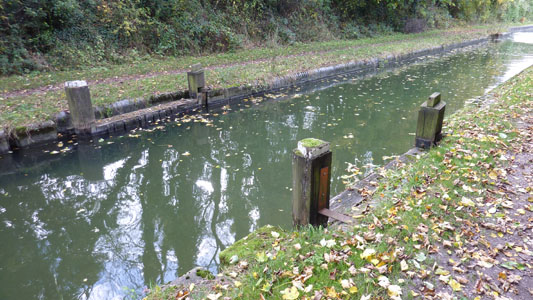 The old gates that blocked the canal near Tringford pumping station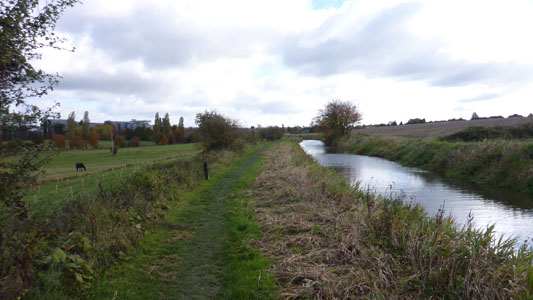 Open Countryside between the pumping station and Heygates Mill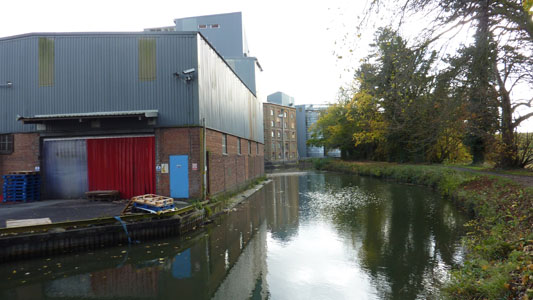 Heygates Mill - Not using the canal for transportation, but at least still an extant business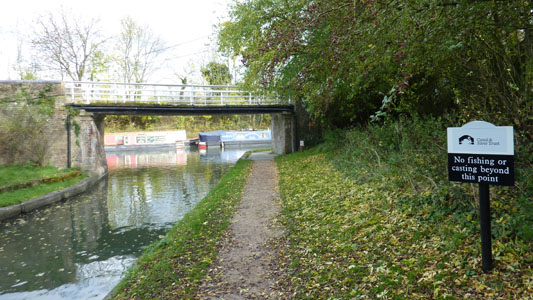 Approaching Bulbourne Junction, and the mainline canal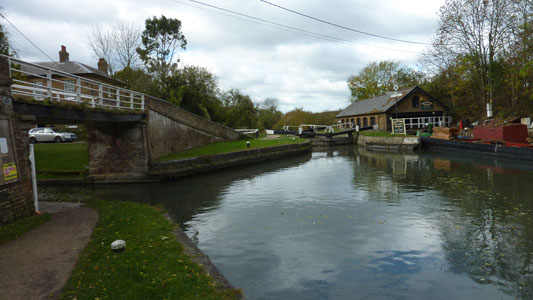 Bulbourne Dry Dock. Now heading north to the Aylesbury Arm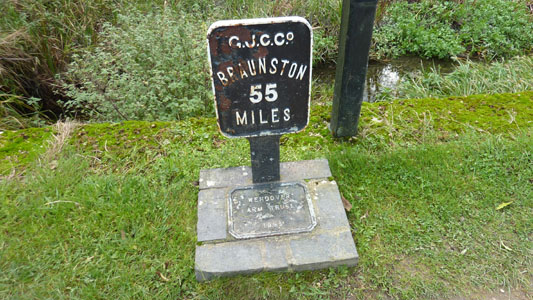 That pesky Braunston still a long way aways...
Give a Newt a Home...ahh, sweet!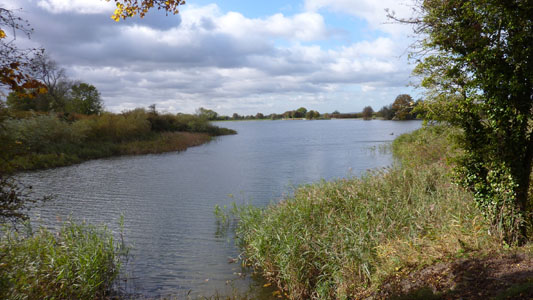 Tringford Reservoirs. The short section up to the Aylesbury Arm will have to be rewalked when I continue the main line up from Berkhamsted, but It was very pleasant and I don't mind...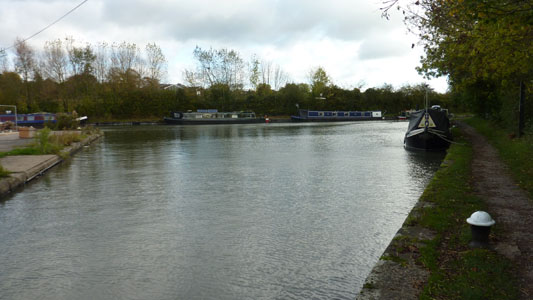 Reverse shot at Marsworth Junction, from the start of the Aylesbury Arm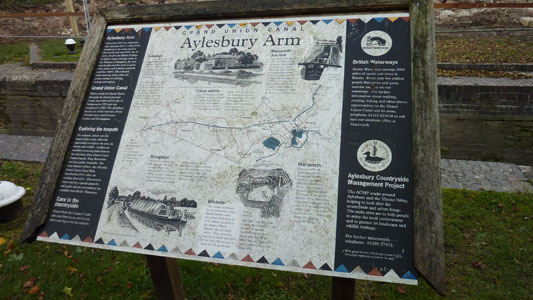 Aylesbury Arm Interp Board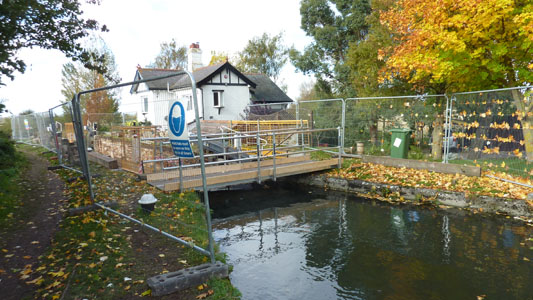 Stoppage at Lock 4
Barges being used at the stoppage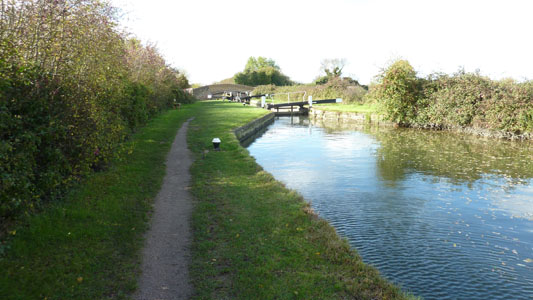 Lunch time on the bench by the bridge near Wilstone. The peace was constantly shattered by cars beeping as they crossed the hump back - annoying, but sensible as they alerted other drivers to their presence on the narrow blind bridges, this was the case for several more bridges towards Aylesbury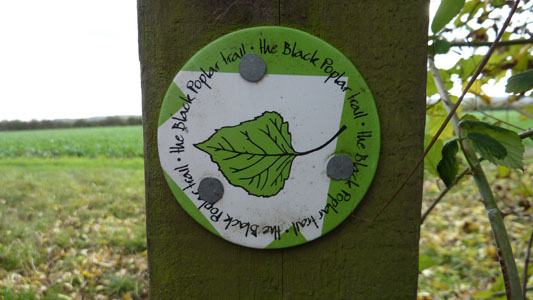 Waymark for Black Poplar Trail, the only info I could find online was that it passes through Millhoppers Nature Reserve, but the links just bring up a 404, but apparently the tree is one of our most endangered (although it looks like we are about to start loosing our Ash Trees bigtime), and is located at Wilstone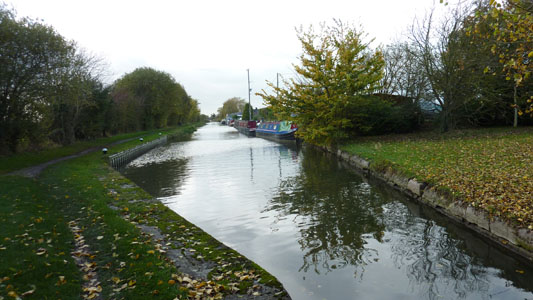 A nice little boatyard (Bates?) at the start of a longish pound section. I encountered several groups of bored looking anglers along here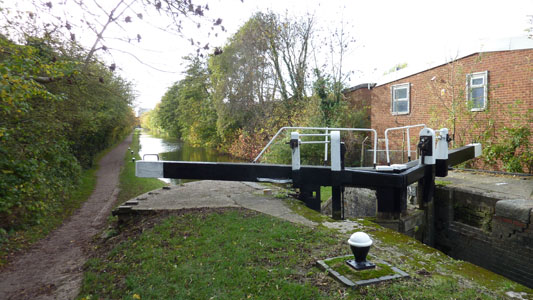 Approaching the edge of Aylesbury, town centre building in far distance. Notice the split narrow locks, standard on most of this canal
Ducks in Aylesbury...not Aylesbury Ducks!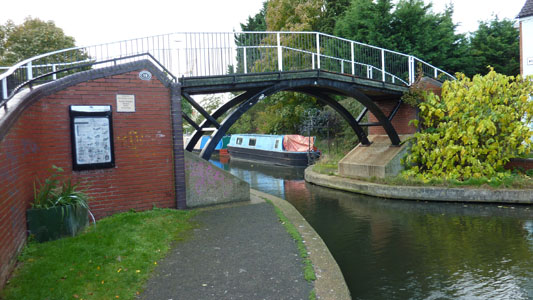 Lovely pedestrian bridge, spoilt with the predictable Graffiti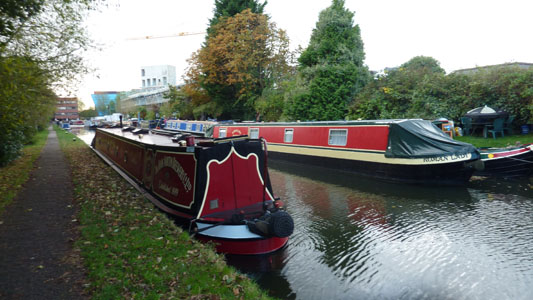 Aylesbury Basin, rather pleasant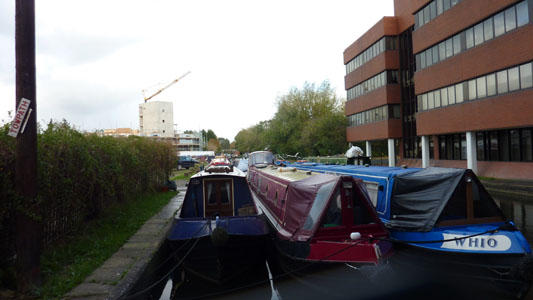 Other end of basin, end of canal. Apparently following the towpath requires a jetpack!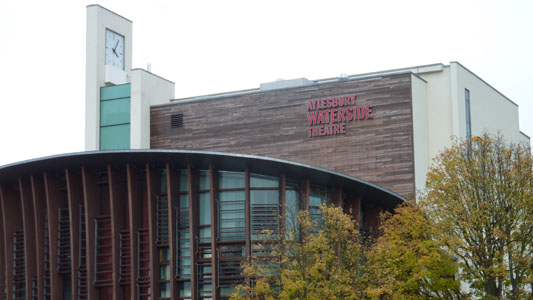 The basin is dominated by this attractive theatre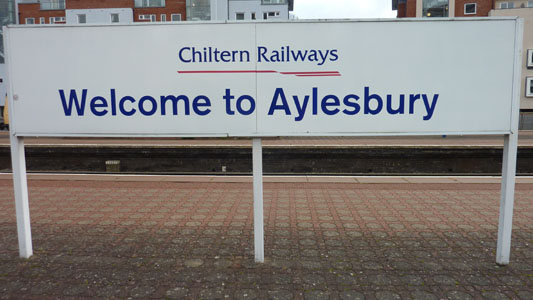 Sign at the station. The rain had started shortly before with a bracing hail storm, thankfully brief, half hour previously. All I wanted was to get on the train and make skeddadle plans back home, but it had been a fabulous walk
Berkhamsted to Leighton Buzzard
Sunday 18 November 2012 - 15 Miles
ID18112012#73
Saturday weather was a bit mixed, so with today forecast sunny this was the day. The problem is that on Sunday the first train is over an hour later than Saturday, so my walk started later, but with Leighton Buzzard being the obvious destination it was clear I should make it before dusk. After train shenanigans via Euston, I arrived at Berkhmansted and launched straight down the towpath, under several bridges and quite urban initially, then past small Dudswell, crossing the Chiltern Way at Cow Roast Lock and passing under the road bridge at Tring leading to the Station and also carrying the previously walked Ridgeway. The next section was up to Bulbourne, and from there up to Marsworth, I had to rewalk the section previosly done to connect the Wendover and Aylesbury branches together. I stopped briefly to pick up a coke in the thriving 'Bluebells' tea room, then onto new territory, to cross back under the WCML (a constant companion) at Cooks Wharf. Now with the railway a little to the left, a more rural section continuing North, passing wide of Cheddington and its station, to pass Ivinghoe Bridge, Horton Wharf and up to Slapton Lock. Everything at this point was on schedule, as I sat down and had my scoff, watching a boat navigate the Lock. Unfortunately, some twently minutes after setting off again, I reached for my GPS unit that I carry in a pouch on the side of my rucksack, and to my growing horror, realised was missing...I had to retrace my steps back towards Slapton Lock - on the way outwards I had to stop for a 'comfort break' and I recall getting snagged on some brambles and not thinking anything of it at the time - I presumed I would find the unit on the ground or stuck in a bramble bush, but after prodding around for twenty minutes with no trace and even going right back to the Lock Bench it was nowhere to be found. No one was around to steal it, apart from the vague possibility of a fisherman nearby, but this seemed unlikely. I had to give up and carry on quickly to Leighton Buzzard Station as this sidetrack had lost me around forty minutes and I route marched, passing under the high A4146 bridge, under the old rail line to Dunstable and after the encroaching town, jumped ship from the towpath at a bridge and took the short walk West to reach the tucked away station. Obviously I was not a happy bunny, having spent £230 on the unit two years ago, but I guess Shit happens...as we speak I am bidding for a used unit as it is essential for cross country walks in particular and just a reassuring item to have on me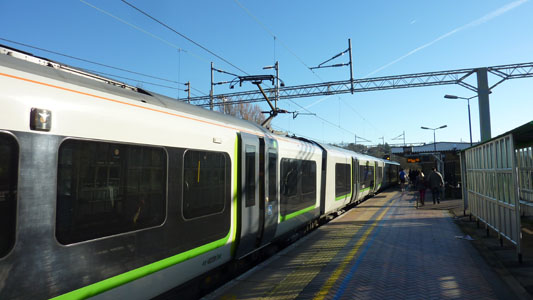 My trusty steed at Berkhamsted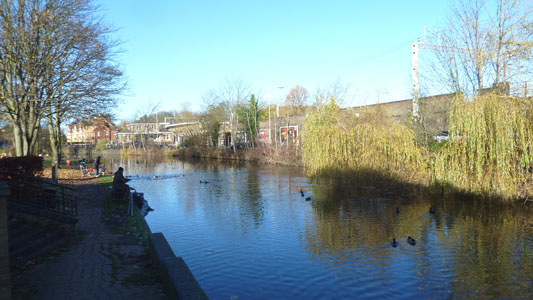 Gone Fishin' at Berkhamsted (opposite the station). Hope no one catches a two pound black ribbed knobbler!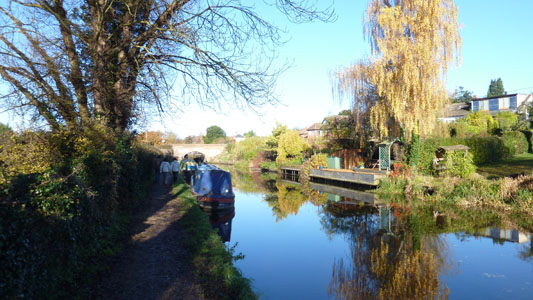 Fun in the sun near Northchurch, Berkhamsted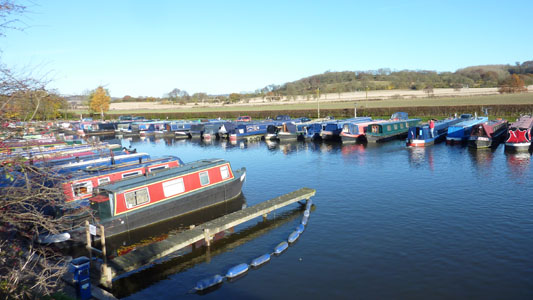 Boat Marina, Cowroast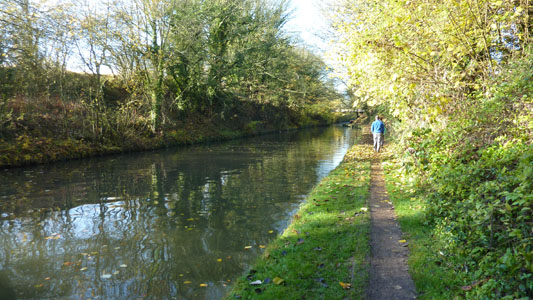 Section towards Tring in cutting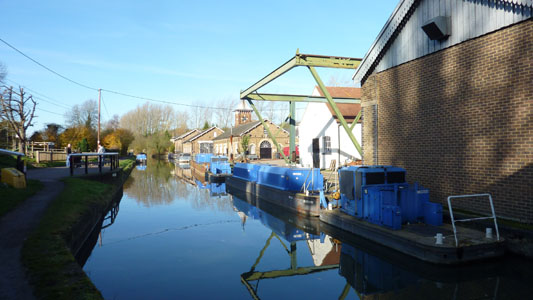 Bulbourne near Wendover Arm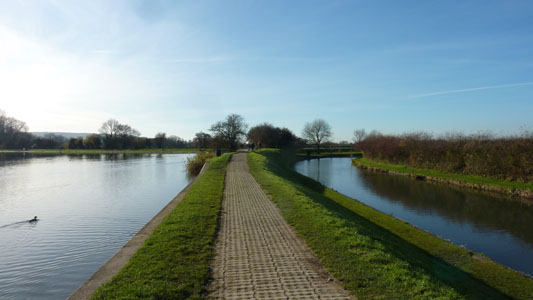 Tringford Reservoirs reload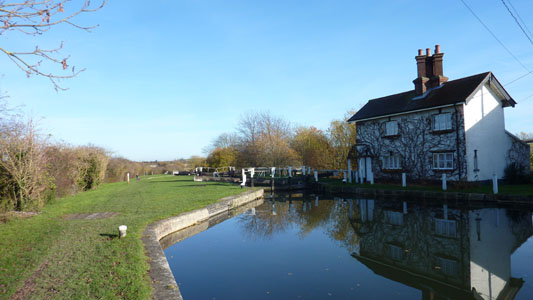 Grass towpath and rather quiet between Marsworth and Cooks Wharf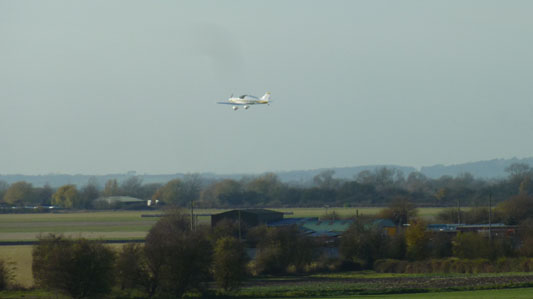 I think this plane may have been landing at Cheddington Airstrip, but it seems difficult to ascertain whether this is an extant location!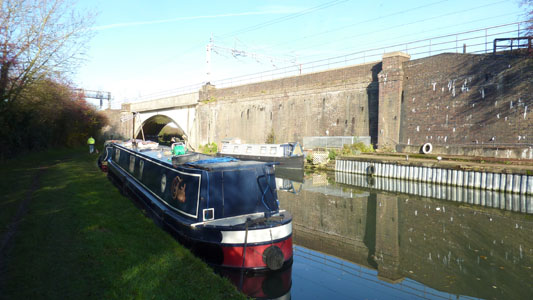 Passing back under the WCML at Cooks Wharf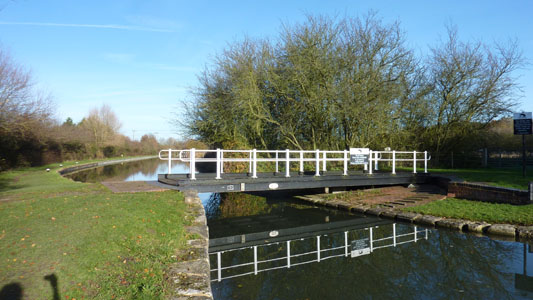 Swing bridge at Cooks Wharf. Must be a bit of a pain for boaters, but a notice on the bridge reminds them to close it after passing as it serves a public footpath
Seabrook Lock and former Pumphouse (I looked through the window - nothin goin on)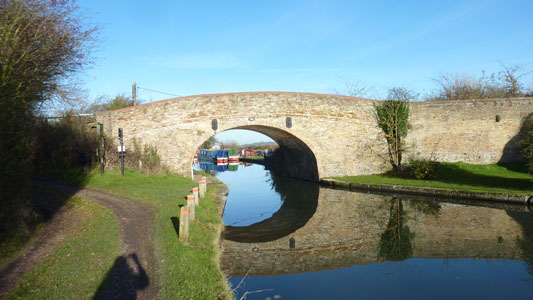 Symmetry at Bridge 123. Apart from that appalling black blob on the left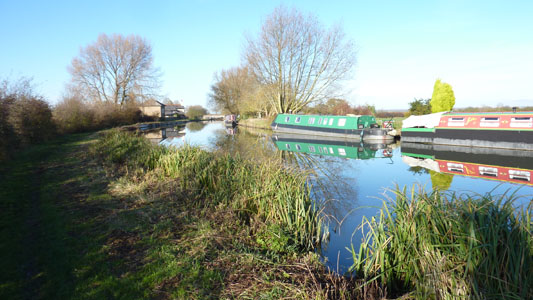 Towards Horton Wharf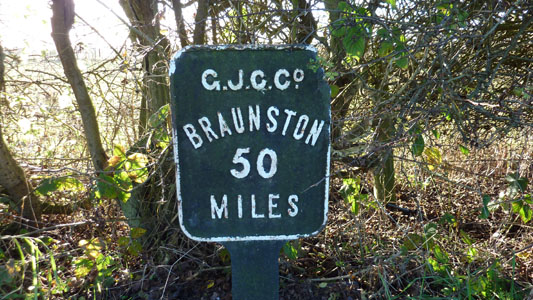 A mere 50 miles to the almost mythological Braunston...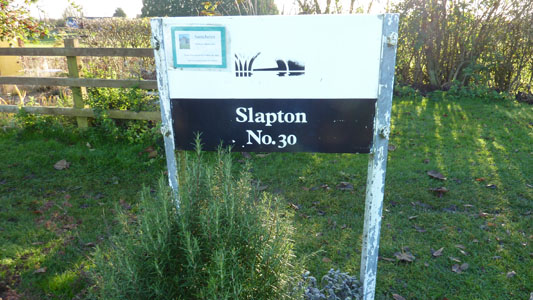 A little Herb Garden for Boaters at Slapton, what a nice idea. Rosemary I think...My Karma went a bit munky shortly after when I lost my GPS unit after having my lunch here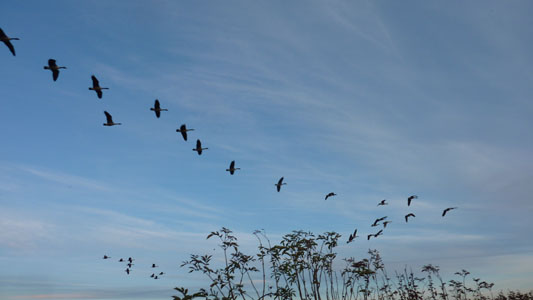 Geese doing their thang near Grove, after I had given up on finding my GPS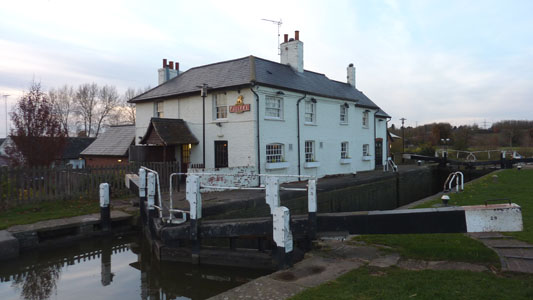 Grove Lock and Pub. Was feeling sorry for myself but some poor old dear in a wheelchair made me realise that at least I can still walk and have a few years left on this planet (hopefully) so cheer the fuck up!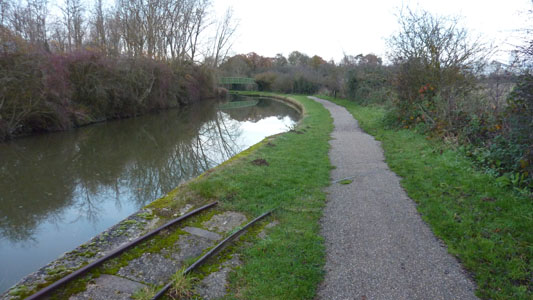 Funny bit of narrow gauge track coming into Leighton Buzzard. Nothing to do with the Leighton Buzzard Railway, but maybe a loading siding from years back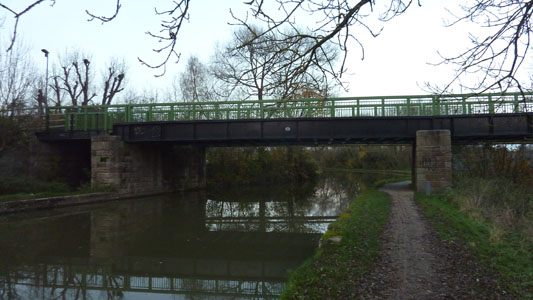 Going under the bridge once carrying the railway between Leighton Buzzard and Dunstable. At least it is now a way for the locals to get across town
Near Leighton Road, where I left the towpath and made my way to the Station. Next section will be to Wolverton (Milton Keynes)