Ridgeway National Trail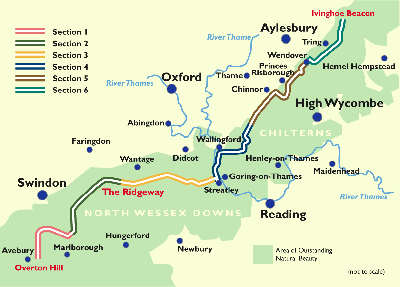 Now one of fifteen long-distance National Trails in England and Wales, the Ridgeway heads Northeast, from its trail head at Overton Hill to its tail at Ivinghoe Beacon, near Tring. Opened as a National Trail in 1973, the Ridgeway meets the much newer Thames Path at the Goring Gap where both trails use the banks of the River Thames between Goring-on-Thames and Mongewell - the Thames Path following the western bank and the Ridgeway hugging the eastern bank.
Walked: Avebury to White Horse Hill, White Horse Hill to Goring, Goring to Princes Risborough
Avebury to White Horse Hill
Monday 6 April 2009 - 22 Miles
ID06042009#11
After a very early start from East Sussex (0519) Avebury was reached via London and Swindon by 0940, then after stocking up at the local store, and checking out the fascinating stone circle, got out on the trail initially along the Wessex Ridgeway, and shortly joined the Ridgeway NT. Across the Marlborough Downs to climb Barbury Hill, where a big bunch of sheep were being herded together, and through the earth perimeter walls of the ancient Castle, along Smeathe's Ridge (beautiful) to pass South of Ogbourne St George. then North to Liddington Hill (another ancient Castle), having lunch at a windswept wartime bunker, then crossing the M4 changing to North East, passing Wayland's Smithy Neolithic Long Barrow, and finishing at White Horse before taking the path down to Britchcombe Farm and pitching my tent there. Very welcoming Reception - and a pack of homemade flapjacks! She also mentioned about an Earthquake in Italy, that I hadn't heard about - it is amazing how quickly you become 'unplugged' when out walking - I actually enjoy a temporary disconnection from the realities of life...
Later walked into Uffington village, and had an agreeable couple of hours in the pub, before a spooky walk back under a full moon to the tent. Maybe due to the light drizzle, several sweet little froggies were sitting by the side of the road...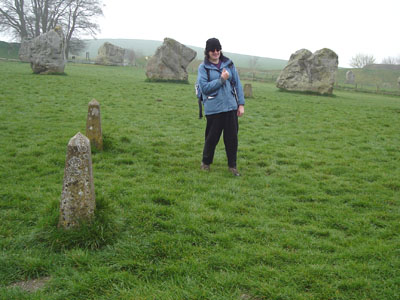 Yes...just get on with it please!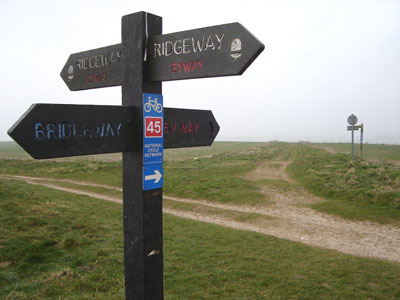 Junction with National Trail. Overton Hill (The official start) is very close by - but Avebury is easier and nicer to start from.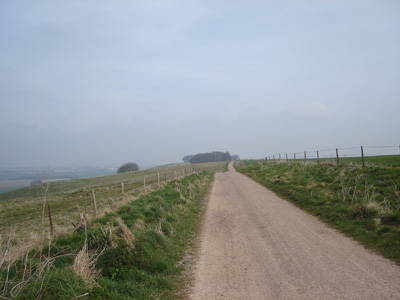 Marlborough Downs
Approaching Barbury Hill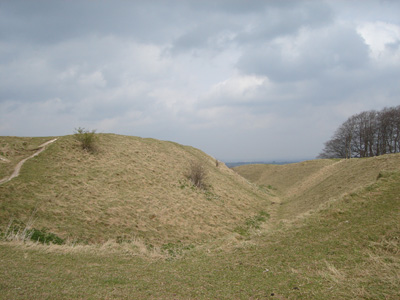 Atop Barbury Hill - defensive ditches for Ancient Fort/Castle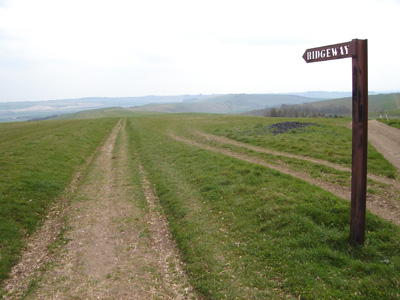 Smeathe's Ridge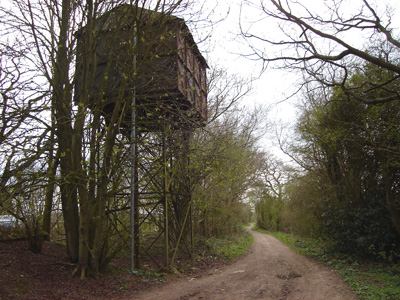 Impressive Water Tower near Liddington Hill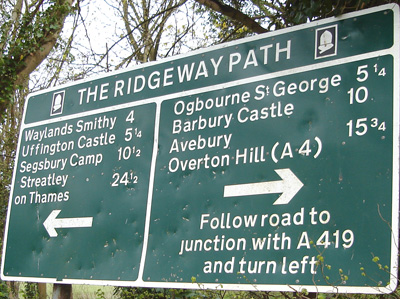 Very Main Road style sign encountered at Fox Hill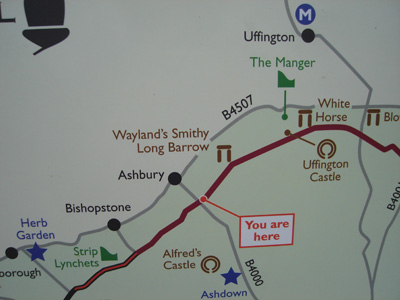 Difficult to get lost on this one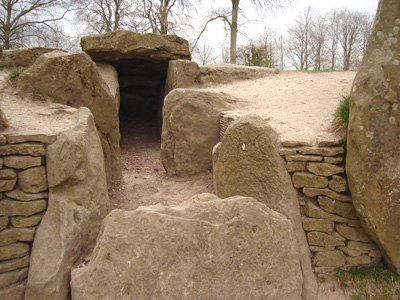 Wayland's Smithy Long Barrow - Neolitic Burial Chamber - Actually the rebuilt larger second structure, excavated in 1963, lots of nawty skellingtons found!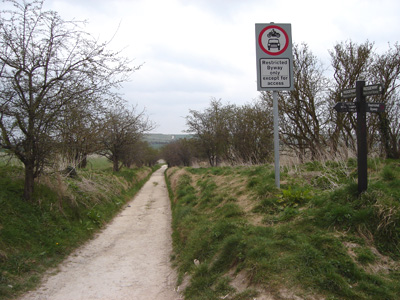 The Ridgeway has had a long conflict of interest between motorised traffic and more leisurely usage - a 4x4 in the face often offends! Most of the sections are now restricted to access only for motors, or only during summer months, although this will continue to cause conflicts of interest.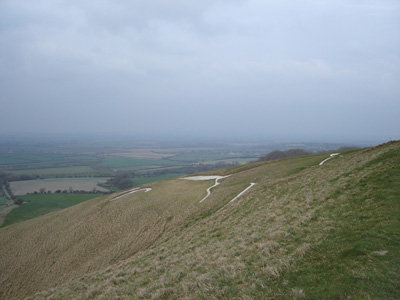 The famous White Horse of Uffington, one of many in this area. Best seen from the ground though.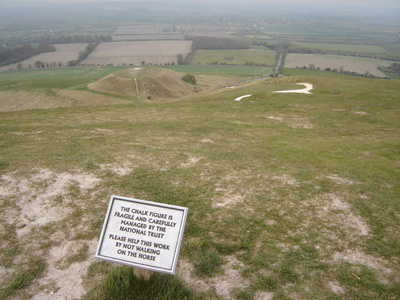 Yes - behave! The horse needs regular upkeep from the National Trust, as all these figures will eventually fade away if the chalk isn't scoured, but they don't need all us tourist muppets walking over it either.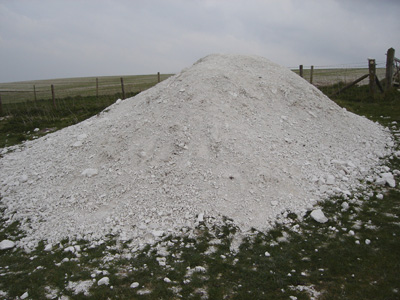 A nearby pile of chalk - must be to do with the 'orsey..? Now time to get the tent up - innit, at Britchcombe Farm at the bottom of the hill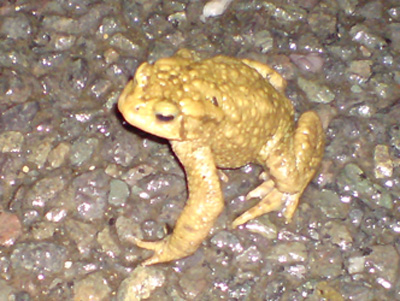 Not actually on the Ridgeway, but I thought this little Froggie I nearly stood on in the dark on the way back from the boozer was rather sweet
White Horse Hill to Goring
Tuesday 7 April 2009 - 20 Miles
ID07042009#12
Unfortunately got rather frozen in the night, and found out in the morning I could have borrowed a couple of blankets from the reception, so felt a bit sorry for myself. But a sweet dawn chorus of farm critters - a hot shower to cleanse the carcass and a very cheap brekky mixed with a nice dose of sun made me feel better 'bowt stuff. A stiff climb back up the Ridgeway saw me walking past the Devils Punchbowl and with a view of Didcot Power Station dominating the view for miles, eventually reaching Segsbury Castle then the A338 Wantage Road, It seemed almost an eternity to pass Scutchamer Knob (Ancient Meeting Place).
Due to no shops on route, I had my meagre provisions left from the previous day - by the A34 Tunnel (Luvvly!) Later, a couple of Glucose Gel 'shots' and judicious dousing with water at the very welcome taps provided in several locations brough me back on line, and I was determined to enjoy my last few hours of this adventure before having to return home, so chilled out and got on with it. Beautiful countryside and a close encounter with an enchanting bird of prey North Of Compton (Not LA!) lifted my spirits further and I finally rolled into Streatley, walking across the Thames (Path walked in 2007) and into Goring and along to the Railway Station. A broken rail meant a big detour at Guildford, but hey and all that!
My temporary gaff at Britchcombe Farm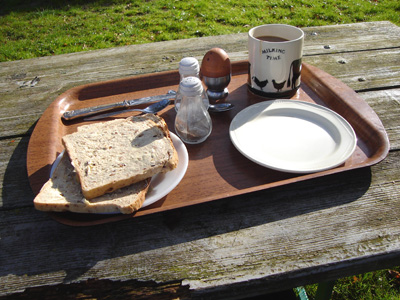 This dose of brekky (a steal at £1.50 - try buying a coffee for that!) really hit the spot after a cold kip. The free range eggy wegz are from the chooks about five metres away!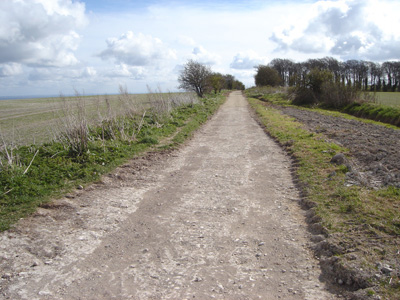 Hit the road Annierak...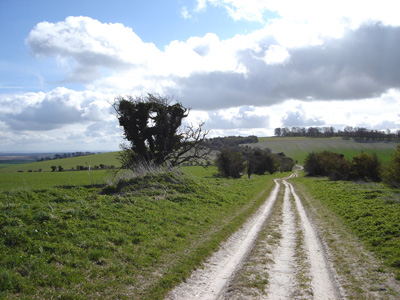 Lots of this luvvly kind of stuff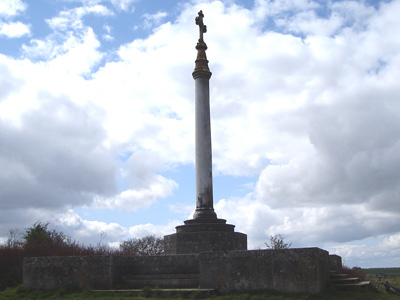 Wantage Monument - memorial cross to Robert Loyd Lindsay, one of the founders of the Red Cross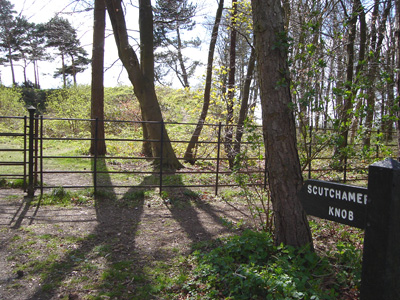 Scutchamer Knob - not that impressive now - but an ancient meeting place, where people could sort out their differences - peacefully presumably, not in a 'Mad Max' type showdown, although at least they didn't have chainsaws then!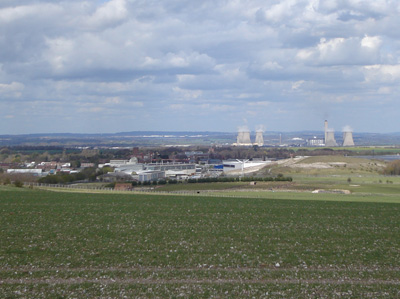 The twin delights of Didcot Power Station and UKAEA Harwell - Well people, if you want 'leccy its gotta come from somewhere. I don't know about you, but heat and light sure does it for me!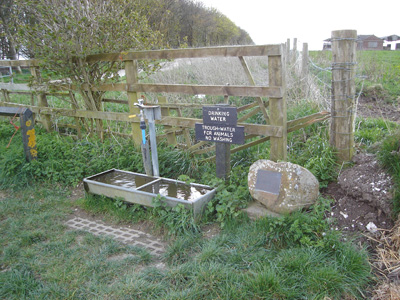 A very welcome water tap on Several Down, for a great dosing of the wet stuff. If you've got doggies in tow, they can use the trough.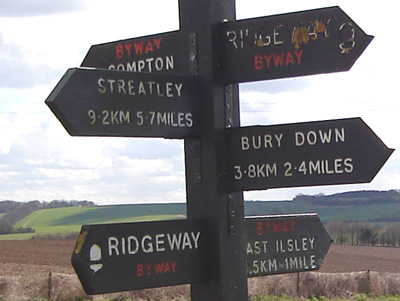 Certainly the bestest waymarked trail I have ever followed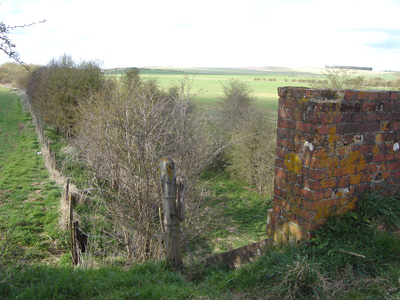 Poor little ex-railway - looking Didcot direction. Just by this bridge a huge bird of prey soared around for many minutes - a wonderful spectacle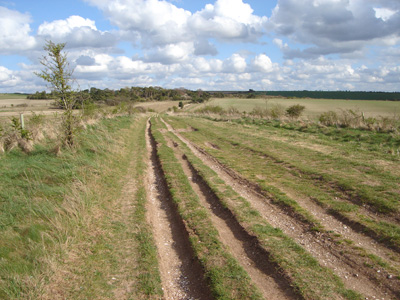 What happens if you let a 4x4 do its thang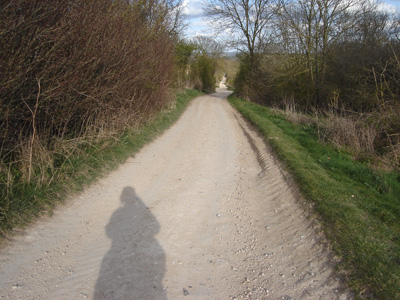 Me and my shaadooww...still a few miles to Streatley/Goring
Are we there yet? Nope - another 2 miles innit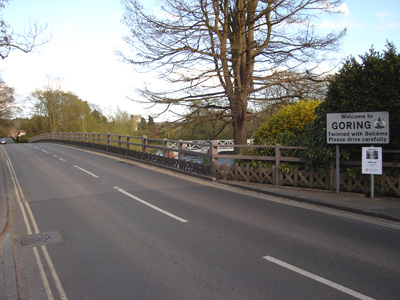 Streatley comes first, then the Thames at Goring. Later, waiting at the train station you almost get deafened and blasted by the incessant high speed shenanigans of the HSTs and Goods Trains...!
Goring to Princes Risborough
Saturday 18 July 2009 - 25 Miles
ID19072009#21
A very long days walk. Didn't get to Goring until 1245 and then followed the route up near the Thames to Mongewell, then east along Grim's ditch for 3.5 Miles, late lunch at Nuffield Church, then a general North East direction joining the Swan's Way and then passing near to Watlington, shortly after that crossing the Oxfordshire Way and passing under the M40 near Lewknor. Onwards passing near Chinnor and really into the Chilterns, with some difficulty route finding at Lodge Hill as it was chuckin' it down (England in July!) and crossing two railway lines and onto the edge of Princes Risborough. I was soaked through, but the rain was quite refreshing initially. Almost missed the train to Marylebone, and could only get as far as Eastbourne, so had to be picked up at 0144. A long hard wet day, but knocked out a big chunk of the Ridgeway, leaving only one more section to get to Tring, my final walk on this path (until starting the Icknield!)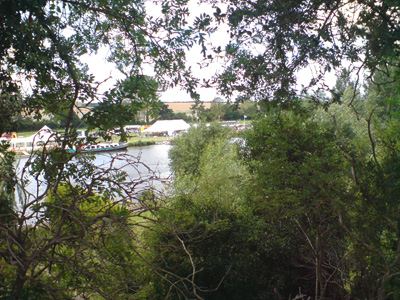 Goring & Streatley Regatta in full flow - I think I heard a Punch & Judy Show!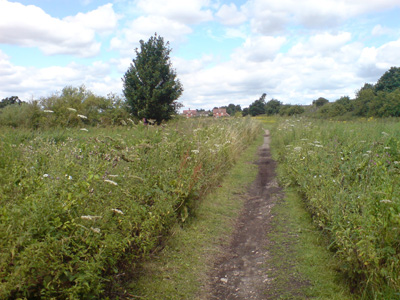 Approaching South Stoke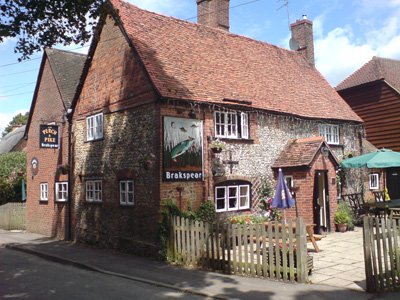 The Perch & Pike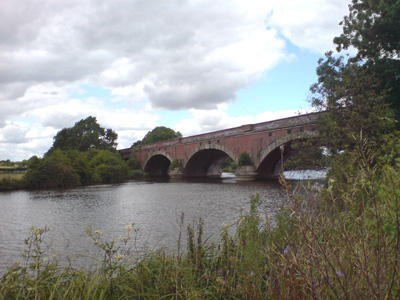 Moulsford Railway Bridge - Very similar to Maidenhead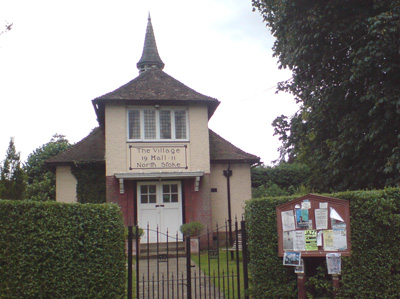 North Stoke Village Hall - Very Quaint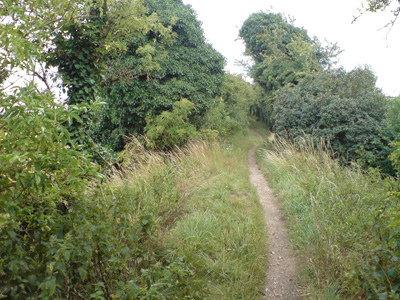 Narrow enclosed path at Mongewell Park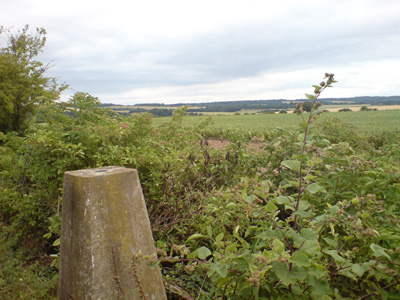 Trig Point looking towards the Chiltern Hills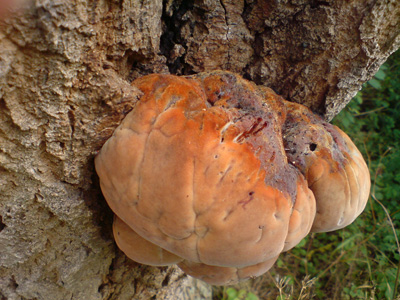 This massive brain like fungi growing on a tree along Grim's Ditch, which was a bit of a slog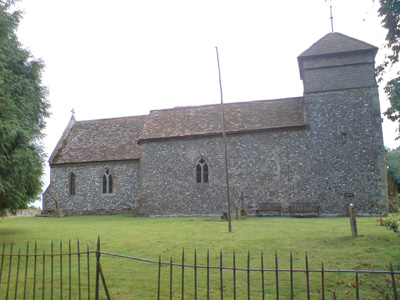 Nuffield Church - A lovely spot for late lunch
Gangsdown Hill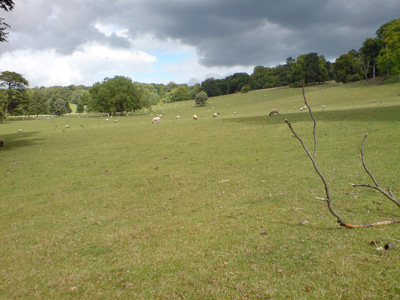 The storm clouds start to gather - Colliers Hill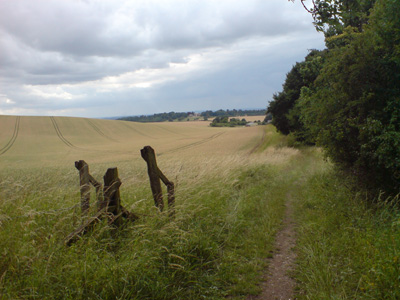 Not far from Swan's Way Junction - A bloke walking his dog warned me about an errant 4x4 rider, but I never come across him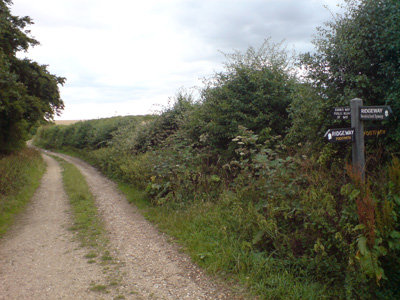 Swan's Way Bridleway Junction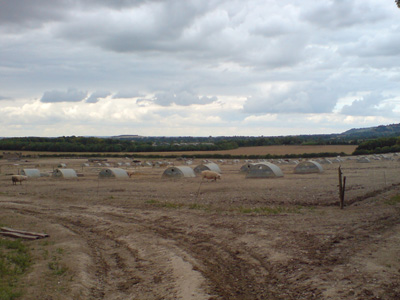 Piggies - Poor little porker let out a squeal when I approached gingerly for a shot - I'm not that scary!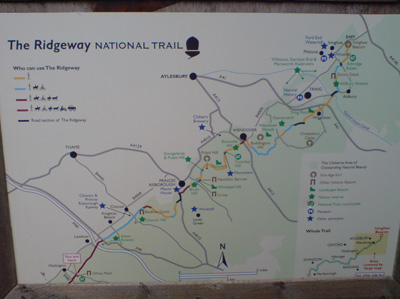 Wish you were here?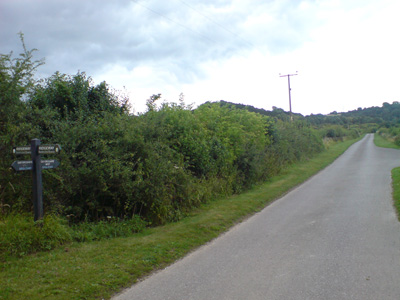 Crossing the Oxfordshire Way near Watlington. Starting to rain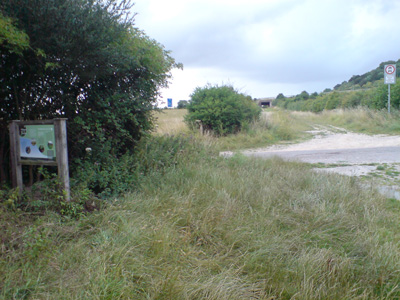 Underbridge in distance for M40
Chilterns near Chinnor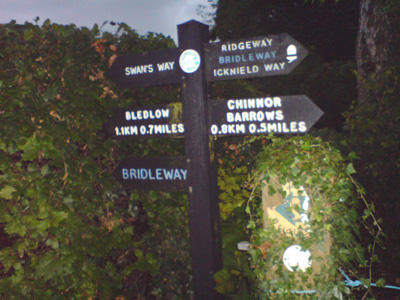 Chuckin' it down now - no more piccies before Princes Risborough (another couple of miles of soggy sloggy)
Princes Risborough to Tring
Sunday 2 August 2009 - 15 Miles
ID02082009#22
After a short break to see Miranda Hart TV show being recorded, back for the penultimate dose of the Ridgeway. After a pleasant trip from Marylebone, I then had a bit of a brain ache working out the route through to the town centre and to rejoin the path, but worked it out after raiding M&S for some supplies, on a hot day. From Princes Risborough, a stiff climb up to Whiteleaf and across Pulpit Hill and a pleasant section down to a rather fortified Chequers (The Prime Ministers Country Gaff) then more climbing, to get at the Coombe Hill Monument, with magnificent views. Then an attractive walk into Wendover, a pretty little town, before a slowly climbing path through Hale Wood and then fields to a transmitter tower and back into woodland, eventually reaching Wigginton after a lunch break, and descending into Tring.
I found this section rather hard going in places, with some stiff climbs, but it was very pretty and quite lonely in places. Tring Station seems very disproportionately large for the Town, but clearly attracts a lot of commuters during the week.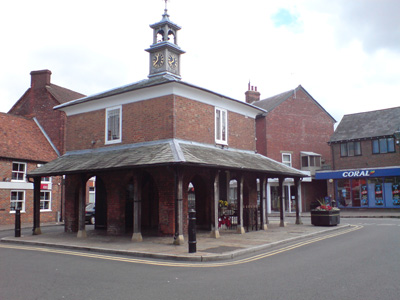 Princes Risborough Market Place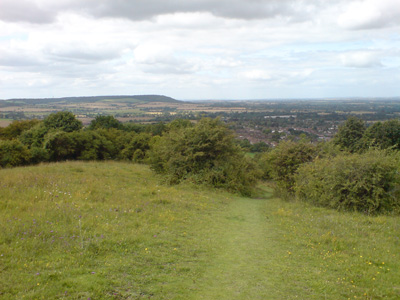 Looking back from Whiteleaf, after stiff climb from Princes Risborough. Cor Blimey guv, and all that!
Just in case you don't know wha'cho lookin' at - Whiteleaf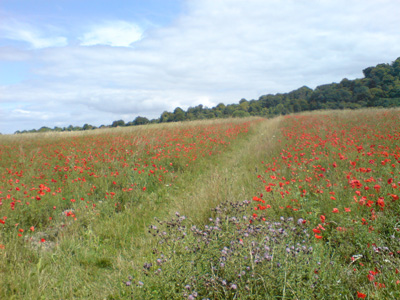 Anuva stiff climb then a beautiful field of poppies at Pulpit Hill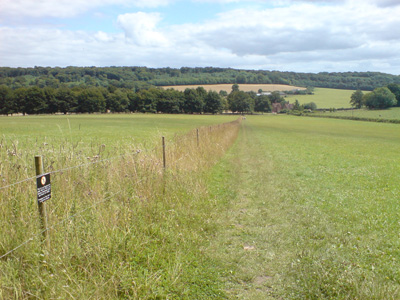 Walking down to Chequers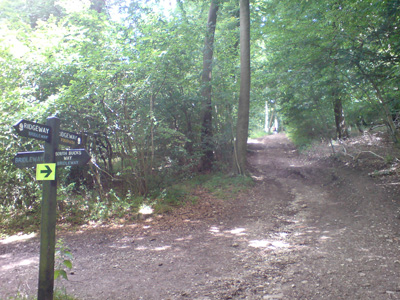 Joining the South Bucks Way - not a long one (23 Miles)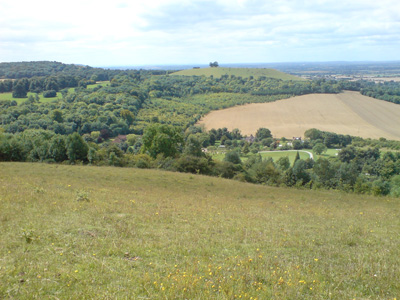 Looking down to Chequers from Coombe Hill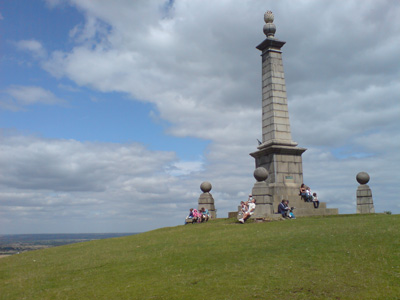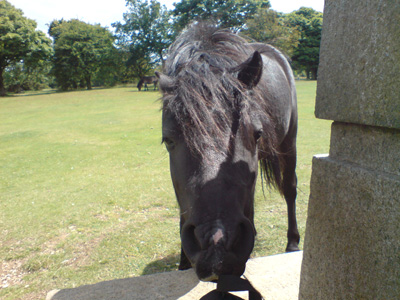 Naughty Horse wants my scoff. Given a banana and back for more!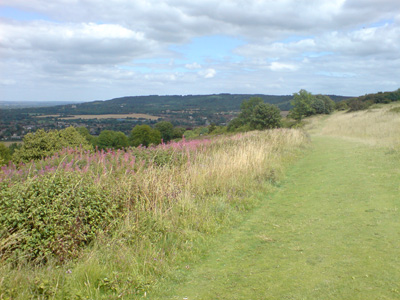 On the way down to Wendover
A brief stop in Wendover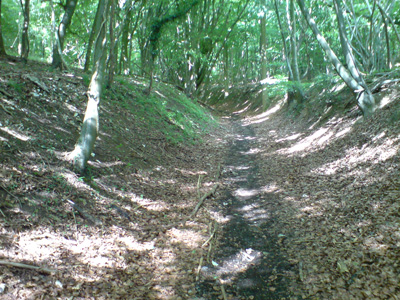 Sunken lane in Hale Wood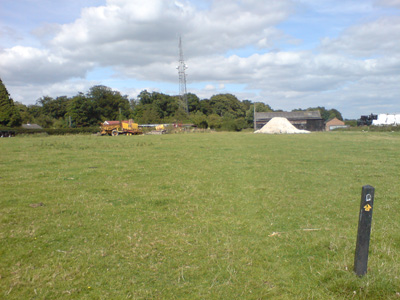 A brief section in the open - transmitter tower in distance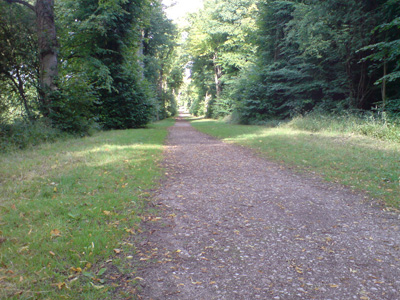 A leafy wander through Tring Park. Nice and level and all that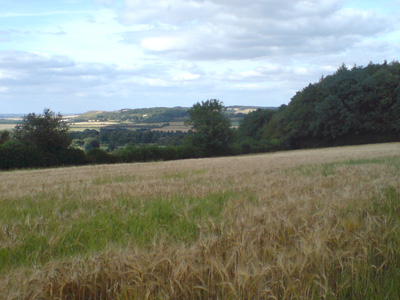 A glimpse at the final obective (not today) - Ivinghoe Beacon
Crossing Grand Union Canal - short stroll on to station
Tring to Ivinghoe Beacon
Monday 10 August 2009 - 3.5 Miles
ID10082009#23a
The final sliver of the Ridgeway. As I had already walked the Lea from Leagrave to London, it seemed a sensible idea to truck on to there, so for the rest of the days walk, check out the Icknield Way. It was a lovely walk up to Ivinghoe Beacon, after a convoluted journey via Luton on a bus, and a long walk along the road from Tring to the start - and I had a little break up the top, drinking in the view and sense of achievement with another National Trail completed. Then back down and onto Leagrave...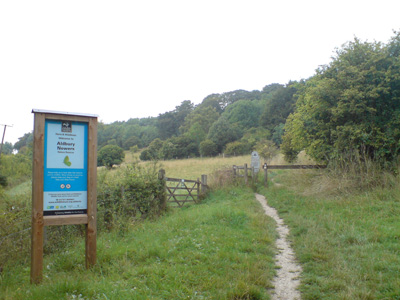 Aldbury Nowers and a steady climb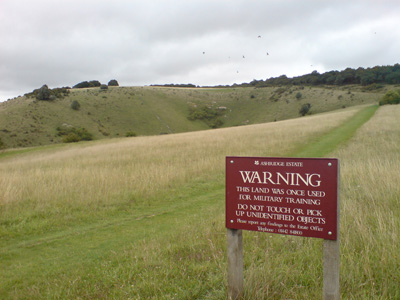 Ohh, so try not to get blown up before Ivinghoe Beacon!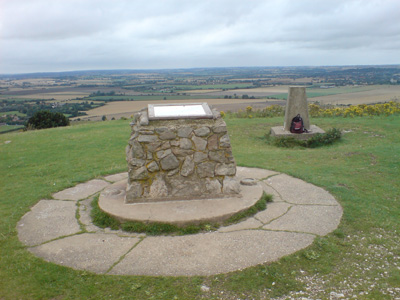 Yes, made it. I guess it being a Monday and a bit windy has put the other punters off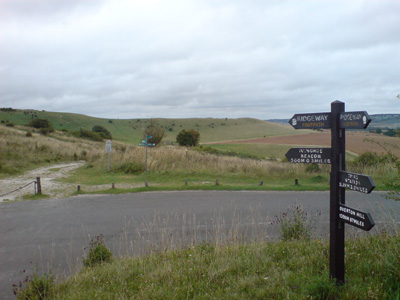 Final Ridgeway fingerpost and start of Icknield Waymarking opposite