Stour & Orwell Walk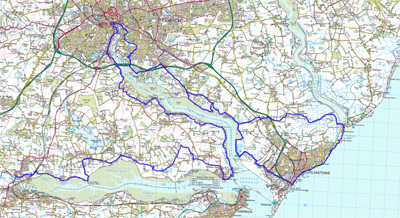 The walk is an extension west from Felixstowe to the Suffolk Coast and Heaths Path and follows the coast and heaths along the estuaries of the Orwell and the Stour, going around the Shotley peninsula to Cattawade, providing links with the Essex Way (at Manningtree) and the Stour Valley Path (East Anglia) (at Cattawade). A circuit is also available around Felixstowe, linking via Felixstowe Ferry with the Suffolk Coast Path - 67 km / 42 miles
Felixstowe to Trimley St Martin (Inland Circuit)
Wednesday 6 August 2008 - 5.5 Miles
ID06082008#29
Basically a continuation of the same days walk, but just across the river from Harwich, as water is a bit difficult to walk on (at the moment!)
A little bit dull through the sprawling port and access roads, then more rural through Trimley Marshes, then inland to Trimley.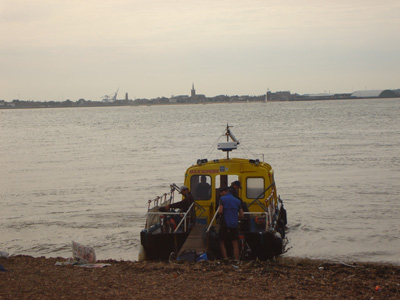 Continuing onto Trimley after coming across from Harwich on the seasonal ferry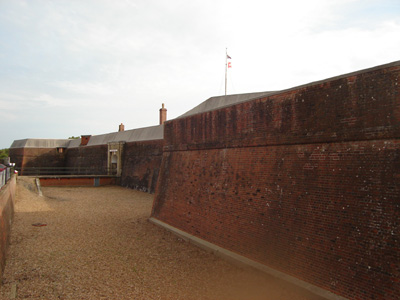 Landguard Fort originally built for Henry the Eighth, adjacent to ferry landing. More details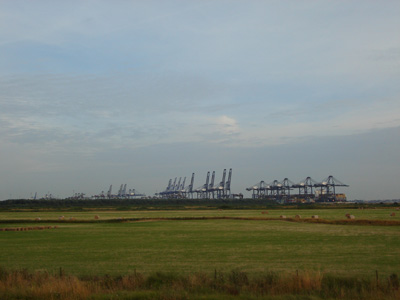 Dock cranes from Trimley marshes
Trimley marshes
Trimley St Martin to Felixstowe (Inland Circuit)
Thursday 7 August 2008 - 6.5 Miles
ID07082008#30
A pleasant short walk, after the previous day - with the bonus of the company of my Mum! This time carrying on via Felixstowe Ferry to Felixstowe Town, completing the circuit (clockwise). Nice rest at FF, watching the Bawdsey Ferry come and go and people catching Crabs (!!) Train back from FT to Trimley St Mary (Mumz gaff)
Chilling at Felixstowe Ferry with Mum...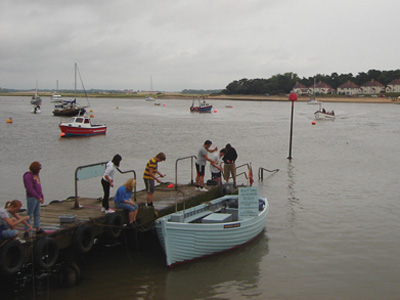 The Ferry at...Felixstowe Ferry!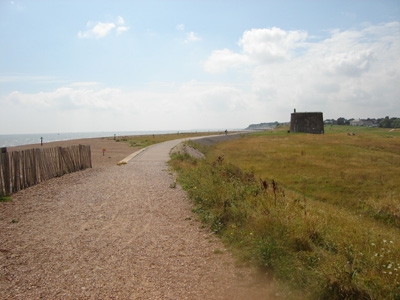 One of the Felixstowe Ferry Martello Towers
Trimley St Martin to Ipswich
Monday 11 August 2008 - 9 Miles
ID11082008#32
Nice! Along the marshes through to Levington and Nacton, then into suburbia on the fringes of Ipswich, back to the Orwell shore, under the bridge, through a green corridor into parks and to the station via the quay and river Gipping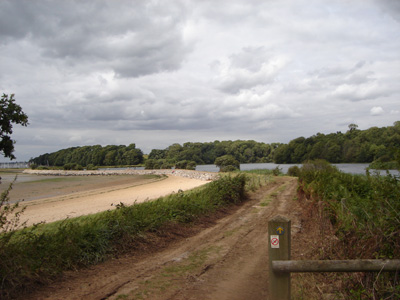 Loompit Lake, near Trimley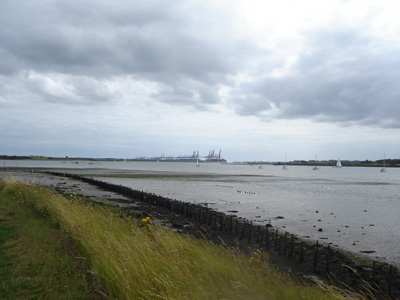 A last look back towards Felixstowe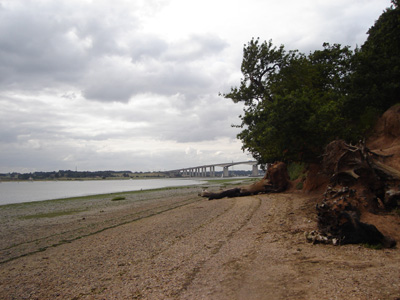 The Orwell bridge from the shore, approaching the outskirts of Ipswich. It carries the A14 trunk road between the M1 and Felixstowe docks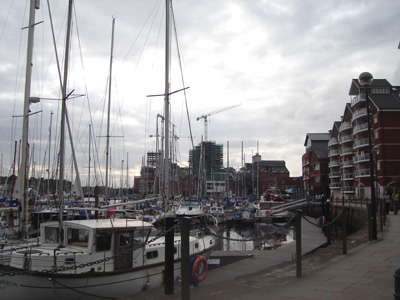 The quay/dock area in Ipswich, getting a makeover
Cattawade to Shotley
Wednesday 29 October 2008 - 11 Miles
ID29102008#46
Yes! Back in Suffolk - great walking along the north bank of the River Stour along the Shotley peninsula. Meant to get to Shotley Gate, but had to hit the roads a bit short as it was getting dark.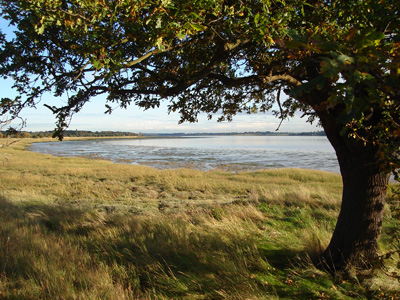 By the Stour - Near Cattawade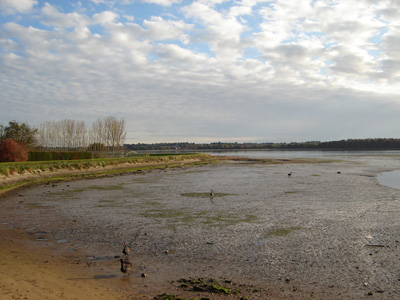 Some Geese here were really unfriendly - very dark coloured with red beaks at Stutton Mill - I think they wanted my pastie!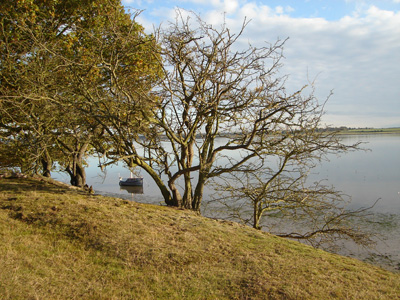 A little boat on a beautiful Autumn day..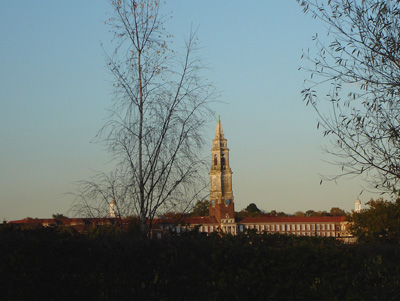 Royal Hospital School, Holbrook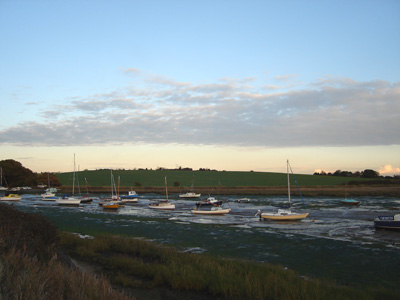 Lower Holbrook. Then as the light started to fade, went into root march mode...
Ipswich to Shotley
Monday 3 November 2008
ID03112008#49
Last walk of my latest Suffolk/Norfolk excursion - did this on the way back to Hastings. A dull walk out of Ipswich along the Wherstead Road and a bit of dicing with death on the Shotley Road, but then more interesting under the Orwell Bridge, onto the Shotley Peninsula - with a slight detour inland via Woolverstone, then back to the shore of the Orwell, by Pin Mill, Chelmondiston, and along the river to Shotley Gate. Had some (damp) skoff, then walked up to Shotley for a bus back to Ipswich, thence to Hastings.
The Quay at Ipswich, being 'yuppyfied'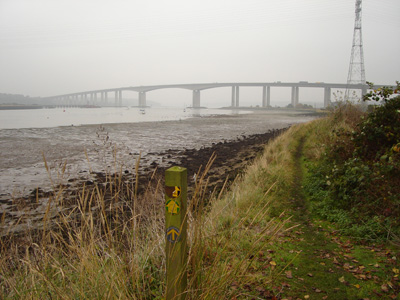 The Orwell Bridge, from the south bank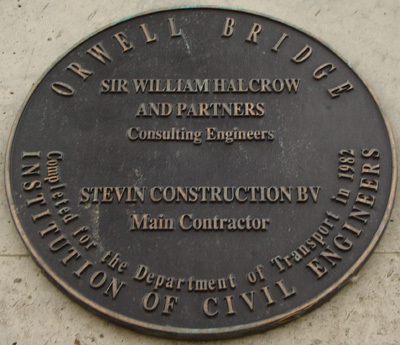 I remember walking across it in 1983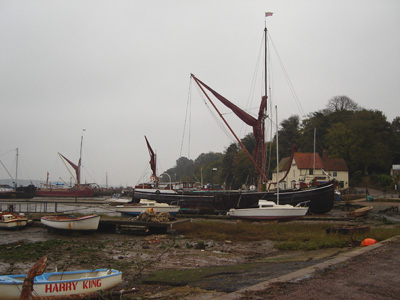 Chelmondiston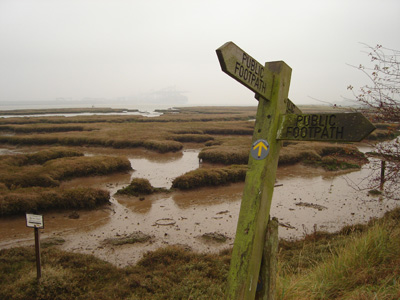 Cranes of Felixstowe in the mist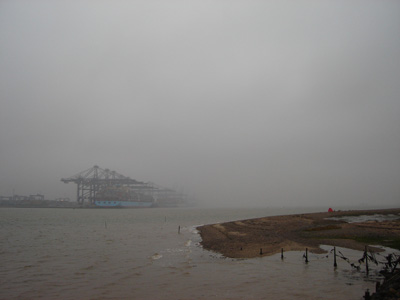 A bit clearer - You can look towards Felixstowe or...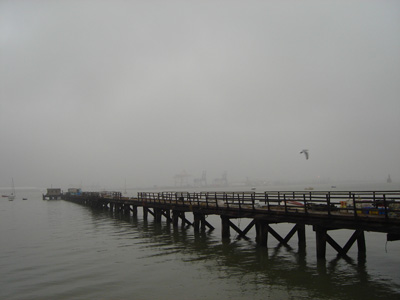 look south towards Harwich from Shotley Gate Nearly job done.