Greensand Way


169 Km / 108 Miles, following the Greensand ridge, from Haslemere, Surrey, to Hamstreet in Kent.
Finally started the Greensand Way. I have had the guide book for several years, but it has taken all this time to clear the backlog of other walks. This is my last remaining long distance path in Kent. Walked Lenham to Hamstreet, Yalding to Lenham, Sevenoaks to Yalding, Oxted to Sevenoaks, Haslemere to Wormley, Betchworth to South Nutfield, South Nutfield to Oxted, Wormley to Holmbury St Mary, Holmbury St Mary to Betchworth.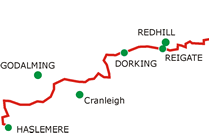 Lenham to Hamstreet
Sunday 20 May 2007 - 21 Miles
ID20052007#?
First impressions - good walking, and pretty Kent countryside, although as I have been in this area before with the Stour Valley Path I knew the score! Unfortunately I could not avoid a 30 minute walk from Lenham station to reach the start.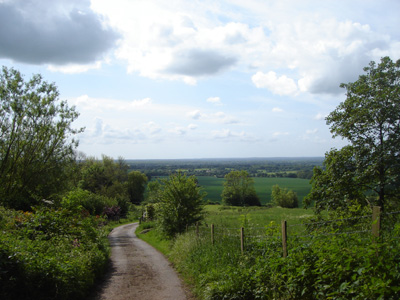 Near Boughton Malherbe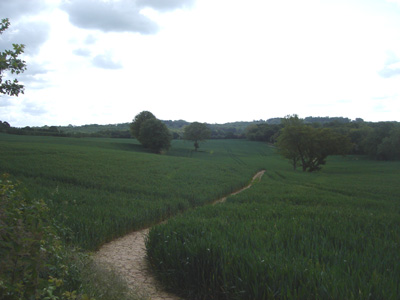 As above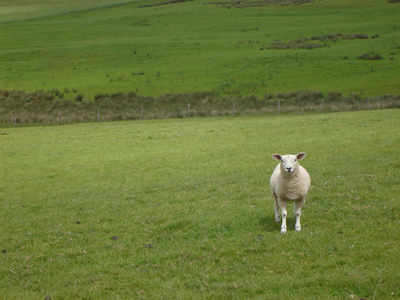 Being checked out by a lamb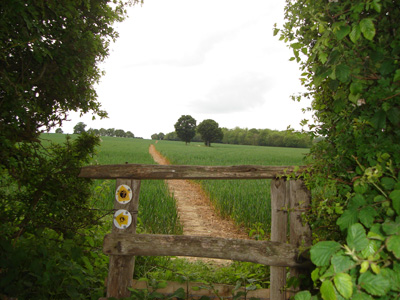 A parting for the Stour Valley Walk and The Greensand Way, Hothfield
Yalding to Lenham
Sunday 3 June 2007 - 15 Miles
ID03062007#?
What was expected to be a cinch turned out to be a bit of an ordeal - the journey was fine to Yalding, but I inextricably started out by going the wrong way on the Greensand, even though It was patently obvious! Subsequent to this I had some waymark difficulties, due mainly to missing and ambiguous signage (what's new) The big problem was a hard physical day on Saturday doing spring cleaning and lack of sleep - combined with inappropriate (too thick) clothing and a scorchio day made for a real slog. BUT, the scenery was fantastic, their were some sweet goats at a sanctuary and you just should be happy on a summer's day. This walk took an unprecedented 7 hours to finish!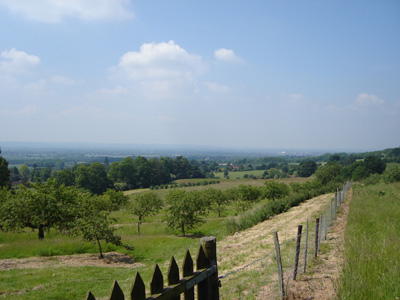 Near Linton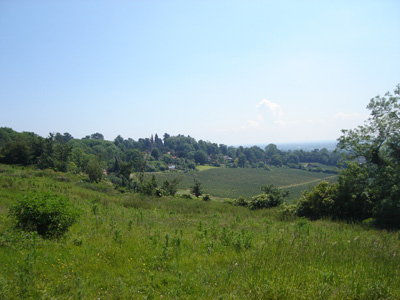 As above but different!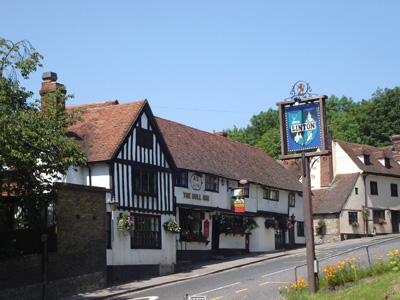 Linton - The Bull Inn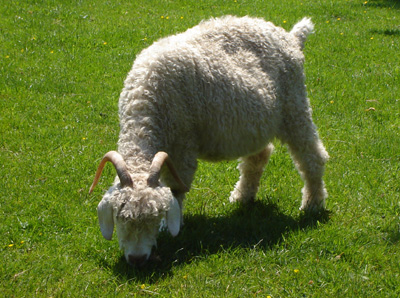 A poodlegoat! Excuse my ignorance. 'Buttercups' Goat Sanctuary near Boughton Monchelsea. I get all soppy over things like this and this charity rescues goats after neglect.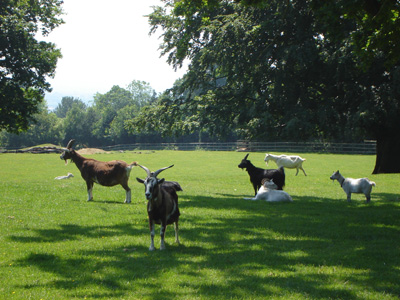 Some more - apparently they are caring for over 100!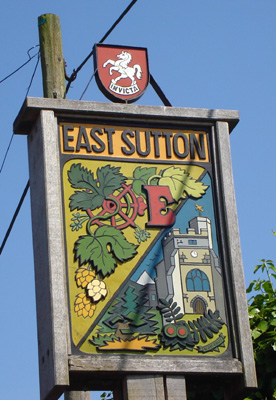 Trippy sign - very 3D. This village unfortunately has to host YOI East Sutton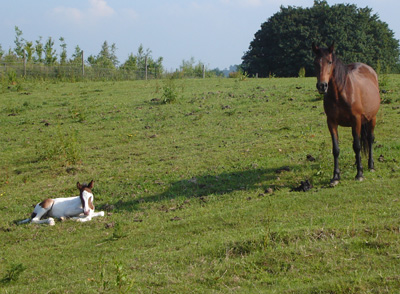 Sweet little foal - stood up on its spindly little legs and mum and dad very protective
Sevenoaks to Yalding
Sunday 22 July 2007 - 13 Miles
ID22072007#?
My first lump of Greensand in over a month while I have been working on the Thames Path and dealing with Monsoon weather and Migraines...anyway, todays walk was very attractive, with gorgeous deer at Knole Park, Sevenoaks and usual Kent countryside. The forecast was for more rain, but the day was scorchio. Tarnished slightly by some more ambiguous and missing waymarking in several places.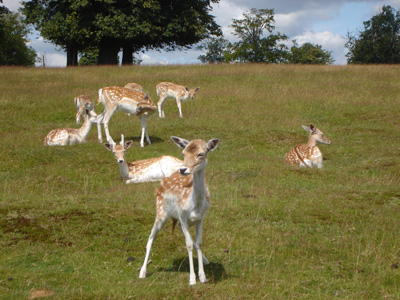 Too much...Bambi n Pals at Knole Park - quite tame. Even if this ain't your thang, there is a big house owned by the National Trust, and you can probably get a kick ass cream tea...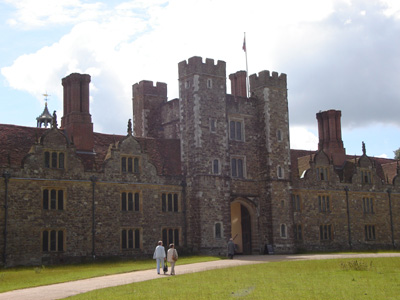 Told you so - didn't have time (or money to visit) but my mate has a yearly NT pass so I will recommend it. If walking - don't expect any waymarking!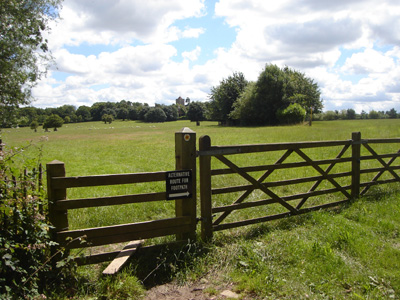 View towards Shipbourne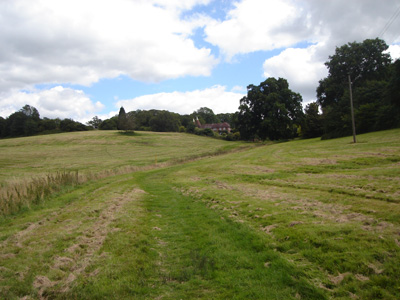 Somewhere near Dunk's Green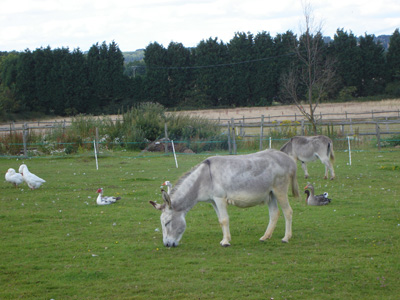 Donkey and Geese near Nettlestead Green - unusually the geese didn't try to attack me!
Oxted to Sevenoaks
Saturday 22 Dec 2007 - 16 Miles
ID22122007#?
First walk for a month, after completing the Thames Path. A bit of trouble with waymarking in the Surrey section (shame!) and rather hilly for a few miles south of Westerham, but beautiful countryside, and views into mist shrouded valleys, the only negative really was some git capping pheasants near Sevenoaks.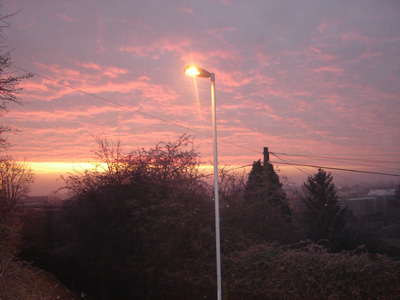 Dawn over Edenbridge, interchange between Tonbridge and Oxted railways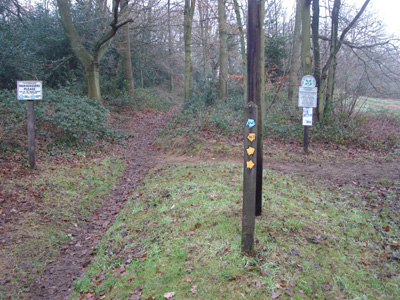 Limpsfield common - quite a confusing stretch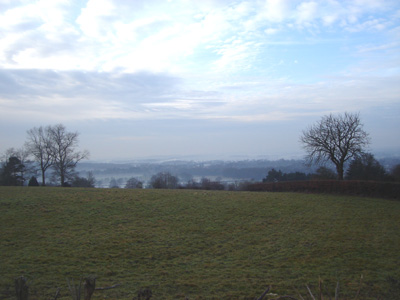 The weald - covered in mist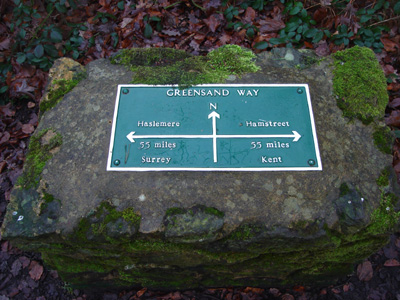 Greensand way - half way marker, conincidentally on the Surrey / Kent border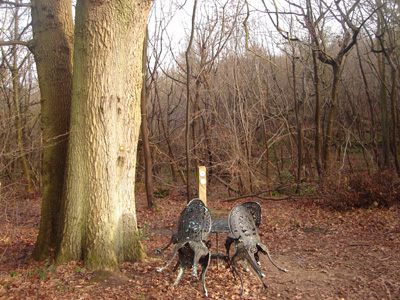 If you feel like a break...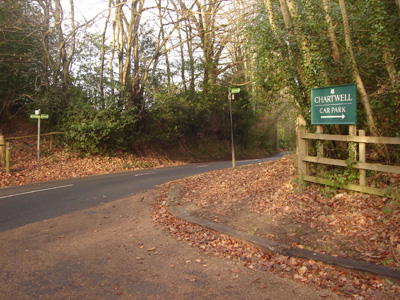 Chartwell - Winston Churchill's family gaff - well the sign anyway...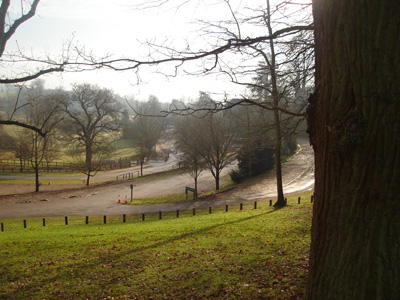 It's down there somewhere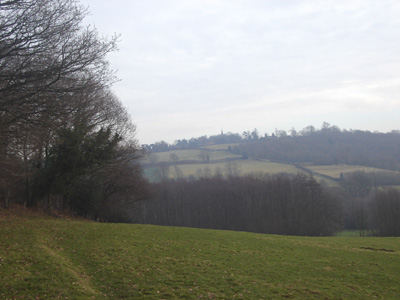 Undulations approaching Ide Hill - church in distance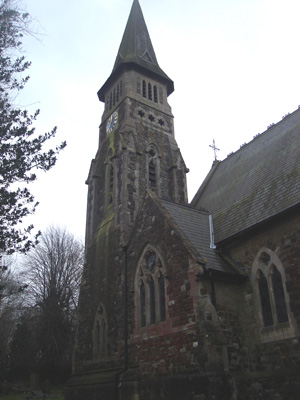 The church - and lunch time...
Ide Hill donkeys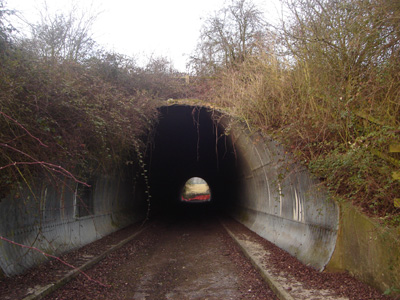 Under the A21 - for the next couple of miles had the sight and sound of some halfwit blasting birds out of the sky...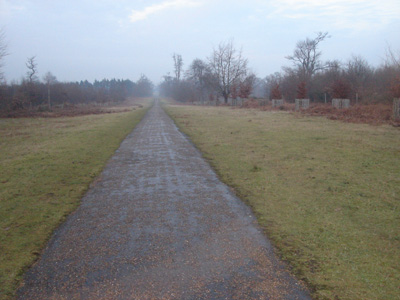 Broad Walk, Knole Park, Sevenoaks. Saw lots of deer through the fog - this picture is deceptively clear
Haslemere to Wormley
Sunday 6 January 2008 - 10 Miles
Walk ID 06012008#1
First walk of 2008. A last minute choice, as I had intended to carry on with The Sussex border Path yesterday, but was not well (aahh!) As Rudgwick (SBP) cannot be reached easily on a Sunday, I did this little lump instead of The Greensand Way. The idea is now that I can try and finish it in two sections from Wormley to Oxted, but not until the daylight is significantly longer, it can be a challenge keeping walking through winter route wise - so 'mind the gap'! The walk bears north to Hindhead, then bends round the edge of The Devil's Punchbowl, carries on northwards, then makes a dogleg to the East near Thursley, to Wormley.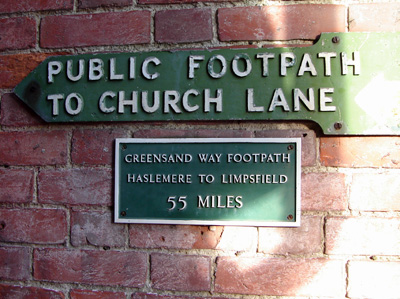 The Start at Haslemere - A nice little town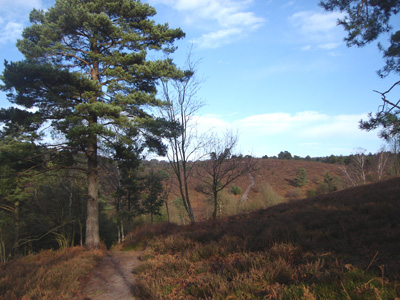 Hindhead Common - very attractive and great views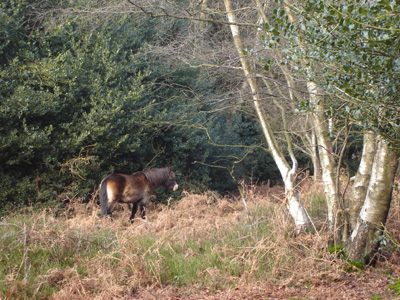 Free range ponies near Hindhead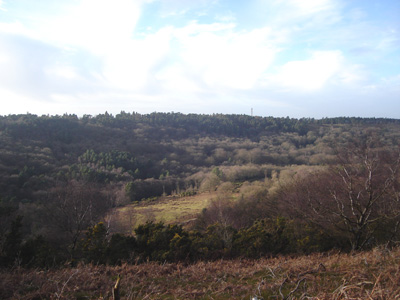 A view over The Devil's Punchbowl, From Gibbet Hill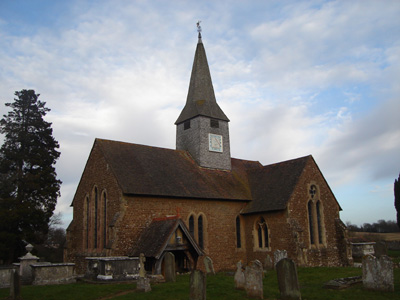 Thursley Church - And Late Lunch. One thing I dearly miss from the SWCP is a proper pastie, so I attempted a 'Sussex Pastie' which was reasonable for a first attempt - I forgot the potato though. Nice to sit and chill (literally) after playing frogger with the cars on the A3 and numerous stupid barking dogs that have an attitude problem. I was also amazed to be overtaken by a bare footed rambler - Good luck to him, but he did come a cropper when he got to some holly cuttings!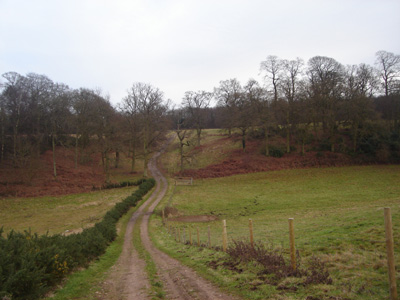 Undulations near Heath Hall. I had just crossed the A3 again - apparently the crossing was closed for a new underpass, but I ignored the directive as a detour would have been unacceptable - A cat wished me good luck (or probably wanted some whiskas)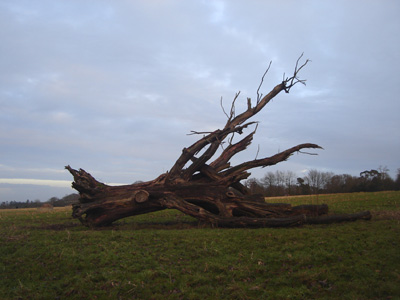 Rather forlorn looking tree between Brook and Sandhills
For such a short walk it was quite an adventure. Even when I got to Wormley - The Railway Station is called Witley! I had a long wait for a train, then made a major miscalculation by going home via Havant, as there was major engineering work and buses - so finished walk at 1615, home at 2215! Am I bovvered?
Betchworth to South Nutfield
Sunday 3 February 2008 - 9 Miles
Walk ID03022008#5
A bit of a 'Sliding Doors' scenario (Movie!) Mentally part of me was still in bed at 0630 on a dark windy morning, and the rest of me got up and bailed out the door, so I was not really as motivated as I would have liked. The intention was to walk to Oxted, but as it was so cold and I worried about getting to Oxted before dark, I unusually cut it short, although this now leaves a silly 8 mile gap, that I will have to do next weekend. The walk itself was rather pleasant, with a nice high level walk after climbing Park Hill on the outskirts of Reigate.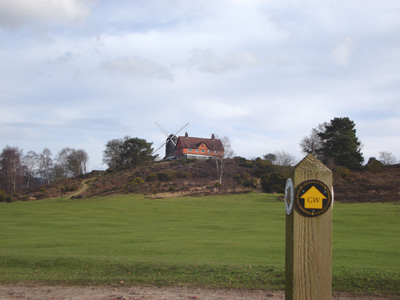 Windmill and golf course - Park Hill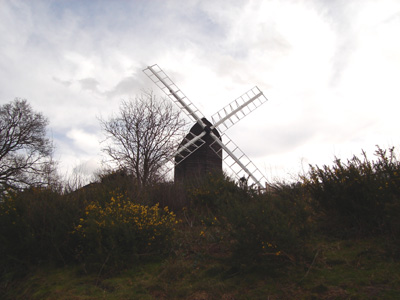 A bit closer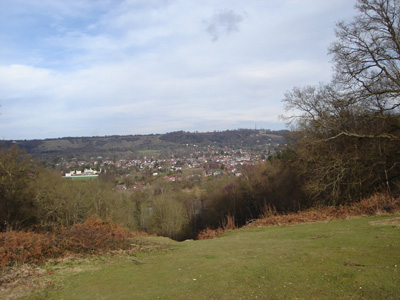 Reigate and the North Downs behind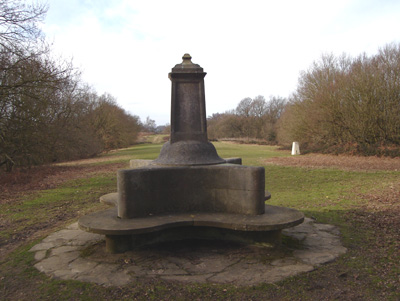 Monument - commemorates 'Mr and Mrs Randall Vogen's gift of the park to the corporation in 1920' - now defaced by chavs with spray paint
Earlswood Lakes near Redhill
South Nutfield to Oxted
Sunday 10 February 2008 - 8 Miles
Walk ID10022008#6
A small walk - but attractive - the Surrey Hills are very pleasant. Just missed train from Redhill by 3 minutes so had to spend another hour there - not the prettiest of towns. For some (unhelpful) reason, Surrey CC does not seem inclined to waymark the direction to follow roads where you meet them - just dumping you on the kerbside - A slight inconvenience when armed with a guide and map, but for anyone relying on waymarking alone - forget it. A beautiful, sunny and warm February day! Along the way you pass under the M23, The village of Bletchingley, Tandridge (I have seen the Tandridge Border Path waymarks on many walks in the area) and finally Oxted, with an attractive old mill.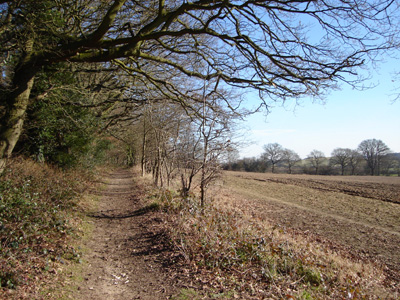 Near Bletchingley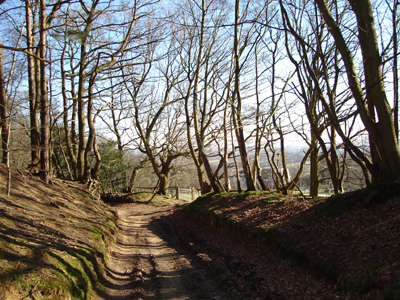 Tilburstow Hill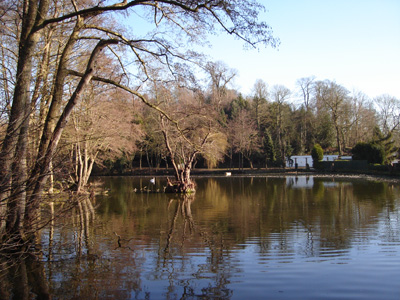 Leigh Place Pond (made a slight wrong turn!)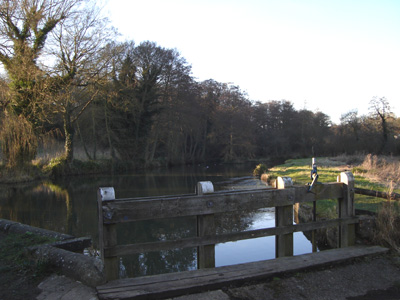 Oxted Mill Pond
Wormley to Holmbury St Mary
Saturday 24 May 2008 - 15 Miles
ID24052008#18
Penultimate section. Took a few months to get back to this, as I kept dithering on whether to stay
the night at the youth hostel at Holmbury and make this a weekender.
Eventually decided to keep it as day walks. Anyway, a great walk on a lovely day - stunning views across the weald at Pitch Hill.
I even had time at Holmbury to have a half in the Royal Oak. I had a bit of a wriggle on though, as I wanted to get home for our annual Eurovision Song Contest piss up - don't you just love it! Made it home and thought Azerbaijan entry should have won, although Russian entry wasn't a bad song.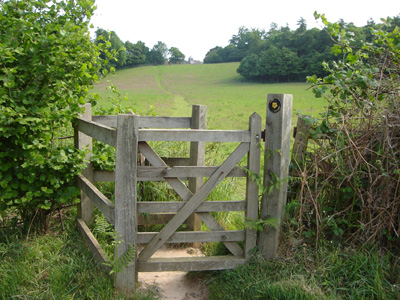 Kissing gate - up to Hambledon Church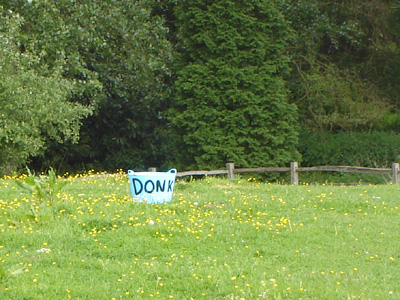 Donk? (ey!) I got a bit pissed off with the indifferent level of waymarking near Selhurst Common - Surrey CC are a bit stingey with their directions.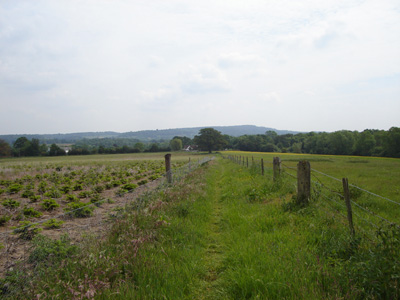 Not far from the Wey South Path and Downs Link near Rooks Hill Farm - Disused canal and railway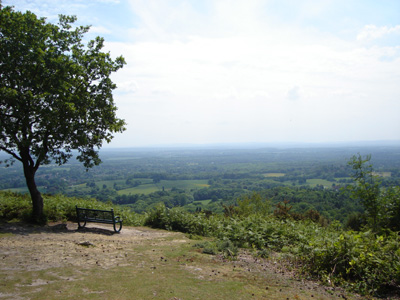 Pitch Hill - Stunning View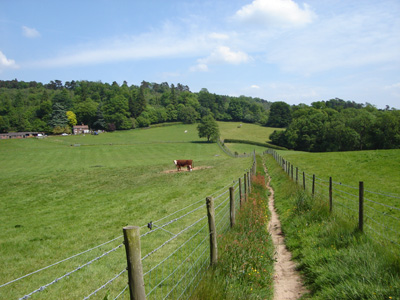 Pretty panorama near Duke Of Kent School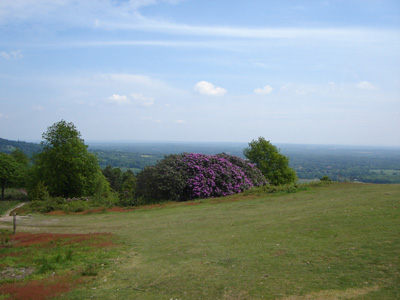 Another beautiful view at Holmbury Hill and Fort. There was almost a gale blowing
Holmbury St Mary to Betchworth
Saturday 14 June 2008 - 14 Miles
ID14062008#20
Job done at last. Been walking for over a year now, good to get it finished. Last section pretty as usual - Leith Hill tower interesting, but way to many people, so moved on quickly for some peace. Pretty easy to follow and lots of broad well maintained tracks meant good progress. Very lucky with trains as well - a benchmark shuffle!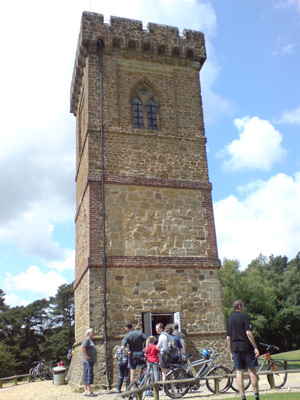 Leith Hill Tower - like bleedin' Picadilly Circus!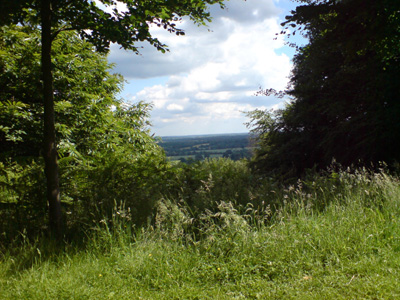 The view from near Deepdene House - where I had my late lunch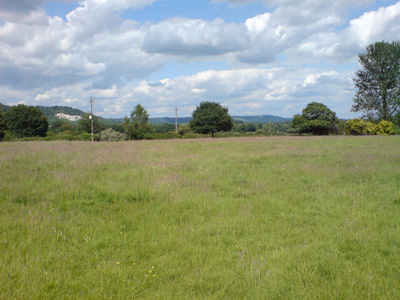 Approaching Brockham, with quarry and downs in background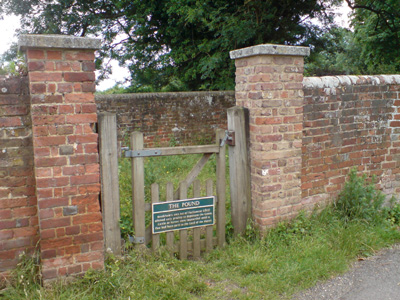 The pound, at Brockham. Sign reads 'Brockhams own act of parliament (1812) allowed only poultry to depasture the green. Cattle or horses were impounded until a fine had been paid to the lord of the manor'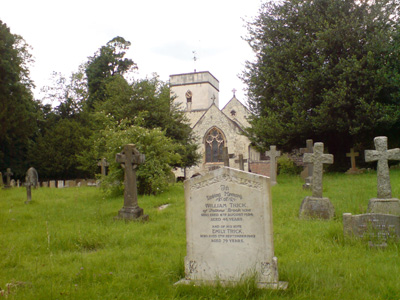 Betchworth church - my work here is done!