Pennine Way National Trail

The Pennine Way is a National Trail in England. The trail runs 429 km (267 mi) from Edale, in the northern Derbyshire Peak District, north through the Yorkshire Dales and the Northumberland National Park, it ends at Kirk Yetholm, just inside the Scottish border. The path runs along the Pennine hills, sometimes described as the "backbone of England". Although not the United Kingdom's longest trail, it is according to the Ramblers' Association "one of Britain's best known and toughest"
Tuesday 26 October to Thursday 28 October 2010
Well, a very embarresing episode - I should have taken more notice of the Ramblers description. I had planned to do a three day walking holiday, starting from Edale in Derbyshire, walking to Torside Reservoir, Old House B&B, then Torside to Carriage House B&B near Marsden on the A62, then on to Hebden Bridge (Just off trail along the Rochdale Canal). It all went spectacularly wrong. After a nice train ride up and a good kippy in the Edlae B&B, it was pouring down on the first day. I made it as far as Upper Booth (a Mile!) then chucked in the towel. I walked back to Edale along the road, and got a train into Manchester, where I mooched about before getting a train to Hadfield (Royston Vasey) where I walked along the Longdendale Trail / Trans Pennine Trail to Old House B&B.
Day two was supposed to be on to Marsden, but I got as far as Crowden and gave up again. After walking all the way back into Hadfield, I caught a train into Manchester again, mooched about, went on the wheel and metrolink before getting a train to Marsden from Victoria. I then walked to The Carriage House B&B a reasonable walk.
So, day three was supposed to finally do a section, but immediately crapped out again, walked back into Marsden and had an anorak fest on the Huddersfield Narrow Canal instead. Later had a ride around on a bus in Huddersfield, then a nice train trip up to Hebden Bridge which was the final position I should have reached. From here I used my booked ticket to travel home via Leeds and Kings Cross. I think I was just at a low ebb and had a stupidly heavy rucksack and combined with being rather out of shape ruined what could have been a great walk. I hesitated to post this entry, but it completes my journal so far. I really should have started the Wolds Way instead, but I was obsessed with visiting the North West again, after a fourteen year absence. Oh well, maybe I will get to grips with this rather intimidating trail sometime...I have posted some pictures to give an idea of how stunning the countryside is up there.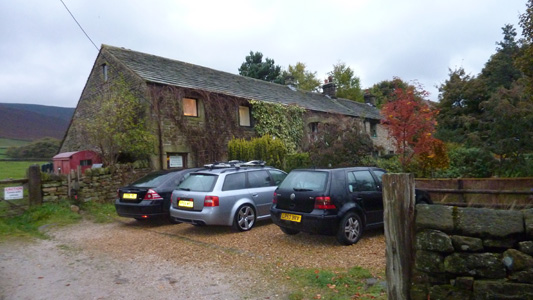 My lovely Edale B&B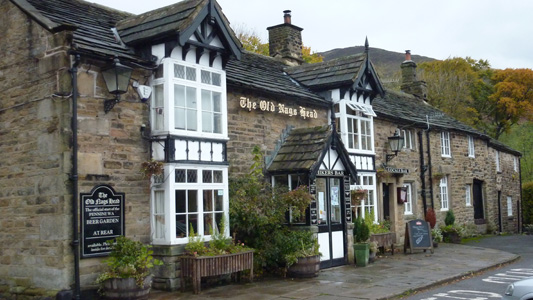 The Old Nags Head - Spiritual Starting point (see what I did there...never mind)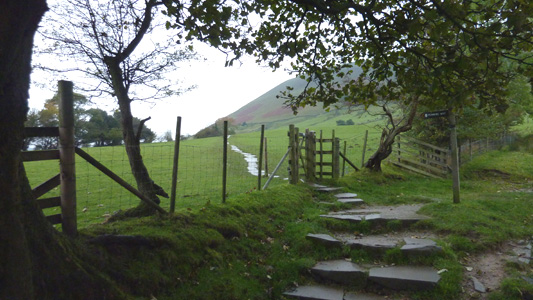 Near the start at Edale. Very beautiful but ominous Hills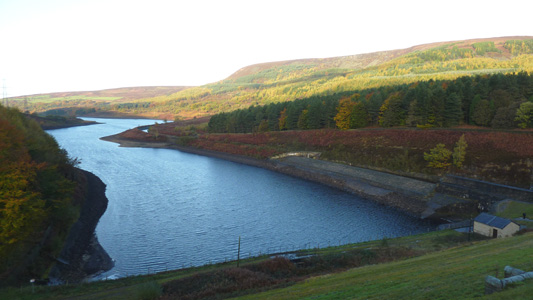 Crossing Causeway between Torside and Rhodeswood Reservoir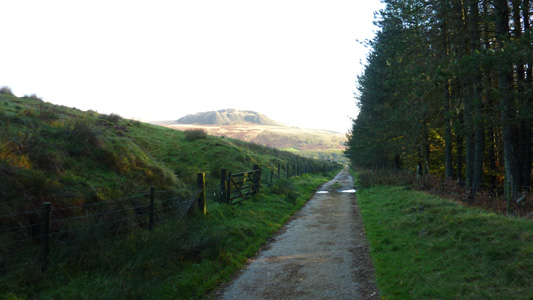 Near Crowden
That's all folks till I get my shit together...