Lea Valley Walk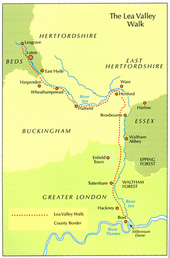 The Lea Valley Walk is a 50 miles (80 km) path located between Leagrave (the source of the River Lea) near Luton - to the Thames at Limehouse. From its source much of the walk is rural. At Hertford the path follows the towpath of the River Lee (Lea) and becomes increasingly urbanised as it approaches London. The walk was opened in 1993 and is waymarked throughout using the Swan logo waymarker.
Leagrave to Harpenden
Sunday 16 November 2008 - 10 Miles
ID16112008#50
This walk has been on the 'back burner' for sometime, but now is the time...
I was hoping to walk on Saturday, and catch the 0550 train - but my body said I was nuts, and refused to let me get up! So left it to Sunday, and arrived at Leagrave around 1030, via what was Thameslink (now First Capital Connect) - After picking up a coffee, started looking for the source - it was near a concrete standing area with railings, and with the weather turning to light drizzle, I followed an inauspicious tarmac path through a ribbon of mostly green space (shared initially with the Icknield Way), to pass through Limbury and Biscot and to Wardown park, thence through Luton Town Centre, and a quick diversion into the Arndale Centre - then a grim and awkward succesion of paths to reach the southern edge of Luton near the airport. In places the official path was closed off for roadworks...finally escaped into the countryside, following a former railway (with a few minor deviations off the trackbed) all the way to Harpenden. In places this was extremely overgrown, and a missing bridge meant mixing it with fast traffic. Unfortunately did not have enough daylight available to make it to Hatfield, so had to settle for a shorter than usual walk, but should be back for more next week. The impression I get for this first stretch, is that the authorities don't really care much about footpaths - this is my first experience of Bedfordshire and Hertfordshire walking and I hope that it will get better...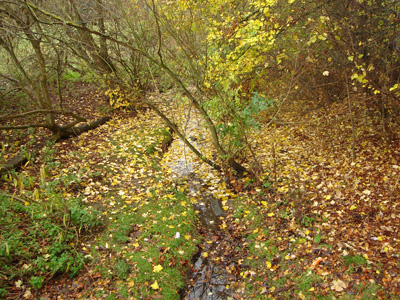 Near the source - Leagrave Common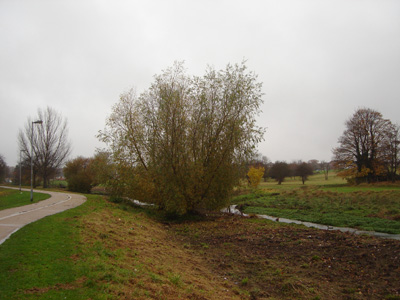 The Lea at Limbury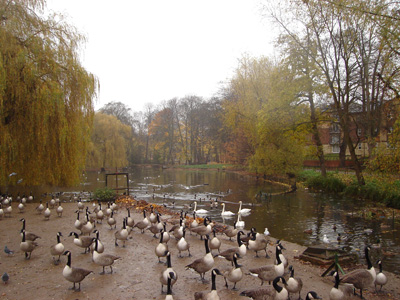 Wardown Park - Many critters with wings...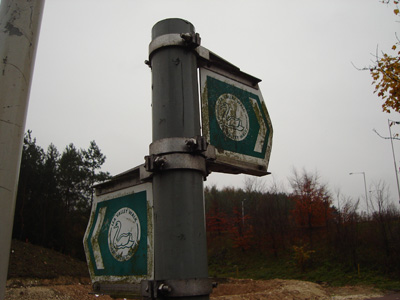 Dirty waymarkers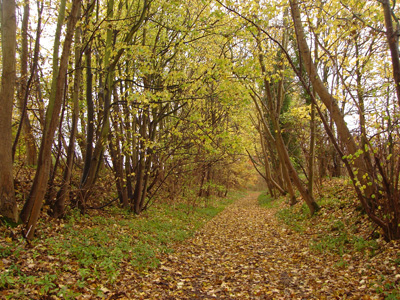 Railway trackbed - south of Luton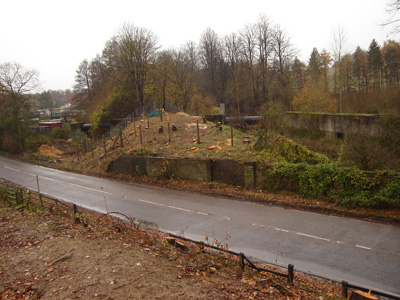 Wot no bridge - maybe the clearance works round the abutments are so a light duty walkers bridge can be installed? Otherwise you have to mix it with the motorcar...
Harpenden to Rye House Station
Saturday 22 November 2008 - 21 Miles
ID22112008#51
After the pitifully short section last week, I went for it - probably the longest walk I have managed under the severe light restrictions in late November (dark by 1630). Beautifully sunny, but bitterly cold wind. Started off nicely, with a section of trackbed, then a bit fiddly from Wheathamstead onwards, although well waymarked, with some delightful waterside sections and a rural quality. Hatfield section is a basket case, and there is obviously a long standing disagreement with Herts CC how it should be routed - this means that the walker is left confused and disorientated and frankly rather pissed off - apparently this has been the case for a few years - get your act together - this is a fantastic walk spoilt in part by a complete disregard towards people trying to enjoy the countryside. Finally made it onto the Cole Green way after nearly an hour wasted and many close encounters with cars...On to Hertford easy, then a slight hiccup (my fault) getting onto the towpath near the castle, and point, shoot, end of manual all the way to St Margarets, passing The New River connection, several locks and Ware and Rye House, as well as crossing the meridian from west to east. I basically walked until too dark to continue, and managed to mislay my Ciccerone guide book in the dark...Should now be able to finish next week.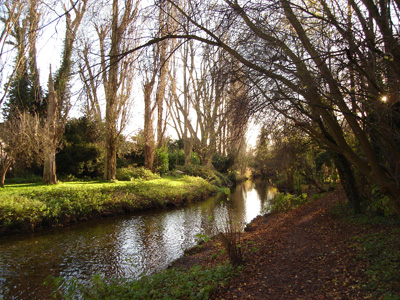 The Lea, just north of Harpenden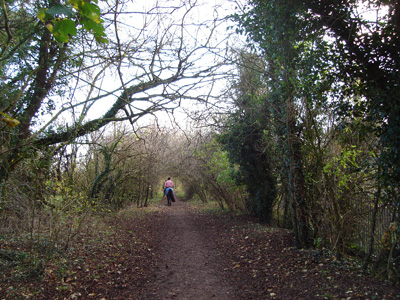 Back on the trackbed, towards Wheathampstead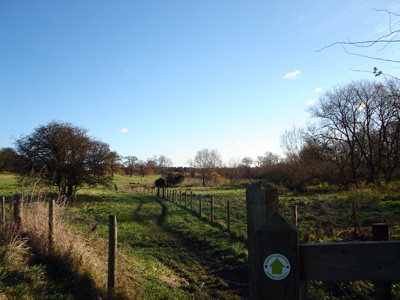 Nice and rural from Wheathampstead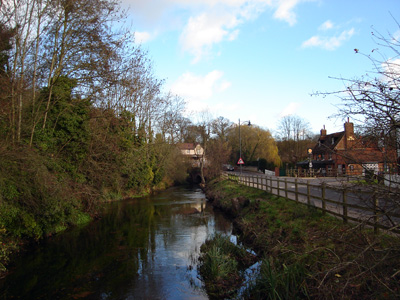 Lemsford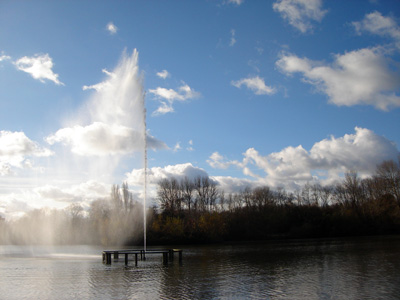 Stanborough Park - between Welwyn Garden City and Hatfield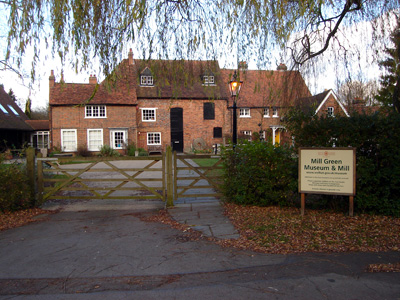 Mill Green - Apparently they still mill flour here on occasion - also start of disasterously screwed up waymarking
Finally found this manky explanation to the diversion, doubled up and nailed to a stile, so obscured by undergrowth that I walked past it three times - on the B1455 near the river Lea bridge - looking at another walkers website http://www.bertuchi.co.uk/leevalley02.php they had the same trouble three years ago!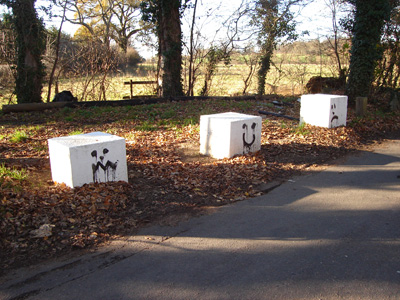 The graffiti on these blocks is quite apt for the range of emotion experienced, trying to follow the Lea Valley path elicts...seen on my improvised route up to Letty Green to join the Cole Green Way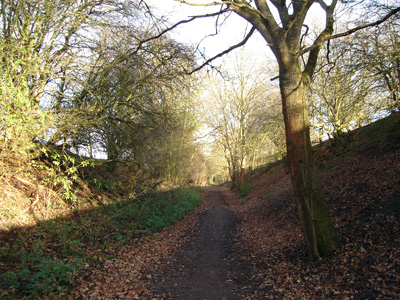 Cole Green Way - towards Hertford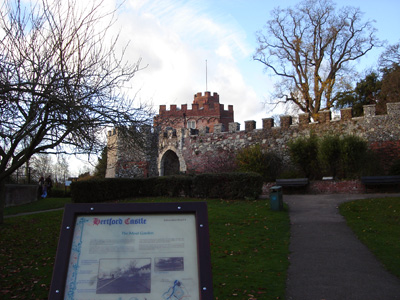 Hertford Castle methinks...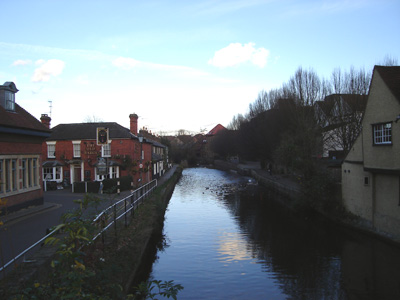 The Lea river Navigation Limit at Hertford - now it's easy towpath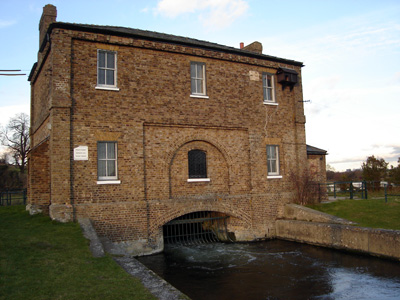 Gauging weir for the New River - Lea Navigation behind. Its original termination point was at New River Head near Clerkenwell, Islington - close to the current location of Sadler's Wells theatre. Today by following the New River Path it is possible to walk almost the whole length of the New River from its source between Hertford and Ware to its destination in Stoke Newington. Wikipedia entry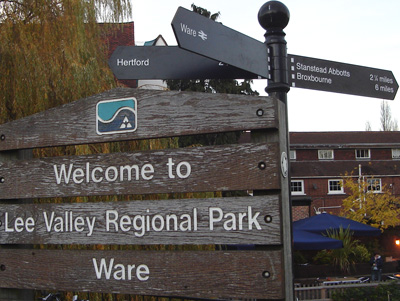 Where ? Ware - Saxon for Weir apparently. The limit for the Lee(a) Valley Regional Park. Shortly after I lost my guidebook - doh! and so do no longer have instant access to all these facts...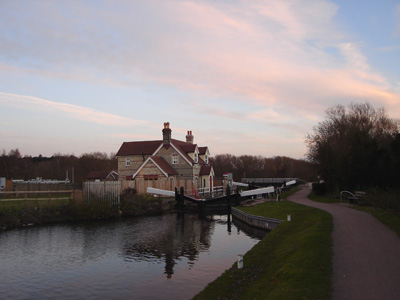 Lock near Ware - starting to get dark...carried on for a couple of miles to Rye House Station
Rye House Station to Limehouse Basin
Saturday 29 November 2008 - 21 Miles
ID29112008#52
This has been a very quick completion - as I have just got on with it and done it all in three weeks. This section was most interesting to me, although I was also a little bit nervous of being on the path as it got dark, but all went swimmingly. I started in rural Hertfordshire, through Enfield, Ponders End, Tottenham etc...and ended up in the East End of London. Quite a few locks, and reservoirs, and a few places I am familiar with, like the Spring Hill Cafe, and it was nice to finish up by walking on to London Bridge Station via Tower Bridge - although there are a couple of gated sections on this part of the Thames Path that are annoyingly closed at dusk (why not get tough with criminals?) Anyway, ended up doing 24 miles and nursing a migraine the next day - I love it when a plan comes together!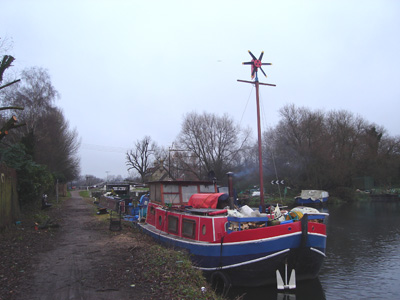 Fielde's Weir Lock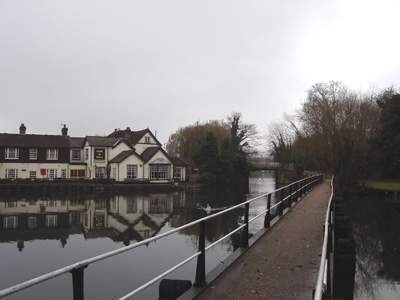 Dobb's Weir and the 'Fish and Eels' Pub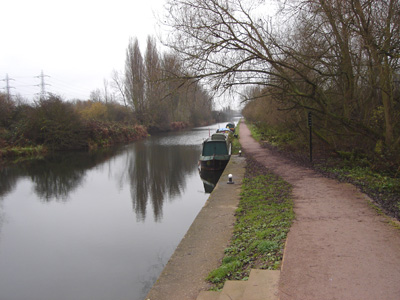 Long straight section near Cheshunt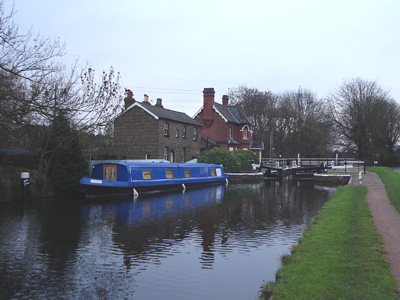 Enfield Lock - within the M25 now...bit rundown, the lock house was boarded up, as was the pub next door...this is also where the London LOOP intersects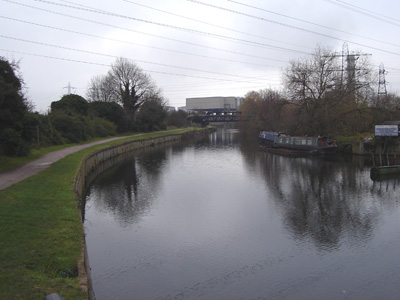 Enfield Energy Centre - A 400 MW Single Shaft CCGT don't you know...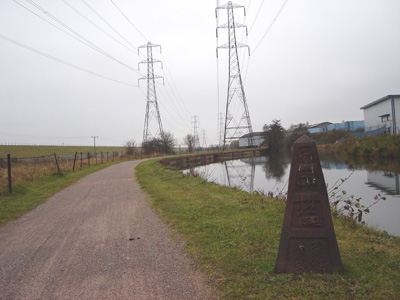 Embankment of King George's Reservoir to the left - this then leads to the William Girling reservoir, to keep all those nice people in London not thirsty and stinky like...I was not pissed when taking photo - honest!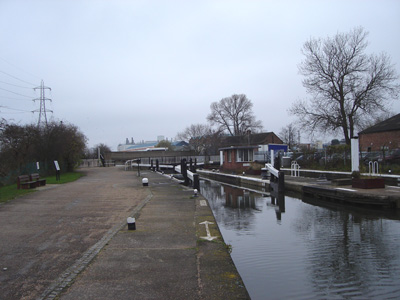 Ponders End Lock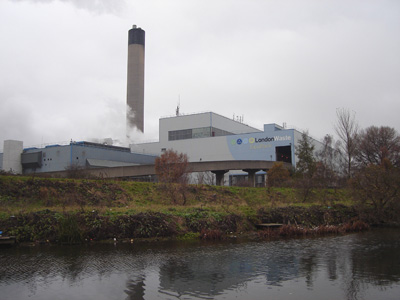 London Waste Ecopark - An Incinerator providing leccy for Londoners from rubbish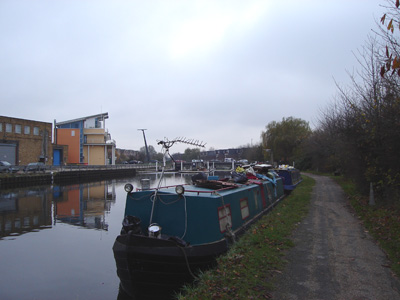 Tottenham Lock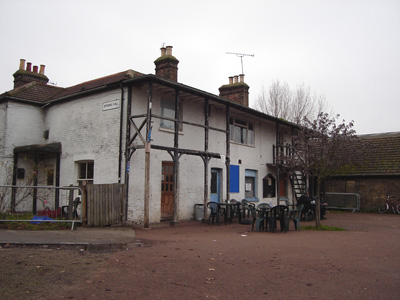 Spring Hill Cafe - Upper Clapton - been here a few times as a friend used to live in a block nearby - 80p for a coffee - bargain...got mugged by hungry pigeons, who had some of my lunch!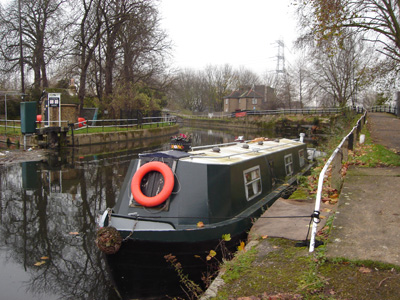 By Lea Bridge Road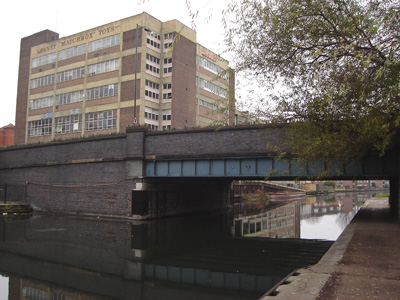 The Lesney 'Matchbox' Toys building - An iconic building, long abandoned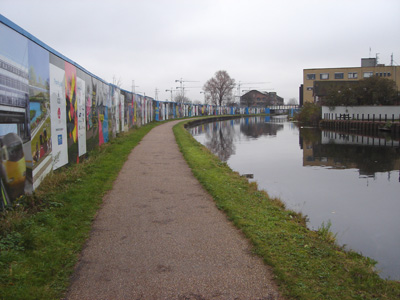 The next section of towpath has a long wall promoting the 2012 olympics site at Stratford, which can be observed in places through plexiglass panels - this section will by liable to temporary closure in the next few years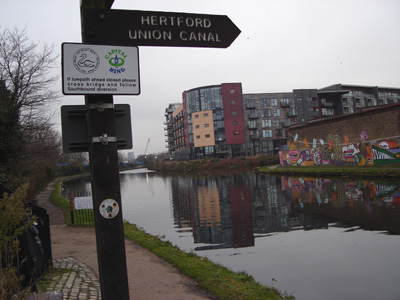 The Hertford Union canal - a short link to the Regent's Canal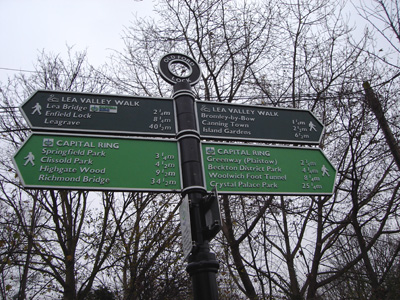 Another attractive waymarker - slight mistake - Leagrave should be marked as 50 1/2 miles - not 40 1/2 ...doh!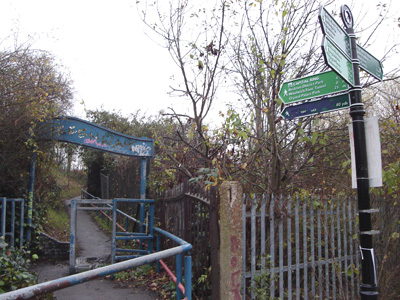 The Greenway - running on the embankment of the Northern Outfall Sewer - some of the locals clearly don't appreciate the investment made into creating green corridors, and have trashed the gaff...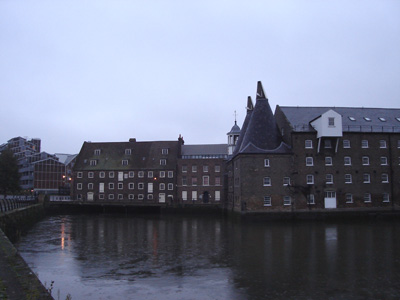 Three Mills - Stratford - a spectaculary ugly section down towards the Thames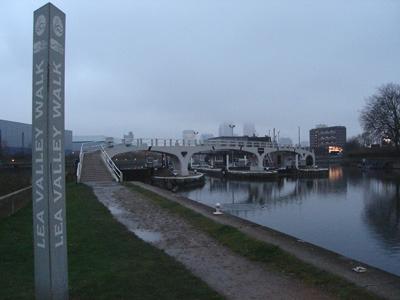 An atmosperic view towards Canary Wharf from Bow Lock. It then got too dark to take pictures at Limehouse Basin