Southern Upland Way LDP

Opened in 1984, the Southern Upland Way is a 212 miles (341 km) coast to coast walk in Scotland between Portpatrick in the west and Cockburnspath in the east.
The path visits Castle Kennedy, New Luce, Bargrennan, St John's Town of Dalry, Sanquhar, Wanlockhead, Beattock, St Mary's Loch, Traquair, Galashiels, Lauder and Longformacus en route. The Sir Walter Scott Way shares the last five places with the Southern Upland Way.
Cockburnspath to Pease Bay
Monday 23 August 2010 - 2.16 Miles
A very brief encounter with my third (of four) Scottish LDPs. A very easy and pleasant walk from the inland village of Cockburnspath to the coast, and along cliffs to Pease Bay.
ID23082010#22c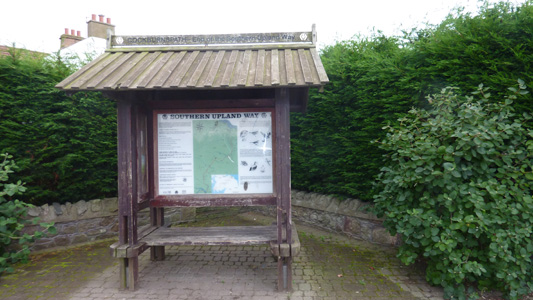 Official Start Info Board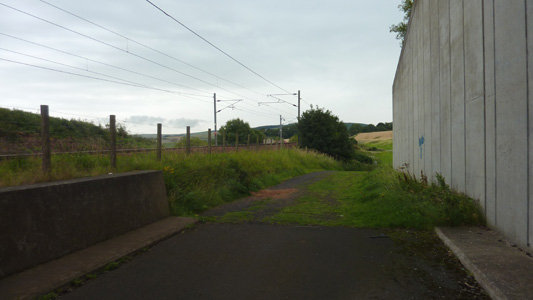 Near Cockburnspath, passing under the A1 and shortly the ECML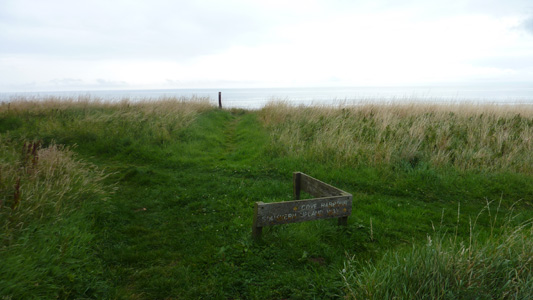 You soon reach the sea, the SUW turns right, but you can visit the pretty Cove Harbour. Apparently used for filming, I visited it later in the holiday and found it very tiny but charming, very like being in a quaint little cornish harbour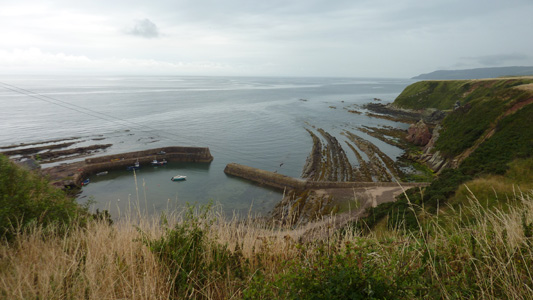 Cove Harbour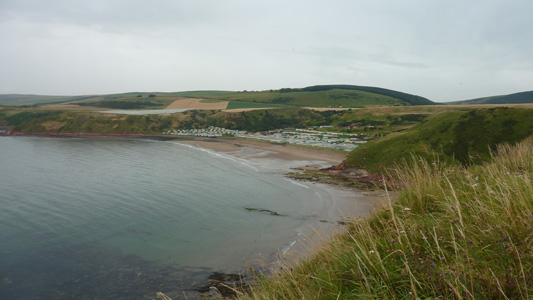 Approaching Pease Bay and the Caravan Park I would be staying at for a few days
Ellemford (B6355) to Pease Bay
Wednesday 22 August 2012 - 11.5 Miles
ID22082012#47
Right, another summer, another jaunt along the Southern Upland. I was dumped off at Ellemford, where the SUW leaves the B6355. Dad and Mags went on for a shuftie round Duns, before heading on to boot up the Mobile Home at Pease Bay before my arrival. Anyway, after a swift climb and some down again bits, with delightful views on a good summers day, soon following good forest tracks near Ellemford Bridge, followed through Roughside Wood, then after in the valley below Abbey Hill, where a sheperd patiently waited for me to pass, to start rounding up some sheeps with his sheepdog pal. Onto Abbey St Bathans, a delightful tiny little village, with a church, phone box and that's about it. After a quick rest, I took the impressive but slightly dodgy feeling bridge over Whiteadder Water, turning right then shortly left on the far bank, to follow tracks and then pass across fields climbing to reach an impressive weathervane anc Cairn dedicated to the Cockburn Family at Whiteburn Farm. Passing by the edge of the farm (realigned to keep those pesky ramblers away from the farmhouse) and more fields to reach a minor road, followed shortly before turning right to head downhill to Blackburn Mill Farm, with great views ahead to Blackburn Farm at the crest of a hill, I also ignored the stupid route detour off the farm track, and just kept on trucking, following the track past here, and joining a minor public road by houses, followed downhill to eventually reach the A1, crossing with care (Single Carriageway) then heading along an old part of the A1 sandwiched between the new A1 and the ECML, with trains winging their way between Edinburgh and London. Soon leaving this, crossing the railway on a bridge, passing through woodland with a pleasant little stream for company, and taking the optional high level route, zigzagging up on a steep path, and after a significant stretch, to emerge with spectacular views over the sea and Torness Power Station, to descent to the A1107, crossing the road at the head of an impressive bridge, to follow the road briefly, then drop down through Pease Dean Nature Reserve and after crossing a river finishing the section at Pease Bay Caravan Park - job done for this year, although it's a bit annoying I couldn't start at Longformacus (the section start in my Ciccerone Guide) due to road closures. Additionally, the guide cites a lot of route changes on the earlier parts of this section
Dad dumping my carcass off at Ellemford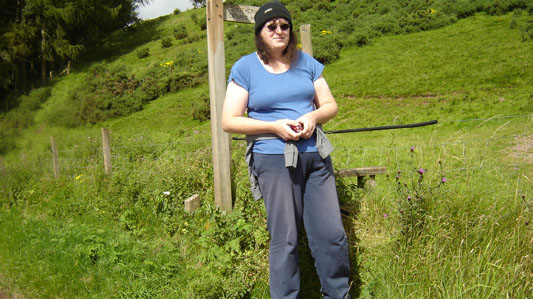 Photo of me carcass in contemplation mode - Copyright the Dad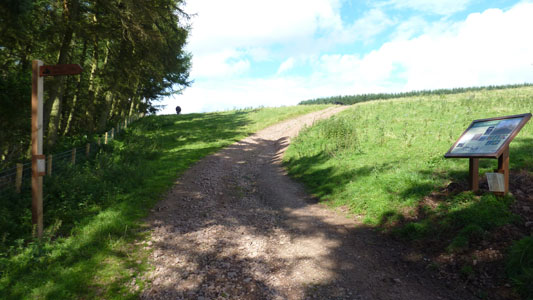 Climbing up from Ellemford. The lump on the hill by the trees is a cow, not an hagggis...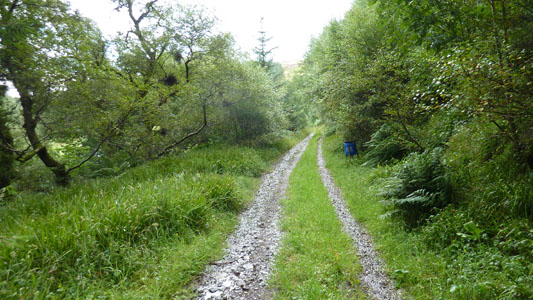 After a bit of hilly stuff, a walk through Roughside walk before more undulating shenanigans...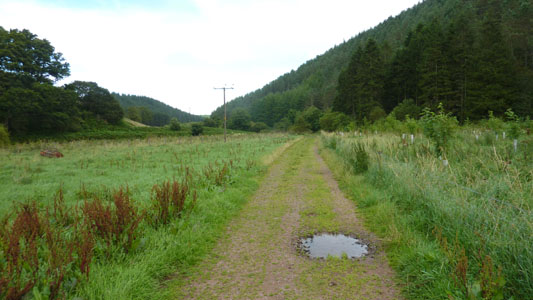 All very pleasant and easy going now, towards Abbey St Bathans
All the facilities of Abbey St Bathans in one handy little area...the phone box is in a bad way, but the bench is serviceable. If you are into that religion malarkey then there is a handy little church as well...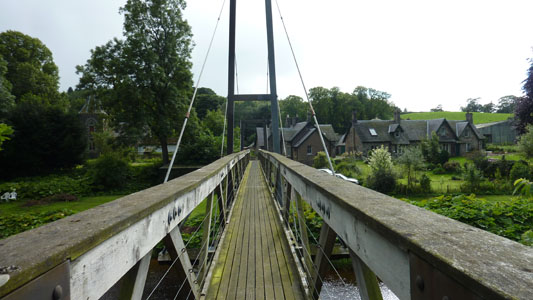 The impressive bridge over Whiteadder Water, although the planks are a bit flimsy!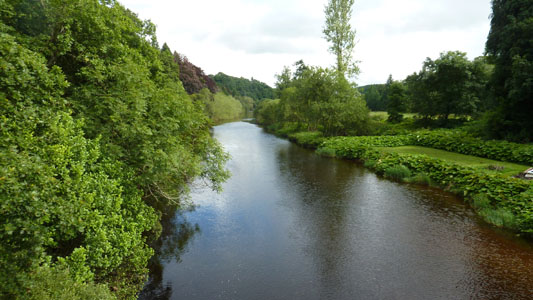 A pleasant enough stretch of River, with a brief walk along the bank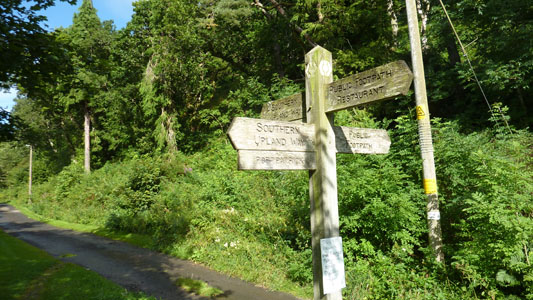 Fingerpost pointing back to Portpatrick, a bleedin long way from here...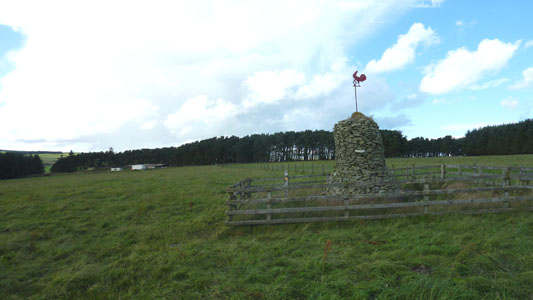 The lovely cairn and weathervane at Whiteburn Farm, a bit of a slog through the grass though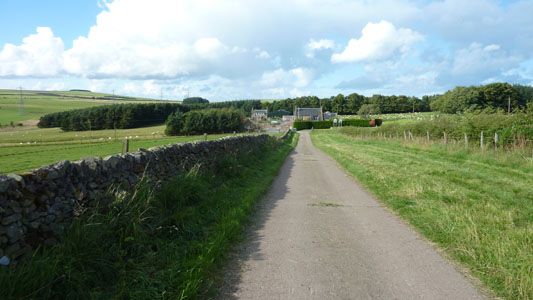 Whiteburn Farm - they don't take kindly to strangers here...the footpath has been diverted away from the homestead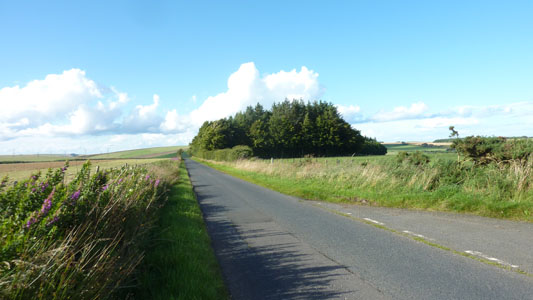 Following a quiet lane after Whiteburn Farm and before heading down to Blackburn Farm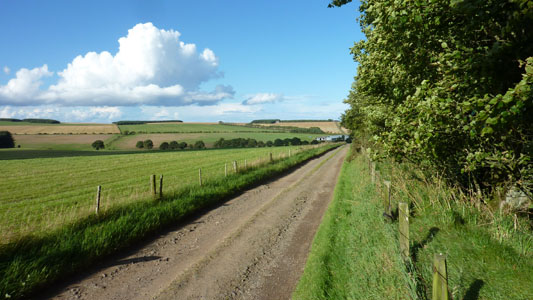 A long slow descent then a rise back up to Blackburn Farm, the dot on the horizon, just to the left of the trees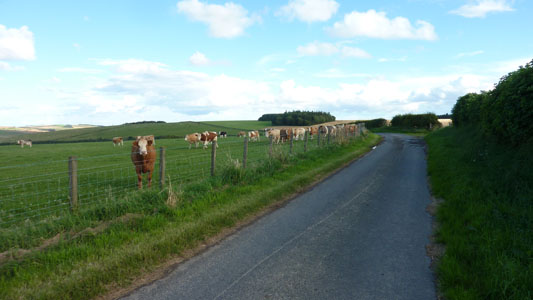 Curious cows on the lane leading down to the A1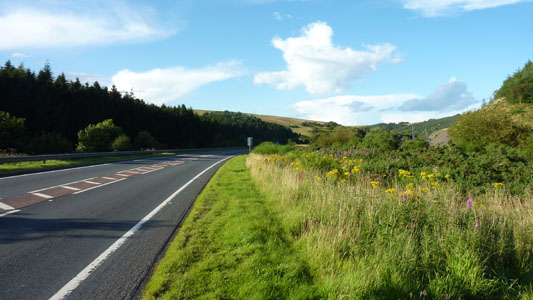 Crossing the A1 - very picturesque in this part of Scotland, a contrast to some of the dreariness traversed in England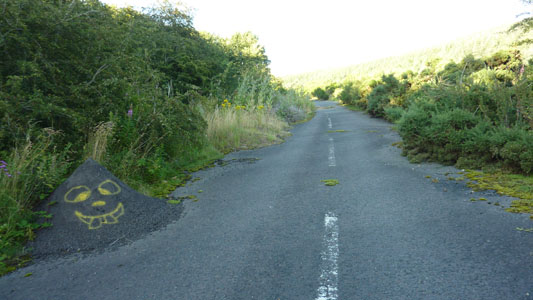 A stretch of the old A1 where the section just north of that crossed was reloaded as a dual carriageway - with mirth inducing grafitti. The road appears to have been abandoned for a few decades. On one side the traffic of the new section roars by, on the other Inter City Trains whizz past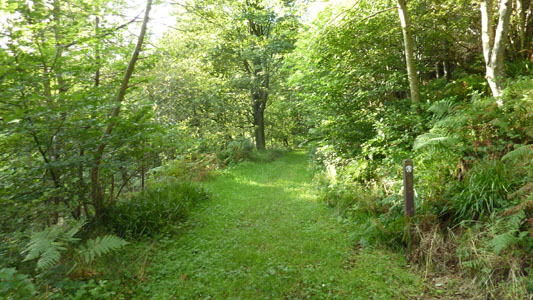 After crossing the railway, a section through Penmanshiel Wood with quite a climb, zigzagging upwards, eventually levelling off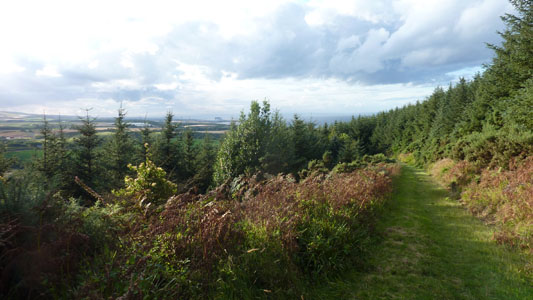 Then this stunning vista over the coast - super, smashing, lovely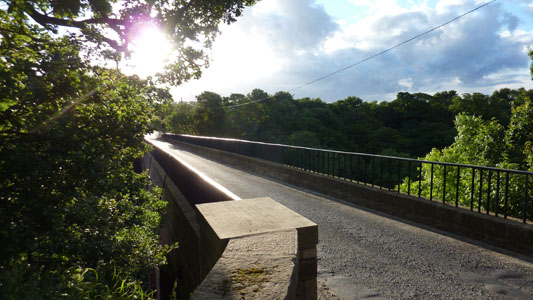 At the A1107 a lovely high bridge, that we cross by car entering and leaving Pease Bay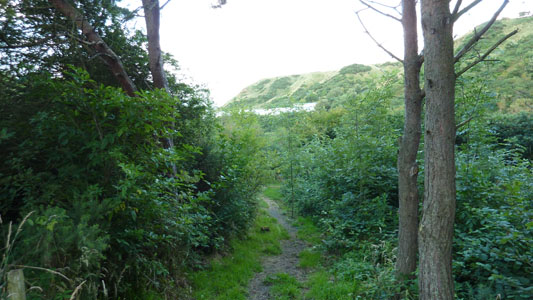 Dropping down through Pease Dean Wildlife Reserve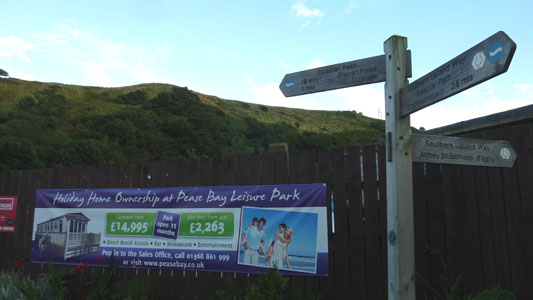 A meeting of ways at Pease Bay Leisure Park, and my home for the next couple of days. I just so lucked out that all these walks pass through here - good choice Frank! I had already walked here from Cockburnspath previously and walked the section of North Sea Trail to St Abbs while on this holiday