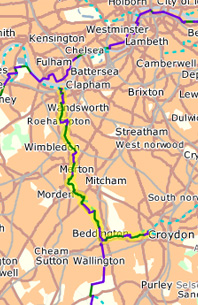 An easy and generally level route following as closely as possible the River Wandle, once the fastest flowing in London with 90 mills along its length a few of which have been retained, from its origins in Sutton through Merton to the Thames at Wandsworth. It is mainly a multi-user trail shared with cyclists as national route 22 and there are many public transport links with a link to East Croydon for the walking Trail.
The river has twin sources at Waddon and Carshalton Ponds. It runs in semi-rural parklands for much of its course and the walking Trail includes many public parks and small nature reserves: two Wandle Parks, Waddon Ponds, Beddington Park, The Grove, Wilderness Island, Dale Park, Watercress Park, Watermeads, Ravensbury and Modrden Hall Parks, Wandle Water Meadow Nature Park, Garratt Park and King George Park. Originally there were osier plantations and watercress beds along the river's length but now it flows through suburban and industrial landscapes in green corridors. The Wandle Trail provides a link from the Vanguard Way to the Thames Path National Trail at Wandsworth.
Merton Council does a spiffing map that makes walking the Wandle Trail easy peasy unless you're a complete plank!
East Croydon to Wandsworth
Sunday 12 February 2012 - 14 Miles
ID12022012#6
FIrst walk in two weeks, last weekend was feeling a bit monkey on Saturday, then had too much too do on Sunday to go walkies so by this weekend was a bit chomping at the bit like to get jiggy wid it - so choose the Wandle Trail that I should have done on at least two previous occasions. An early and bitterly cold start at East Croydon, but before long it was tolerable! Definately not a pretty walk, but certainly an interesting one, and some of the parks were quite pleasant. Unfortunately the tramlink was being worked on in central Croydon, and also Wandle Park (Croydon) was closed as well for work, but I perservered and on reaching the Thames at Wandsworth walked on to Clapham Junction to get a train back home via East Croydon and Redhill.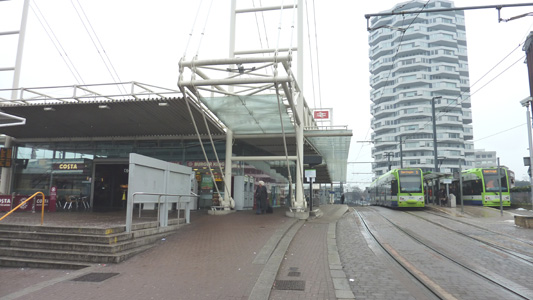 The Aesthetic Delights of East Croydon Station...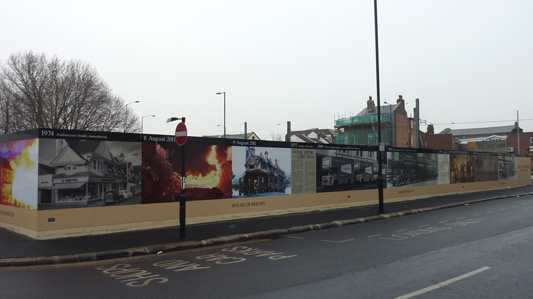 Reeves Corner - The Reeves Furniture business has reopened opposite after some lowlife burnt the gaff down during the riots last August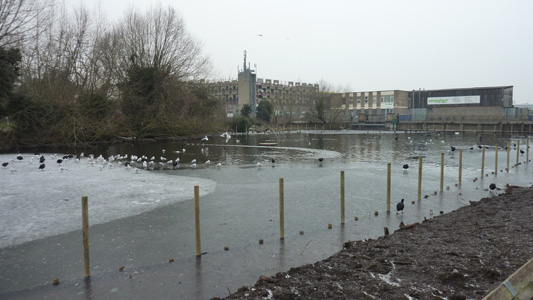 Waddon Ponds, one of the two sources of the River Wandle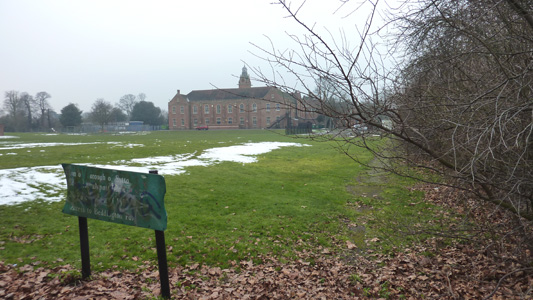 Carew Manor In Beddington Park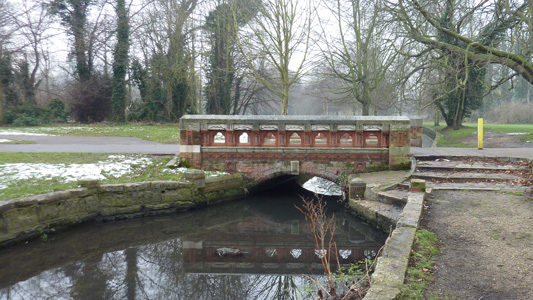 Canon Bridges Bridge - Beddington Park. Very attractive Terracotta structure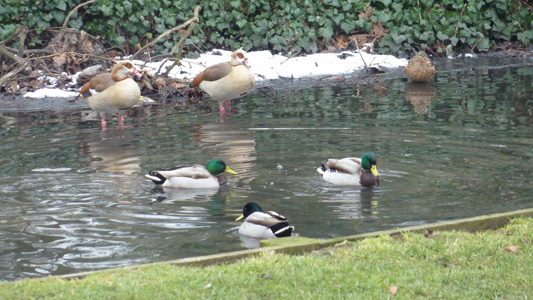 A close up of some winged critters - I had seen the unusual back row fings before in London but didn't know what species they were - Apparently they are Egyptian Geese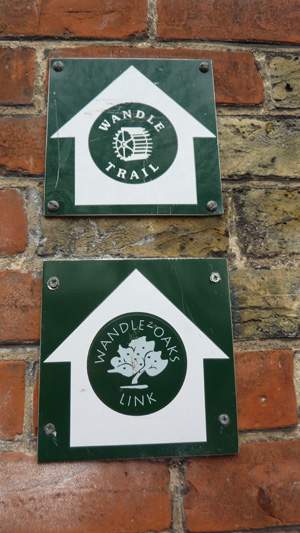 Wandle Oaks Link Waymark - The Grove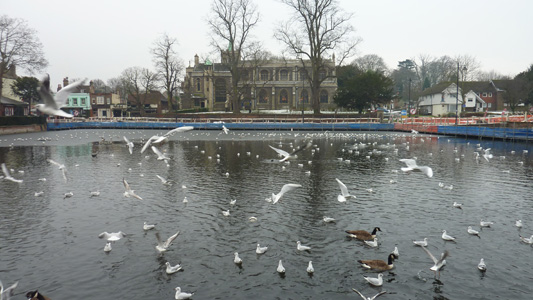 Carshalton Ponds the other source for the Wandle. My canister got a bit disorientated here as there was a short cut and main route leading to Wilderness Island and I wandered round a bit even though it was all bleedin obvious in retrospect as the shortcut doesn't touch The Grove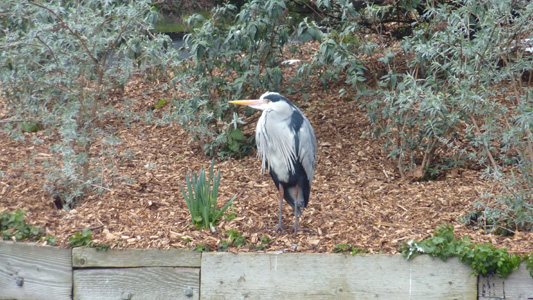 Grey Heron doing its thing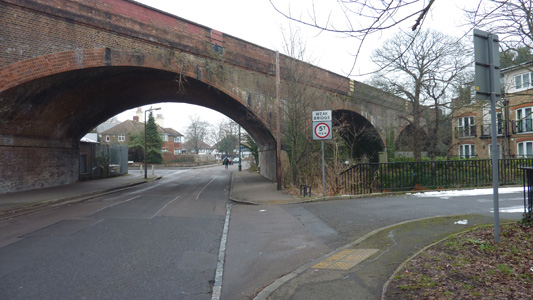 Here the main and shortcut recombine. Going on under the railway near Carshalton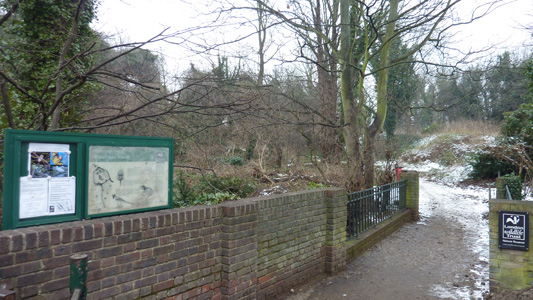 Entrance to London Wildlife Trust Nature Reserve at Wilderness Island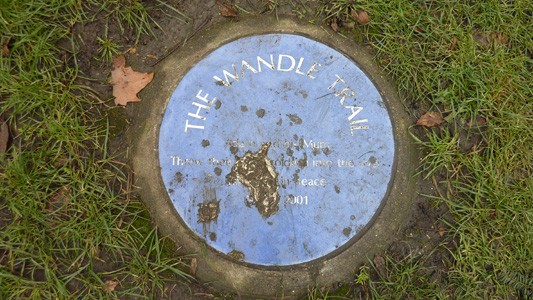 One of several odd but touching plaques along the trail - rather damaged but clear enough to read that 'Adam and his mum threw their (dead?!) goldfish into the river, rest in peace 2001'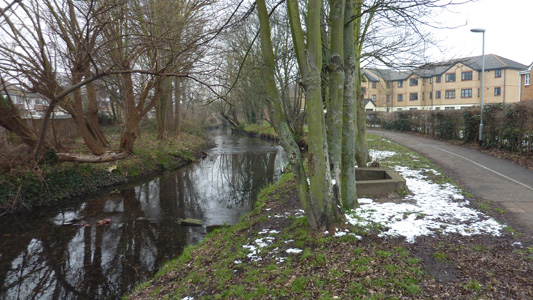 Near Dale Park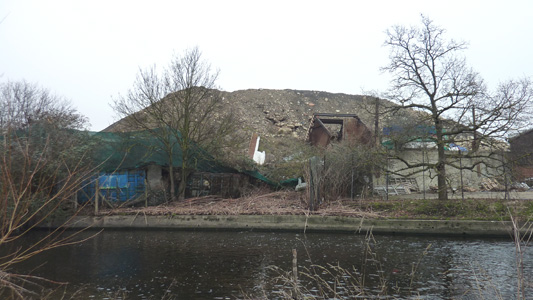 The River is blighted by ugly industrial rubbish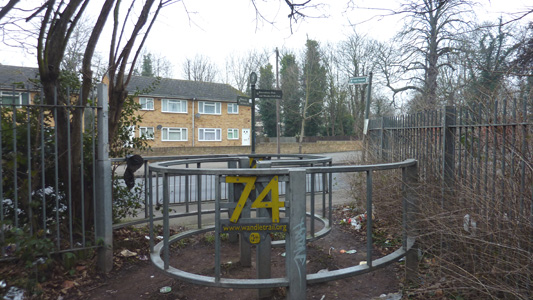 The Wandle has many numbered gates and structures with the web address 'wandletrail.org' which points to an American Hiking resource, however the sustrans website explains more about the art installations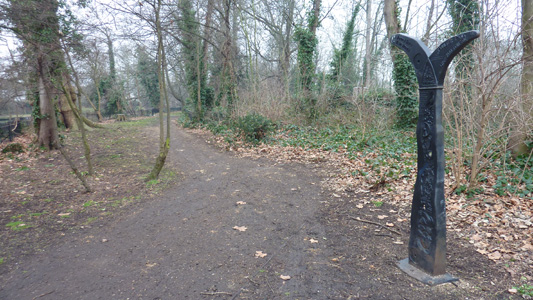 Sustrans distance marker in Ravensbury Park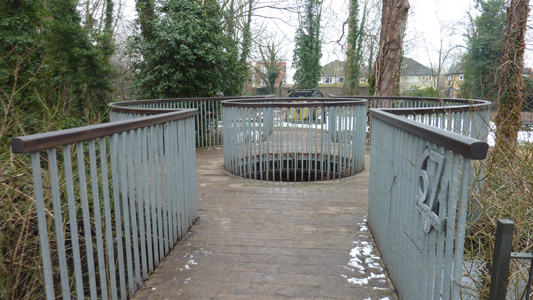 Round Bridge, or I prefer Polo Bridge. Behind is a weird millstone and pumping equipment installation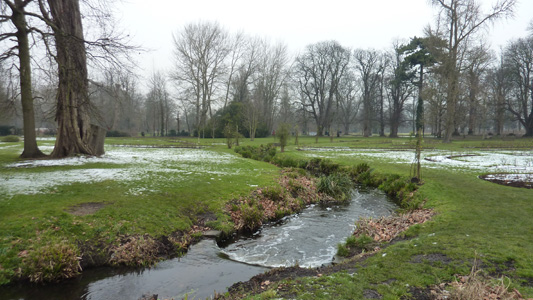 Probably the loveliest section through Morden Hall Park. I would have loved to linger but needed to get a wriggle on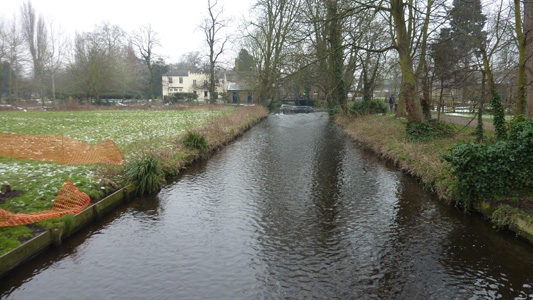 Innit nice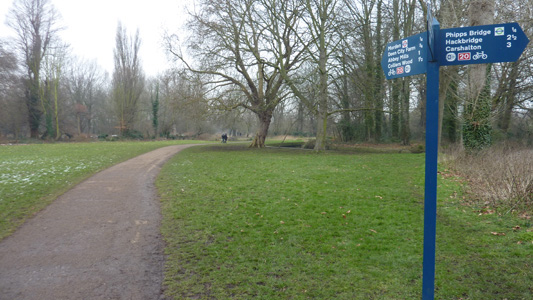 Even the fingerposts are attractive here!!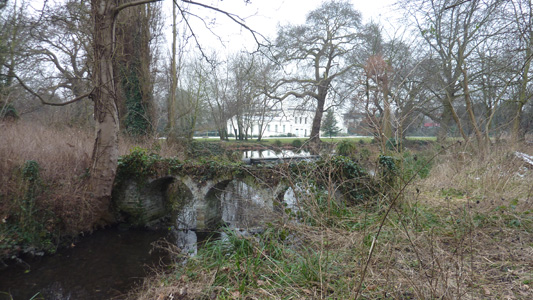 Morden Hall behind ruins of bridge type structure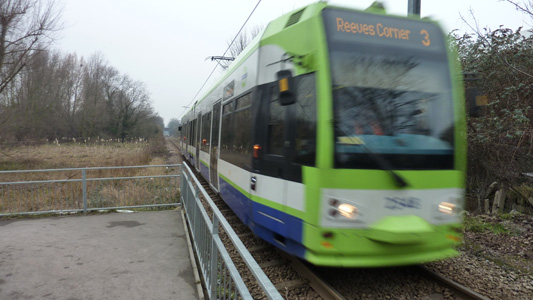 Close encounters of the tram kind near Deen City Farm with lots of critters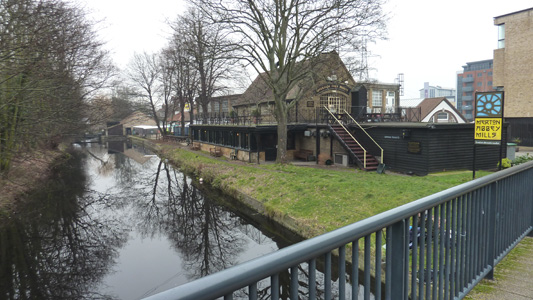 Merton Abbey Mills, an attractive place to do a bit of shopping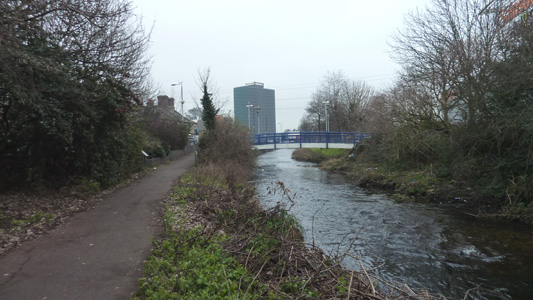 Near Merton High Street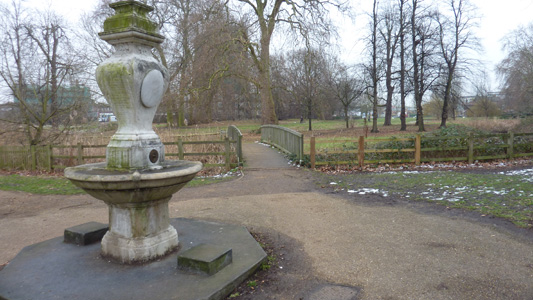 Wandle Park, Merton - the second park on the trail of that name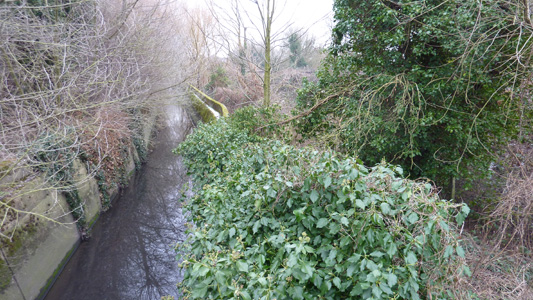 The Wandle runs in an ugly concrete channel towards Earlsfield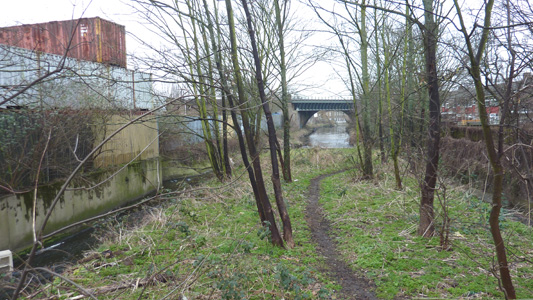 More industrial shenanigans near Earlsfield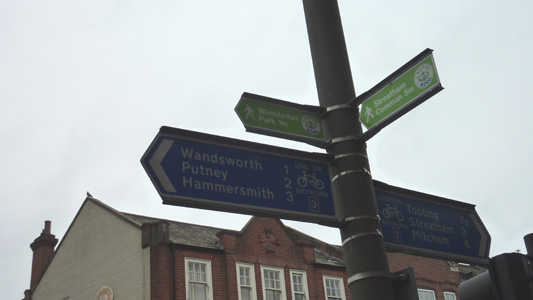 Brief reaquaintance with Capital Ring at Earlsfield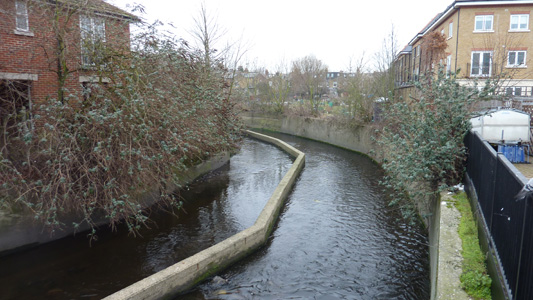 Wandle reloaded before leaving the Capital Ring section at Earlsfield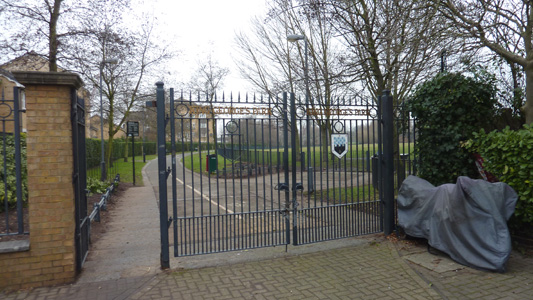 Entering King George's Park between Earlsfield and Wandsworth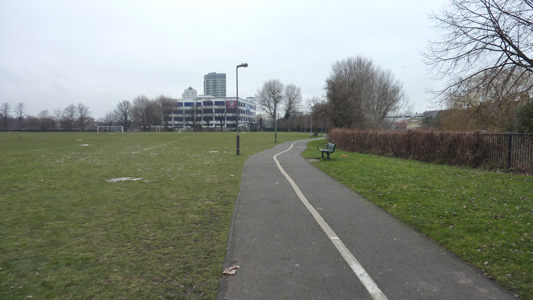 Time for lunch and a rest in King George's Park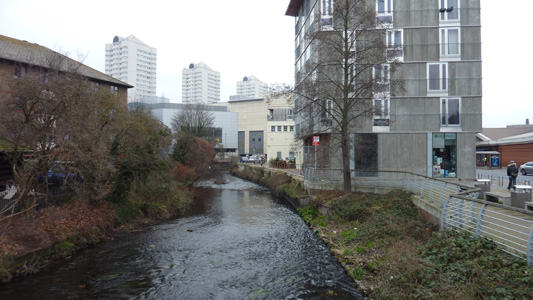 Leaving the park to join Garratt's Lane at Wandsworth - I accidently followed the cycle section here as it was badly waymarked for the walking section, whatever...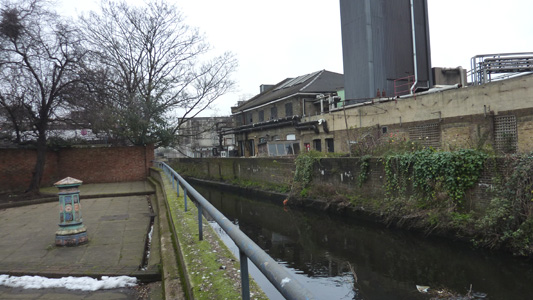 Youngs Brewery, High Street Wandsworth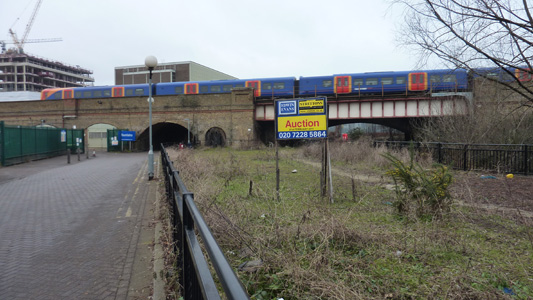 Nearing the Thames. The land was auctioned a year ago but nothing has happened, that'll be that pesky credit crunch...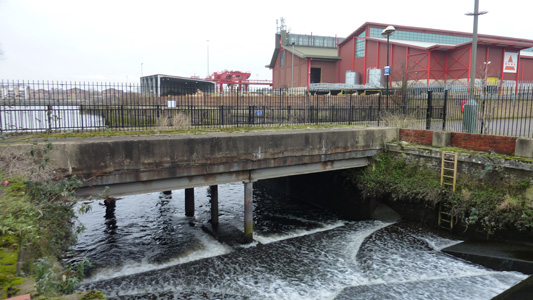 The Wandle flowing into the Thames. Here the Thames Path was reloaded to steer me towards Clapham Junction Station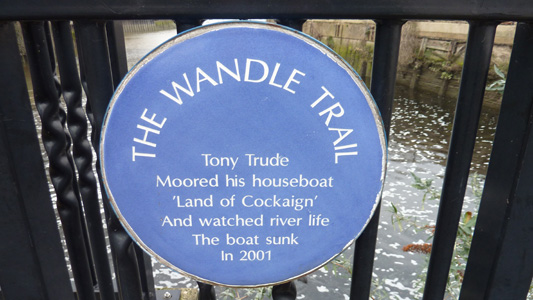 On the bridge crossing the Wandle another sad tale - did he scuttle his ride?