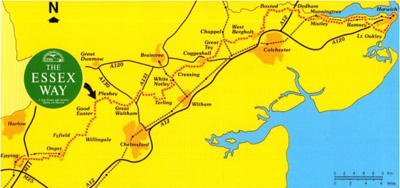 Epping to Harwich, Essex 81 Miles. Also forms part of the E2 between Dedham and Harwich (Eastern Variant). The Way heads across gently undulating agricultural land, passing through or near many attractive old villages including Willingdale, Pleshey, Coggeshall, Dedham, which has connections with the painter John Constable, and Manningtree where it takes to the Stour Estuary.
Sections Walked so far: Manningtree to Wrabness, Wrabness to Ramsey, Ramsey to Harwich Town, Great Horkesley to Manningtree, Manningtree 'Gap', Epping to Chipping Ongar, Chappel to Colchester, Chipping Ongar to Great Waltham, Great Waltham to White Notley and White Notley to Chappel
Manningtree to Wrabness
Thursday 27 Dec 2007 - 6 Miles
A super short walk today as was on way to see family, but train problems meant a really late start. By time reached Wrabness was getting dark so had to call it quits. My first walking in Essex, and very attractive countryside, by the river Stour
EDME works at Mistley and Wrabness Church interesting.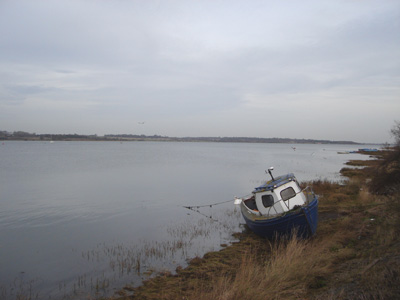 By the Stour at Manningtree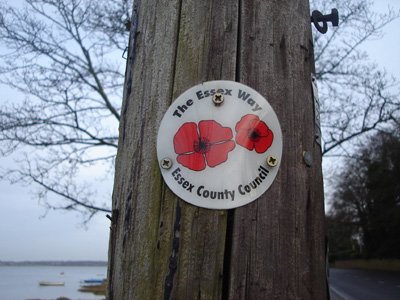 Waymarker - Strangely, there are these Poppy style ones, and also dark green ones...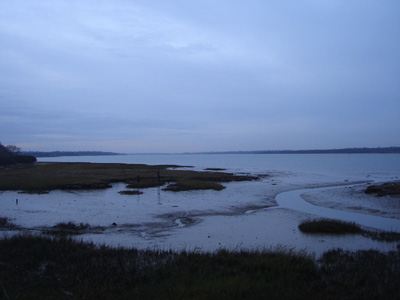 Looking back towards Manningtree from Wrabness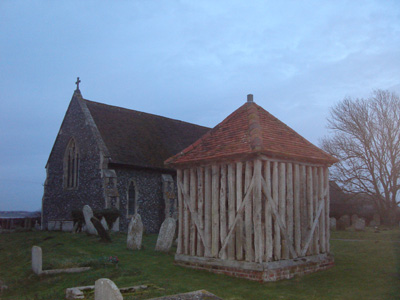 Very quaint church, with bell kept in wooden cage
Wrabness to Ramsey
Monday 31 Dec 2007 - 4 Miles
As I was thwarted from getting here last Thursday, I finished this section on the way home. The Essex Way followed to Ramsey.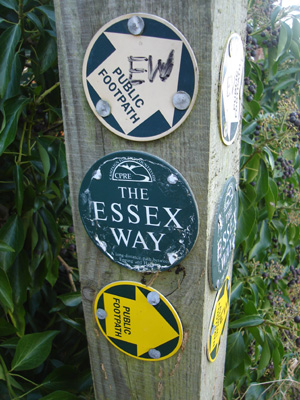 The other style of waymarker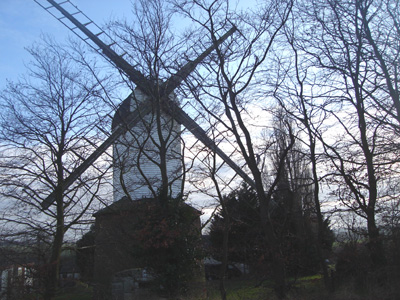 Ramsey windmill
Ramsey to Harwich Town
Wednesday 6 August 2008 - 5 Miles
ID06082008#28
Super, smashing lovely! Back in the old country, anuvva dose of walking in Essex and Suffolk. Got of the train at Harwich International and retraced steps on E2 back to Ramsey, and finished in Harwich Town. A real route march, as needed to catch last Felixstowe Ferry of the day. Made it with 10 minutes to spare. Extremely heavy rucksack made things a bit bleedin' previous...but all very nice and interesting all the same guv...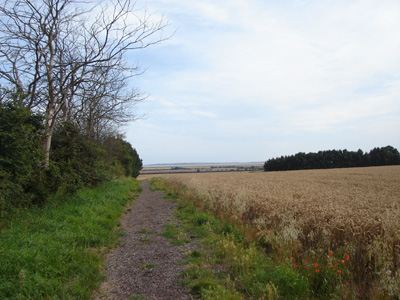 Approaching the sea near Little Oakley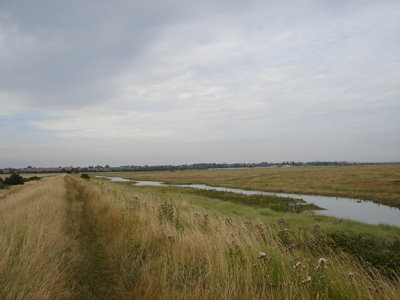 On the raised bank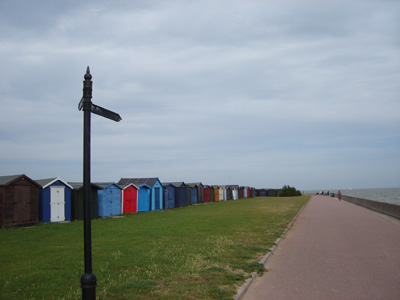 Dovercourt beach huts
Strange Dovercourt lighthouses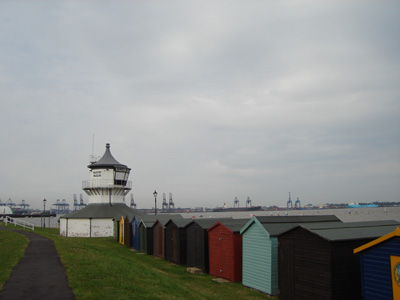 Maritime museum - looking across Stour/Orwell to Felixstowe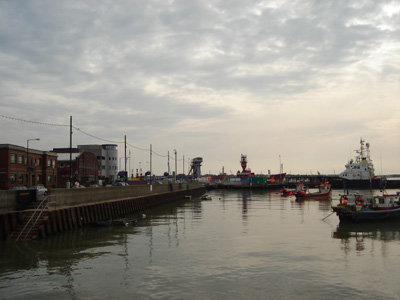 Waiting for the ferry on Ha'penny pier
Great Horkesley to Manningtree
Wednesday 26 August 2009 - 13 Miles
ID26082009#24
First walk again for couple of weeks, after a very convivial week on the Isle Of Wight, the only problem being no opportunities to go off walking while there. Anyway, a big dose of walking, on way to Suffolk for a week. This first walk was great, as I have been desperate to make inroads into the Essex Way. I got off the train in Colchester, and walked via a golf couse and a scary 'frogger' session across the A12, back onto the Essex Way, between West Bergholt and Great Horkesley. The path then passes north of Boxted, eventually crossing the A12 again (safely) south of Stratford St Mary and on to Dedham. Heading South and then East, leaving the walk at Lawford Church and heading down to Manningtree Station and to me mums. The Essex Way continues to delight, running through the Stour Valley and 'Constable Country'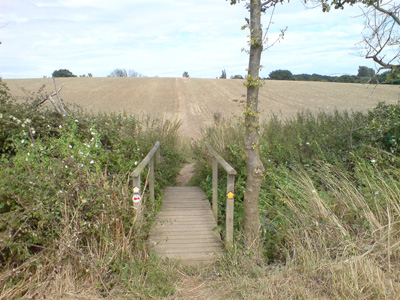 Rejoining the Essex Way near Great Horkesley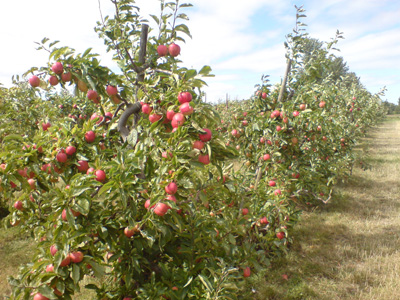 Beautiful orchard nearby. I took a windfall and munched on route
Carter's Vineyard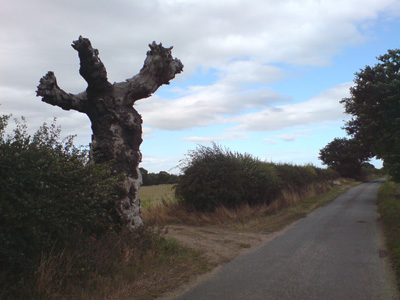 The spookiest tree ever - near Rivers Hall. Avoid this lane at night!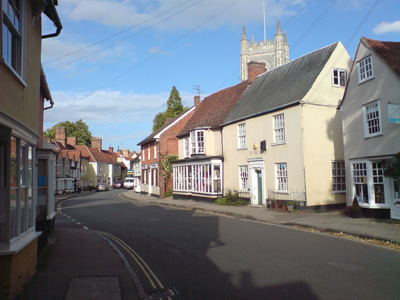 Dedham - very nice. Had a good scoff break near church
View to pretty Dedham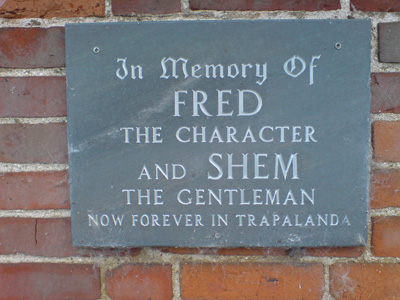 On the side of stables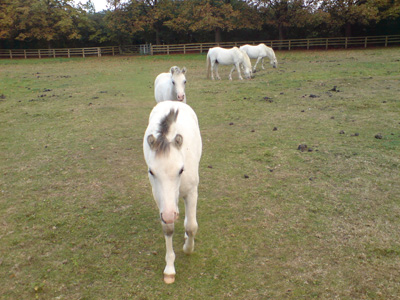 hello horsey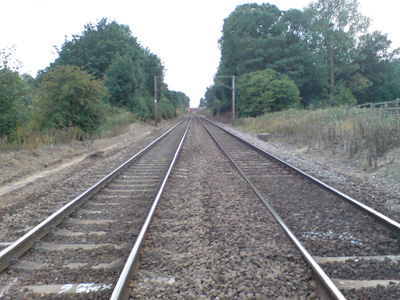 Not recommended, but not tresspassing either, on a crossing near Manningtree. This is the main London - Norwich line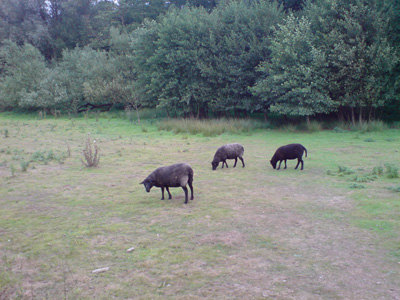 Baa, Baa Etc...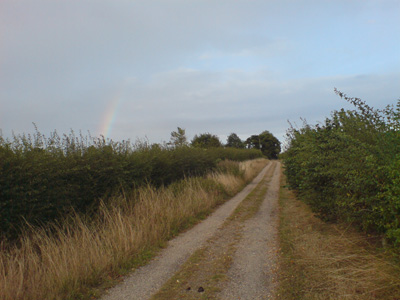 Faint rainbow near Manningtree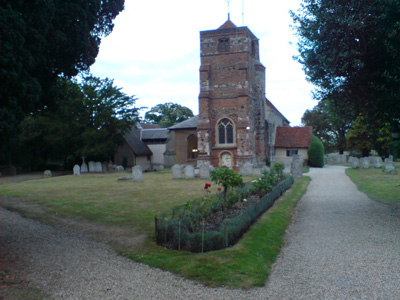 Lawford Church. Peeled off from here down to the station
Manningtree 'Gap' (Station to Town)
Tuesday 1 September 2009 - 1.5 Miles
ID01092009#28
On way back from Suffolk, felt I had left a bit early, so got off at Manningtree and just did the little strand of Essex Way that I had missed by previously walking straight through the town, just to kill an hour. Unfortunately it poured down half way through, but soon dried off when back on the train to London later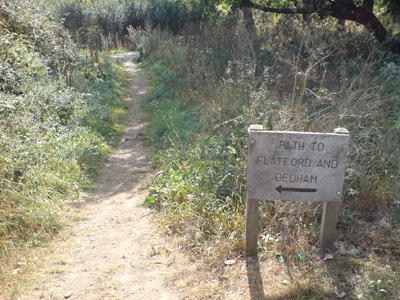 The path from Manningtree station leading back up to Lawford Church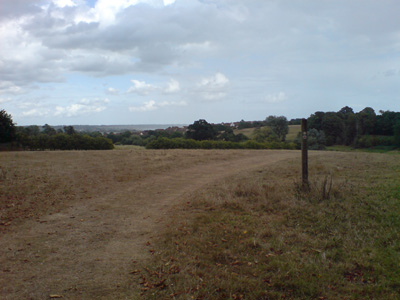 Above Manningtree, just before the 'heavens' opened
Epping to Chipping Ongar
22 May 2010 - 7 Miles
ID22052010#14b
This was walked immediately on from the second part of the Epping Forest Centenary Walk. I was almost overcome with the idea of getting the hell out of dodge, but half heartedly decided to carry on. The walk was actually very pleasant, and much easier to follow, as the Essex Way is well waymarked. It was also nice that there was some kind of running competition, which meant that from time to time I was being passed by joggers, then disappearing into the distance. It had been a very hot day, but a glorious comfortable evening - I only reached Ongar at 2100, so had to spend £15 on a cab back to Epping, after waiting half hour at the Cock Inn, and getting slaughtered on One Pint! If the muppets had kept the Central Line open to Ongar (axed in 1994) I could have got back easily - although I don't think it ran ouside commuter hours...
From Epping Station, I crossed the footbridge, went down Hillcrest Way, then turned right on Bower Hill, then almost immediately left, this being the start of the Essex Way. This leads South East to Stewards Green Road, then almost immediately you head North East, making a 'V'. Right ast Stonards Hill, passing the Pub, then left and heading North West passing round Coopersale, East through Gernon Bushes, and continuing to Toot Hill, through the village and then on a mainly East Heading with a few doglegs, crossing Greensted Road, through Greensted and eventually hitting the centre of Ongar, opposite the Cock Inn.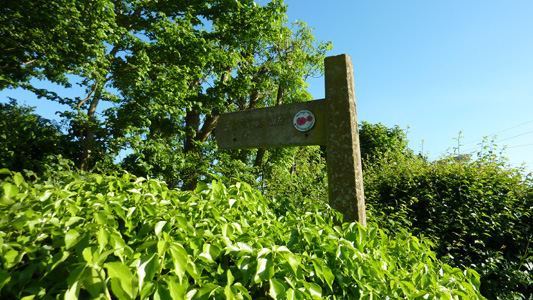 Wow - luxury - waymarking at Epping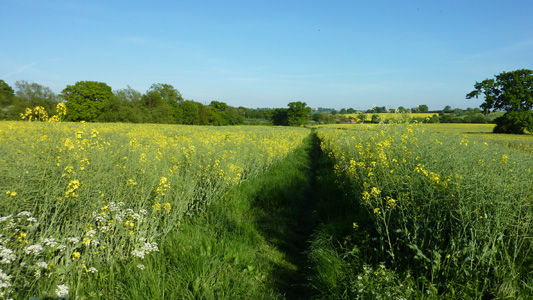 Very lush countryside - just outside Epping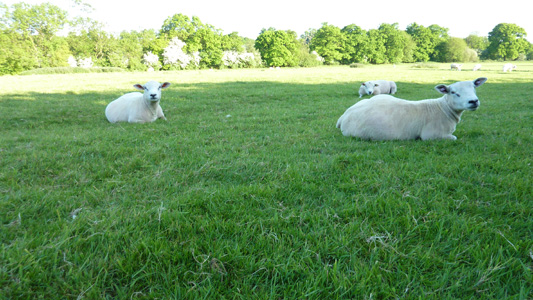 Sheeps Chill - near Coopersale Street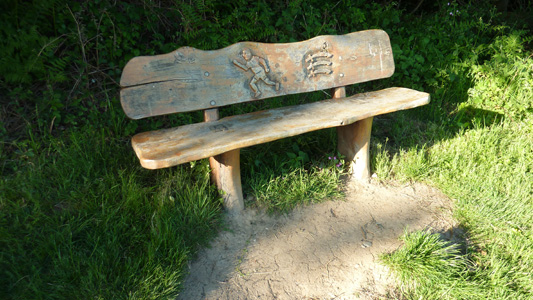 Nice tempting bench at Coopersale - no time to stop though - keep on truckin'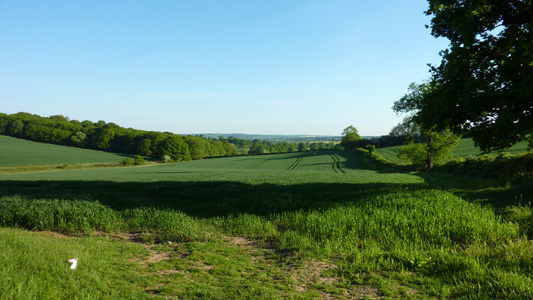 The view from the bench - southwards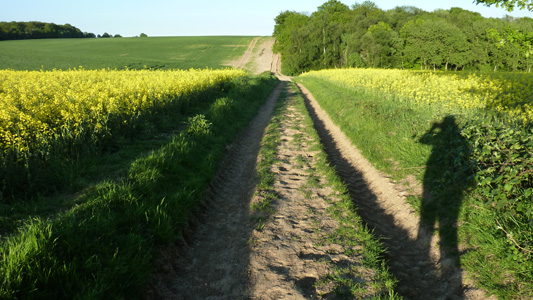 That bleedin' shadow keeps following me...on the way to Toot Hill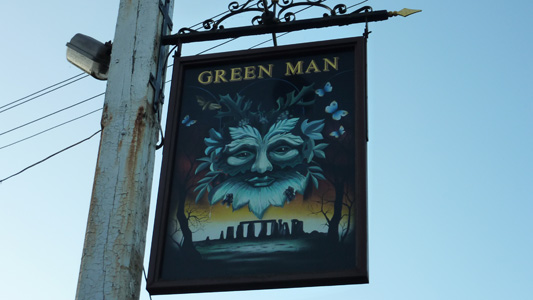 Green Man Pub Sign - Toot Hill. All very Pagan and that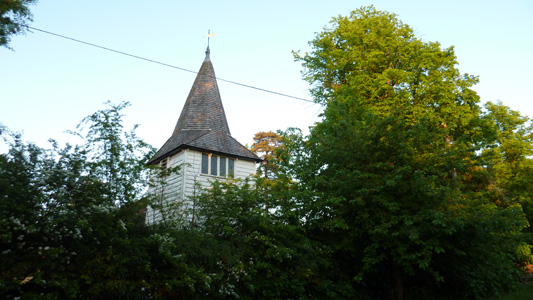 Greensted Church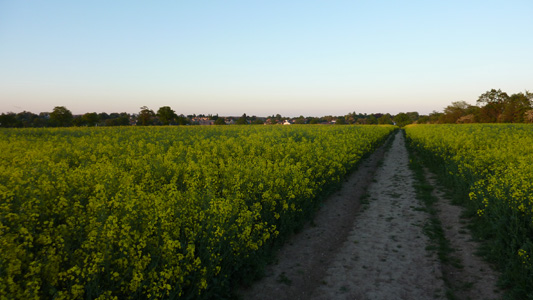 Ongar beckons...getting dark
Chappel Station to Colchester Stn
Wednesday 4 August 2010 - 8 Miles (5.25 EW)
ID04082010#17
My first walk for TWO months (apart from a few bits and pieces revisited) so desperate to make an impression while on holiday. This was walked on my way to Trimley Suffolk for a few days. The rain had been torrential on the train ride up, but eased off and stopped luckily, shortly after getting off at Chappel and Wakes Colne Station for the insert path back to the Essex Way. Along with the egress to Colchester the actual distance walked on the Essex Way itself was probably only 5.25 Miles.
From the lovely station, partly looked after by the East Anglian Railway Museum I walked down to the main road and took a path leading down by the Viaduct, quite spectacular and well known. Across fields away from the viaduct I shortly reached the Essex Way near Bacon's Farm, and then followed near the river Colne to Fordstreet, crossing to the North Bank. Staying near the river, across field margins and some woodland, reached West Bergholt Church for a brief rest, then down through the Village itself, before leaving the Essex Way near Armoury Farm to head across the A12 and by the golf course and reaching the road near Braiswick and a dull road walk to Colchester Station. This now leaves a gap in my walking on this path between Ongar and Chappel.
Chappel and Wakes Colne Station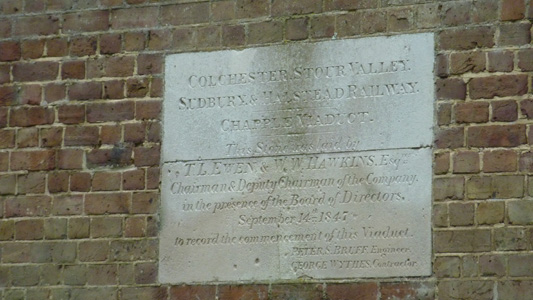 The Dedication Stone. Viaduct Completed in 1847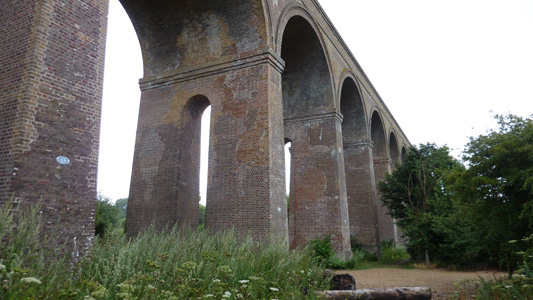 Lorra Bricks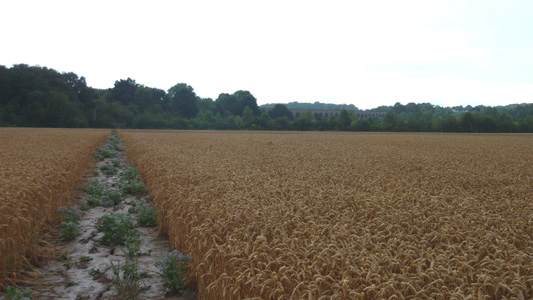 Longshot from a soggy Wheat Field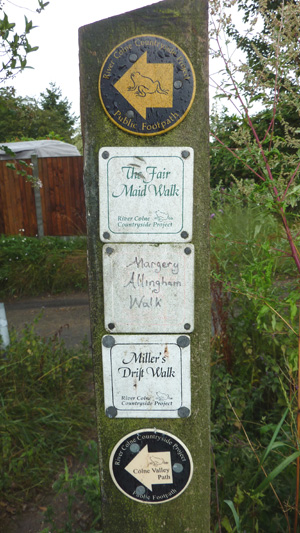 A few local walkies that I had no previous knowledge of. The Colne Valley Path is 22.5 Miles. I get a funny cosy feeling when seeing little local circular and themed walks, it seems to show a community that cares for the countryside and experiencing it up close and personal
Joining the Way near Bacon's Farm
Boat hire on the Colne at Fordstreet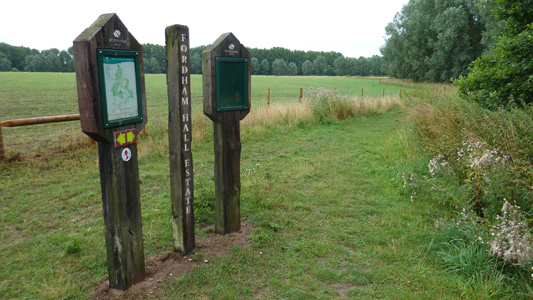 Fordham Hall Estate
Spoilt for choice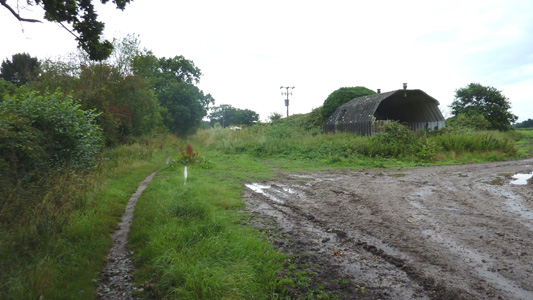 Near West Bergholt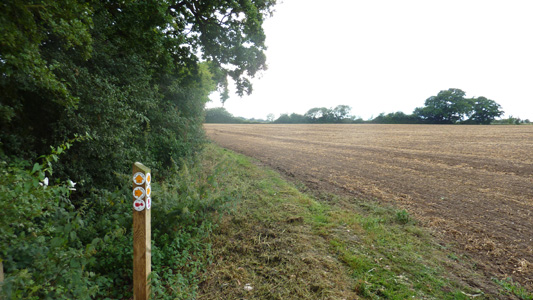 Leaving the Essex Way near Armoury Farm, before playing 'Frogger' on the A12 and the slog into Colchester
Chipping Ongar to Great Waltham
Sunday 20 March 2011 - 15.7 Miles
ID20032011#3
The only way is Essex...anyway, first lump since last August. Just going back over this page I see that I started it over 4 years ago, so it's about time I finished it really and I am spurred on from Tim Bertuchi's account of this walk. A very pleasant walk, after getting tube to Epping (last walk ended at West Ruislip - the other extreme of the Central Line) then bus to Chipping Ongar, the walk heads generally North East passing through Canon's Green, Willingale, Good Easter, Pleshey and finally to Great Waltham. Very gentle grades, mainly farmland with very quiet villages and some muddy byway/bridleway bits. Getting a bit 'are we there yet?' near Great Waltham, but bus turned up on time to get me home via Chelmsford. Only problem was a passenger taken ill at Orpington so had to sit on train for 50 minutes stationary but was too chilled out from a good day out to be bothered!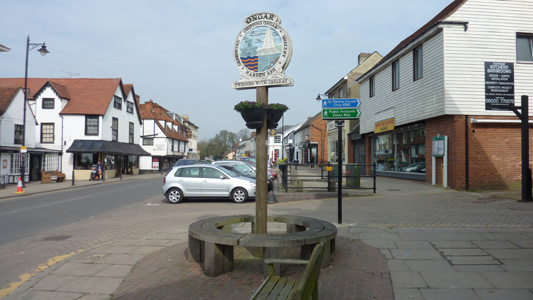 Chipping Ongar High Street. Pleasant enough (avoid Saturday Nights). A bit of a walking hub, with Essex Way, St Peter's Way and Three Forests Way all doing their thing. There is also a Castle (well the earthworks) and the Epping Ongar Railway is based here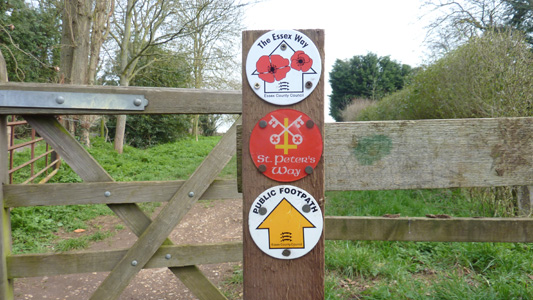 Waymarkers at Chipping Ongar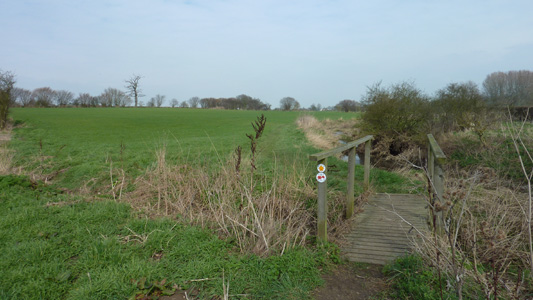 Following a stream near Chipping Ongar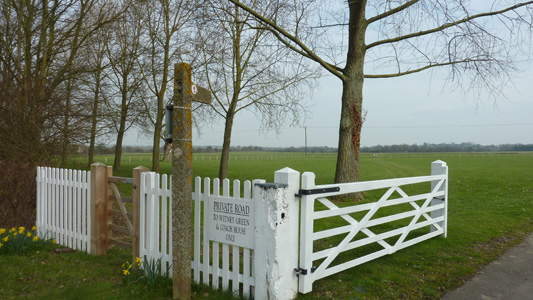 Private road to Witney Green as you do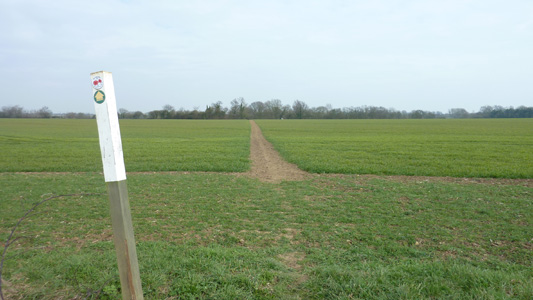 Straight on methinks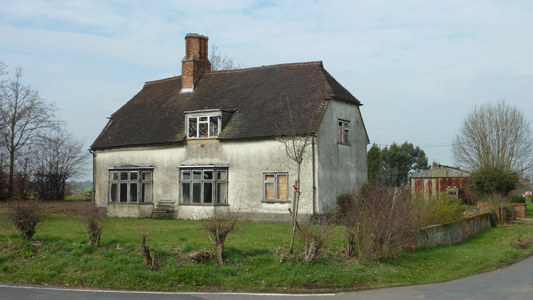 This lovely old gaff looked a bit abandoned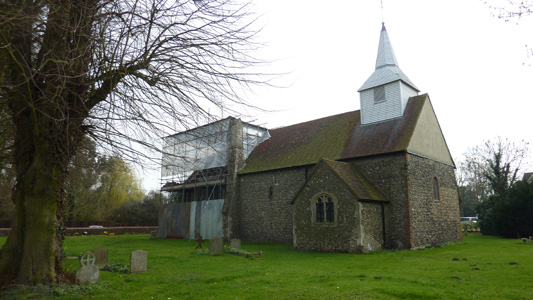 One of the two Churches at Willingale. Right next to each other, unique to Essex - apparently in two different parishes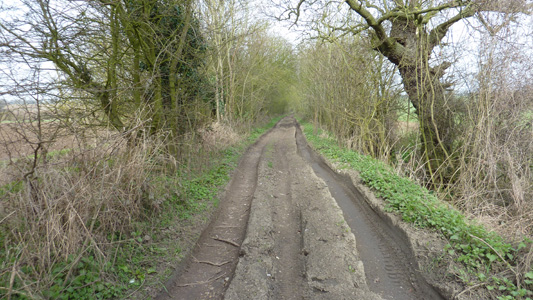 Example of 'Green Lanes' found in Essex. This is a byway and a couple of jeeps and motorbikes (legally) passed me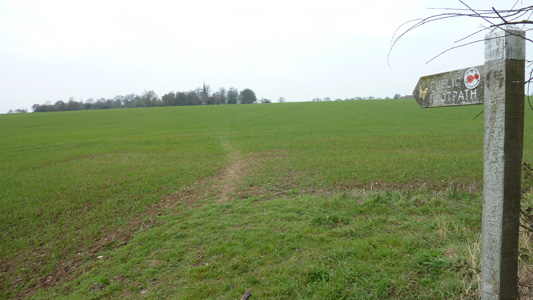 The approach to Good Easter. Church spire in distance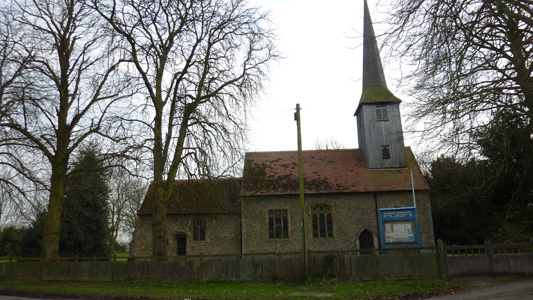 The attractive church at Good Easter. Had lunch here. Apparently there is a wall covering in the church celebrating 50 years of QE2 being on the throne, but church was locked so couldn't check it out or nothing!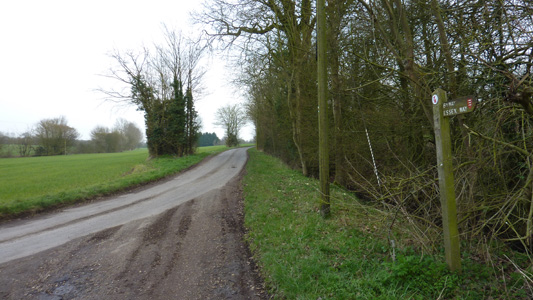 The trek from Good Easter on to Pleshey seemed to go on forever...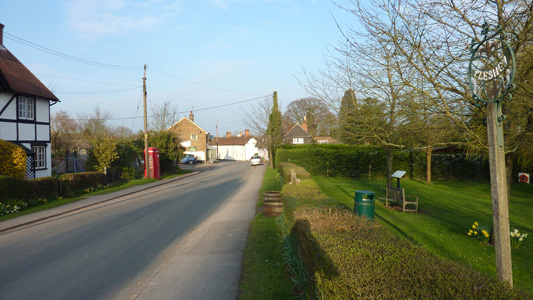 But, was yet another delightful quite little village. The earthworks and remain as testament to the one time castle. Interesting little history quote 'William the Conqueror gave Pleshey, in the parish of High Easter (southwest of Braintree) to Geoffrey de Mandeville in appreciation of his services; Mandeville was one of William's battle commanders at the Battle of Hastings in 1066'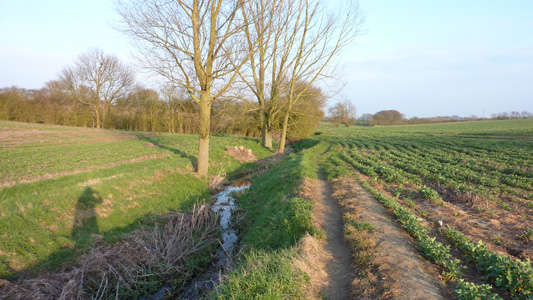 More nice walking enroute to Great Waltham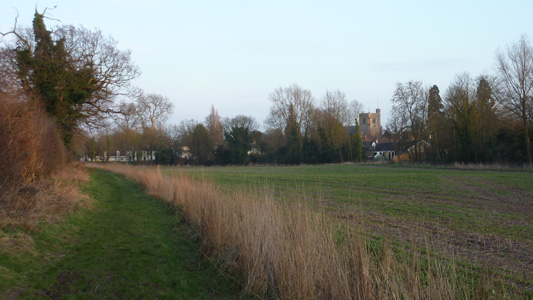 Great Waltham, journey's end. My helpful Android app gave me bus times to Chelmsford
Great Waltham to White Notley
Monday 11 April - 11.5 Miles
ID11042011#5
My penultimate lump of the Essex Way. More of the same, very gentle countryside, mainly agricultural, with a couple more villages this time. I took the train to Chelmsford then bus to Great Waltham. The walk took me north east to Little Leighs, then east passing through Fuller Street, and past the windmill at Terling, then heading mainly north east, through Fairstead, where I had my late lunch and eventually to White Notley where I caught a train back home. Another lovely day, slightly too warm initially, but a lovely walk into the late afternoon.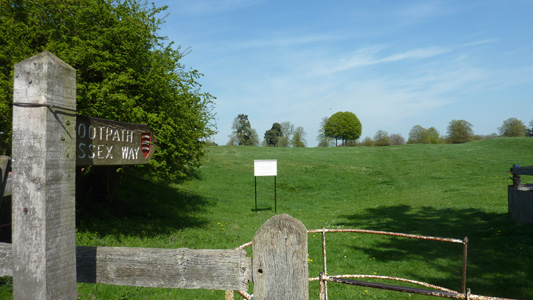 Recommencing walk at Great Waltham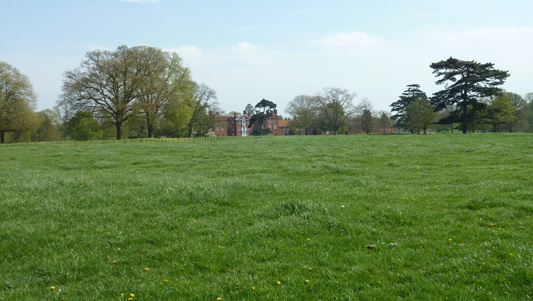 Langleys - retaining the name of its 14th century owners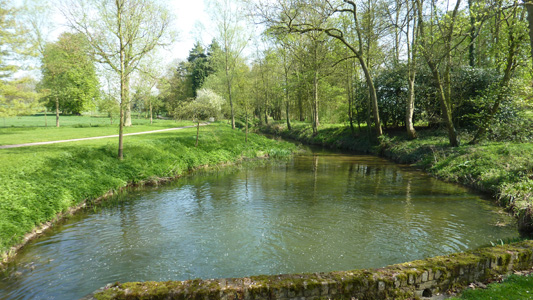 Walthambury Brook, a tributary of the River Chelmer at Langleys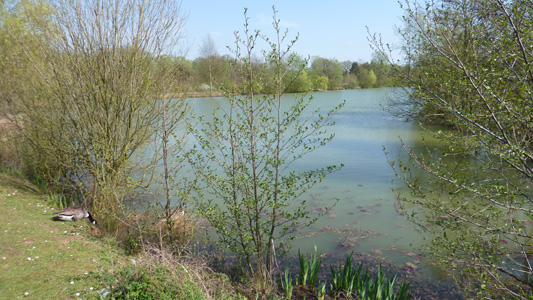 Lake in former quarry - Little Leighs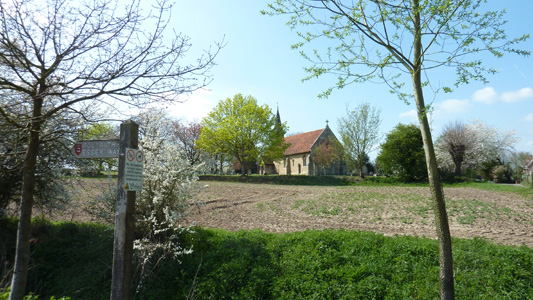 Little Leighs Church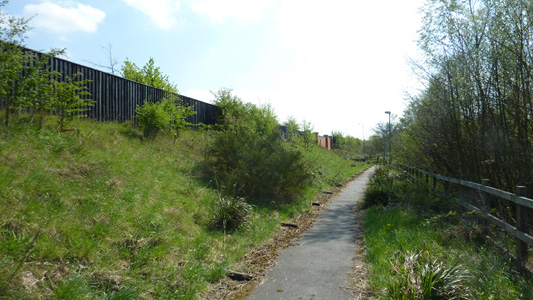 Not so nice - passing under the A130 Great Leighs bypass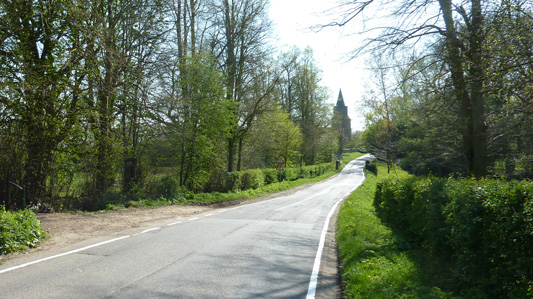 St Mary's Church Great Leighs - unusual round tower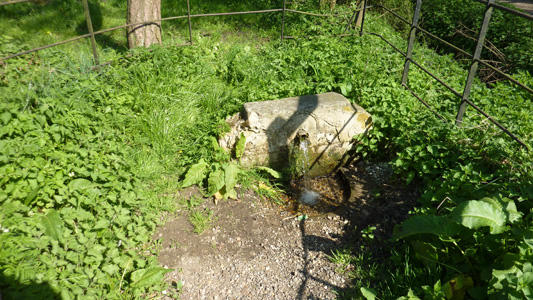 Spring - stonework dated 1881. Very welcome, hosed down hot carcass and refilled water bottle. Just across road from previous picture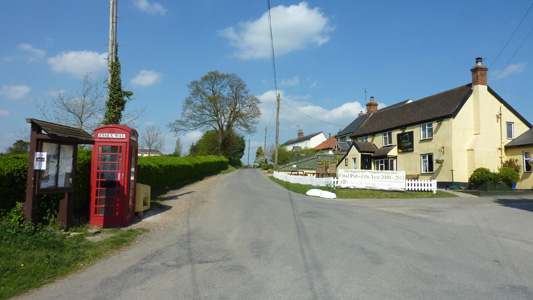 Fuller Street - The Square and Compasses Inn and a red phone box, reused as an Essex Way info point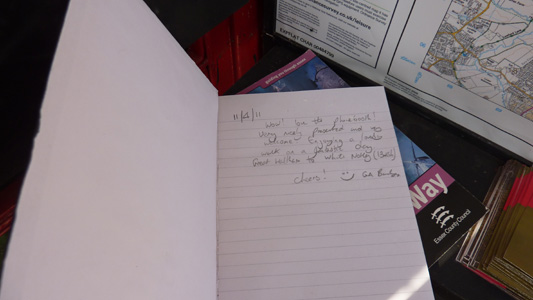 The inside was crammed with maps, timetables and this little visitors book - I just had to write a little comment. This kind of lovely addition all adds to the walking experience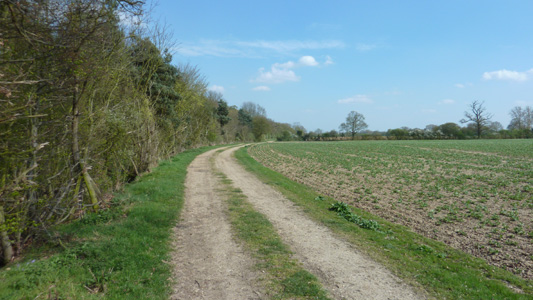 Lots of farm track action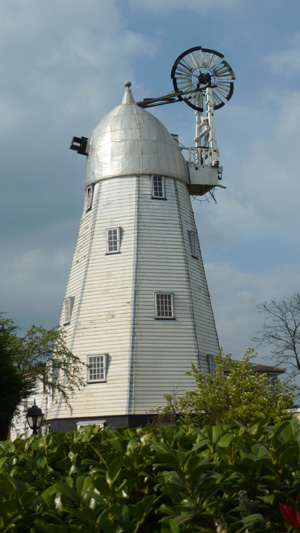 Terling Smock Windmill
Ford at Terling. Unlike some other Fords, you would need a serious 4x4 or tractor to get through this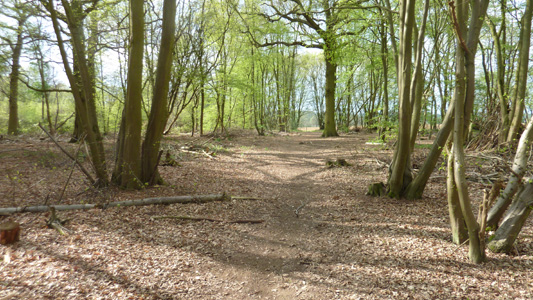 Stockley Wood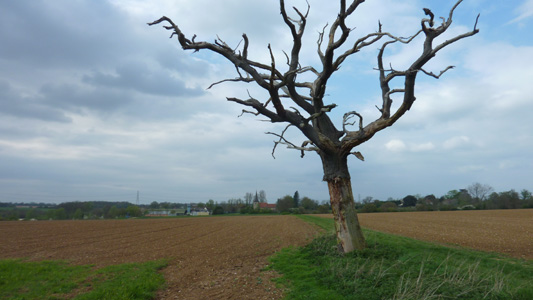 Approaching Fairstead, with Lightning damaged tree. Lunch was at Fairstead Church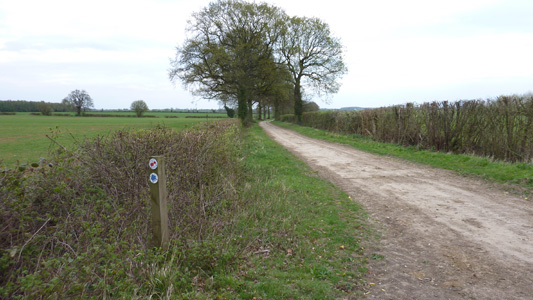 Along Pink Lane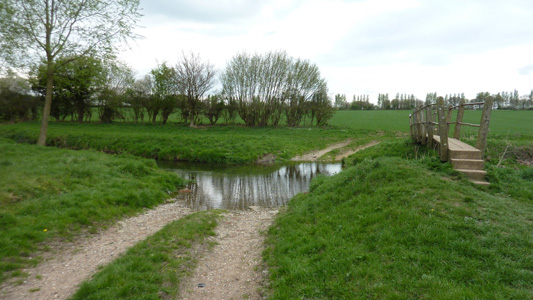 Ford on the River Brain near White Notley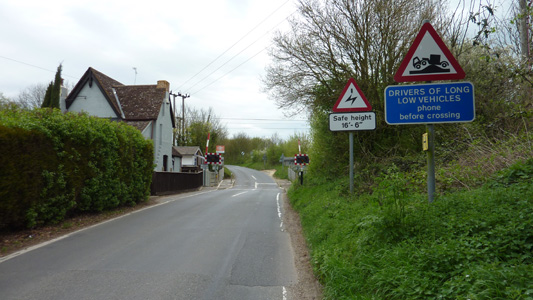 White Notley station - egress time
White Notley to Chappel and Wakes Colne
Tuesday 30 August 2011 - 14 Miles
ID30082011#9
Last section of Essex Way - walked and then went straight on to my mums for a few days break, so glad to finally finish what has been a very agreeable walking route. From White Notley Station passing just south of Cressing, heading slightly North East to pass by Sand and Gravel workings, and coming close to the river Blackwater before passing through Coggeshall. More sharply North across mainly level arable fields to reach Great Tey and (seemingly forever) to reach Chappel and Wakes Colne Station after leaving the Essex Way near the viaduct. Unfortunately I missed a train by 5 minutes, and had to wait nearly an hour to head towards Trimley, but it was not cold, and it is a lovely quaint old station out in the countryside, so the wait was ok, basking in the pleasure of another job done!
Just down the road from White Notley Station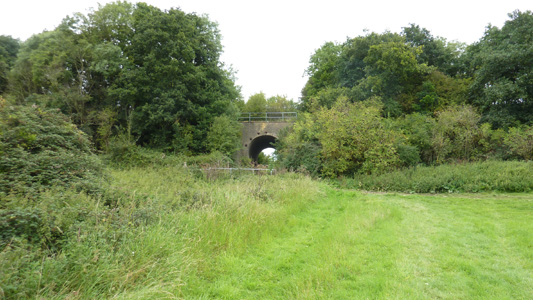 Tunnel bridge thing under Braintree - Witham Line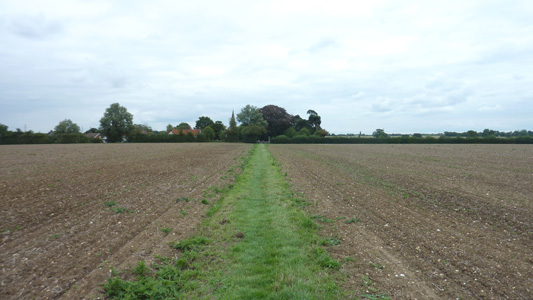 Approaching Cressing Church - Typical pleasant easy farmland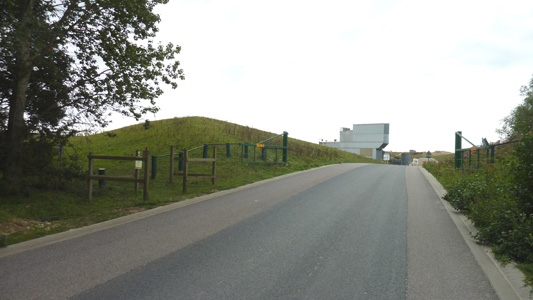 Gravel and Sand Works near Bradwell Hall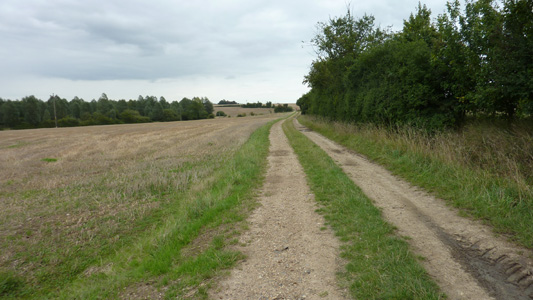 Not too far to Coggeshall now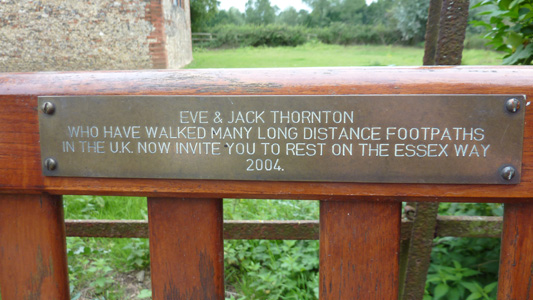 What a lovely plaque - thanks and I had a quick sit down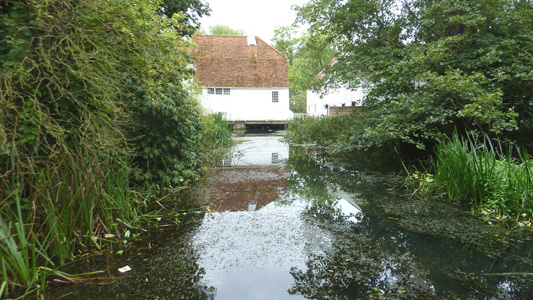 Coggeshall Mill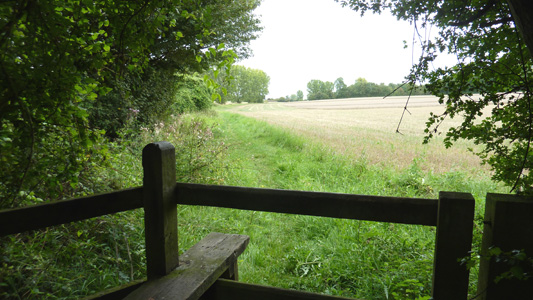 Just crossed the A120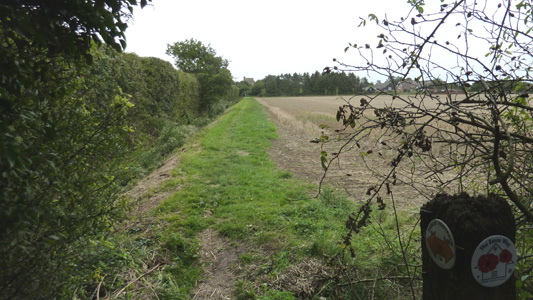 Approaching Great Tey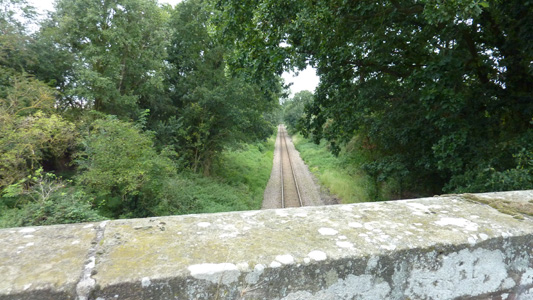 Passing above the Sudbury - Marks Tey railway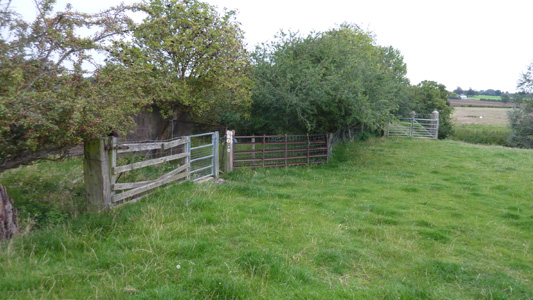 This spot marks the end of my Essex Way adventure, after nearly 4 years, and the deviation point back up to Chappel and Wakes Colne station - Job Done!