A permissive towpath trail from Penny Bridge, Up Nately to the Basingstoke Canal's junction with the Wey Navigation at Woodham, Surrey. The Canal walk goes through the Surrey and Hampshire countryside along the tree-lined towpath of the recently restored 200 years old canal and through woodland, heathland, wetland and pasture. The canal towpath has been reinstated as far as Up Nately, 3½ miles from Basingstoke and currently the limit of the Canal walk. En route are Odiham Castle, the Deepcut flight of locks, aqueducts, scenic villages and historic buildings. Nearby stations are Hook, Winchfield, Fleet, Aldershot, Ash, Ash Vale, North Camp, Brookwood, Woking and West Byfleet (Source LDWA)
Byfleet & New Haw Stn to Brookwood Stn
Saturday 6 October 2012 - 8.5 Miles
ID06102012#54
The weather has still been rubbis during the week - but fortunately Saturday was bright and pleasant, as I made my way via Waterloo East/Waterloo to Byfleet and New Haw (after changing trains at West Byfleet when the pesky driver forgot to stop at the right station!) and then took a short stroll up Byfleet Road, crossing to hop over a gate and take an abandoned lane to come to the M25 flyover and arrive at the Wey Navigation/Basingstoke Canal Junction. I crossed the footbridge and headed west, following the easy footpath passing by Woodham, Sheerwater and passing by the sprawl of Woking and then more rural feeling through to St Johns and then to Brookwood. I had intended to walk to Ash Vale station about another 5 miles, but had a real problem with fatigue that even chocolate and Lucozade couldn't shake, so reluctantly called it quits at Brookwood Station. The only nice thing was to get home in the early evening on a Saturday instead of normally 9pm or later. A fascinating fact is that a strange railway service used to run from Waterloo to Brookwood Cemetary called the Necropolis Railway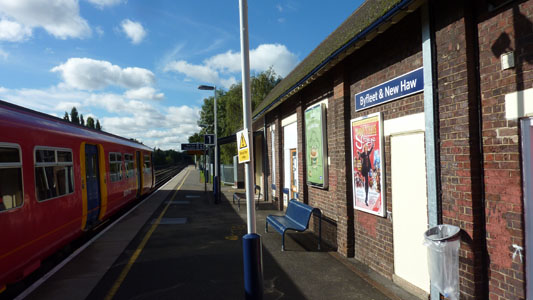 Byfleet & New Haw Station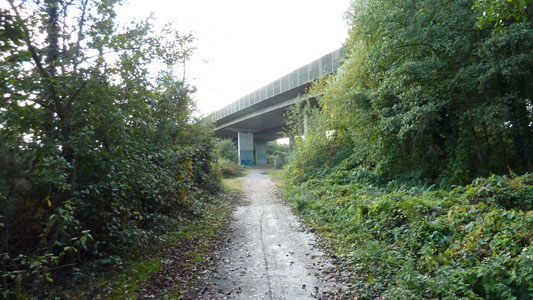 Near the station, I climbed over a gate to follow this abandoned lane to pass under the M25 and join the Canal at its junction with the Wey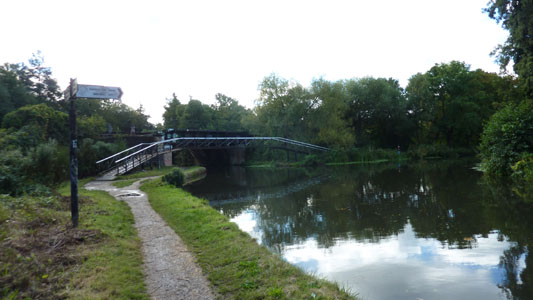 The Junction with the Wey Navigation, previously walked as part of the E2. This time I hung a right, crossing the bridge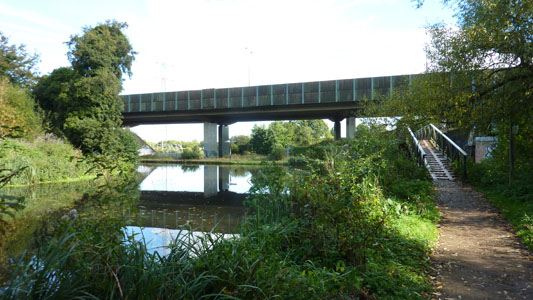 Reverse view to the junction - the bridge carries the M25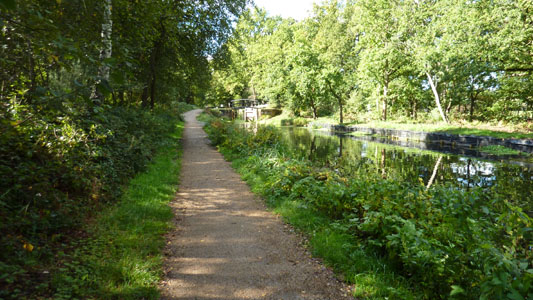 The well presented towpath. Most of it was like this as it also forms various cycling trails, based around Woking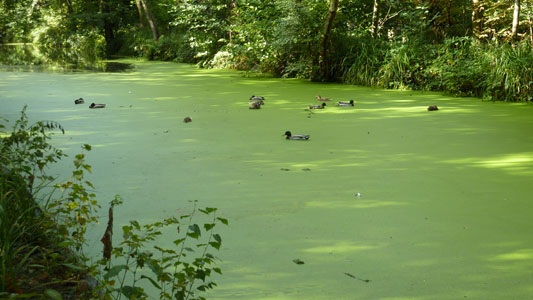 Ducks and other critters were the only things moving on the water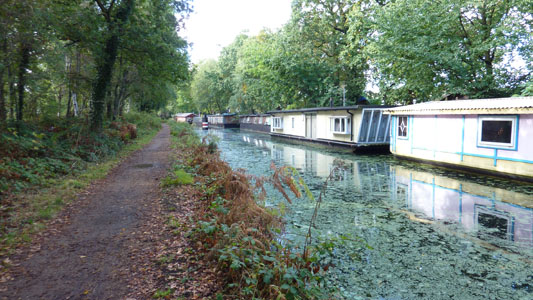 Plenty of houseboats along the canal - just no narrowboats moving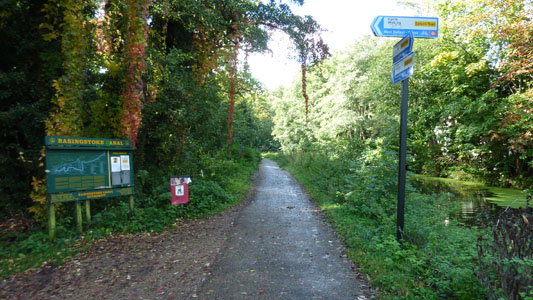 'Hilarious' amendment of sign from Canal to 'anal'....not. Also signpost for the Saturn cycling trail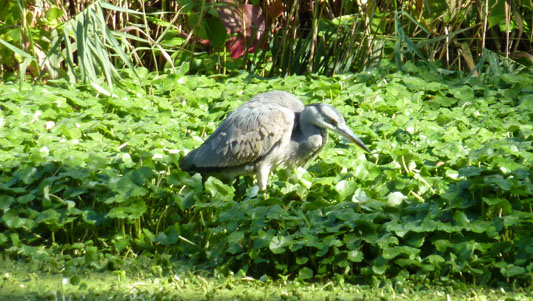 I spotted this naughty Heron doing its thing on the other bank, that beak is a bit scary!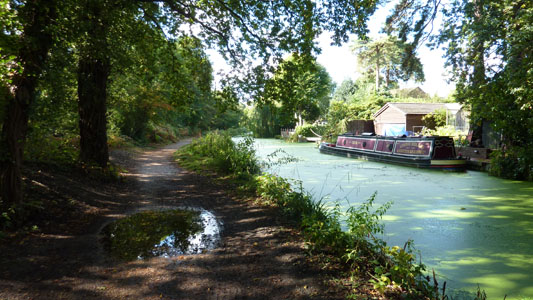 Even though the canal passes near lots of urban development, apart from central Woking it felt quite peaceful mainly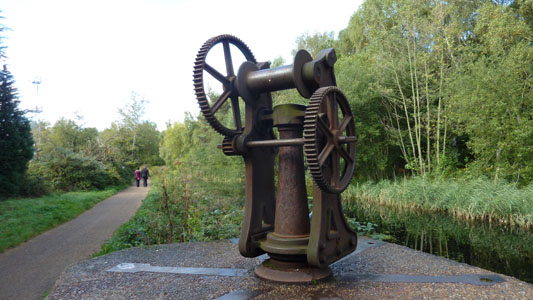 Presumably the remains of a crane at Maybury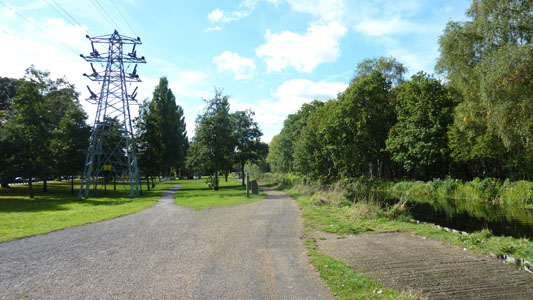 Pylon and rec approaching Woking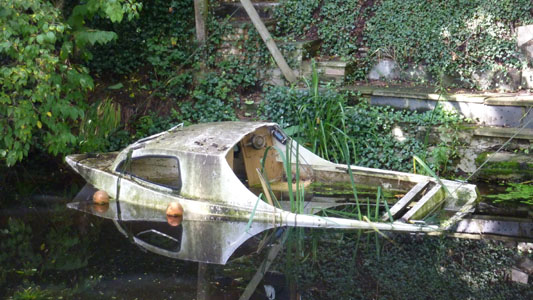 Seen better days...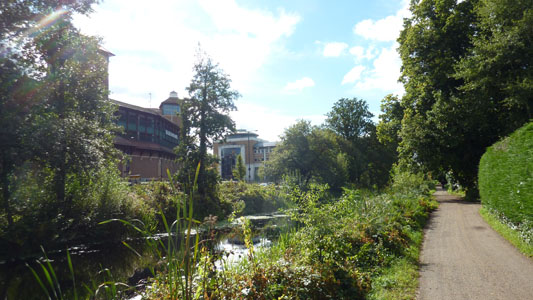 You are then rudely exposed to Woking due to a chav hutch construction site annexing the towpath temporarily, but it is quite quickly dispensed with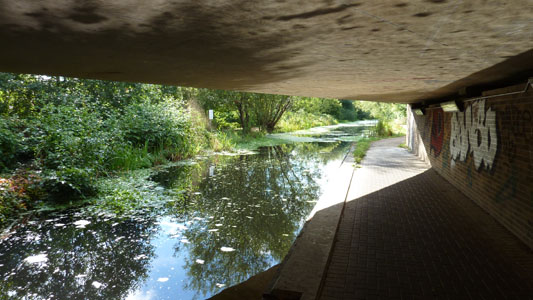 I was rather mesmerised by the sunlight reflecting the water ripples on the underside of the bridge...as you do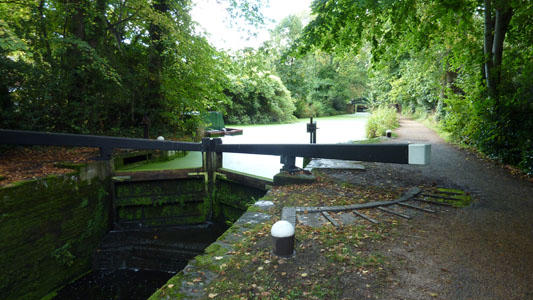 A typical lock on this canal at St Johns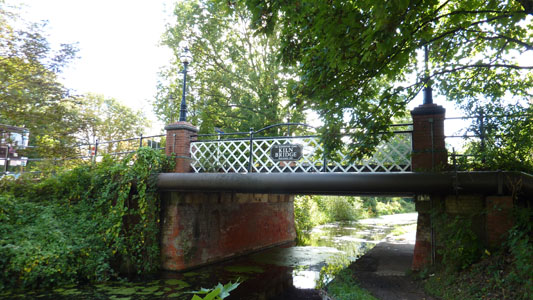 Kiln Bridge, St Johns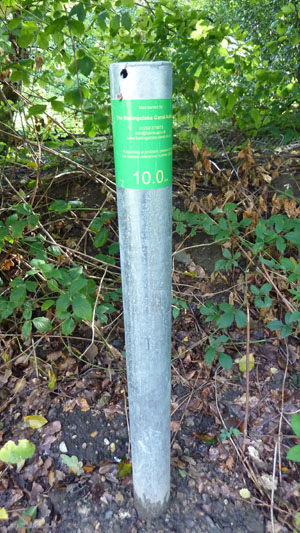 This canal has markers in Kilometers instead of the traditional stone/concrete mileposts I have encountered on other canals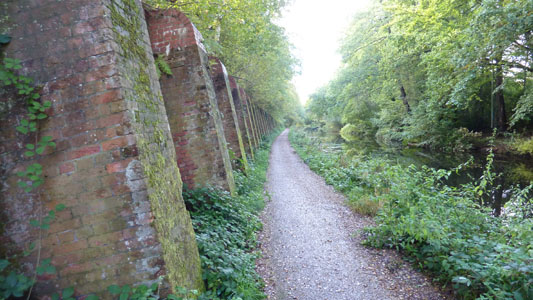 Canted wall protecting the railway embankment on the left from saying hello to the canal!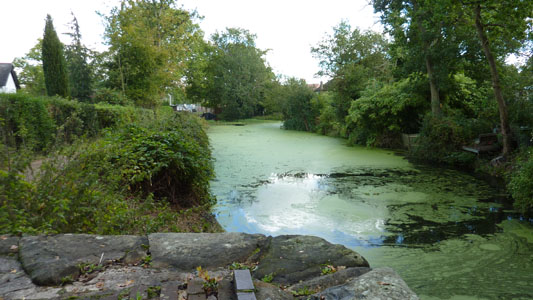 I was wondering why there was no traffic on the canal - I sat by this lock having late lunch just before Brookwood and by the bridge there is a stoppage and a JCB sat there doing nothing (on a Saturday) - just by the petrol station on the A322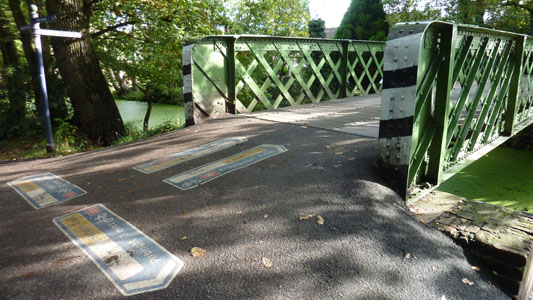 Unfortunately I had a serious fatigue issue and had to prematurely 'retire' at this bridge leading to Brookwood Station, job sort of done
Brookwood to Fleet
Saturday 10 November 2012 - 15 Miles
ID10112012#70
We just happened to be in Bracknell this morning sawing wood (as you do) so after that and Brunch in Bracknell (shout to Morrisons!), me mate 'stain' dumped me off at Brookwood Station. She hightailed it back to Hasties, and I continued my Basingstoke Canal adventure. After doing such a short walk last time I redeemed my self with a 15 Miler, particularly as I didn't get started until 1140! So, from Brookwood continuing on in the midst of a military area, but safely screened from the shenanigans, with the occasional sighting of a building, fence etc through Pirbright and Deepcut, with a series of many locks and also rather nicely forested. The canal abruptly changes to a South heading passing Frimley Park, and onwards passing Mytchett with The Canal Visitor Centre which was unfortunately closed this late in the season, so then on passing Mytchett Lake and Ash Vale, down to Ash with more tree and military malarky, then the canal heads west again, crossing a large aqueduct over the A331 and crossing the Blackwater Valley (and Blackwater Valley Path) with lakes being fished and all that. I stopped shortly after for late lunch by a lock, then on skirting the North of Aldershot, only visible signs being a few industrial bits and bobs, then after the A325, you are then passing south of Farnborough, with the famous Airfield host to a massive air display each year, and there was quite a few aircraft about as I made my merry way onwards, this being a wide open stretch for a time with good views after the more enclosed forested/urban sections. The section into Fleet was a bit more dull and enclosed, with a series of ugly bridges and it was getting dark when I came off the towpath and joined the A3013 passing through the centre of Fleet, which seemed quite well to do, but I was on a mission to catch a train, which I started running for, but unfortunately in my panic got one heading the wrong way, so got off at Winchfield, recomposed my self then headed home via Woking, Waterloo etc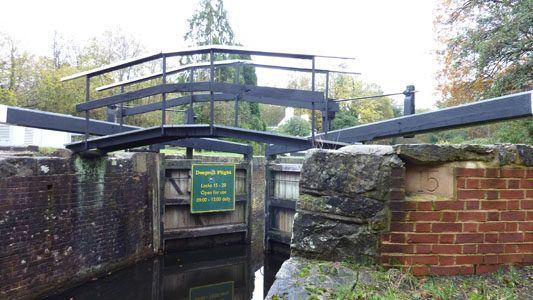 Start of the Deepcut flight of locks. This section was not navigable fully at the time of writing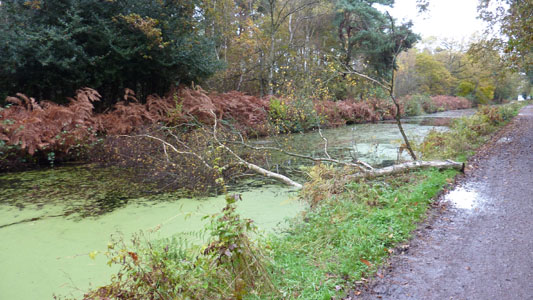 Tree blocking navigation at Deepcut. A very pretty section but also feeling rather disused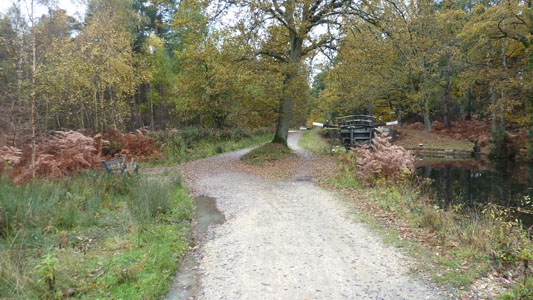 Still Deepcut. Still pretty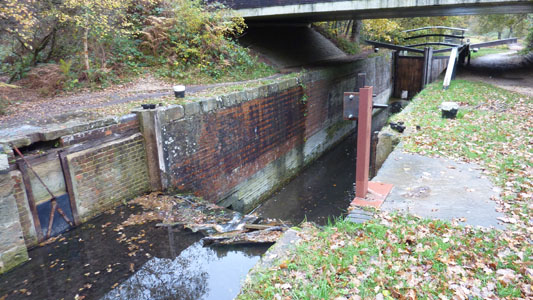 Missing top lock. Being replaced, but resulting in unnavigable shallow section. Water just cascades over cill like a waterfall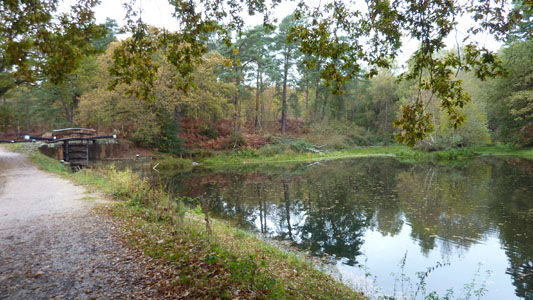 Just on the edge of Frimley Green, the canal turns South. There is a basin here presumably for craft to turn if required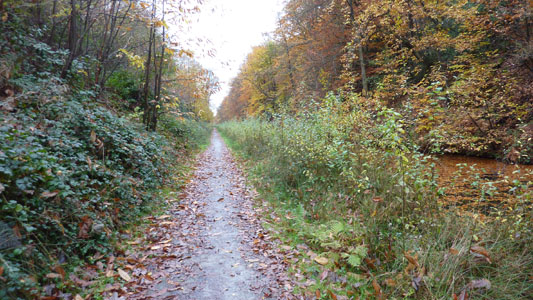 Very Autumnal (Fall, if you like)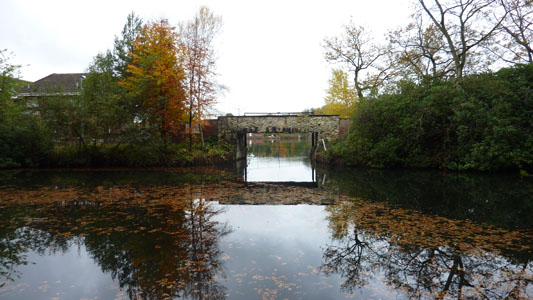 Funny gated off basin area. There is clearly a mechanism for lifting/dropping the large mesh gate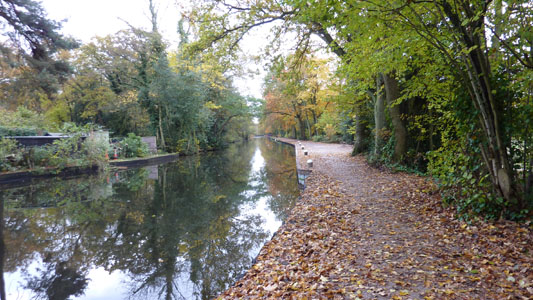 More urban near Frimley Lodge Park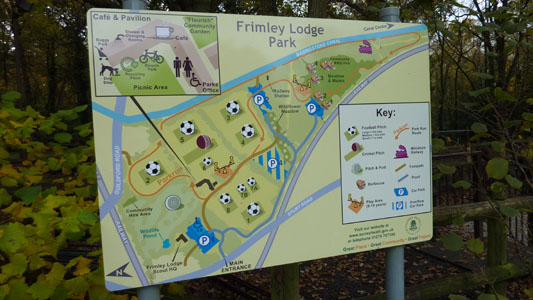 Frimley lodge Park and the Canal
Rather sophisticated looking miniature Railway, with signals and stuff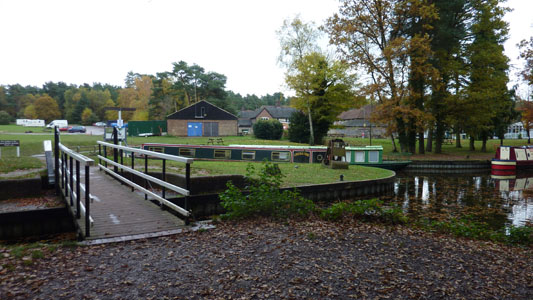 Canal Centre, Mytchett. Bit on the closed side when passing through - could have done with a brew!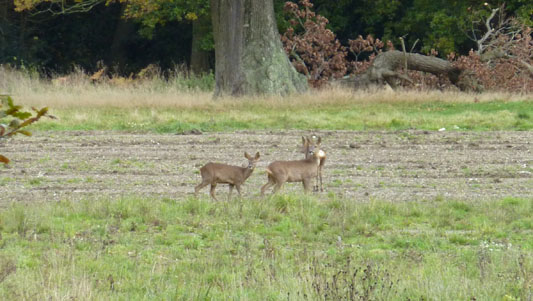 Shortly after, a couple drew my attention to three deer doing their thang in an adjacent field. They were there so long walking about and stuff I had to move on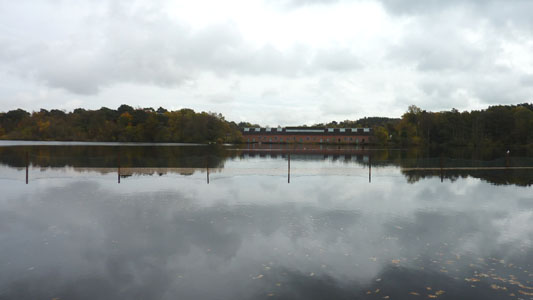 Mytchett Lake. Don't know what building is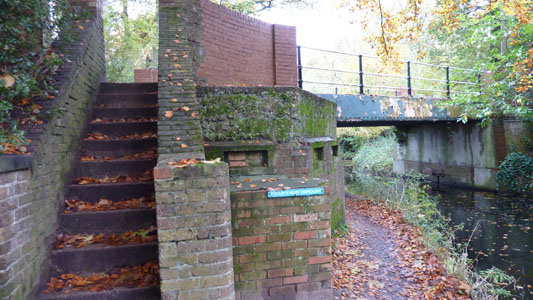 Pill Box built into bridge at Ash Vale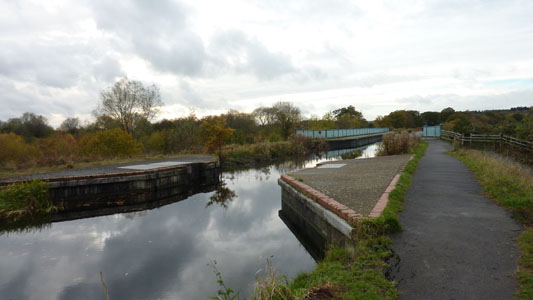 A331 Aquaduct. Gates at either end to 'stop' canal if the aquaduct goes munky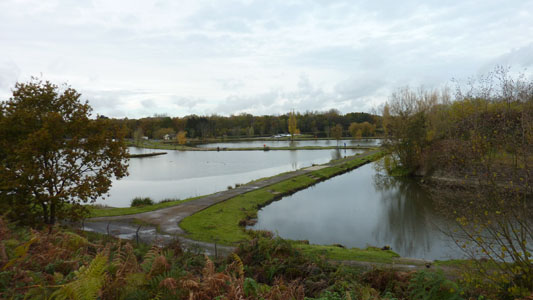 Crossing the Blackwater River and Lakes. Also junction with Blackwater Valley Path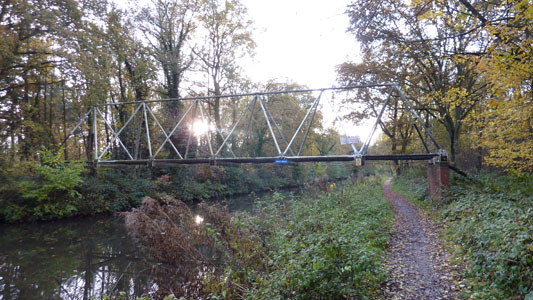 Pipe bridge owned by MOD near Aldershot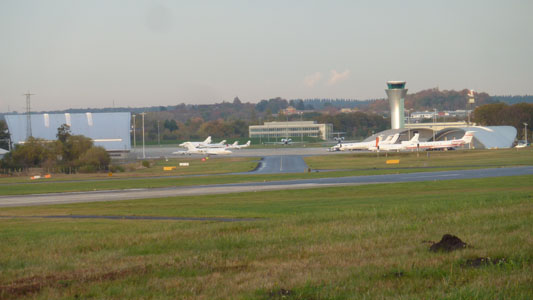 Zoom through the perimter fence at Farnborough Airport, right by the Canal. Lots of 'Planaraks' were massed in the nearby car park checking out the action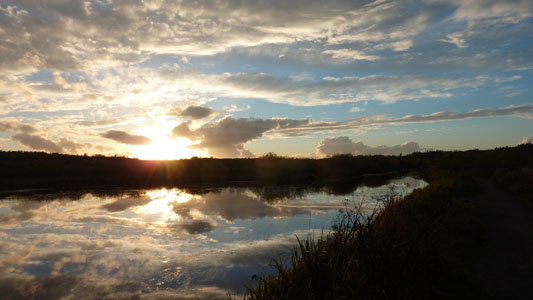 A nice dusk shot, although in reality it was not as dark as this, just my bodged photography into the sun!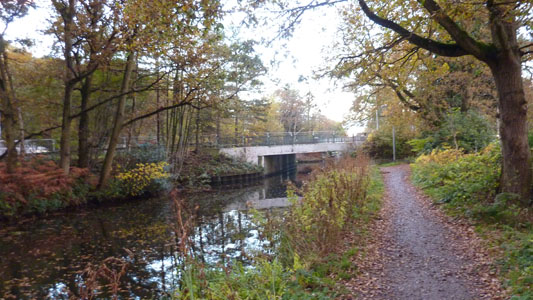 A bit samey on way into Fleet, dreary concrete bridges, although the walk through the centre up to the station wasn't too shaby. Job done, although if I could have started earlier I would have loved to reach Winchfield