Kennet and Avon Canal Walk
A route linking the Thames at Reading with the west coast and also the Thames Path to the Cotswold Way National Trails, following the canal through Thatcham, Hungerford, Pewsey, Devizes, Bradford-on-Avon and Bath where advantage is then taken of the waymarked River Avon Trail (25 miles and included on OS mapping) through the spectacular Avon Gorge to Bristol (source LDWA)
Reading to Thatcham
Saturday 22 September 2012 - 17 Miles
ID22092012#52
The original plan had been to start the Avon Valley Path, but I got up a bit later than planned, and had a sudden brainwave to get this one started instead. At Reading Station I was stuck on the train for twenty minutes waiting for a platform to come ready after a train had broken down. After bailing out finally, I walked through the station it the throes of a major revamp, and retraced the familiar walk back along the Thames, quickly stopping by the Tesco for some munchies to go in my rucksack for later. passing under trees to rejoin the Thames a horsechestnut knocked my mobile blower out of my mitt and it hit the deck and the back fell off...after reassembling and rebooting it seemed none the worse for the experience but it was just a bit weird. Anyway, after crossing the pedestrian footpath over the mouth of the Kennet I turned to follow the towpath, heading into Reading Town Centre, passing my first lock and soon passing some grotty urbania to reach the revamped waterside area with the Oracle centre and lots of retail based around the canal. I got through this as quick as possible and after getting slightly disorientated by a manky underpass and road joined the towpath proper and headed out of town, passing by locks and swing bridges, going slightly wrong to leave the towpath at Burghfield Island, but regaining it and heading under the M4, passing by Theale and just absorbing the usual canal shenanigans, locks and bridges and cyclists, joggers etc... after some time reaching Aldermaston Wharf and a nice stop at the Canal Trust Tea Shop then carrying on passing by Woolhampton and eventually reaching Thatcham Station, where I called it quits. A generally pleasant walk and I look forward to the next section - probably to reach Bedwyn Station. I had hoped to reach Newbury this time but still did pretty well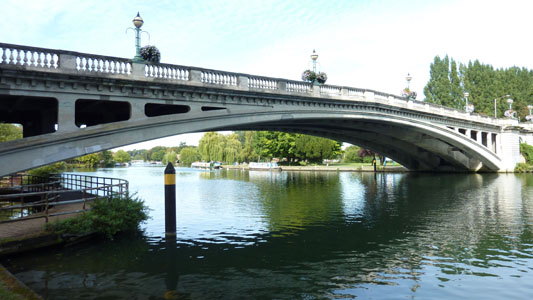 Reading Bridge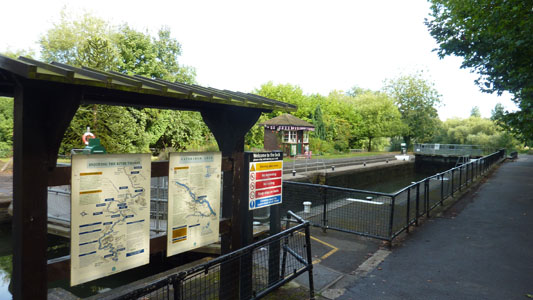 Caversham Lock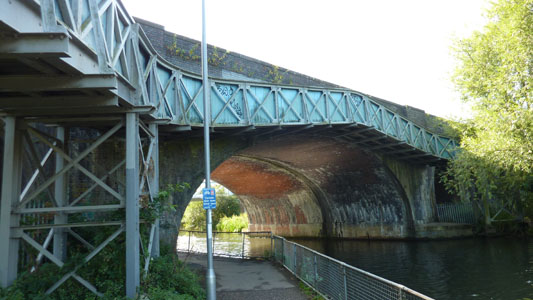 Funky Footbridge at Kennet Junction with Thames
The Oracle centre and retail therapy Central Reading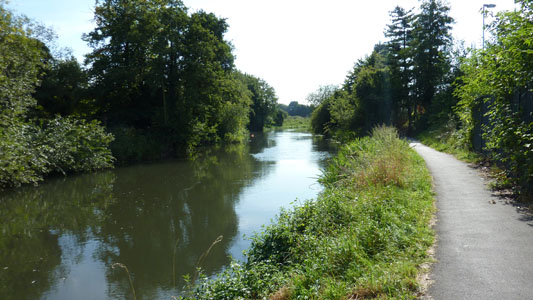 A bit more rural now on the edge of Reading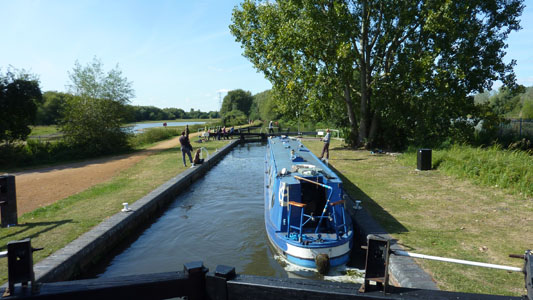 A lock on the outskirts of Reading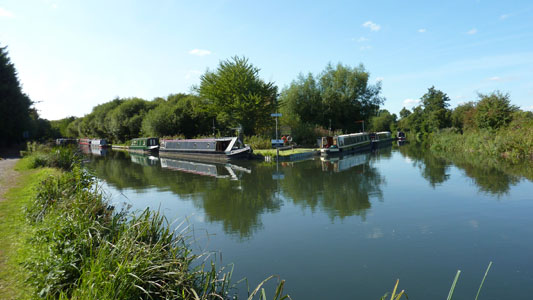 Burghfield Island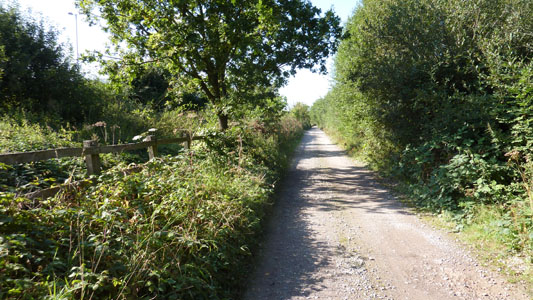 Just like me to go steaming off down the cycle path - by the time I had realsied my mistake it was easier to carry on till I was brough back to the towpath proper again. This was running south of Burghfield Island - Things can go wrong when the towpath changes sides and stuff and I forgot to just have a check on my old trusty GPS...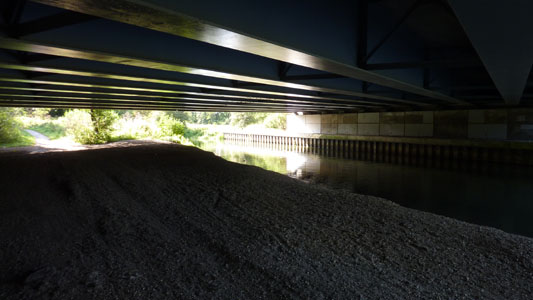 Real slim shady under the M4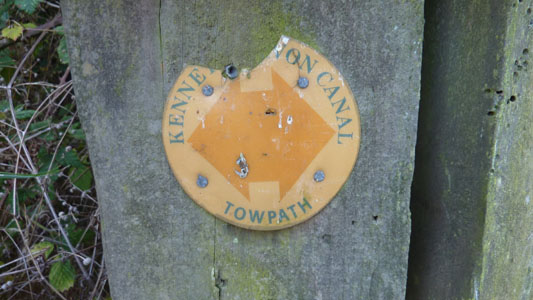 The first waymark I had found - and a bit tatty to boot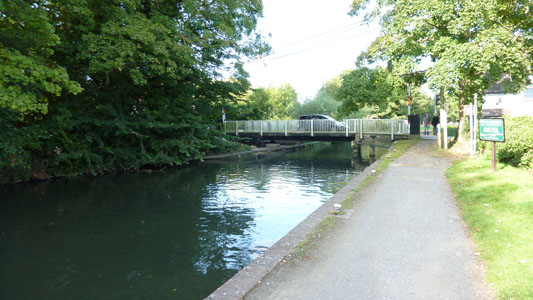 Wonderful Swing bridge at Theale, by the Horse and Hounds Pub. Had an exciting 5 miuntes watching this semi-automatic wonder close its gates and do that swing thang with two boats...triffic. There are several of these bridge just on the section walked today, they must have cost a packet - this was no cheap canal restoration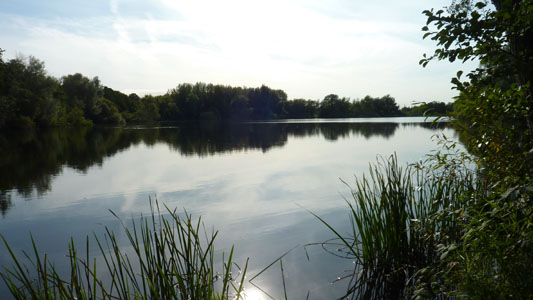 Theale Lakes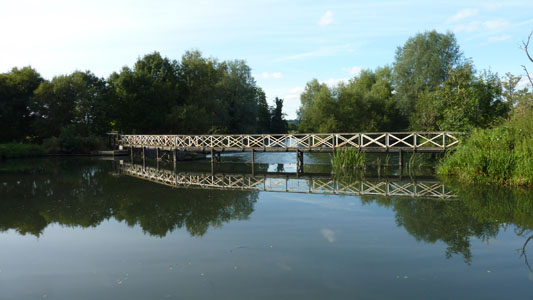 Weir near Sulhamstead
Nice wooden bridge near Aldermaston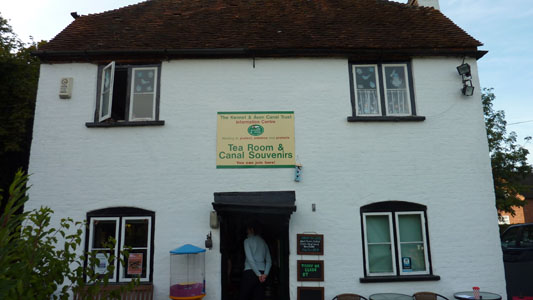 A lovely tea room run by the Kennet & Avon Canal Trust at Aldermaston Wharf. I popped in for an ice cream and sat in the garden for a bit feeling rather happy about the world for once...(easily pleased)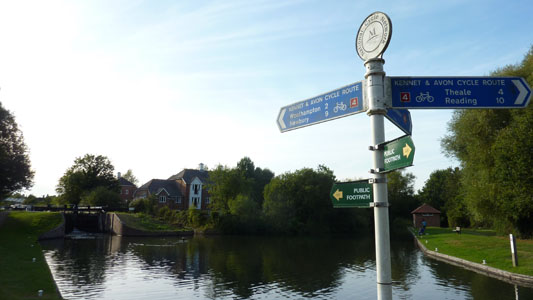 Still following Cycle Route 4 - mainly on the towpath, so lots of cyclists to be aware of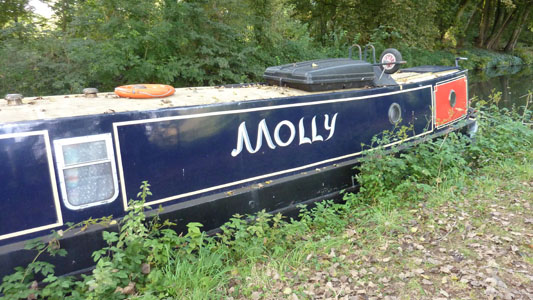 'Please help me find Molly - Hi, I'm looking for Molly - I've been searching everywhere - And I can't seem to find Molly - Do you know where I can find Molly? She makes my life happier - More exciting -She makes me want to dance...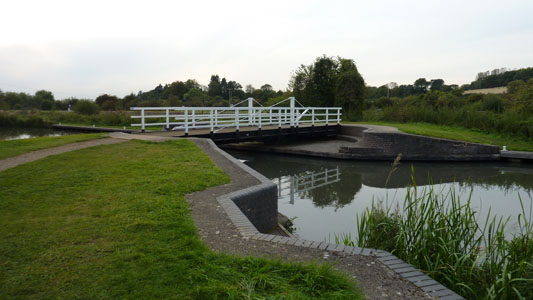 A manual swing bridge this time - near Thatcham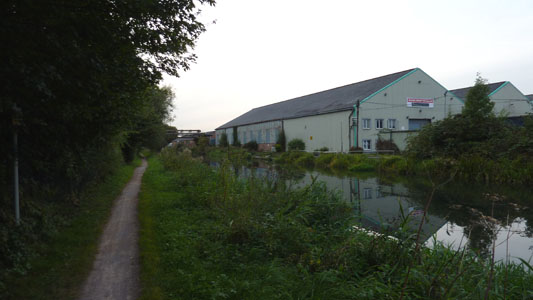 Industrial approaching Thatcham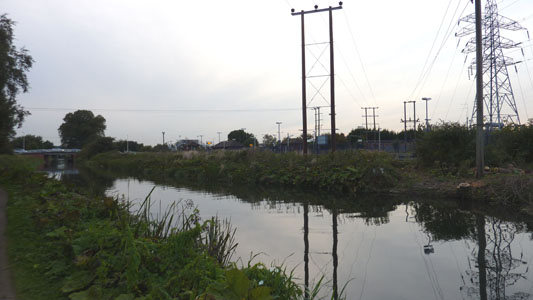 Approaching the road bridge across to Thatcham Station. The train was crowded and I had to sit by a bunch of hooray henries on the lash - but after Reading I changed trains and had a nice ride home via Guildford/Redhill/Tonbridge