The Old Shire Lane is thought to have been part of the boundary separating the Saxon Kingdoms of Mercia and Wessex. The Lane now forms the county boundary between Buckinghamshire and Hertfordshire, provinding an walkway near the edge of the Chiltern Hills. The walk can be started anywhere, but from Chorleywood clockwise it drops down to cross the M25 just south of Rickmansworth, through Maple Cross along the Old Uxbridge Road, south past West Hyde, then turning West and crossing over the A412, uphill, crossing Tilehouse Lane, to the edge of Juniper Wood, then bearing Northwards, to reach Chalfont Lane, followed initially, then cross country to reach Old Shire Lane, followed to pass the Eastern edge of Philips Hill Wood, before continuing onwards back to the start, and following the link path along Old Shire back to Chorleywood Station
Chorleywood to Jcn with South Bucks Way
Saturday 3 November 2012 - 6 Miles
ID03112012#68b
From Chorleywood Station I first found a great cafe as I was desperate for a Latte, just the corner under the rail bridge just off the link path. Anyway, I carried up the steepish hill on Old Shire Lane and followed the route described above, with surprisingly firm ground, considering the amount of rain we have had (almost biblical) and enjoyed the slow descent to the East, with the M25 and lovely views over lakes, the grand union and the country beyond. The views are not so great when you have crossed the M25, but still quite nice till you pass Woodoaks Farm and join the Denham Way at Maple Cross, although once you get on the Old Uxbridge Road it is Ok and you then recross the A412, parallelling the border between Bucks and Herts to go uphill to Tilehouse Lane. I had originally intended to do the whole circular, but a very dim lightbulb came on in my noggin and I thought that instead I would turn it into a linear and at the junction with the South Bucks Way, follow that instead to reach Uxbridge Station, so the walk was a mashup, cut and shut or whatever so for the rest of the walk go to the South Bucks Way page. The Old Shire is not waymarked but is on Explorer OS mapping, but is quite simples to follow really anyway.
A great guide for the walk is here or check out Tim Bertuchi's Walk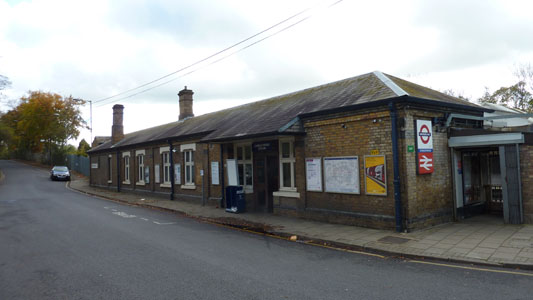 Chorleywood Station - I got here from Marylebone
Shire Lane, Chorleywood. Big shout out to Rootz, a coffe shop here, that hooked me up with a Large Vanilla Latte, that bolstered my carcass for the rest of my adventure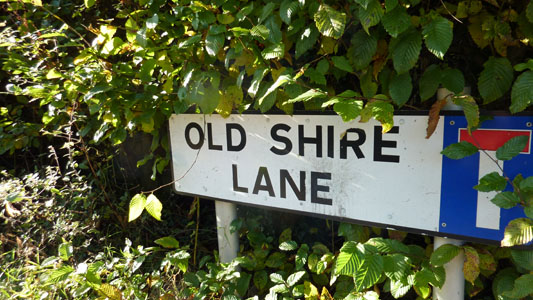 Joining the Old Shire Lane, edge of Chorleywood, near end of link path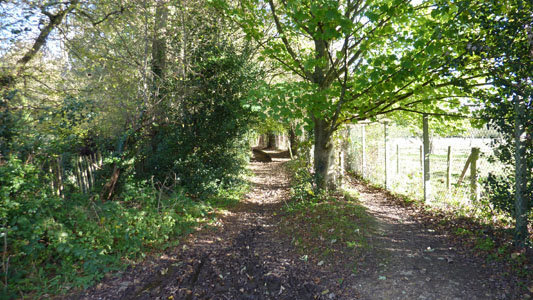 This is a path you take off Old Shire to head towards The Swillett...I made a mistake and managed to loop the loop back to here, travelling up the right side, and coming back on the left bridleway bit due to a wrong turn round the corner - quickly remedied though, just a bit embarrasing!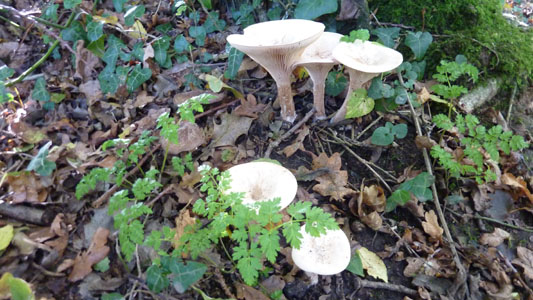 Another dose of 'shrooms...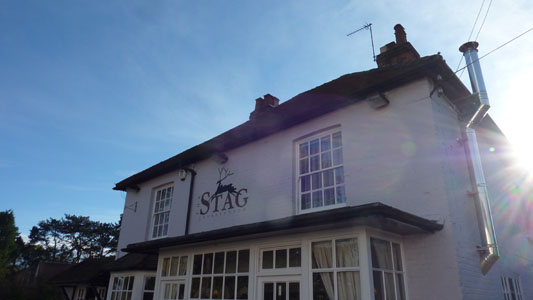 The Stag at The Swillett (South Chorleywood)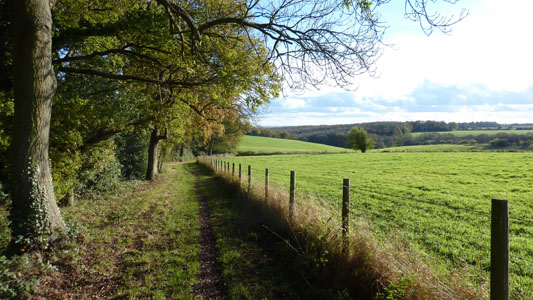 Shortly after the Stag, you turn Eastwards, and a lovely walk down to cross the M25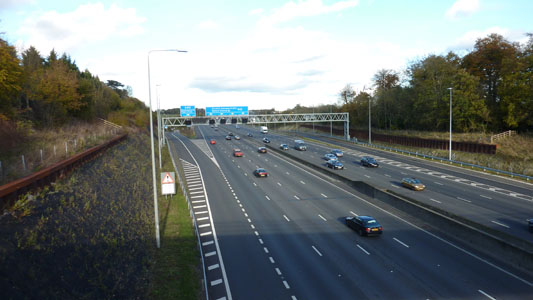 M25 south of Junction 17 for Rickmansworth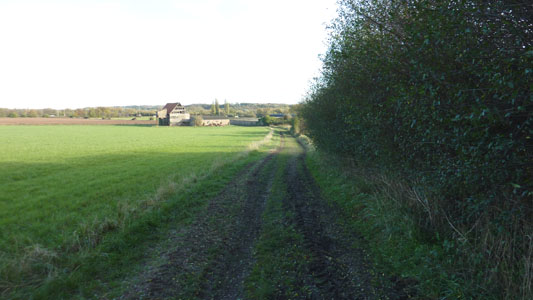 Towards Woodoaks Farm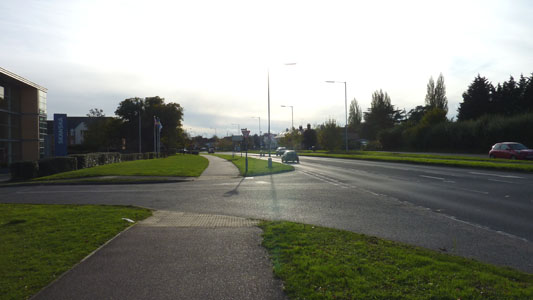 Bit bland like at Maple Cross by the A412
Old Uxbridge Road, parallel with the A412 but much more agreeable for a Rambler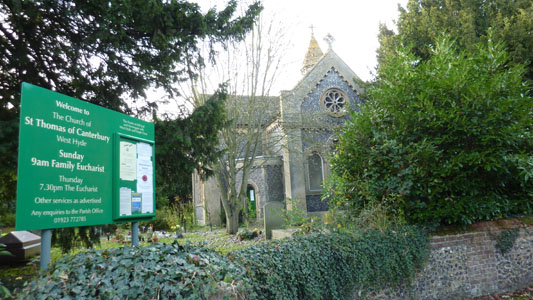 St Thomas of Canterbury, West Hyde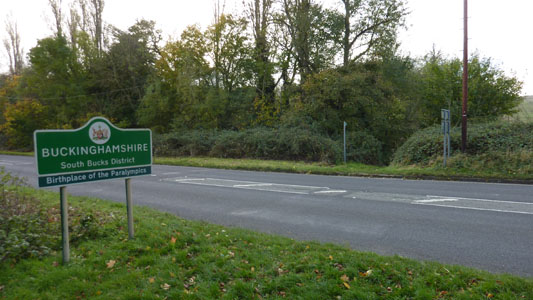 Crossing back over the A412 heading West. The footpath opposite falls on the border between Bucks and Herts. I wish they wouldn't use such meaningless 'adverts' for counties - apparently Bucks is 'Birthplace of the Paralympics'...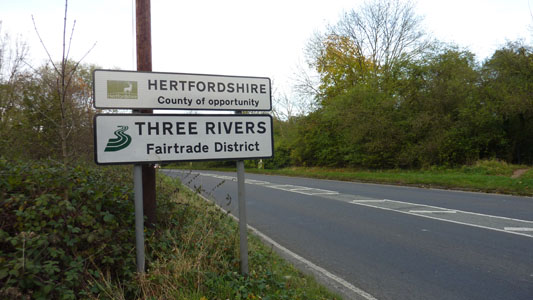 WTF? It's just Hertfordshire, nothing more, nothing less!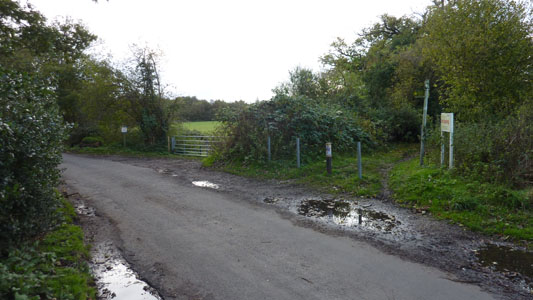 Incongrous end of my Old Shire Lane expedition at Tilehouse Lane. Handover to the South Bucks Way