The Oxford Canal is a 78-mile-long (126 km) narrow canal in central England linking Oxford with Coventry via Banbury and Rugby. It connects with the River Thames at Oxford, to the Grand Union Canal at the villages of Braunston and Napton-on-the-Hill, and to the Coventry Canal at Hawkesbury Junction in Bedworth just north of Coventry. The Oxford Canal passes mainly through the Oxfordshire, Northamptonshire and Warwickshire countryside, and is often considered to be one of the most scenic canals in Britain.The canal was once an important artery of trade between the English Midlands and London, and is now highly popular among pleasure boaters. North of Napton-on-the-Hill, the canal forms part of the Warwickshire ring (Source Wikipedia). The first 10 Miles to Kirklington are coincident with walking route E2
Oxford to Tackley Station
Saturday 20 October 2012 - 11.5 Miles
ID20102012#56
Usual case of late outta bed - but still did better than on the Basingstoke Canal Walk. It is a good few hours to reach Oxford on the train from Hasties, but I lucked out with the weather, which has continued the theme of 'shite' for most of 2012 - but in Oxford it was dry and there was even some blue sky. A steam train was just pulling out of the station as I arrived, and I took a piccie of it as it disappeared backwards...anyway, I walked the short distance into the centre to join the slightly truncated canal where it is rudely ended at Hythe Bridge Street with a sad looking little stump near the bridge - apparently some bloke built Nuffield College on land he bought form the Canal, and there is just an ugly car park on the other side of the bridge, instead of what should be a lovely basin area for the canal - come on Oxford this isn't good enough!
Right, walking North along the canal, it soon becomes a lot more impressive and at Isis Lock there is a connection via sheepwash channel to the Thames. Moving on passing near St Barnabas Church and through to the outskirts of Oxford passing under the A34 and A40 where there is a very picturesque connection with the Thames at Kings Cut. Here some geezer pointed out an area on the bank where Kingfishers are supposed to be living but I couldn't see nowt. Moving on the canal becomes rather rural before skirting Kidlington which is almost entirely seperated from you by the canal, but this is also quite a nice stretch and passing various locks and lift bridges there was a beautiful bustling basin at Thrupp with Annies Tea Room - which I regret I had no time to stop at, moving on to the brief section shared with the River Cherwell at Shipton-On-Cherwell (where the Oxford Greenbelt way peels off) and on this twisting section there is a strange old works with a massive chimney - this is an abandoned cement works . and it dominates the scenery, but I found it quite beautiful, although I am such a nutter I enjoy Didcot Power Station! Other stuff at Shipton was also a recording studio where Tubular Bells was recorded - whether that was a good or bad thing is left to you...after a mile you leave the Cherwell and immediately have a view of the Whitehill Earth Station - a telecommunications base owned by Cable and Wireless with its big white dishes. The canal continues to wind around in the lovely Oxfordshire countryside at at Pigeon Lock where the Oxfordshire Way crossed the canal near Kirtlington, I followed the link path to Tackley Station (about 3/4 miles) and at this rural little station got a train back home via Oxford/Reading/Guildford/Redhill/Tonbridge (as you do). The Cherwell Valley line from Oxford to Banbury is promoted as the Oxford Canal Line. I had a fabulous walk, with there being so much to drink in from the environs of the canal, I loved the vibrant boating community and the pleasant weather was the icing on the cake. I have now done the E2 section and look forward to the next section to reach Banbury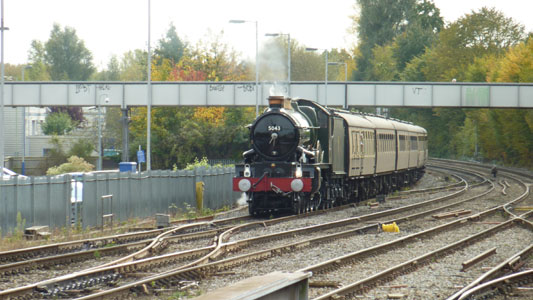 Steam Loco doing its thang at Oxford. Apparently this is GWR 4073 Class 5043 Earl of Mount Edgcumbe. Strangely it was moving backwards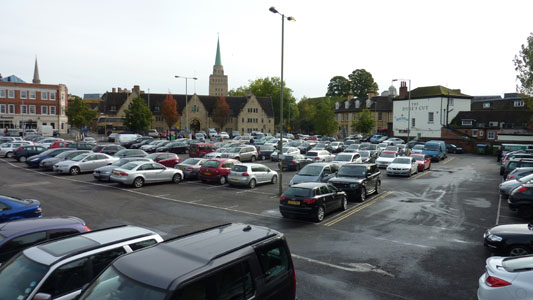 This was the former canal and basin at Oxford at Hythe Bridge Street. Hmm let's see, what would look better, a thriving canal basin with lots of activity and colourful narrow boats....or this???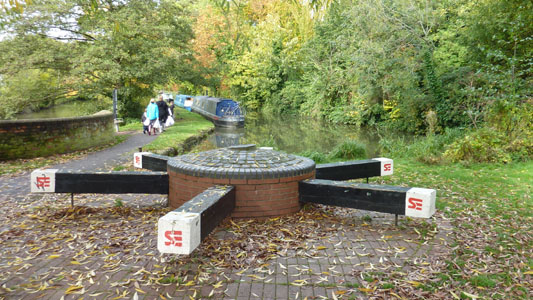 The end of the canal today, just a truncated stump. Strange windlass concoction marking 200 years of the canal
The plaque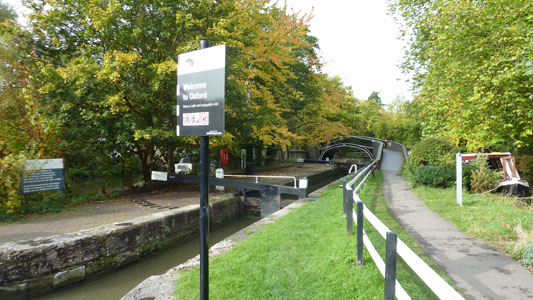 However, after an inauspiciuos start it quickly becomes very pleasant. This is Isis lock with a Thames connection and a lovely bridge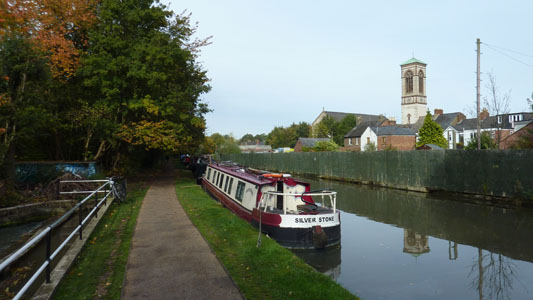 St Barnabas Church, Jericho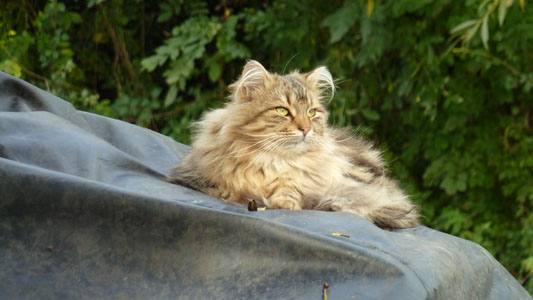 There are a range of ressie and visitor moorings and someone has a lovely puddie chilling on a narrowboat. I saw several cats presumably owned by the boating community and strangely at home on the water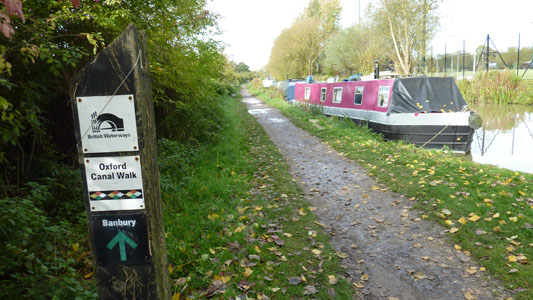 Banbury just too far this time!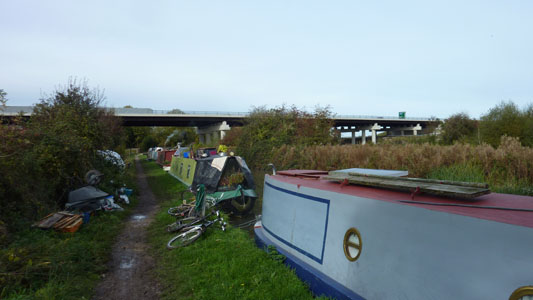 Lots of narrowboat ressies and annexed towpath before the A34 flyover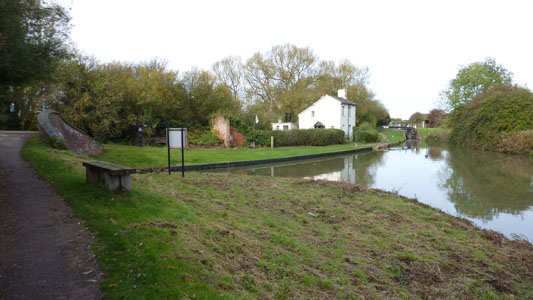 Wolvercote Junction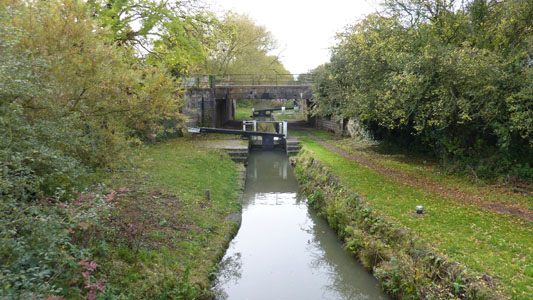 Looking down Dukes Cut towards the Thames at Wolvercote Junction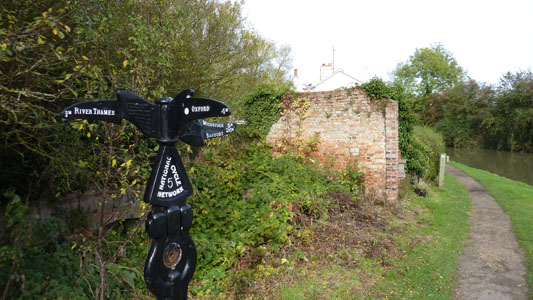 Sustrans route 5 waymarker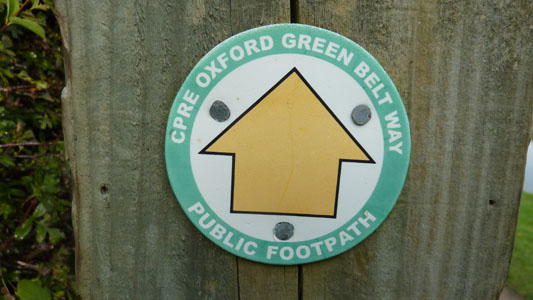 Waymark for Oxford Greenbelt Way, coincident with part of the canal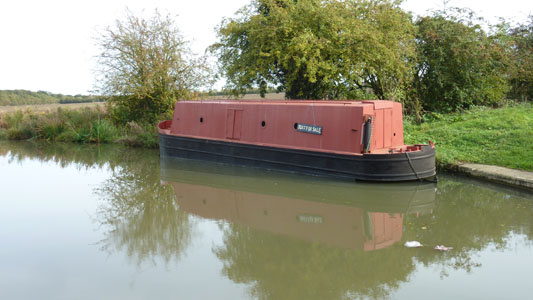 Boat for sale - one careful owner, taxed and tested, low mileage guaranteed, part exchange possible, good little runner...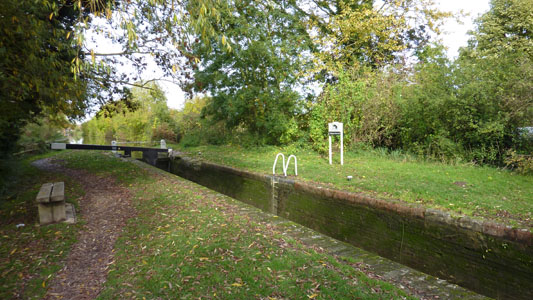 Kidlington Green Lock, narrow innit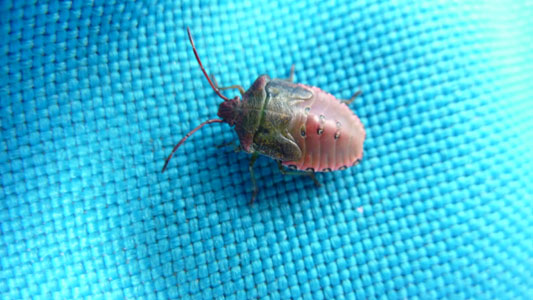 This naughty critter was on my rucksack when I stopped at Kidlington for late lunch. I thought I had put it on the ground when I left, but it reappeared in a fold of my bag several hours later on the train, so I had to bung it out the window - I hope it had a soft landing! Looks like an evil weevil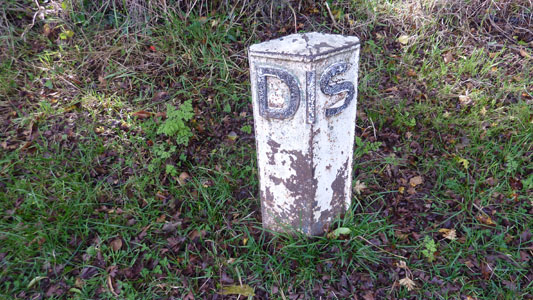 I kept looking for mileposts on the canal - strangely nothing - but a 'google' reveals that these DIS posts placed by locks were meant to be used to establish which boat would have priority of passage!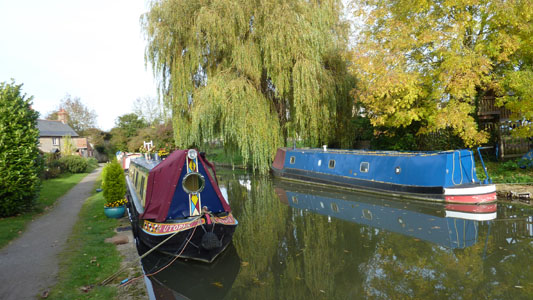 Well presented narrowboat by the 'Jolly Boatman', Thrupp
Presumably Doctor Who's ride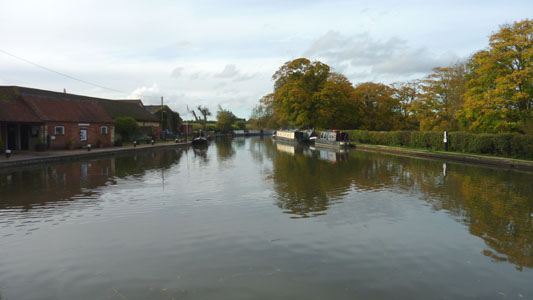 Lovely canal basin at Thrupp, with Annies Tea Room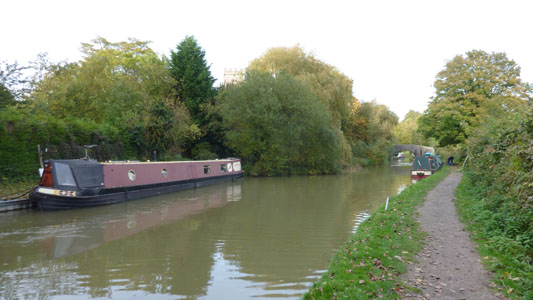 Shipton-on-Cherwell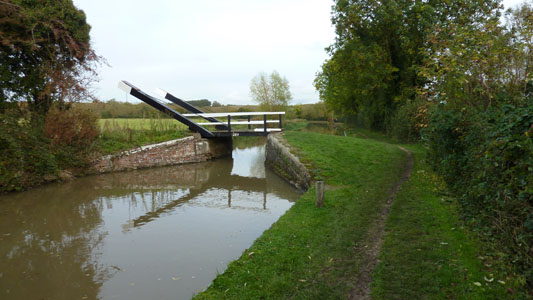 Typical lift bridge near Shipton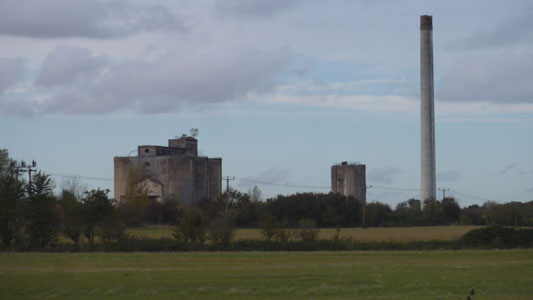 The old cement works at Shipton. I guessed it was snooked from the tree on the roof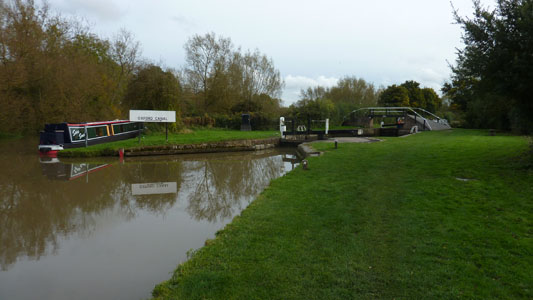 Junction with the Cherwell. Apparently this 1 mile section saved construction costs but was a false economy as the river conditions sometimes make navigation a bit dodgy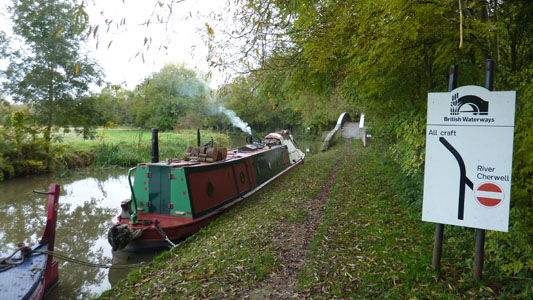 Leaving the Cherwell at its North end (looking South). The river looked dangerously close to bursting its banks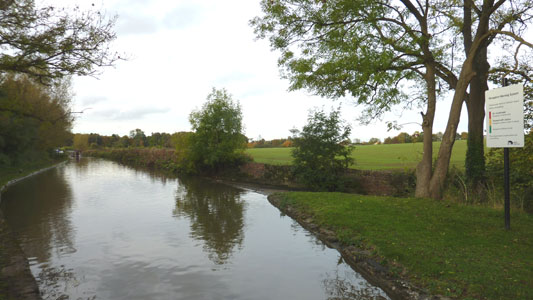 The Cherwell section has warning signs at both ends to alert boaters if conditions are OK - I would rename Green as 'Pukka', Amber as 'Dodgy' and Red as 'Munky'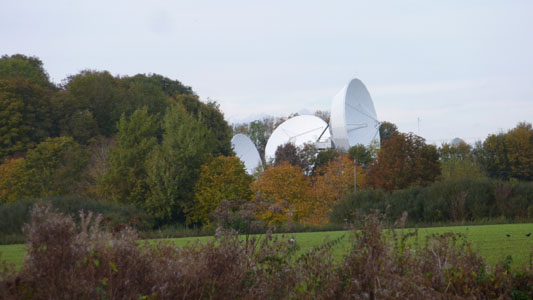 Whitehill Earth Station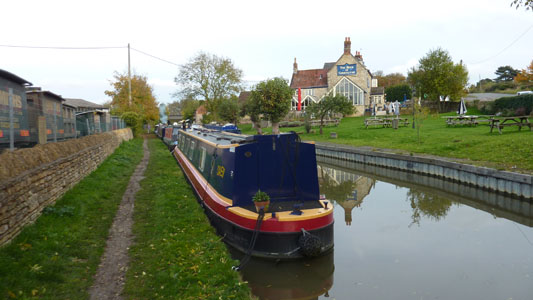 The 'Rock Of Gibraltar' boozer at Baker's Lock. I didn't go in any pubs on this occasion as I am teetotal, but will occasionally nurse an orange and lemonade or sumfink if its hot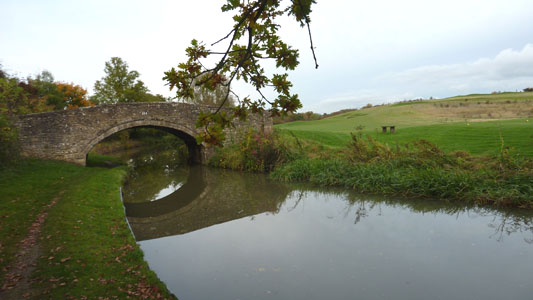 Typical lovely stone bridge...not so lovely pesky Golf Course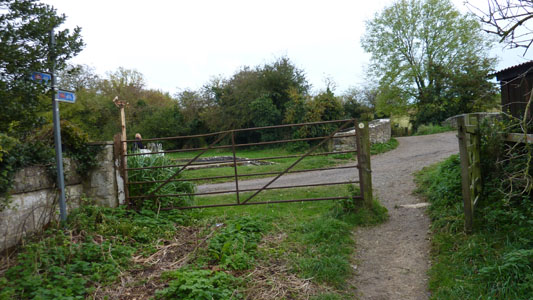 Leaving the Canal at Pigeon's Lock, near Kirtlington and briefly following the Oxford Way towards Tackley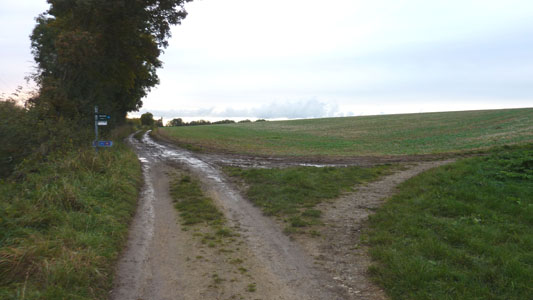 After very brief section, leave the Oxford Way and hang a right for half a mile to Tackley Station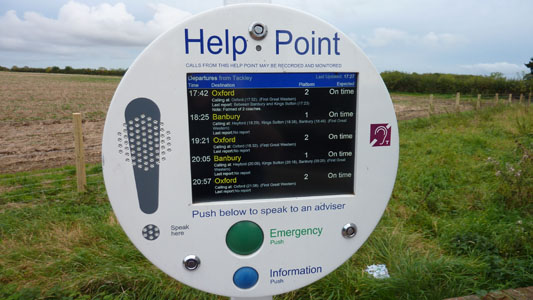 kept in the loop at Tackley Station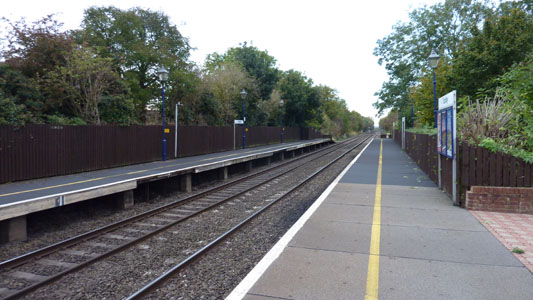 I only made it with 12 minutes to spare, or I would have had to wait another 90 minutes for the next train. Anyway it all went OK from here back to Hasties
Tackley Stn to Heyford Stn
Saturday 12 January 2013 - 5 Miles
ID12012013#2
This section put me back on track really for a reasonable section to finish into Banbury, as I should have reached Heyford on the first section. This appallingly short walk was all I could handle, as feeling rather fubar after the recent Norovirus shenanigans and just sick of sliding around in mud on a towpath, although nowhere near as previous as on the Chelmer and Blackwater last year. A long journey to make, but I still had a nice day by heading onto Banbury from Heyford Station and having a mooch around for a few hours (here by lunchtime), checking out Banbury Cross and buying Banbury Cakes (Like Eccles Cakes). After this I took the alternative route back to London on the Marylebone line (up via Oxford) and then had a mooch round London via Wembley and Islington / Upper Street. I just needed to do something a bit different today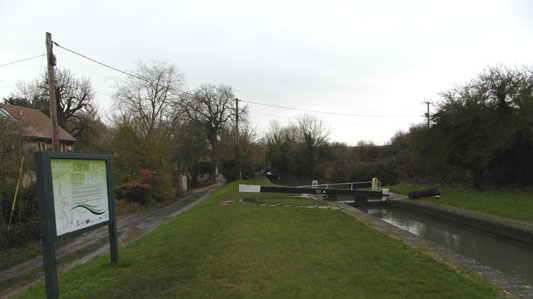 Back at Pigeon's Lock after the mile back from Tackley Station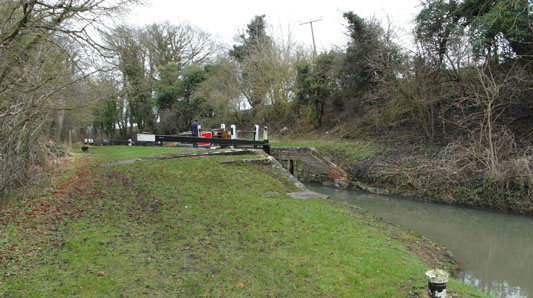 Narrow Boat negotiating North Brook Lock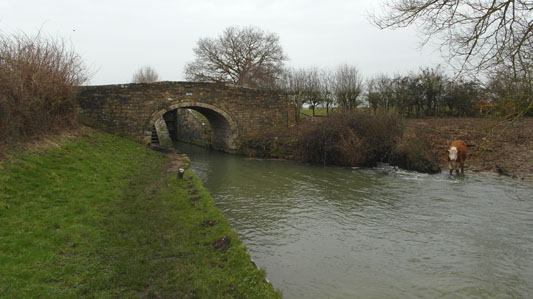 This moo moo (Cow to grownups) didn't take kindly to being interupted from its refreshing drink out of the Canal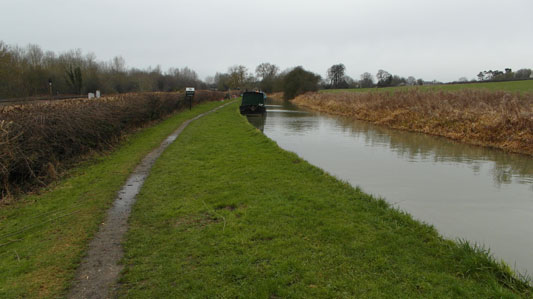 Between Dashwood's Lock and Heyford
Blimey - Heyford Station is so convenient for the Canal - just behind this wall! So Far it is 14.75 back to Oxford, 12.75 on to Banbury. I took the train to Banbury and had a mooch about, but next time will finish the section between here and there